Discover more from Highly Objective
Cannabis industry news, insights, and analysis
Over 3,000 subscribers
🧻 toilet paper hoarding lasting longer than Cannabis stockpiling
Most states deem Cannabis essential. Denver reverses course. NY will pursue legalization. Cannabis sales back closer to normal.
---
🌿
Industry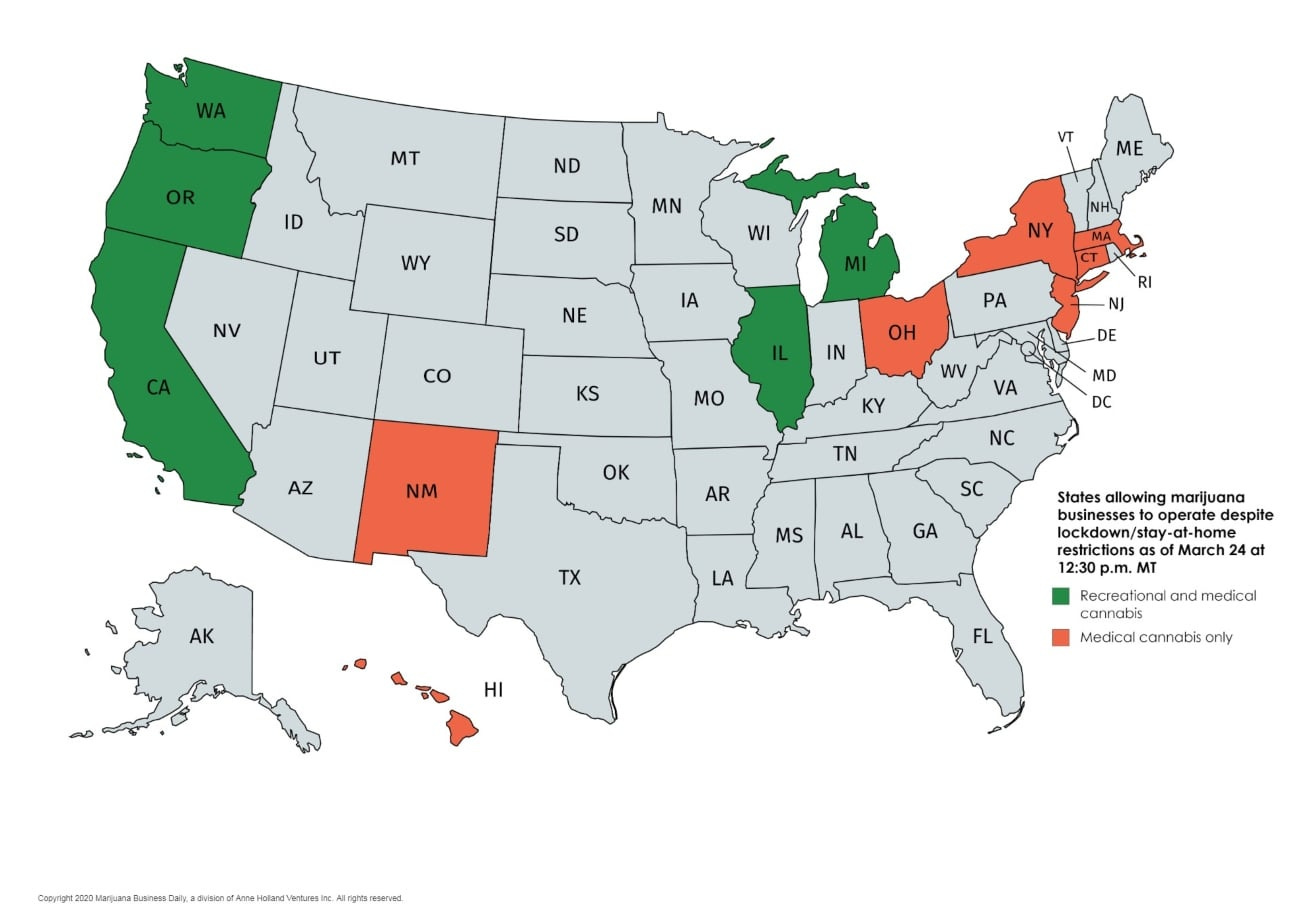 Several governors issued statewide "shelter-in-place" orders that initially did not mention the cannabis industry, though clarifications were later made to include the industry as a part of the larger health-care sector, one of 16 "critical" industries identified by the federal government. The only thing that appears certain at this point is that the situation will change even more as the coronavirus continues its rampage.
The operators of adult-use marijuana stores in Denver caught a break late Monday afternoon when the city announced they can remain open. Earlier in the day, while announcing a new stay-at-home order for Denver residents in the city's battle against the coronavirus, Mayor Michael Hancock decreed that recreational marijuana stores were nonessential businesses and must close. Liquor stores also were required to close under the order.
But hours later, the mayor reversed his decision, the Denver Post reported. After the announcement of the closures – which were to last until April 10 – shoppers formed long lines around adult-use cannabis retailers and liquor stores.
When he announced his reversal, the mayor ordered recreational marijuana retailers and liquor stores to ensure there is a distance of at least 6 feet distance between individuals in their stores. Medical marijuana dispensaries were allowed to stay open under Hancock's original order. That status was not affected by his reversal.
The governor of New York said on Monday that he expects lawmakers to push ahead with plans to legalize marijuana even as the state works to address the coronavirus pandemic.
During a briefing on the public health crisis, Gov. Andrew Cuomo (D) was asked about his legislative priorities for the budget, which is facing an April 1 deadline to get passed. While he recognized that there are certain policy items he included in his proposal to lawmakers that are more complicated and may have to be delayed, he said the legislature should still pursue cannabis legalization.
"We will pass a budget and address the policy items that we laid out and we discussed because it's not just about passing a budget and the numbers," Cuomo said. "There are many policy initiatives that I laid out back in January, and we're going to pursue all of them."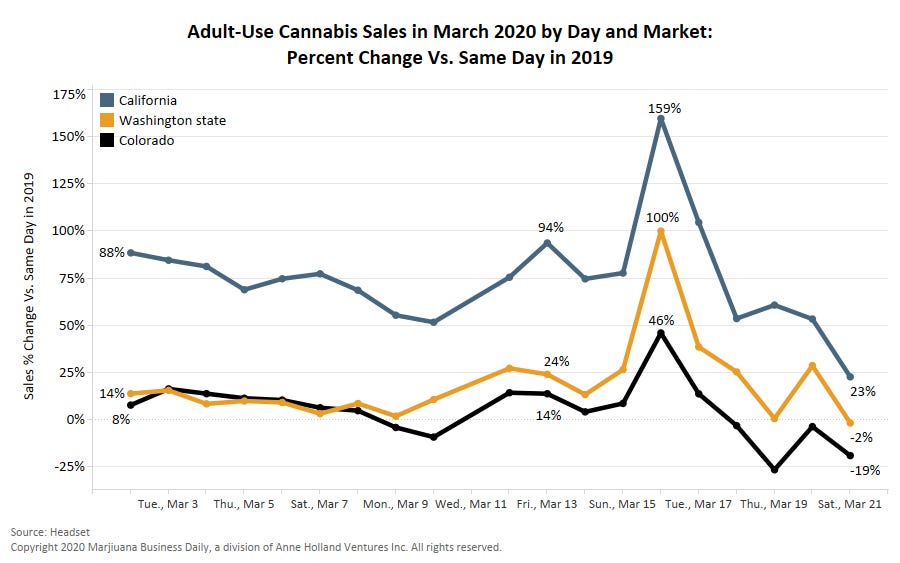 The response might mark a natural decline after consumers stocked up before sheltering in place or it could be the result of economic pressures from the pandemic, which has resulted in the closure of restaurants, gyms, ski resorts and scores of other businesses as well as the loss of thousands of jobs. With many consumers having stockpiled in advance, the decline could simply be a re-balancing of demand.
I checked in with Jane and they reported similar dips in sale after customers stocked up. Additional data from the Company shows that average store revenue was up 52% to 130% compared with January at more than 1,300 stores using the cannabis e-commerce platform.
TILT Holdings subsidiary Blackbird reported a 400% increase in delivery sales over the past week.
Planet 13 has significantly expanded its delivery capabilities, moving from five to eight delivery vehicles, all of which are now running twenty-four hours a day, seven days a week. The Company expects to add an additional seven vehicles to its delivery fleet over the next several days
Harborside, with four stores in CA say sales are up 20-25% at all locations.
Wholesale marketplace LeafLink reported a 48% spike in orders Monday versus a week ago.
Drive-thrus are also seeing huge growth with NuWu Cannabis Marketplace (Las Vegas) up to 2,000 cars/day at its two 24-hour drive-thru locations – up from about 500 a day on March 19.
Several states have industry-specific licensing laws on the books that are aimed at empowering unions by forcing membership dues on employees. In New York and California, for instance, employers are required by law to enter into "Labor Peace Agreements" in order to maintain their license. In Pennsylvania and Illinois, cannabis license applicants who have LPAs essentially get preferential treatment by state officials. Instead of allowing employees to pick their representation, an employer could already have an agreement with a labor union before the business is up and running. As the Foundation points out, these LPAs "violate workers' privacy" and threaten their right to choose whether or not to join a union.
I thought only alcohol companies could chip in here given their ethanol supply but apparently dispensaries banned from adult-use in MA can help out as well. A dozen dispensaries in the state are producing ~5,000 gallons/week (roughly the same amount Pernod Ricard is producing in the U.S.).
Revolutionary Clinics, INSA, Central Ave Compassionate Care, Inc., SIRA Naturals, New England Treatment Access, Theory Wellness, Garden Remedies, Triple M, Alternative Therapies Group, Inc., Berkshire Roots, Cultivate, NorthEast Alternatives, Patriot Care, and Mass Wellspring.
Operational Highlights (week ended March 21, 2020)
$2.8M+ weekly revenue, a new company record (excludes the TGS acquisition)

22,200+ transactions with an average basket size over $120

New weekly revenue records at multiple locations nationally, including state records in DE and PA
No update on cash balance though.
2019 Managed Revenue of $250.6M and Adjusted EBITDA of $25.9M

Quarterly Managed Revenue of $81.7M and Adjusted EBITDA of $13.8M

Quarterly Pro Forma Revenue of $131.7M

Closed on a $300M Senior Secured Term Loan Facility

Closed Select Acquisition on February 1, 2020 and Announced Expiration of Hart-Scott-Rodino Act (HSR) Waiting Period for Grassroots

---
💵
Deals
Under the terms of the Arrangement Agreement, shareholders of Abacus will receive 0.85 of a common share of Charlotte's Web for each Abacus Share held (the "Exchange Ratio"). The Exchange Ratio implies a price per Abacus Share of C$4.39 , representing a premium of 38% based on the 10-day volume weighted average price ("VWAP") of the Abacus Shares on the Canadian Securities Exchange ("CSE") and the 10-day VWAP of the Charlotte's Web Shares on the Toronto Stock Exchange ("TSX") as of March 20, 2020 , for implied total equity consideration of ~C$99M.
The combined entity is anticipated to represent approximately 34.7%3 of U.S. CBD sales within the Food/Drugstore/Mass retail channel. Combined sales for the third quarter of 2019 were $29.1M. Since its inception in 2014, Abacus has focused on becoming the leading practitioner and consumer choice for OTC topical medications with active pharmaceutical and natural ingredients, including a cannabinoid-rich hemp extract containing CBD. Abacus currently distributes over 50 SKUs through approximately 12,000 unique doors and 16,500 health-care practitioners. 
The Company also entered into a $10M secured credit line (with accordion feature to extend to $20M) from JPMorgan. At December 31, 2019 the Company had $68.5M in cash and working capital of $113.6M.
Strategically placed in key metro areas, AAC has established itself as a market leader in Connecticut dispensary cannabis retail, operating three out of 18 total stores currently operational in the State. Its first store opened in Hartford in 2014, the second in Milford in 2017, and the Stamford store opened its doors in January 2020.
Curaleaf is one of four licensed growers in Connecticut and currently operates a 60,000 square foot cultivation facility in Simsbury that provides high-quality cannabis products to over 40,000 patients throughout the state.
---
🧔
People
Leafly laid off 91 employees Monday, just two months after eliminating 54 positions. The Seattle startup that once employed about 300 now has 140 employees remaining. The company attributed the layoffs to the coronavirus outbreak that has investors spooked.
Organigram is anticipating voluntary and nonvoluntary layoffs as well as a slowdown in production and packaging as a result of the COVID-19 pandemic. The New Brunswick-based producer is currently "managing its production and staffing levels at its Moncton facility – where not all functions can be addressed remotely – to protect the health of its employees and the community."
Schweizer has 25+ years of experience in the food and cannabis industries, including 15 years at Whole Foods Market, where he held a number of roles within the organization, including Vice President of Grocery. Schweizer departed Whole Foods Market in 2016 and has been a strategic advisor to several high-growth retailers and brands. Simultaneous to Schweizer's appointment, the Company announces that Jay Brown resigned from the Company's Board
---
🏬
New Store Openings
Nothing notable / new as regulating agencies have likely slowed down at this time.
---
🤷‍♂️
Somewhat Relevant
Major retail and restaurant chains, including Mattress Firm, Cheesecake Factory and Subway, are telling landlords they will withhold or slash rent in the coming months after closing stores to slow the coronavirus.
PepsiCo did not release the number of workers who showed symptoms but ~620 full-time workers are employed at the site in Modesto. The employees who showed symptoms are under a 14-day quarantine, but the factory decided to shut its doors as a precaution even though COVID-19 is not known to be spread through food or food packaging. The facility will be deep-cleaned in coordination with the Centers for Disease Control and Prevention requirements while it's shuttered.
Nike Inc. said business has rebounded in China following the outbreak of coronavirus, and the sportswear giant was able to offset much of its lost retail sales with online orders, a strategy executives said they expected to follow in the U.S. and Europe.
---
Who writes this newsletter? ➡️ Dai Truong