Discover more from Highly Objective
Cannabis industry news, insights, and analysis
Over 2,000 subscribers
$1.75B in Revenue for Canada / Colorado
Eaze raises more money. Cowen cuts 2020 outlook for Canada (again). NFL to end Marijuana suspensions. Tilray's first mover story. Harvest acquires Arizona Natural Selections.
I had to do a double take when I saw the $1.75B revenue number, first for Colorado, then for Canada. Although they aren't apples-to-apples, one being an annualized number (Canada) and the other being a 2019 number (Colorado), it definitely made me think more about how mature Colorado's market is and how much attention Canada / LPs get relative to the current market opportunity. This emphasizes how important federal legalization and research coverage is. Important to note though that Colorado is looking at single-digit growth for this year while Canada's should double.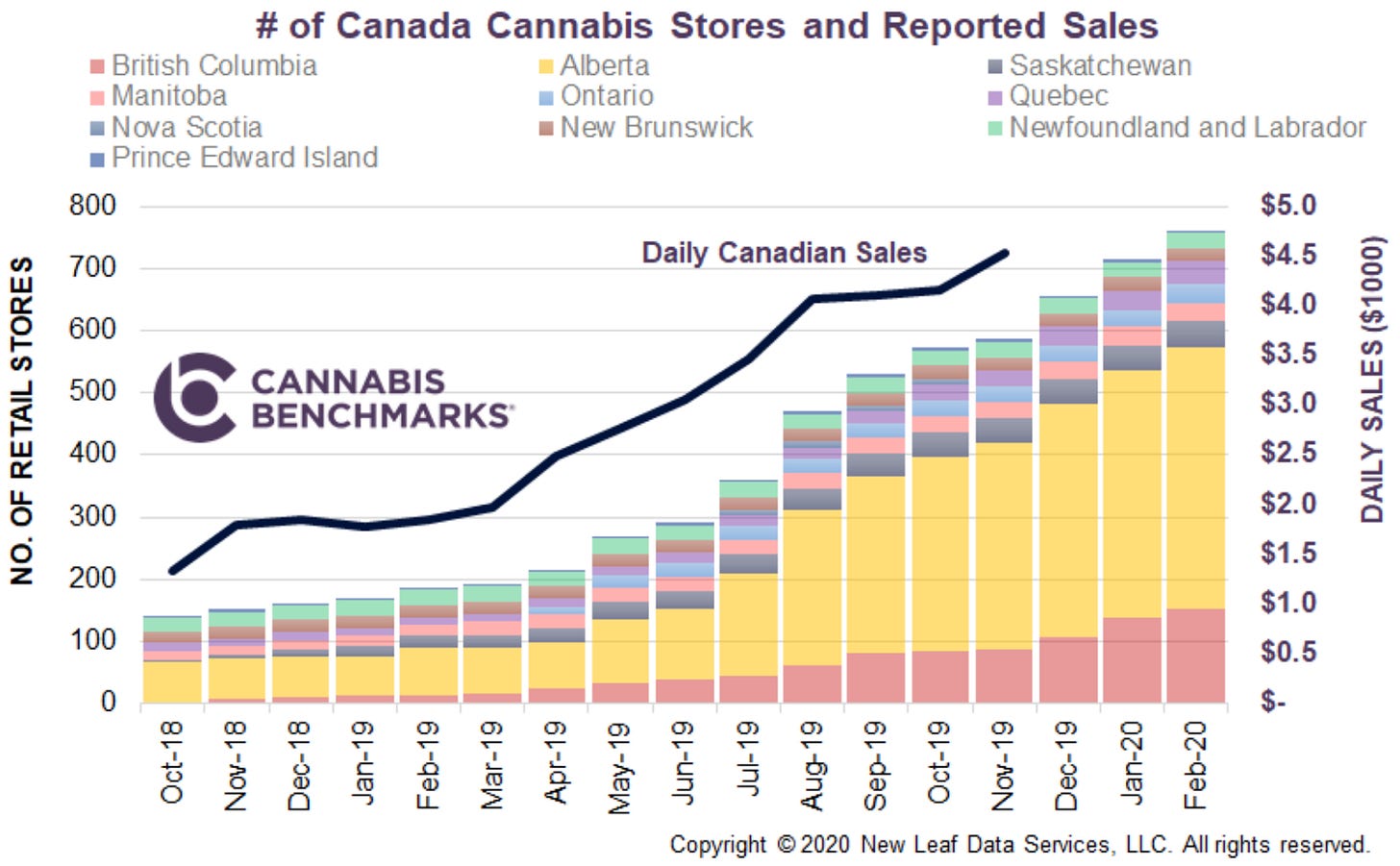 Oct. 2018: <200
Nov. 2018: <200
Dec. 2018: <200
Jan. 2019: <200
Feb. 2019: <200
Mar. 2019: 200
Apr. 2019: 210
May. 2019: 280
Jun. 2019: 300
Jul. 2019: 360
Aug. 2019: 480
Sep. 2019: 520
Oct. 2019: 580
Nov. 2019: 600
Dec. 2019: 660
Jan. 2020: 757
mid-Feb. 2020: 791
---
🌿
Industry
Six weeks after TechCrunch reported that Eaze was running out of money, laying off more employees and scrambling to pay its bills and stay afloat as it worked on a pivot to selling its own supply rather than just that of third-party providers, the company has finally closed some funding and appears to be moving forward with its plans.
Eaze confirmed a bridge round of $15M, plus $20M as part of a Series D round of funding, totaling $35M in funding. The Series D portion of the funding is coming from a group of investors led by a firm called FoundersJT LLC, and the bridge round is coming from Rose Capital and DCM, both previous investors. Eaze said that it has the facility to extend the Series D by another $20 million. It's not disclosing valuation.
Limited availability of pot-infused edibles and a lack of cheaper offerings compared to the illicit market will stunt the growth of the Canadian cannabis industry, according to Cowen. The firm has reduced their sales forecast for Canada's cannabis industry by 32% to $3.5B for 2020 from a prior forecast made in November. It's the seventh revision to Cowen's 2020 expectations for the Canadian pot market. The firm originally forecast $7.2B in sales for 2020 back in January 2017.
After revising expectations for the market, Cowen downgraded its ratings on Aurora Cannabis, Sundial Growers, and Tilray from "outperform" to "market perform."
National Football League players would no longer face the possibility of being suspended from games just for testing positive for marijuana under a proposed collective bargaining agreement approved by team owners and circulated to players. The new policy being floated for approval by the the NFL Players Association would also reduce the number of players subject to testing for cannabis and narrow the window when tests can be administered from the current four months to just two weeks at the start of training camp.
Brendan Kennedy tells the story of how he, Christian Groh, and Michael Blue started their PE firm, Privateer Holdings. They saw the industry as highly fragmented, with immature companies, no established brands, inconsistent quality standards, severe restrictions on access to capital, and a lack of professional management. They thought they could launch a company to gain a first-mover advantage before legalization progressed further.
In December of 2010, he gave notice at his bank (Silicon Valley Bank) and started developing a business plan . Their initial idea was to create a venture capital firm that would invest in cannabis start-ups. That proved to be complicated when they couldn't trust any of the companies in the space with their capital. They decided to pivot to a private-equity holding-company model, whereby they'd wholly own, operate, and incubate a portfolio of companies with the goal of making each of them a leader in its respective segment of the industry.
As many as nine new recreational cannabis dispensaries could clear a crucial regulatory hurdle during a special meeting of the Chicago Zoning Board of Appeals scheduled for March 6, potentially almost doubling the number of Cannabis shops allowed to operate in the city, according to officials. The 11 dispensaries currently licensed to sell recreational Cannabis in the city had previously been licensed to sell medical cannabis. They were automatically allowed to begin recreational sales on Jan. 1st.
Multistate cannabis operator Cresco Labs announced last week that it had hired Greg Butler, a former marketing executive for Molson Coors, to fill the newly created position of Chief Commercial Officer and to help scale the company's U.S. market presence. Butler, who has a background in driving brand growth for consumer packaged goods (CPG) companies such as Pfizer, Johnson & Johnson and Walgreens, will be responsible for commercial strategic planning, bolstering Cresco's sales and marketing teams with new talent, leading the launch of new products, and M&A strategies and integration. Butler discusses how his CPG experience will benefit him in this new role, as well as what he hopes to achieve as Cresco's first chief commercial officer.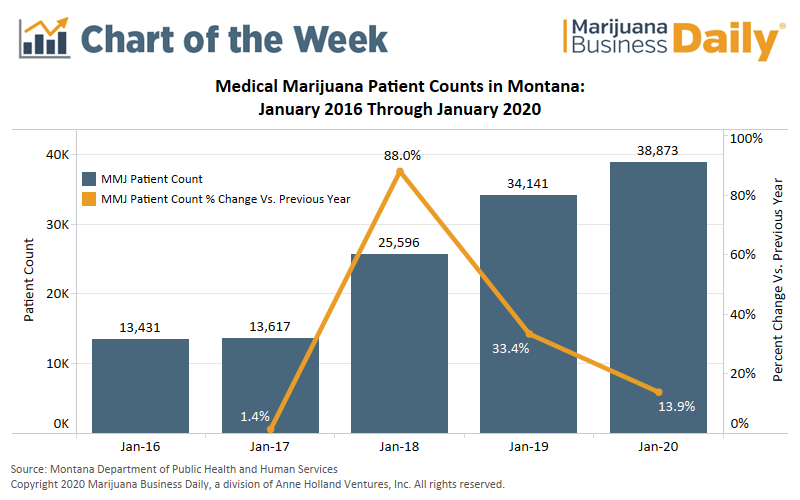 Montana has 372 dispensaries, one of the highest in the nation on a per-capita basis (who knew?). The percentage of Montana's population registered now stands at 3.6%, the third-highest in the nation. There are currently two competing ballot initiatives to legalize adult-use cannabis are pending review by Montana's Secretary of State office. If the measures are approved, organizers will have until mid-June to collect signatures to qualify for the 2020 ballot.
---
💵
Deals
Harvest will own and operate 14 medical dispensaries after this acquisition, four cultivation facilities, and three processing facilities in its home state of Arizona, a total of 15 vertical licenses. On a pro forma basis, including pending acquisitions, Harvest has a total of 22 vertical licenses in Arizona.  
The four licenses acquired through the agreement include retail locations: Green Desert Patient Center of Peoria, Inc., Green Sky Patient Center of Scottsdale North, Inc., The Giving Tree Wellness Center of Mesa, Inc. and a fourth location to be opened, each of which currently conducts business under the retail brand name Arizona Natural Selections.  
The acquisition will provide Harvest with two operational cultivation facilities: a 55,000 sq. ft. indoor cultivation and production facility in Phoenix and a 322-acre site of which 25 acres are zoned for cannabis with 70,000 square feet of greenhouse in Willcox. The acquisition includes the Darwin line of precision-dosed cannabis products.
One Plant Florida to commence operations at its 54,000 Sq. Ft. Nexus Greenhouse, complete 10 store build out and expansion of delivery network. The funding enables full construction of a new 88,327 Sq. Ft. indoor cultivation facility, processing facility, lab, and kitchen in Indiantown, Florida.
Execution of "Stalking Horse" Agreement to sell the Company's CBD Business to The BRN Group with 30 day Go Shop Period

GGB extends Maturity Date of Backstop Debentures to 2024 with coupon lowered to 5% payable in kind

GGB receives commitment from Key Stakeholder to Subscribe for $10M of proposed $30M Equity Financing to support working capital and build out requirement of the MSO Segment

Board of Directors form Special Committee to consider strategic alternatives and retain AltaCorp Capital to solicit and review bids during the Go Shop Period
Australis Capital (CSE: AUSA) (OTC: AUSAF) previously announced on, December 11, 2019, a proposed merger by and among AUSA, Folium Equity Holding and Folium Merger Sub by which Folium would become a wholly owned subsidiary of AUSA, and AUSA would be rebranded as and carry on the business of Folium. AUSA recently discovered new relevant information with regard to Folium and, on that basis, AUSA has decided to not proceed with the merger.
Pursuant to the terms of the definitive agreements, MPXI has acquired an 80% interest in First Growth with the remaining 20% held by Simonsberg Cannabis. The Company and Simonsberg loaned a principal amount of $1.7M on construction of the project with $500,000 from Simonsberg at an interest rate of U.S. LIBOR plus 3% per annum. Upon receipt of the License, the $500,000 loan from Simonsberg plus accrued and unpaid interest are convertible into common shares of MPXI at a deemed conversion price of C$0.35 per Share and based on the exchange rate posted by the Bank of Canada as of the date of the achievement of the License.
---
🧔
People
In addition to his role at Jane, Robb sits on the board of Canadian cannabis producer Aphria, a company chaired by Hain Celestial founder — and friend of Robb's — Irwin Simon. He assumed the seat in April 2019.
---
🏬
New Store Openings / New Products
---
🤷‍♂️
Somewhat Relevant
Target's investments in store remodels, same-day delivery and drive-up services are paying off. The retailer, which used to rank No. 11 in U.S. e-commerce sales, is now forecast to jump three spots to break into the top 10 list as the No. 8 retailer, according to a new report from analyst firm eMarketer. This puts Target ahead of declining businesses QVC and Qurate Retail Group (HSN's owner), as well as No. 9 Costco and No. 10 Macy's, the new forecast says.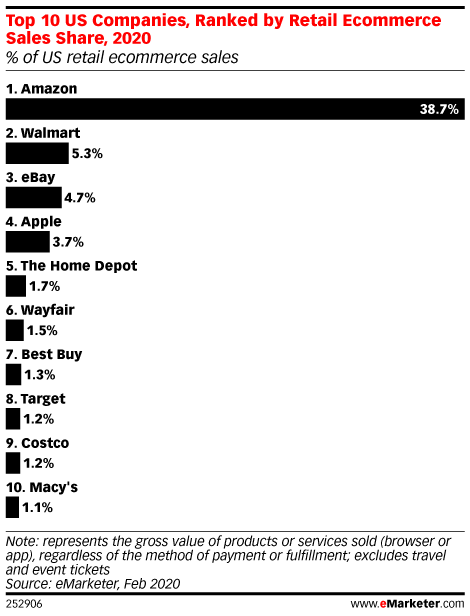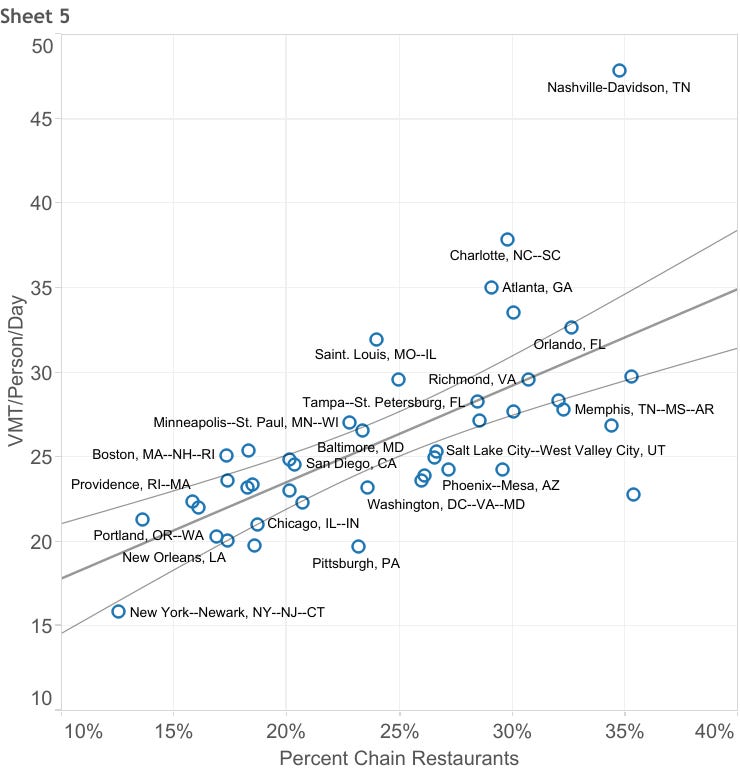 The data show a strong positive relationship between miles driven and chain restaurant market share. Metros where people drive more have a higher fraction of chain restaurants. For example, New York, Portland and New Orleans all have a very low share of chain restaurants (less than 20 percent), and also have very low rates of driving per capita. Places where people drive a lot (Atlanta, Charlotte and Orlando) tend to have very high proportions of chain restaurants (more than 30 percent).  Overall, each additional mile driven per day is associated with an 0.6 percentage point increase in the share of chain restaurants in a metropolitan area.
While most of the industry is running headlong into delivery, Domino's is looking to hold steady on that delivery side of the business while really growing its carryout channel, saying it'll be an important part of the profit equation going forward.
---
Who writes this newsletter? ➡️ Dai Truong