Discover more from Highly Objective
Cannabis industry news, insights, and analysis
Over 3,000 subscribers
⁉️Adult-use States see uneven impact in April from coronavirus
Recession proof status should be confirmed with additional months of data
---
🌿
Industry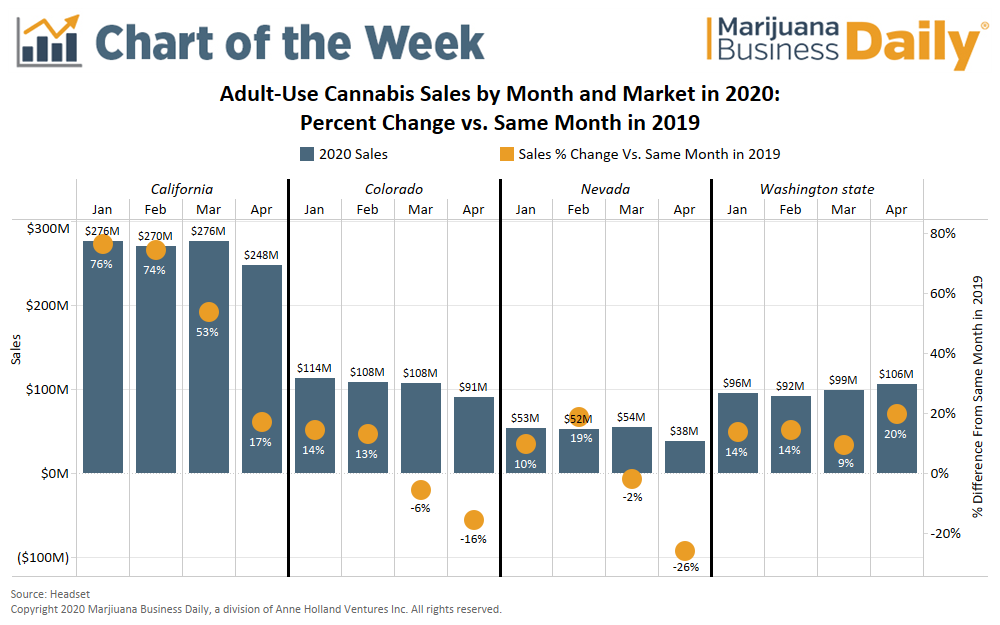 While the COVID-19 pandemic continues to dampen adult-use marijuana sales in most U.S. markets, Washington state experienced its strongest month of cannabis sales yet – highlighting the diversity of legal markets. According to point-of-sale data provided by Seattle-based Headset, April 2020 recreational marijuana sales in Washington state eclipsed $106M, a record for the state.
Adult-use cannabis sales in California still rose in April 2020 compared to April 2019, but the gain was substantially less compared to monthly sales growth before the pandemic. In Colorado and Nevada, monthly sales declined on a year-over-year basis for the second consecutive month. The data provides some evidence that demand for cannabis holds strong – and perhaps even increases – during times of significant financial duress.
However, April marked only the first full month of cannabis sales during an economic crisis that could last for some time – meaning it remains too early to tell if cannabis sales will prove "recession proof," similar to how alcohol sales fared during the Great Recession. But Washington state might represent the best test case for this. The market is relatively mature, and it generates a higher portion of sales from local customers as opposed to tourists, unlike other mature markets such as Colorado.
This week, news broke that the city councils in Anaheim and Milpitas are revisiting the option to license marijuana companies. In Anaheim, the City Council is poised to take up the matter at its May 12 meeting, and several council members have already speculated on the benefits of allowing marijuana companies to operate legally in their jurisdiction. In Milpitas, the City Council is debating whether to put the question to voters in November as a local cannabis sales tax initiative. Both cities currently have marijuana business bans on their books, so a reversal could provide new business opportunities for cannabis entrepreneurs.
Such a movement could grow over time, as the economic downturn grows and more local governments begin to seek out ways to rebuild their hurting local economies, several cannabis industry insiders predicted.
Approved recreational cannabis retailers in Nevada will be allowed to conduct in-store sales starting May 9th as part of the governor's broader plan to open up the state amid the COVID-19 pandemic. Nevada regulators had softened rules for marijuana stores as the coronavirus outbreak developed, at first only allowing delivery and then permitting curbside sales. Nevada's marijuana retailers are required to limit the number of customers on premises to no more than 10, or 50% of allowed occupancy based on fire code, whichever is a smaller number.
The team at Drizly, a Boston-based alcohol e-commerce marketplace, has launched a new company to deliver Cannabis, Lantern. The company is starting with delivery of cannabis to certified medical patients in Greater Boston. Recreational marijuana shops are not yet able to offer delivery -- though that licensure option will soon be available through the Cannabis Control Commission -- and are currently not operating amid the COVID-19 pandemic per an order halting businesses considered non-essential by Gov. Charlie Baker.
Orders on Lantern will initially go through Revolutionary Clinics, which operates medical marijuana dispensaries in Cambridge and Somerville. Meanwhile, discussions are underway with other licensed dispensaries as Lantern looks to serve patients throughout Greater Boston, Massachusetts and other states,
CannaSafe, an ISO-accredited cannabis testing laboratory that services ~30% of the California cannabis market, announced that Aaron Riley, the company's former president, has been named CEO. The news follows a buyout of the company's previous business partners. As president, Aaron has grown CannaSafe from a three-person lab with a 100-square-foot facility to over 150 employees and a 12,500 square foot lab in Los Angeles, with a new 25,000 square-foot headquarters. 
Additionally, CannaSafe announced it will be opening new testing labs in Oregon, Florida, and Illinois. They're expected to be operational between the second and third financial quarters. With cannabis businesses deemed essential in certain markets, and increased demand for cannabis during the COVID-19 pandemic, CannaSafe will utilize the additional laboratories to ensure consumer safety under the continuation of the cannabis supply chain.
When Waterloo Brewing (~$100M Market Cap) started laying the groundwork to enter the cannabis-infused beverage market, it touted a potential beverage segment in Canada worth upwards of 1.5B Canadian dollars ($1.07B). Now, more than two years later, one of Canada's most successful craft brewers is shelving the plans. The Company didn't see a business case working over an extended period of time and concluded that "the size of the prize" did not warrant the investment.
Cultivators and retailers are optimistic about shutdown orders expiring May 18 and hoping for relief from a bill that, if approved, would provide state-level assistance to businesses ineligible for federal COVID-19 funds. Massachusetts lawmakers met virtually May 5th to discuss a bill that could provide much-needed relief to the state's medical and adult-use cannabis industry.
The hearing of the Joint Committee on Development and Small Businesses focused on a bill to establish a Paycheck Protection Program (PPP) at the state level for companies that don't qualify for federal assistance, such as cannabis businesses, as part of the Coronavirus Aid, Relief, and Economic Security (CARES) Act.
The COVID-19 pandemic has been detrimental to cannabis companies licensed to cultivate or sell through Massachusetts' adult-use program because, unlike most other states, Gov. Charlie Baker did not deem adult-use retailers essential like their medical counterparts. Dispensaries have been closed since the shutdown orders took effect March 24. At the end of April, Gov. Baker extended the nonessential business emergency order to May 18.
Legal Cannabis sales during Illinois' first full month of coronavirus lockdown amounted to almost $37.3 million, surpassing every month of recreational marijuana sales in Illinois so far except January. Last month's sales bested March's ~$36M and February's ~$35M. April's sales bring the state total to about $147.5 million in legal weed sales over the last four months, according to data from the Illinois Department of Financial and Professional Regulation, which regulates dispensaries.
MedMen listed temporary closures on its website. Locations are shuttered in Jacksonville Beach, Key West, Orlando, Sarasota and Tallahassee. Three stores in Pensacola, St. Petersburg and West Palm Beach remain open.
---
💵
Deals
Canopy exercised 18,876,901 warrants to purchase common shares of Canopy Growth. The warrants, which were originally issued on November 2, 2017, were exercised at an exercise price of C$12.9783 per common share for an aggregate of approximately C$245M. Upon issuance, the common shares represented ~5.1% of the issued and outstanding common shares of Canopy Growth. As a result of the acquisition of new common shares, Constellation Brands now indirectly holds, in the aggregate, 142,253,802 common shares, 139,745,453 warrants to purchase common shares and C$200,000,000 principal amount of senior notes. Collectively, the common shares increase Constellation Brand's ownership of Canopy Growth to 38.6% of the issued and outstanding common shares. Assuming full exercise of all remaining warrants and full conversion of the notes (but for these purposes excluding any effect from a Canopy Growth exercise of its right to acquire Acreage Holdings, Inc. pursuant to its option under the plan of arrangement previously announced on June 27, 2019) Constellation Brands would own ~55.8% of the issued and outstanding common shares of Canopy Growth.
It's a significant discount for Constellation, which invested ~$4B when shares were trading around ~$32.00 (up 30% after transaction announced) back in August 2018. Despite the discount, securing substantial funding amidst coronavirus following a down year for the cannabis industry is a major vote of confidence, not only for Canopy but for the industry as a whole.
Multistate operator Ethos Cannabis said Tuesday it reached a deal with a competing MSO, 4Front Ventures, to purchase the rights to seven medical marijuana dispensaries in Maryland and Pennsylvania. Only five (Allentown, PA, and Catonsville, Glenmont, Hampden and Rockville, MD) of the stores Ethos is acquiring are currently operating under 4Front's brand of Mission dispensaries. The Pennsylvania acquisition comes with an option for Ethos to start two additional dispensaries in the state, bringing to seven the number of dispensaries acquired.
Ethos already has a medical marijuana industry footprint in Pennsylvania as well as Arizona, Florida and Massachusetts and has submitted an application to open a vertically-integrated Cannabis company in New Jersey as well.
Canopy Rivers announced a C$2M investment in Dynaleo, an Edmonton-based company focused on white-label manufacturing edible cannabis gummies for the Canadian market. Through this investment in what the Company anticipates may become a leading industrial scale Canadian gummies manufacturer, Canopy Rivers believes it is capitalizing on a significant opportunity in what is currently an underserved and underdeveloped segment of the cannabis market. Once Dynaleo receives the required licencing from Health Canada, it expects to begin operating its 27,000 sq. ft. purpose-built facility with the goal of producing enough gummies to take a sizable bite out of the projected edibles market.
Aphria entered into privately negotiated agreements with a limited number of holders outside of Canada of its convertible senior notes to repurchase an aggregate of ~C$127.5M ($90.8M) principal amount of Notes for ~18.7M of common shares and ~C$2.9M ($2.1M) in cash for accrued and unpaid interest. Effectively, the Company agreed to repurchase a portion of its Notes at a 25% discount to their face value, using shares issued at a 31% premium to Aphria's most recent closing market price (which is equivalent to a conversion price of $4.84 per share).
The purpose of the transaction was to reduce the Company's debt and eliminate C$6.7M ($4.8M) in annual cash interest costs. This transaction strengthens the Company's balance sheet by increasing its net cash position from C$36.3M at its February 29, 2020 quarter-end to $163.8M, on a pro-forma basis as at that date.
Through a newly signed agreement, Precision, a Detroit-based company with an extensive portfolio of cannabis extraction, refinement, and processing technologies, will provide state-of-the-art equipment for TerrAscend's current and future product lines.
Precision is designing a multi-solvent lab in TerrAscend's New Jersey facility, currently under construction in Boonton Township. This new lab will be one of only a few of its kind in the United States. The dual-capacity facility will allow TerrAscend to produce a wide range of popular and innovative products, from medical grade vaporizer oils to live resins and various concentrate formats. Additionally, Pennsylvania-based Ilera Healthcare, a wholly-owned subsidiary of TerrAscend, is boosting its production capabilities with new Precision X10 lab extraction systems. The Company will upgrade its ancillary and post-processing equipment provided by Precision, as well. This agreement also provides TerrAscend with special terms and expedited access to spare part packages.
---
🧔
People
Horvath is the Company's third CEO in the span of a year. Horvath joins Hightimes from Green Growth Brands where he served as the CEO from 2018-2020. From 2016-2017, he served as Chief Global Commercial and Administrative Officer of American Eagle Outfitters, where he oversaw strategy, mergers and acquisitions, international sales, construction, legal and human resources. Horvath's salary will start at $100,000, and increase to $400,000 upon the Company successfully raising a minimum of $20,000,000 in additional equity. In addition, Horvath will receive (i) 600,000 shares of restricted stock units (RSUs) which RSUs shall vest bi-annually in equal installments over a period of three years, and (ii) options to purchase 400,000 shares of the Company's Class A Common Stock, which shall be granted upon the first anniversary of employment with the Company and will vest bi-annually over a period of three years thereafter.
Aphria laid off roughly a dozen employees, including its CMO, as it looks to streamline some of its operations ahead of its next fiscal year, the company's chief executive said. Aphria CEO Irwin Simon told BNN Bloomberg that the company recently let "less than one per cent" of its staff go after deciding to combine some of its marketing and sales teams. The Leamington, Ont.-based company has about 1,200 employees globally, a spokesperson said. 
"I'm strategically changing our business and doing some consolidation," Simon said in a phone interview. "I've run businesses for 25 years and there are times when you look at people, performance, and how you strategically align your businesses." 
Dowley joined the Company on December 5, 2019 as part of the formation of the Company's independent Board of Directors.
---
🏬
New Store/Facility Openings
Expansion enables Company to triple its grow capacity and significantly expands its manufacturing capabilities. The expansion project provides an additional 66,000 square feet of indoor and greenhouse cultivation area, bringing the total cultivation space in the facility to 88,000 square feet. The Brookville site supplies Cresco's house of brands to 100% of the licensed dispensaries in Pennsylvania and the Company currently maintains one of the largest wholesale market shares.
The new Central Florida location marks a record 47 locations in the state of Florida and 49 nationwide for Trulieve. Located on Conroy Road, the dispensary joins Trulieve's 46 other dispensaries statewide, and marks the fourth Trulieve storefront in the area, joining Orlando North, Orlando South, and Orlando Colonial.
---
🤷‍♂️
Somewhat Relevant
Uber slashed 3,700 white-collar jobs across the organization. After which, the Company is leading a $170M funding round in Lime, the scooter-sharing startup also hammered by COVID-19. Bain Capital Ventures, Google's parent company, Alphabet, and its venture capital arm GV are also participating in the round.
The move by the 112-year-old storied luxury department store chain was announced Thursday and follows the bankruptcy filing by J.Crew on Monday. Experts believe there will be more to come even as businesses start to reopen in parts of the country like Texas and Florida. Dallas-based Neiman Marcus, which operates 43 stores, said it expects to emerge from bankruptcy by this coming fall.
---
Who writes this newsletter? ➡️ Dai Truong