Discover more from Highly Objective
Cannabis industry news, insights, and analysis
Over 3,000 subscribers
🖇️Aphria and Aurora explored merger
High Times/Harvest/Have a Heart license transfer issues. iAnthus recap gives lender control. The collapse of Civilized.
---
🌿
Industry
Aphria, Aurora Cannabis explored merger in recent talks. Aphria and Aurora Cannabis recently held advanced talks to merge the two Canadian Cannabis Companies in what would have been a blockbuster deal (combining the 3rd & 4th largest Canadian operators by Market Cap.), but those discussions broke down late last week, according to two people familiar with the matter. The two companies opted to step back from merger discussions that took place over several weeks after failing to agree on board composition and compensation for some senior executives.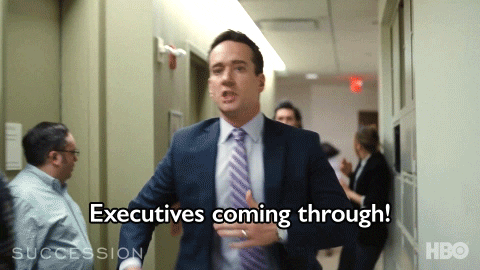 Before the two companies decided to walk away from negotiations, executives agreed on terms that would have seen Aphria shareholders control ~51% of the combined company, while Aurora shareholders would own the remaining 49%. The deal would have been conducted via a share swap. Aphria's CEO Irwin Simon was set to become CEO of the combined entity while executives had already identified ~$200M in synergies. If a deal had been reached, it would have created a global cannabis behemoth valued at ~$3.5B with operations in 25 countries, a leading 30% share of the Canadian recreational cannabis market and combined annual revenue of $800M+.
High Times, Harvest Dispensary Deal Is Heading To Elephants Graveyard. When High Times closed on its deal to buy ten California cannabis dispensaries from Harvest Health at the end of June, chairman Adam Levin was made aware he wasn't buying ownership control of most of them. In fact, Harvest Health, didn't even have control of the equity ownership it bought in California dispensary licenses from Have A Heart on June 23rd when both companies announced the closing of the transaction.
The cash to Harvest appears to have bought no more than an overpriced marketing campaign which attempts to show that  High Times has capital to grow its business and encourage unsophisticated cannabis investors to sink more money into High Times. The original merger agreement between Harvest and Have A Heart's corporate llc, Interurban Capital Group, signed on March 10, 2020  shows the deal was contingent on Have A Heart founder Ryan Kunkel transferring his equity ownership in the licenses. But at the time of the sale to High Times, Kunkel and Harvest were in a legal battle that court documents show involves alleged fraud, breach of contracts, and unclean hands.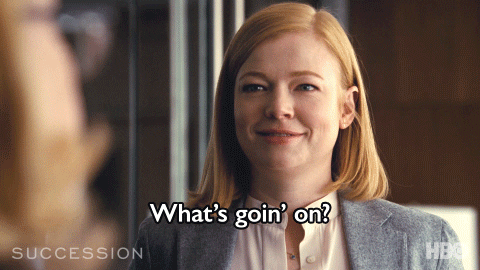 Harvest doesn't appear to be receiving any revenue from the 5 Have a Heart Washington stores, which requires the owner to be a resident — Kunkel changed the names on the dispensaries and Harvest retaliated by taking control of the POS systems and discounting products by 50%, Kunkel eventually retained control over all the stores internal systems and runs them to this day. They also don't seem to have control of either the SF (currently being listed for rent) or Oakland (51% owned by individual not involved with Have a Heart or Harvest, 49% owned by Ryan Kunkel), and another location in Oakland (Oakport) received a three day notice back in May to quit the location for breach of contract if $387K owed isn't paid.
The inside story of the downfall of Civilized, a cannabis media startup that raised $7M, then had to shut down after a takeover offer fell through. While the layoffs have been made public, Business Insider is the first to report on the collapse of Civilized's deal with New Frontier Data, as well as its negotiations to restructure its debt. This story is based on conversations with five former employees and four freelancers, as well as email threads and internal memos obtained by Business Insider. Civilized found itself at the intersection of two collapsing bubbles: cannabis and digital media. In both cases, early hype convinced investors to pour in cash, but growth didn't materialize as quickly as investors had hoped.
2020 Akerna Cannabis Industry Mid-Year Review. Akerna curated what they believe is the most holistic and accurate picture of the cannabis industry today. The collection of actionable business intelligence serves as a reference for anyone interested in better understanding and decision making about Cannabis. Report.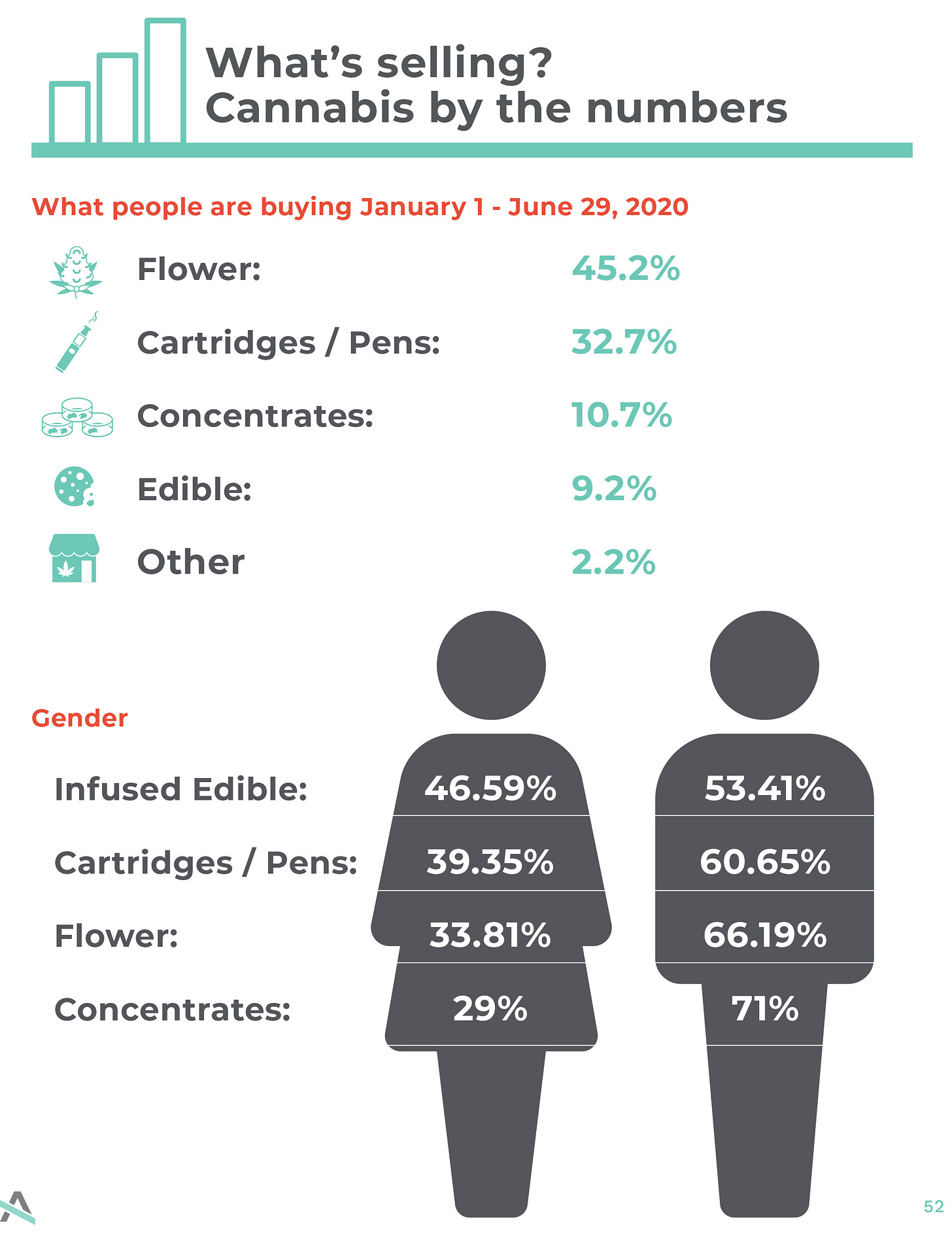 Past owners led 'hostile takeover' of MedMen locations in Scottsdale, Tempe as battle for control continues in court. A hostile takeover in the literal sense..where the sellers of Level Up marijuana dispensaries in Scottsdale and Tempe forced their way into the stores, cancelled state-issued dispensary-worker cards, and changed the lock on what they're referring to as "squatters." MedMen failed to pay the remaining $12M owed to them from selling to the national chain last year, according to court documents.
GTI cleared in Pasadena Investigation into Personnel Changes for CUP. City officials cleared another cannabis company in a probe that could result in one company losing its chance to sell cannabis in Pasadena. City officials found that an investigation revealed personnel changes in MedMen, led to a change of control in the company that could result in the denial of a Cannabis Retail Permit and disqualification from the city's process. City officials informed the owner of Integral Dena LLC (GTI) that the company had been cleared in the probe. Clearing Integral effectively closes the probe as decisions have been made on all of the companies remaining in the city's process. Harvest Pasadena and Varda have also received word they were cleared. Harvest and Integral have received Conditional Use Permits. So far, city officials would not reveal if another dispensary would be allowed into the process if MedMen is removed from the process. If MedMen is removed from the process, the company will have lost $14,000 non-refundable application fees, the $250,000 paid to be the master tenant at 536 S. Fair Oaks Ave, and $50,000/month in rent as of March 31 when the lease went into effect.
Headset — Consumer Wallet Share (July Report). Customer wallet shares for the five generations yield useful bits of information — Gen Z are the best customers for vape pens, the Silent Generation (75+) vastly prefers edibles, and Boomers are still buying Flower.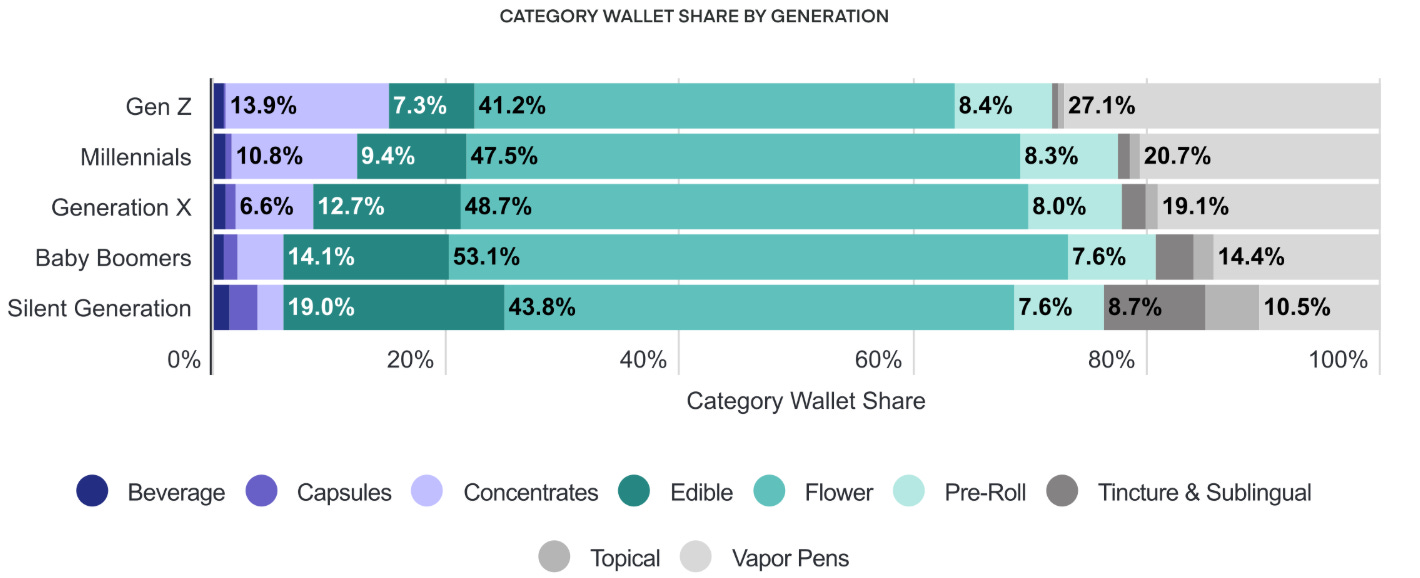 The differences are less pronounced between genders, across generations, but still there. Men have a slight preference for Flower and Concentrates, while Women prefer Wellness products.

CO—After Slow April, Marijuana Sales Explode in May. According to state Department of Revenue data, Colorado dispensaries sold ~$192.2M worth of product in May, ~11% higher than the state's previous monthly high of $173.2M, set in August 2019. Although state projections released in May had forecast decreasing marijuana industry tax revenue because of declining tourism and falling resident wages in response to COVID-19, marijuana sales have remained strong through 2020 and are on pace to surpass last year's total — so much so that the Governor's Office of State Planning and Budgeting has since revised those predictions. Historic DOR data trends show that 2020's high point could still be coming, as August has been the peak sales month for dispensaries five out of six calendar years since 2014.
MedMen potentially on the hook to pay legal fees of former CFO. A California judge has ruled that MedMen Enterprises must abide by an employment contract and pay the legal fees of a former CFO who sued the Company. The judge ruled that the employment contract is "clear and unambiguous" in requiring MedMen to reimburse former CFO James Parker for up to $500,000 a year in legal fees, Law360 reported. But the court did hold out the possibility that MedMen could later successfully argue that the employment contract isn't valid.
Legal dispute continues between Agri-Med and Muskegon Township. Agri-Med, which owns Park Place Provisionary and another marijuana dispensary in Nunica, filed a temporary restraining order against two dispensaries that received licenses to open in the township in April. Those businesses, Green Peak Industries and Warren Elite PC, were given licenses for recreational and medical marijuana sales, and, due to how the township's ordinance is written, were chosen over Agri-Med. Shortly thereafter, Agri-Med filed an order that would halt those businesses from moving forward. The township and the cannabis company will head to court on July 22 for a hearing. Seven dispensary licenses were awarded, none to Agri-Med, which believed it should have been granted one based on its position in line, rather than a vote which determined winners based on final decisions—made based on the size of buildings, effects on traffic, and the quality and number of jobs to be created.
---
💵
Deals
iAnthus Recapitalization Transaction leaves lenders with at least 97.25% of Company.. iAnthus's Secured Lenders ($97.5M —> $85M, interest reduced by 5%, maturity date extended 4 years) and Unsecured Debenture holders ($60M —> exchanged into equity) will recap the Company and provide it with $14M of interim financing, either 48.625% or 50% each depending on the proceedings. Assuming completion of the Recapitalization Transaction, the Company's pro forma outstanding indebtedness will be reduced from $168.7M (as of June 30th) to $101.4M (excluding $20M of Preferred Equity).
Planet 13 acquires Indoor Cultivation in Las Vegas. The Facility has 25,000 square feet under active cultivation with the ability to expand to 45,000 square feet. Planet 13 will pay $1.2M for the cannabis inventory, $3M for the operating assets, licenses, equipment and tenant improvements. Payment is comprised of $1.7M in cash and $2.5M of common shares. Concurrent with the signing of the Asset Purchase Agreement, Rx Land (entity owned by Planet 13's Co-CEOs) acquired the Facility for $3.3M.
IIP / Curaleaf Blue Anchor, New Jersey. Curaleaf's property is ~111,000 square feet of industrial space. The purchase price for the property was $5.5M (excluding transaction costs). IIP entered into a long-term, triple-net lease agreement for the property with Curaleaf, which intends to operate the property as a regulated medical cannabis cultivation and processing facility. Curaleaf is expected to complete additional tenant improvements for the property, for which IIP has agreed to provide reimbursement of up to $29.5M. Assuming full reimbursement for the tenant improvements, IIP's total investment in the property will be $35.0M.
---
📄Financial Results
Q1 2020 Systemwide PF Sales of $23.7M, up 36% over Q4 2019

Company reaches final resolution with the Massachusetts Cannabis Control Commission with respect to legacy regulatory issues. The Company expects the agreement will clear the path for recreational licensing of its Massachusetts locations

Funded expansion plans underway in both Massachusetts and Illinois production facilities expected to be completed by Q4 2020

Company remains on pace to be cash flow positive in 2H 2020 and poised to show significant operating leverage in 2021

Company is in progressive discussions to strengthen its balance sheet through a financing/sale leaseback of its affiliated facilities in Washington

$11.5M in cash as of 5/31/20 with total debt of $80.1M (excluding in-the-money convertible debt of $5.8M)
Revenue of $17.6M, up 100.3% from $8.8M YoY

Gross Profit increased to $6.3M (35.8% GM), compared to $5.1M (57.9% GM in the same period in fiscal 2019)

Adjusted EBITDA of $2.7M, or 15.3% of revenue, compared to $2.0M (23.0% of revenue), in the second quarter of 2019

$45.1M in cash as of 5/31/20
---
🧔
People
Trulieve appoints David Lummas to Chief of Staff. Prior to joining Trulieve, Lummas was with Strive Consulting in Chicago, IL where he helped to develop practice offerings, internal strategic plans and facilitated business development efforts.  Previously, he held a vice president role at Sears Holdings where he focused on strategic change programs to drive business transformation. Lummas spent the majority of his career at Tesco, an international retailer, where he developed global change and program management methodologies from a standing start, built an internal consultancy team that guided leaders though strategy enablement, drove process improvement and change management, and served as Chief of Staff to the CEO and executive team, developing business turnaround plans and ultimately a joint venture and business integration. During his career at Tesco he also ran the program management office for Tesco Asia covering Thailand, Malaysia, South Korea, and India.
---
🏬
New Store Openings
Cresco Labs — Sunnyside South Beloit (8th IL, 18th overall)
Trulieve — Port St. Lucie (52nd FL, 54th overall)
Liberty Health Sciences — Jacksonville Beach (26th FL)
---
🤷‍♂️
Somewhat Relevant
Moxie Cannabis Makes Move from Plastic to Paper—at a Cost. Company replaces plastic and paper sleeves for its range of cannabis products with more costly FSC-certified, chlorine-free paper, as part of its vision to become the first fully-integrated, carbon-negative cannabis company.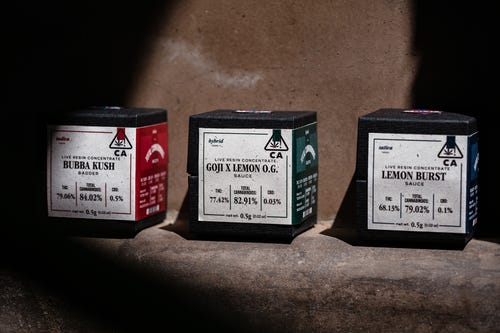 Who writes this newsletter? ➡️ Dai Truong