Discover more from Highly Objective
Cannabis industry news, insights, and analysis
Over 3,000 subscribers
🧾Aphria Earnings — miss on revenue, worse-than-expected losses
More Cannabis SPACs than targets. Another Cannabis SPAC (Petra Acquisition) files for a $125M IPO. Medically Correct terminates deal with Schwazze.
Changing the format slightly and adding a new section (Hiring / Looking) to highlight a handful of available jobs, as well as candidates seeking opportunities (see below, towards end). Feel free to send me future jobs you want posted or a quick write-up/resume and I'll be happy to post in future newsletters (Companies - feel free to reach out to candidates directly, Candidates - apply directly and happy to connect if I have a relationship). I've noticed a trend of people being more open with sharing that they're looking so hopefully this will speed up the process for people and cut out a bit of friction in the process.
---
🌿
Industry
Cannabis Investment Vehicles Long For High Times. The cannabis stock selloff over the last year which caused investments to go up in smoke also threatens to upend plans for cannabis special purpose acquisition companies (SPACs) that were formed in the last year to buy cannabis assets when values were high, industry experts say. Over a dozen SPACs have collectively raised over $3B since June 2019 with mandates to buy cannabis and cannabis-related companies. But with valuations across the industry in a continuing slump from highs in early 2019, these SPACs are scrambling to find viable acquisition candidates that fit their revenue and valuation mandates, raising pressure on these managers and their investors.
The pandemic is eating away at the illicit marijuana market. The coronavirus has proven to be a boon for legal pot shops, as customers fear the risks associated with inhaling questionable products and are nervous about letting sellers into their homes. Mitch Baruchowitz, Merida Capital Partners, suggests "the vast majority of the current growth in the cannabis space is being driven by consumers transitioning from the black market to the legal market."
As new pot licenses delayed indefinitely, KPMG pocketed $7M from state to rank applicants. KPMG was given two no-bid contracts to grade firms applying to open new cannabis businesses, but the process hit a standstill because of the firm's ban on travel during the pandemic and a contract provision requiring it pick up applications by hand. KPMG is getting nearly $4.2M through a contract with the Illinois Department of Financial and Professional Regulation, which oversees dispensaries, and $2.5M from the Illinois Department of Agriculture, which is tasked with regulating cultivation operations and other cannabis business. The payments to the firm amount to more than 12% of the state's $52.8 million in cannabis tax revenues during the first six months of recreational legalization.
American Cannabis Operator Stocks Soar 27% in July. Adding to a 29% gain in Q2 despite a pullback in June, the American Cannabis Operator Index rocketed higher in July, increasing 26.7% to 34.53. The four best performing stocks included Planet 13 Holdings, cbdMD, TerrAscend and Curaleaf Holdings. The four worst performing stocks included Charlotte's Web, Vireo Health, CV Sciences and TILT Holdings.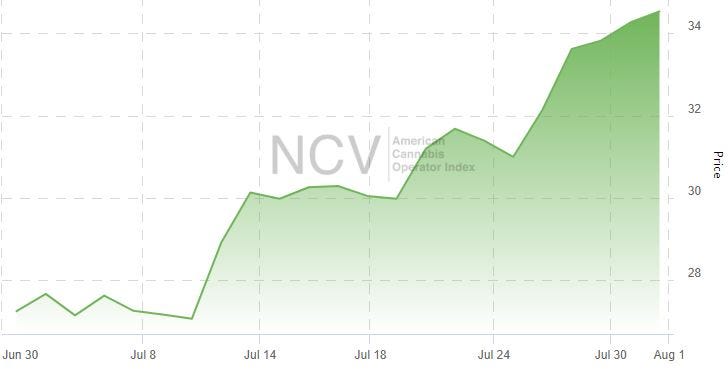 Don't Forget the Motor City: Corporate Cannabis on Sidelines for Michigan. These years of stagnation gave rise to a cobbled together approach of caregivers, cultivators and distributors. The system closely resembled California's early medical marijuana days. Regulated stores are now competing with unregulated stores which are operating under a system called forbearance. In addition to that, numerous municipalities have opted out with Detroit being the largest. Some in the cannabis industry have suggested that until Detroit says yes, it isn't worth making the investment.
NETA accused of anti-union tactics. New England Treatment Access said that workers at its Brookline dispensary voted 30-9 not to unionize despite months of efforts on behalf of United Food and Commercial Workers Local 1445. The vote comes a few weeks after UFCW said that 60 cultivation workers in Franklin signed cards to join a union, a process specific to the state's agricultural workforce. The NLRB is in the process of validating the signed cards from workers. NETA's manufacturing staff in Franklin have yet to vote on whether to unionize. The union said it will appeal the Brookline decision.
Covid-19 creates surge in demand for medical cannabis in NM, shortages ahead. Even before the pandemic, demand for medical cannabis substantially outpaced supply in New Mexico. The restrictions on supply resulted in a medical market with artificially high prices and limited variety of medicine available. As of March 31, 2020, there were only 2.6 million grams of flower and bud in the aggregated inventory of all providers, resulting in a 12-day supply statewide despite the Lynn and Erin Compassionate Use Act mandating an uninterrupted three month supply of cannabis. Limited supply paired with the pandemic-induced spike in demand was accompanied by a jump in price. Between December 31, 2019, and March 31, 2020, prices jumped by 17 percent to $11.64 per gram – more than 3.5 times the average price per gram for medical cannabis in neighboring Colorado. 
SEC Files Charges in $25M Cannabis-Related Offering Fraud. The SEC's complaint alleges that, between September 2017 and February 2019, California residents Anthony Todd Johnson (a/k/a Todd Johnson), Jeremy T. Johnson, Richard A. Portillo, and Michael R. Gregory, and Arizona residents Charles Lloyd and Mark W. Heckele, raised funds from more than 400 individuals to invest in two separate cannabis-related businesses in California, a marijuana farm and a cannabidiol (CBD) extraction facility. As alleged in the complaint, the six individual defendants allegedly conducted the scheme through nine issuers and three marketing companies, Smart Initiatives, LLC, Valley View Enterprises LLC, Target Equity LLC, Zabala Farms Group, LLC, GPA Enterprises LLC, C-Quadrant LLC, Green Bud Initiatives LLC, RJ Holdings Group, LLC, CIS Marketing, LLC, Green Growth Ventures, LLC, Extraction Capital Tier 1, LLC, and Lloyd Marketing, LLC.
---
💵
Deals
Medically Correct terminates deal with Schwazze. Denver-based edibles and extracts company Medically Correct has terminated its acquisition agreement with fellow Colorado cannabis firm Schwazze. In addition to selling throughout Colorado, Medically Correct's offerings are available in California, Massachusetts, Nevada, Oregon and Puerto Rico. The company is also planning expansions to Arizona, Florida, Michigan, and Ohio, according to its website. The proposed purchase, first announced in 2019, marks the fifth major Schwazze deal that's fallen through in recent months.
Cannabis SPAC Petra Acquisition files for a $125M IPO. The company is led by CEO and Chairman Andreas Typaldos, a software and technology veteran, and CFO Sean Fitzpatrick, the Founding Partner at boutique advisory firm Fidem Advisors.
Schultze SPAC — Definitive Agreement to Combine with Clever Leaves. Expected initial enterprise value of ~$255M, which includes ~$74M of net cash ($111M in cash, assuming no redemptions, and $37M in debt) on the balance sheet at closing. Clever Leaves intends to use the proceeds from the Business Combination to help fund the combined company's business operations near-term and potential M&A opportunities.
Kanna closes $500K funding round as it connects cannabis workers, companies. Kanna connects employers with workers in the industry, which in Oklahoma is still a relatively new marketplace. The pre-Seed funding round was rasied from Jon Oringer (founder of Shutterstock), Operator Partners, Mockingbird Ventures, Matt Stacy, Crown The Crew Capital, and other undisclosed investors. After launching, the website quickly drew about 1,000 interested workers for jobs like trimming, retail, delivery, budtending and packaging. The next step, said founder Farhaj Mayan, is to hire software engineers, continue developing the company's software and connect with farms and other cannabis businesses to expand its client base. Mayan and the Kanna team moved to Oklahoma from Austin this spring, and participated in the Thunder Launchpad accelerator program.
---
📄Financial Results
Revenue: C$152.2M with net cannabis revenue of C$52.7M

Adjusted EBITDA: C$8.6M, with improvements predicated entirely on increasing profitability for the cannabis businesses

Cash: ~C$497M of cash and equivalents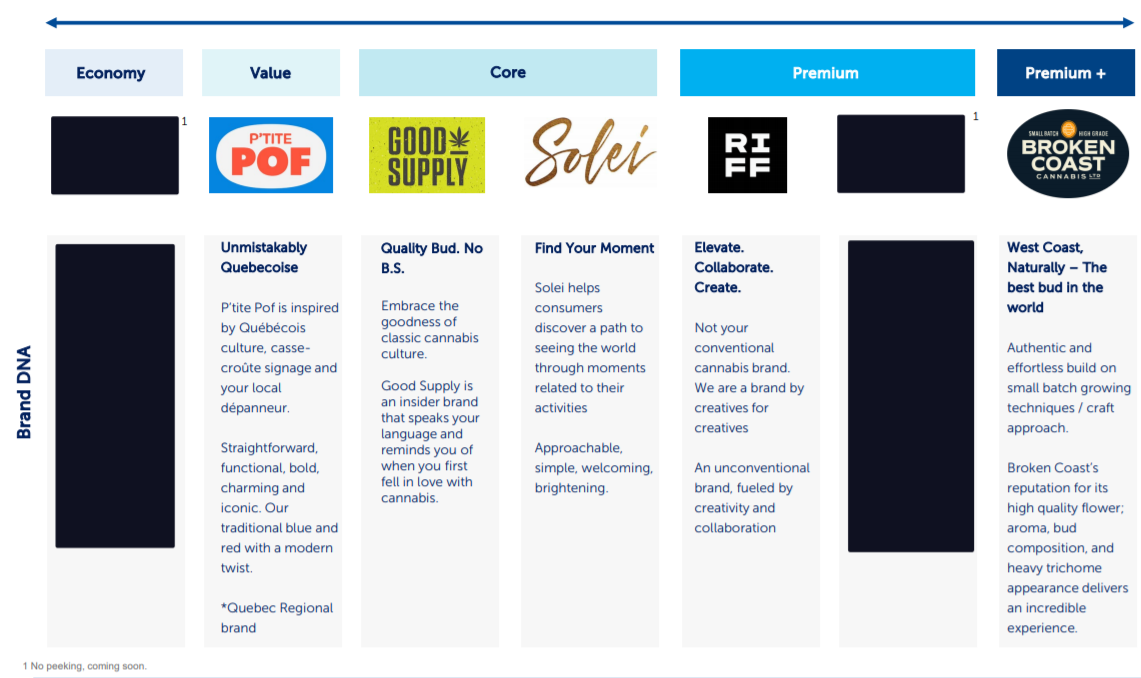 ---
🏬
New Store Openings / Products
TerrAscend opens 4th CA Store (Apothecarium, Berkley), 7th overall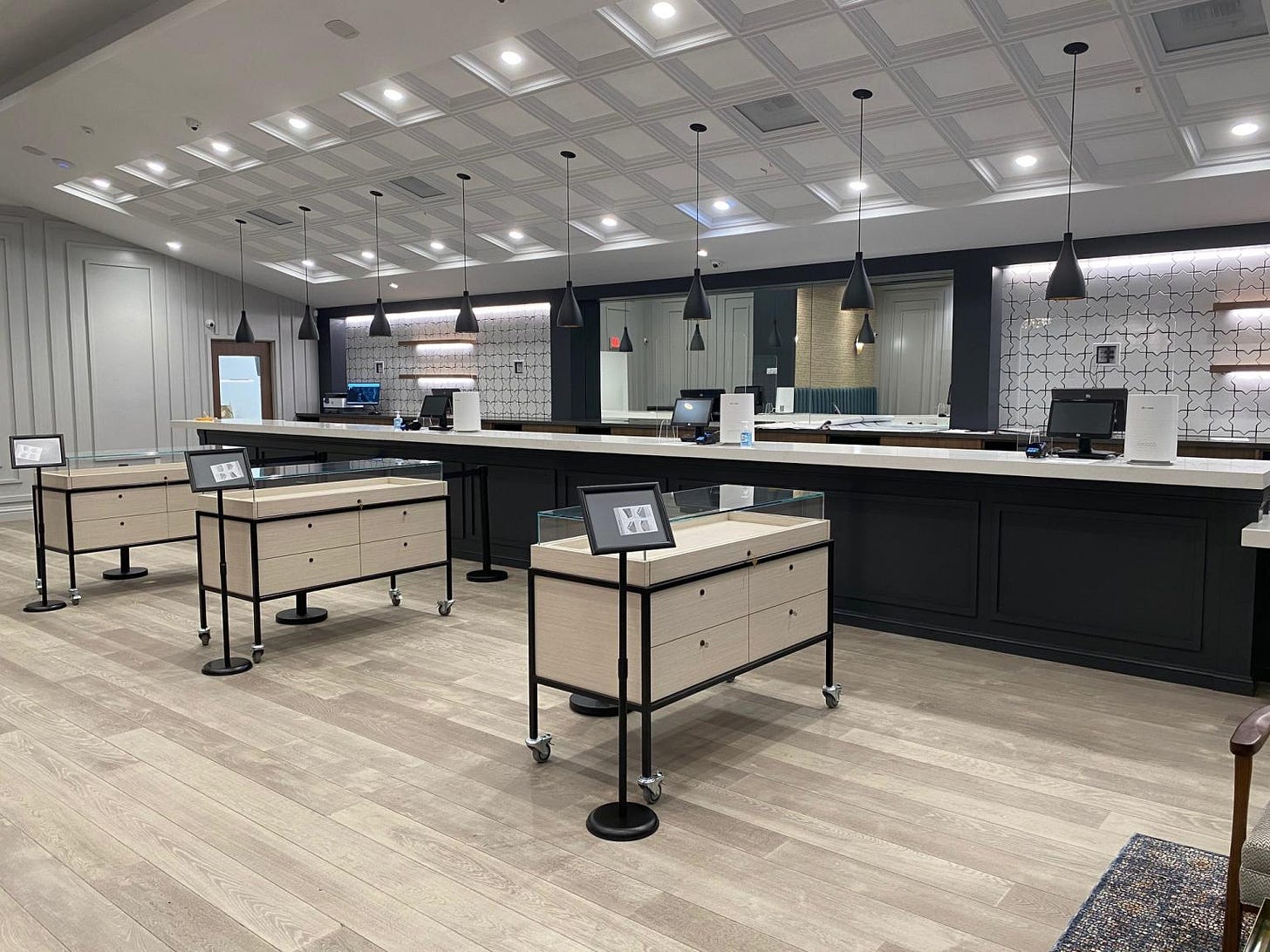 Verilife (PharmaCann) opens 2nd MA Store (Shrewsbury), 27th overall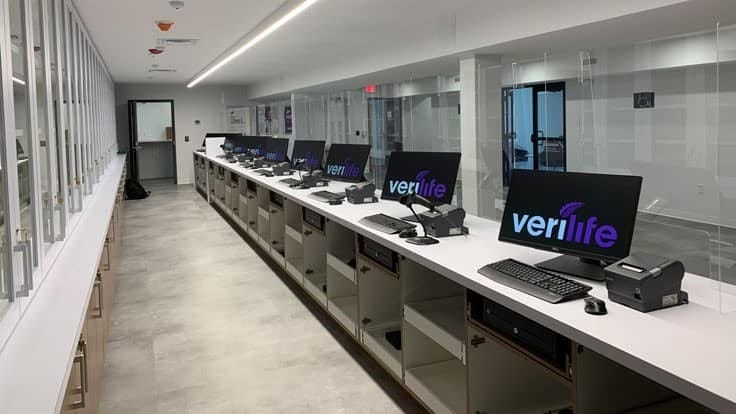 Curaleaf Sublingual Tablets. These cube-shaped, berry-flavored bites provide a discreet, sugar-free yet fruity alternative form of medication. Offered in 30-piece jars, containing 5mg of cannabis oil per piece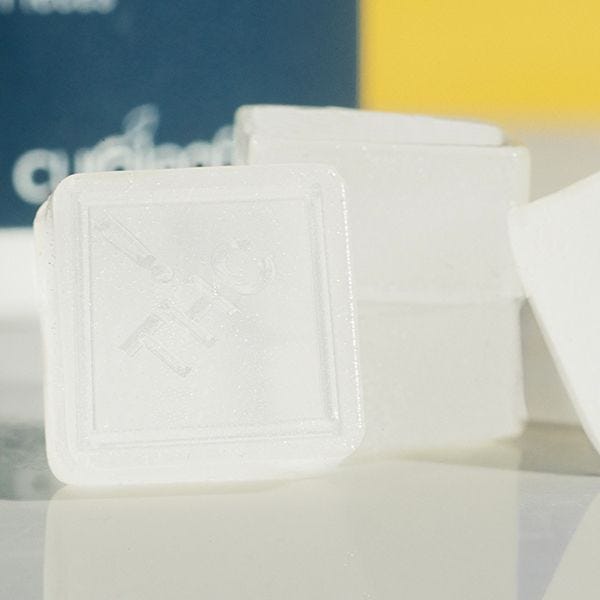 ---
🧔
People
GNLN announced a series of management changes including the appointment of William Mote to CFO and William Bine to COO. Mote brings over 25 years of experience building and leading finance teams in global corporations with meaningful operating scale to GNLN. Previously, he was the CFO at Basic Fun and prior to that, at Summer Infant (NASDAQ: SUMR) and the Poarch Band of Creek Indians. Former CFO Ethan Rudin has resigned from his role at GNLN. Bine also brings over 25 years of experience, leading supply chain, operations growth and transformation in consumer products and manufacturing industries. Most recently, he was the SVP, Global Supply Chain and Operations at Crocs Inc, responsible for the global supply chain transformation and restructuring strategy. Mr. Bine replaces Jay Scheiner, who has retired from GNLN. GNLN also announced the addition of Richard Finlow as Managing Director Europe, Kathy Ziegler as GM Supply and Packaging, Regina Speciale as VP Sales, and Samuel Morales as VP Strategic Growth.
Cresco Labs — Carol Vallone added to Board, Brian McCormack retires. Vallone currently serves as Chair of the Board of Trustees at McLean Hospital, the #1 ranked freestanding psychiatric hospital and largest psychiatric affiliate of Harvard Medical School, board of trustees at MGH Institute of Health Professions, and on the finance committee at Mass General Brigham. Additionally, she serves on the board of the Bain Capital Double Impact portfolio company, Arosa; in an advisory capacity for Berkshire Partners and healthcare-focused venture growth firm, Longitude Capital. Previously, Vallone served as President/CEO of leading E-learning companies including WebCT where she grew the online learning company to cover ~2,000 institutions in 70 countries.
Flower One — Bern Whitney has resigned from the Company's Board. Whitney resigned for for unforeseen personal reasons. The Company will look to add an experienced director to further enhance its corporate governance initiatives and strategy to increase its market share.
Cannabis One — Strategic Rebranding to INDVR Brands and Officer and Director Updates. Jeffery Mascio resigned from the Board and his CEO position. Darrick Payne resigned from the Board.
---
🔍Looking | 💻Hiring
Jane Technologies - Business Development Representative (Remote). BDR to engage new prospects through cold outbound outreach and generate productive meetings for Account Executives. Opportunity for a seasoned BDR to move to an outbound role and quickly into an AE position.
Cookies - Senior Brand Manager (Remote). Looking for a classically-trained marketing leader who can drive global marketing efforts (brand leadership, vision, analytical skills, and customer and market understanding). As the "quarterback" of the brands — develop marketing and business plans for Cookies and its family of brands.
Hollis Doherty - Sales. 5 years in Cannabis —forming relationships with brands, talent, and dispensary buyers across Southern California. Experience training and managing sales teams, as an outside sales rep, and placing new brands and managing orders. Previous Companies — NorCal Cannabis, Calyx Brands, FORIA Wellness.
---
🤷‍♂️Somewhat Relevant
7-Eleven Owner to Buy Marathon's Speedway for $21 Billion. Seven & i Holdings Co., the world's largest convenience store franchiser, agreed to buy Marathon Petroleum Corp.'s Speedway gas stations for $21 billion, betting that an expanded U.S. footprint will deliver growth amid the uncertainty of the pandemic. The transaction, to be paid in cash and partly financed using debt, will add ~3,900 stores to 9,800 locations operated by the retailer's U.S.-based 7-Eleven unit, the Tokyo-based company said in a statement Monday. The deal is the second-largest purchase of a U.S. target this year and the biggest yet for Seven & i, a retail giant with 69,000 stores worldwide including 7-Eleven outlets and Ito-Yokado supermarkets in Japan. Seven & i spent $3.3 billion three years ago to buy Sunoco LP gas stations and convenience stores in a push to expand its U.S. footprint.
---
Who writes this newsletter? ➡️ Dai Truong