👨Aurora promotes CCO (Reliva CEO, $40M acq.) to CEO
Columbia Care acq. Project Cannabis for $69M. How Legal Weed Destroyed a Counterculture Icon. IIP / Holistic Industries $25M sale leaseback.
---
🌿
Industry
How Legal Weed Destroyed a Counterculture Icon. A review of SEC disclosures and court filings as well as dozens of interviews with former staffers and others with insight into its operations paint a picture of a company that has traded in its credibility in cannabis circles to chase big "green rush" profits that have not materialized. Politico takes a deep dive into what's been going on a High Times.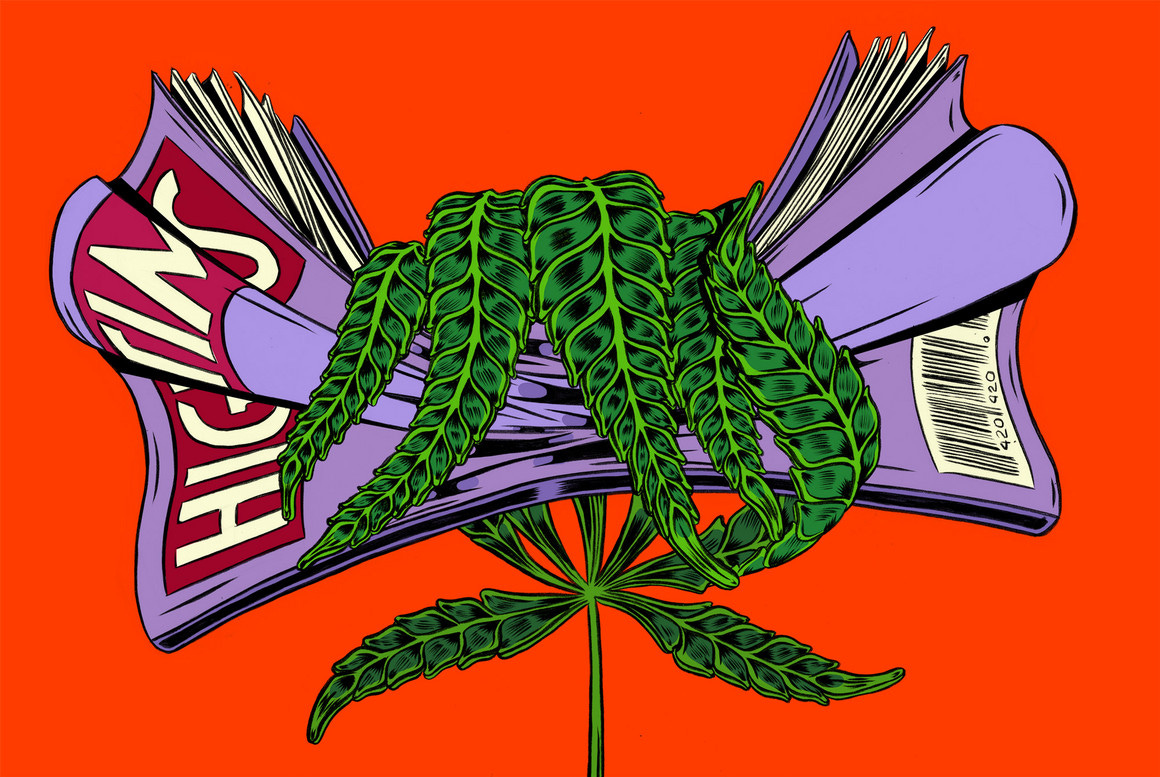 Cannabis companies secure fresh funding deals as investors wade back into capital markets. Marijuana businesses have raised hundreds of millions of dollars in recent months, a trend that is expected to continue as an investment dry spell that began late last year appears to be easing. Investors have shown renewed interest in U.S. cannabis companies after they were designated "essential" businesses during the coronavirus pandemic by most states, allowing them to keep their doors open. In August, cannabis companies raised nearly three times the amount raised through equity deals in July.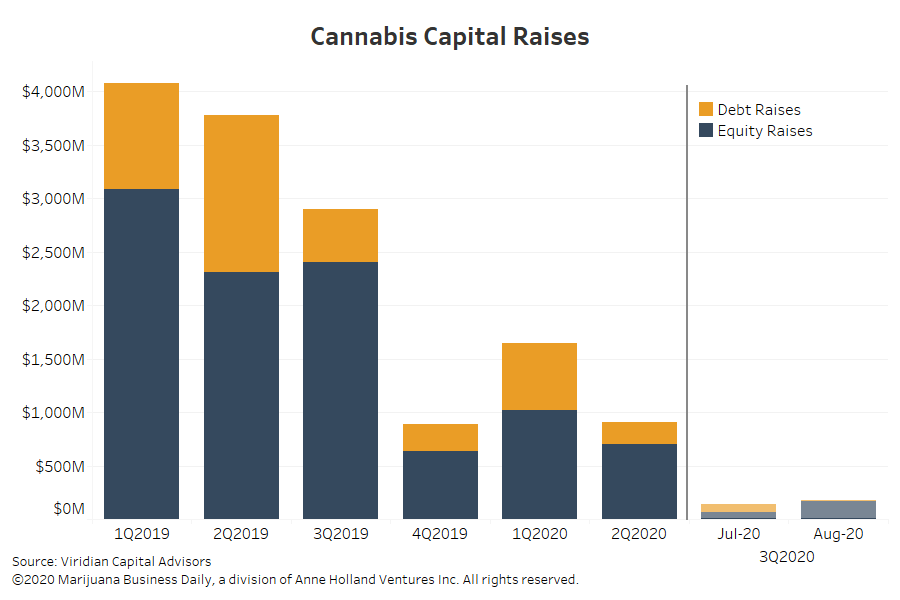 New lawsuit filed over Los Angeles' marijuana social equity licensing. The city of Los Angeles and its cannabis regulators are facing yet another lawsuit over the city's controversial and much-delayed social equity program and the marijuana business licenses connected to it. Three companies that lost out in their bids to win social equity marijuana retail permits filed suit against the city and its cannabis regulators on Monday, and claimed L.A. was exhibiting favoritism in the permitting process and punished one applicant for raising concerns about flaws in the licensing system. According to Law360, the suit by ARMLA One, ARMLA Two and Gompers SocEq alleges that the L.A. Department of Cannabis Regulation (DCR) and its director, Cat Packer, revoked ARMLA's winning application "after the fact" because a preschool was within 700 feet of the company's location. ARMLA One argued in the suit that several other license winners also were in violation because their locations were within 700 feet of schools or libraries, yet ARMLA One's license was revoked because it tried to tell City Council members and the DCR about alleged flaws in newly adopted regulatory changes. The suit asks for damages, the reinstatement of ARMLA One's license and the guaranteed processing of the permits granted to the two other plaintiffs. A separate lawsuit, also filed on behalf of several social equity applicants during the same licensing round, was settled. The result: An additional 100 retail licenses were issued on top of the 100 the city planned to award.
AdvisorShares launches Pure US Cannabis ETF (Ticker: MSOS). AdvisorShares, a leading sponsor of actively managed exchange-traded funds (ETFs) launched the MSO-focused ETF on September 2nd. MSOS becomes the first U.S.-listed active ETF to deliver exposure dedicated solely to American cannabis companies, including multi-state operators (MSOs). 
Illinois marijuana: Denied social equity applicants want to delay lottery to award 75 dispensary licenses. Some applicants claim the state is not awarding enough marijuana dispensary licenses to minority owners. They're asking Governor JB Pritzker for transparency in how people are chosen. More than 700 groups submitted 4,000 applications. The state said 21 of these groups will advance to the next stage, a lottery to award 75 licenses. "The facts show that of the 21 applicants, only 13 are owned and controlled by people of color, how is that maximizing social equity with these numbers?" Royster said most of the winners are tied to big marijuana companies. Two have links to restaurateur Phil Stefani and former Chicago Police Supt. Terry Hillard.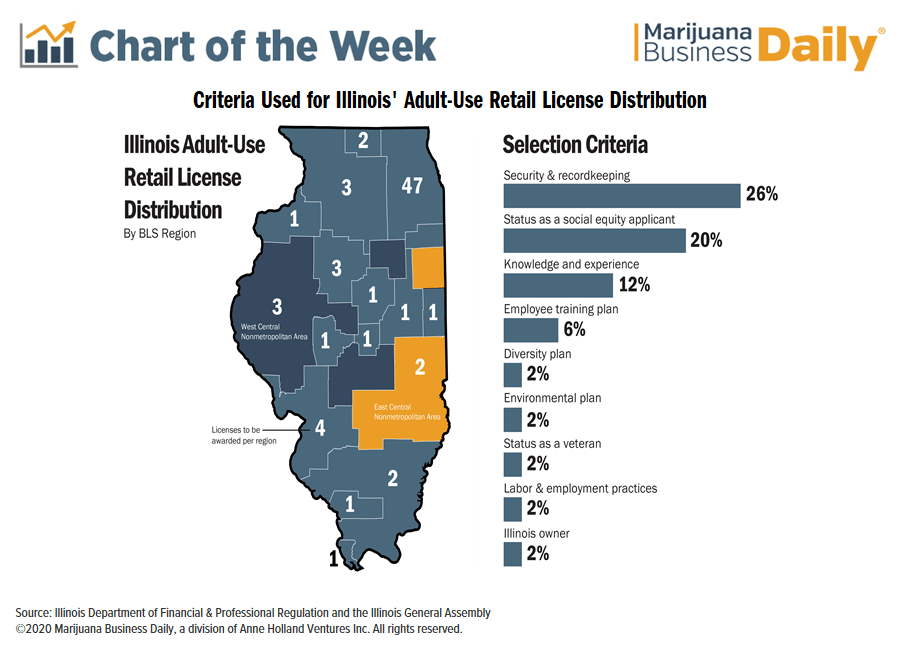 Aurora Cannabis faces lawsuit over sublingual-strip licensing agreement. Aurora Cannabis is being taken to court by CTT Pharma, a Canadian developer of drug-delivery technologies that alleges the marijuana giant is making a bad faith effort to avoid paying what it owes under a licensing agreement. A statement of claim filed Aug. 26 in the Ontario Superior Court of Justice names Aurora Cannabis and its subsidiary CanniMed Therapeutics as defendants. According to the statement of claim, Ontario-based CTT Pharma entered a 15-year licensing agreement with CanniMed in early 2017 to make and sell sublingual cannabis products using CTT's patented rapid-onset Oral Dissolvable Thin Film technology. Aurora became a sublicensee under that agreement after acquiring CanniMed in 2018, and started selling the products in late 2019. CanniMed paid CTT a US$40,000 fee upon execution of the agreement, but CTT says a further payment worth US$935,000 upon Health Canada approval of the products went unpaid, along with patent maintenance fees worth more than CA$150,000. On top of that, CTT alleges that Aurora owes unpaid royalties on sales made under the licensing agreement and failed to open its books to show CTT its relevant sales. Finally, CTT claims it is owed compensation for the loss of future royalties it expected to earn over the course of the 15-year licensing deal, amounting to $39.5M.
MedMen will sue City of Pasadena. In a comment to Pasadena Now, a MedMen spokesperson said the cannabis dispensary has been treated unfairly and will file a lawsuit against the city. "We believe the city has treated us unfairly and inconsistently from how they have treated other applicants, and the August 27th letter addressed to MedMen is flawed and filled with factual inaccuracies. We intend to seek relief in court," a MedMen spokesperson said Thursday, one day after Pasadena Now reported the company's application had been rejected.
---
💵
Deals
Columbia Care to acquire Project Cannabis for $69M. Total transaction price is $69M (with $12-17M in cash paid via sale leaseback and stock making up the difference). Acquisition Multiple of ~1.3x-1.4x and ~6.1x-6.7x Current Year (Estimated FY 2020) Revenue and Adj. EBITDA, Respectively, Net of Real Estate Proceeds. Project Cannabis operates cultivation (32,000ft cultivation facility), wholesaling, and retail (SF, North Hollywood, DTLA and Studio City). Brands include Triple Seven and Classix.
IIP sale leaseback with Holistic Industries for $25M. The purchase price for the property was $6.2M (excluding transaction costs). Concurrent with the closing of the purchase, IIP entered into a long-term, triple-net lease agreement with a subsidiary of Holistic , which intends to operate the property as a regulated cannabis cultivation, processing and dispensing facility, upon completion of development of an ~63,000 sq ft industrial building. In connection with the development of the property, IIP has agreed to provide reimbursement of up to $18.8M. Assuming full reimbursement for the development of the property, IIP's total investment in the property will be $25.0M.
Village Farms International to acquire remaining 41.3% of All Pure Sunfarms. Upon completion of the Pure Sunfarms Transaction, Village Farms will own 100% of the common shares of Pure Sunfarms.  The total purchase price of C$79.9 million (US$61.0 million) will be satisfied through a C$60.0 million (US$45.8 million) cash payment and a C$19.9 million (US$15.2 million) promissory note due six months from the closing date of the Pure Sunfarms Transaction. 
SLANG Worldwide establishes Colorado distribution business with acquisition of Peoria Partners. Peoria is the state-licensed manufacturer and distributor of SLANG's District Edibles brand in Colorado. The Company intends to continue to use Peoria's Denver facilities for the manufacture of District Edibles and for the distribution of the full suite of SLANG-branded products within Colorado.
ManifestSeven to commence trading on CSE on 9/15. ManifestSeven (M7) announced that it will complete its previously announced reverse takeover transaction of P&P Ventures Inc., and change its name to ManifestSeven Holdings Corporation (M7 Holdings).
Halo enters partnership with FlowerShop/G-Eazy. Halo and FlowerShop* have executed a licensing, manufacturing, and distribution agreement for FlowerShop* branded products. Halo has signed a Membership Interest Purchase Agreement to acquire a 25% membership interest in FlowerShop*, a cannabis lifestyle and conceptual wellness brand, in which G-Eazy is a partner and key member of Flowershop*.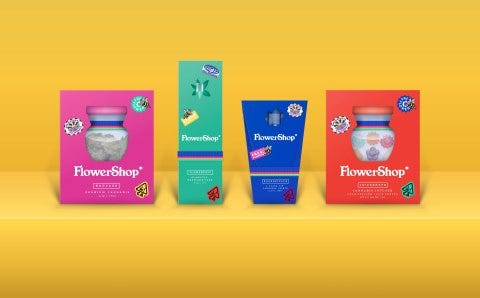 ---
🧔
People
Aurora Cannabis — Miguel Martin is new CEO. Michael Singer, who has served as Interim CEO since February 2020, has stepped down from his temporary role and will remain Executive Chairman. Mr. Martin is a 25-year consumer packaged goods industry veteran who joined Aurora from Reliva where he served as Chief Executive Officer. He assumed the role of Chief Commercial Officer of Aurora in July 2020. Prior to Reliva, Mr. Martin was the President of Logic Technology, one of the largest manufacturers of electronic cigarettes. He also held the position of Senior Vice President and General Manager of Altria Sales & Distribution. Mr. Martin has deep experience operating in highly regulated industries which will be very additive to Aurora's portfolio of high quality, rigorously tested and compliant cannabinoid product formats.
Ample Organics Founder departs Akerna shortly after acquisition closed. New Cannabis Ventures has learned that John Prentice, founder of Canadian cannabis technology platform Ample Organics, has left Akerna (NASDAQ: KERN), parent of MJ Freeway, less than two months after his company was acquired in a deal that was originally announced in December. The acquisition, valued at up to C$60 million (US$45 million at the time it was announced), consisted of mainly stock, with a small amount of cash at closing as well as an earn-out to be paid in stock contingent upon certain revenue targets being achieved. 3.3 million shares were issued at closing in July, with 2.6 million to be released from escrow over the next year. Prentice, who founded Ample Organics in 2014, announced his resignation in a public statement, making it clear that he had become disillusioned with senior management's execution and abilities, suggesting that CEO Jessica Billingsley resign.
---
💻Hiring | 🔍Looking
Weedmaps — Director, Revenue (SoCal). The Revenue team is looking for a strategic and operational leader to oversee a TBD region, with responsibility to achieve ambitious revenue, product adoption, and listing quality targets within these markets.
Papa & Barkley — VP Digital and Ecommerce. Develop and implement a multi-channel digital customer experience in support of its end consumers, national retailers, California dispensaries, and affiliate program. This position will be responsible for the development, management and execution of digital marketing strategies and tactics that drive traffic, optimize conversion and retention rates, build brand awareness and loyalty, grow market share, and increase revenues and profitability across channels and properties.
Dutchie — Senior Product Manager. The Senior Product Manager will be responsible for understanding the needs of customers, dispensaries, and the business itself, and balancing those needs against feature development and our roadmap.
---
🏬
New Store Openings / Launches
Curaleaf - Brandon, FL (31st FL location)
Dyrect launches fast and free Cannabis Delivery in the Los Angeles Area
---
Who writes this newsletter? ➡️ Dai Truong