Discover more from Highly Objective
Cannabis industry news, insights, and analysis
Over 2,000 subscribers
📰Canadian LPs continue to dominate headlines
Canopy shutters Greenhouses / lays off ~500. Cronos unable to complete 2019 financial statements. Tilray sued by 4Twenty over deal termination. PharmaCielo issues statement over short report.
Coronavirus (COVID-19) has pretty much come up in conversation everyday this week (taking the place of weather to open calls), starting with how our team at Left Coast Ventures would handle it if things intensified, a buddy finding out EXPO West was cancelled Monday (two days before it was supposed to start) as we were grabbing drinks in Venice, and the possibility that one of the larger events I'll be attending (SXSW Cannabusiness) might also be affected (not likely to be cancelled but I'll also be at the ROTH Conference and Hall of Flowers).
One thing I'll be keeping an eye on is how this will further impact Cannabis brands with already thin margins and limited capital. The heavy majority of vape batteries and vape cartridges are manufactured in China. That supply chain was already slow due to Chinese New Year and the ramp back to normal manufacturing process has been interrupted due to quarantines. The U.S. imports ~30M Chinese vape pens and cartridges every month (seems really high). and much of the packaging materials is also manufactured in China, so a slowdown in those materials may result in a production shortage for Companies. Similar to the VAPI crisis, I expect companies that disappoint on Q1 sales expectations to point to Coronavirus.
---
🌿
Industry
Canopy Growth announced that the Company plans to close its facilities in Aldergrove and Delta, British Columbia, resulting in the elimination of ~500 positions. In addition, the Company no longer plans to bring a third greenhouse online in Niagara-on-the-Lake, Ontario. These actions are part of the Company's effort to align supply and demand while improving production efficiencies over time. The Company expects to record estimated pre-tax charges of ~$700-800MM in Q4 Fiscal 2020, as the Company completes its organizational & strategic review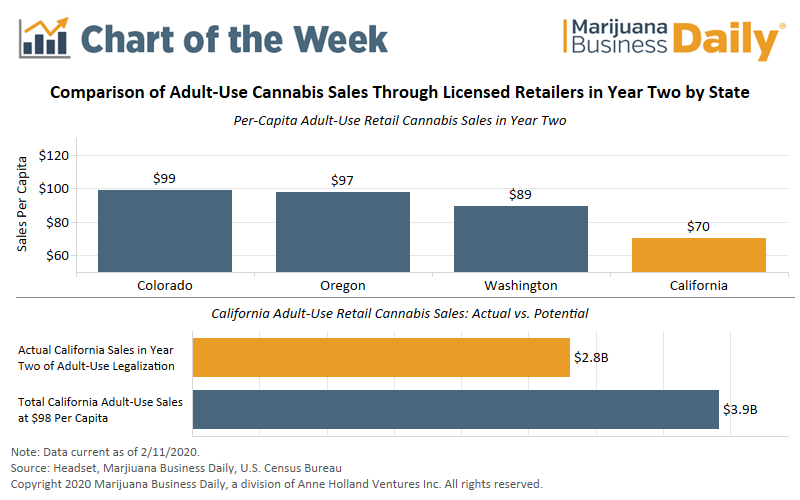 While California has the potential to be the largest legal cannabis market in the world, the state still lags other recreational markets in per-capita sales – due in large part to the continued prominence of the illicit marijuana market and restrictive regulations.
California's per-capita cannabis sales by the second year of operations only added up to $70/customer. By comparison, Year two per-capita sales in Colorado were $99, Oregon's were $97 and Washington state's $89.
If California's market was more on par with the performance of these other state cannabis markets, it likely would have seen an additional $1 billion in sales in its second year.
Cronos Group announced it was unable to complete its financial statements for fiscal 2019 because of an ongoing review by an internal audit committee, outside lawyers and forensic accountants, according to a filing with the Securities and Exchange Commission. The filing said that the review is over accounting practices and revenue recognition related to several purchases of bulk resin and sales of products through the "wholesale channel." The company said in February that it was postponing the release of its December-quarter financial statements but did not specify a reason at the time. The Monday filing also said that the company expects to record a material inventory write-down, a gain in revaluation of its financial liabilities, restructuring charges and an increase in net income(?).
A legal fight has emerged after Tilray Inc.'s deal to buy 420 Investments Ltd. for $110M was terminated, with the Alberta-based retailer suing the Canadian cannabis producer for breach of contract and accusing it of dragging its feet on the deal following a "change of heart", according to documents obtained by BNN Bloomberg.
Tilray announced its plan to buy the retailer, which currently operates 11 Four20 Premium Market cannabis stores in Alberta and is also known broadly as Four20, in late August for $110M in a cash and stock deal. The deal – which occurred after five months of negotiations between the two companies – included $40M in Tilray promissory notes based on future store openings, according to the statement of claim.
Four20 is seeking $110M as well as an additional $20M in damages, the statement of claim showed. Four20 will also not pay back a $7M bridge loan provided by Tilray to finance the construction of future licensed cannabis retail stores.
Hindenburg Research issued a report stating "PharmaCielo: 100% Downside on Co-Founder's History of Securities Fraud Allegations, Numerous Undisclosed Related Party Transactions and Operational Failures," to which PharmaCielo responded the next day saying The "report represents a malicious attempt to manipulate PharmaCielo's common shares by spreading false, distorted and misleading statements about the Company. "
Recreational marijuana customers spent almost $35M at Illinois dispensaries in February, a decline from the previous month, but an industry analyst said the market still holds promise. In January, recreational weed sales totaled more than $39.2M, one of the strongest showings among states that have legalized marijuana.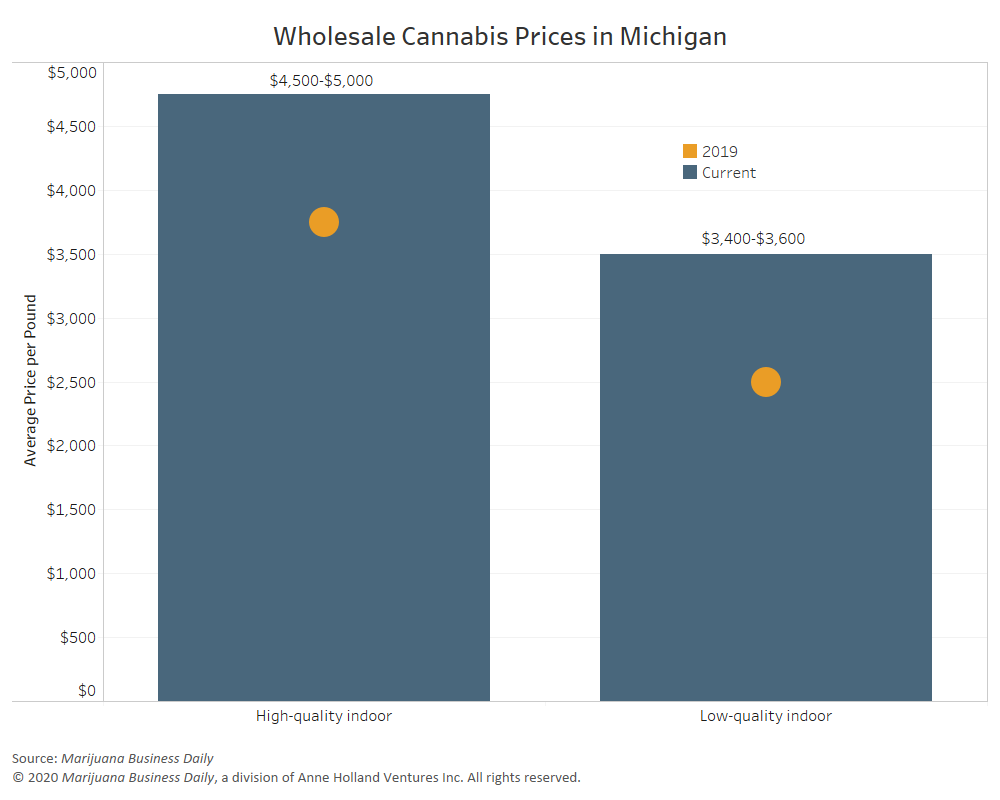 A tight supply of wholesale recreational marijuana flower in Michigan, one of the youngest adult-use markets in the U.S., is leading to sharply higher prices as producers struggle to keep pace with growing demand. Many of the state's municipalities remain opposed to recreational marijuana commerce and strict testing standards are causing a bottleneck in the supply chain, both of which are exacerbating the shortage as recreational growers bring cultivation facilities online.
The program serves ~160,000 patients, and according to numerous statewide media accounts, there are persistent product shortages, especially for dry leaf cannabis. One of the reasons for the boom was the addition, last July, of anxiety disorders to the list of qualified medical conditions. Tourette syndrome also was added at that time. In this review, we take a look at the history of Pennsylvania's medical cannabis program, the existing marketplace and the potential for future growth.
---
💵
Deals
Collective Growth Corporation, which intends to trade its units on the NASDAQ with the symbol "CGROU", filed an S-1 registration statement to raise $150M. Linton serves as Chairman and CEO of the Austin-based company, and his management team includes several Canopy Growth veterans. President Geoffrey Whaling, who has served as the President of the National Hemp Association since late 2017, was formerly co-Founder and President of HIP Developments LLC, a division of Canopy Growth USA and also served as strategic advisor to Canopy Growth Corporation from 2015 until November 2019. CFO Tim Saunders served in that role at Canopy Growth for over four years until he departed last May. Chief Marketing Officer Wilson Kello was previously a consultant to Canopy Growth and several other cannabis companies.
Cultivate is a privately-owned company with a portfolio of brands and other intellectual property which are complementary to SLANG's portfolio. Its assets include extraction equipment and other machinery which SLANG intends to use within its network, cash of approximately CAD $4.5M, and a strategic investment in a company within the supply chain. Cultivate is not currently consuming any cash in its operations.
The companies have struck a deal with The Vitamin Shoppe, which will now offer the new products line, BioSteel CBD for Sport, across nearly 500 brick and mortar locations in the U.S. This is Canopy Growth's first retail partnership in the U.S.
Through the purchase, expected to close upon regulatory approvals, Curaleaf will operate an 8,400 square foot infusion kitchen and processing facility in Denver, CO. The strategic move supports the Company's planned expansion of its recently acquired Select brand throughout the state of Colorado. With combinations such as Toffee + Almond Milk Chocolate and Coffee + Dark Chocolate, BlueKudu has developed an award-winning product line that is currently available in over 200 retail locations throughout Colorado.
The all-stock deal at $3.2M is for 66 2/3% interest in a planned NOHO flagship dispensary. The NOHO dispensary will feature nearly 4,000 square feet, sizeable onsite parking, and a prime location at the northwest corner of Lankershim Blvd. and Hesby Ave. There is potential to build a delivery service for Studio City, North Hollywood, Hollywood, Burbank, and the Eastern San Fernando Valley.
---
🧔
People
Caltabiano's management responsibilities will be taken up by CEO and Co-founder Charlie Bachtell as well as other members of the Company's recently strengthened leadership team. Caltabiano, who is one of the three largest shareholders, intends to remain on the company's board.
The Company's current CFO has been appointed Chief Strategy Officer and Derrick West, currently on the Company's Board of Directors, is joining the Company as its CFO.
CaaMTech is the foremost drug discovery and lead optimization company focused on engineering psychedelic drugs that meet the standards of modern medicine. CaaMTech is improving the health and happiness of humankind by creating and optimizing psychedelic compounds and formulations through rigorous science and continuous innovation.
---
🏬
New Store / Facility Openings
Curaleaf, one of four marijuana producers in CT, just moved to a new facility. Here's a look inside.
GTI announces Effingham, IL store to begin adult-use cannabis sales
Cresco Labs opens four Sunnyside dispensaries in New York and launches Medical Cannabis Delivery Program in the New Hartford Area
---
🤷‍♂️
Somewhat Relevant
Walmart is launching a new service that allows third-party vendors to hire the retailer to store, pack and ship items for customers, a move that could better position the big-box retailer to compete against Amazon. Through Walmart Fulfillment Services, third-party vendors that sell clothing or other items in Walmart.com's marketplace can pay to have the retailer handle the logistics of getting items to a customer's door. They currently have to use a third-party to handle fulfillment or do it themselves.
The low monthly cost of coffee subscription programs gives restaurants an easy way to lure in customers and convince them to change their breakfast habits. Restaurant Brands International's Burger King began a coffee subscription program a year ago after it revamped its own coffee selection. Customers paid $5/month for unlimited coffee as the burger chain tried to gain an edge over breakfast rivals like McDonald's.
Through activations and pop-ups, brands are hoping to garner interestThe most anticipated attraction opening in Las Vegas this year isn't a resort or nightclub—it's a shopping complex. Area15 is an upcoming retail and live entertainment venue anchored by interactive art and technology experiences. The 200,000-square-foot site, which opens in April, is a joint venture from real estate development firm Fisher Brothers and creative agency Beneville Studios.
---
Who writes this newsletter? ➡️ Dai Truong