Discover more from Highly Objective
Cannabis industry news, insights, and analysis
Over 3,000 subscribers
📈Cannabis Capital Markets Becoming More Active
Neptune Wellness ($35M), Jushi (C$35M), Planet 13 (C$20M), 4Front (C$20M) raise additional capital. Missouri Launches Medical Marijuana Sales.
---
🌿
Industry
A Democratic wave could make things much easier for the marijuana industry, Jim Cramer says. While Democratic presidential nominee Joe Biden is not in favor of legalizing cannabis, investors can expect the regulatory environment to be loosened for weed operations if he wins the White House and his party gains control of the Senate, the "Mad Money" host said. Biden calls for decriminalizing marijuana use and expunging all prior cannabis use convictions as part of his criminal justice plan. As for the stocks to play in the space, Cramer recommends investors pass on most of the Canadian cannabis producers because he expects there would be a boom in domestic production. "I think there's a very good chance that unified Democratic control over Congress could make life much easier for the domestic cannabis industry," Cramer said. "A lot of investors seem to be wagering on that outcome, which is why this whole group's been blazing higher."
Recreational cannabis brand and product expansion slow in US markets.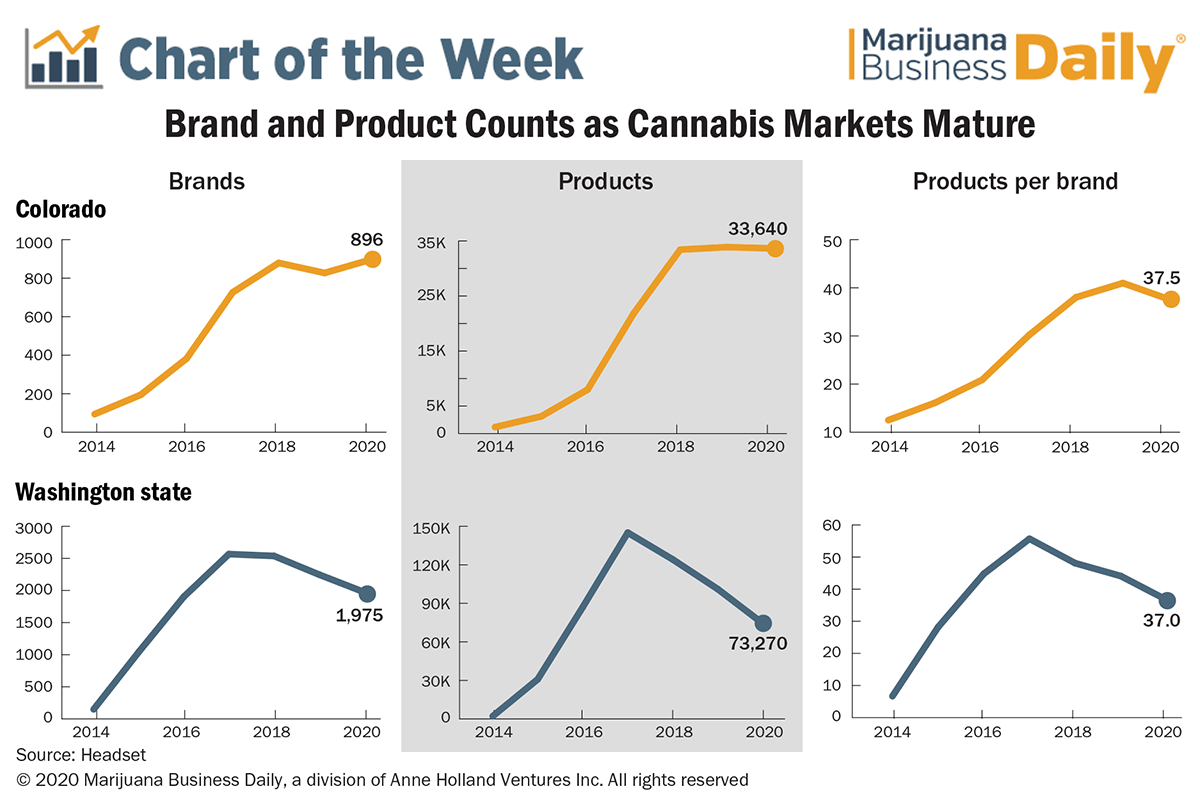 Marijuana companies are slowing the rollout of new brands and products in what might be the latest sign of market maturity in early states that legalized adult-use sales. This is good news for established cannabis brands as competition for shelf space declines while sales continue to grow. Brand recognition and strong products also will be more important for cannabis companies entering the market, given that consumers are showing more signs amid the coronavirus pandemic of relying on brand and product loyalty when shopping for merchandise. A review of seven years of brand and product data from Colorado and Washington shows that brand and product counts have stabilized – and even declined – in both states over the past three years.
Cannabis delivery operator, trade groups sue L.A. over social equity rules. Ganja Goddess co-founder Zach Pitts, the Southern California Coalition and the California Cannabis Couriers Association – claims the Council's overhaul disenfranchised legacy operators who had been waiting patiently for their turn to apply for business permits. The parties filed suit against Los Angeles, asking a judge to throw out a new city ordinance that devotes all MJ delivery business permits to social equity applicants until 2025. At issue are 20 delivery licenses that the city authorized in 2017 for non-social equity entrepreneurs that were supposed to be awarded under a delivery pilot program – in addition to 40 delivery permits for social equity applicants. The delivery pilot plan, however, was scrapped in July when the L.A. City Council overhauled its marijuana business ordinance. At that point, the municipal law was changed, and all delivery permits were reserved for social equity applicants for the next five years.
California outdoor marijuana cultivators to designate products by growing region. California's marijuana market is borrowing a page from the state's world-famous wine industry thanks to a new law intended to help outdoor cannabis growers brand and market their products by highlighting where and how they're produced. When Gov. Gavin Newsom signed Senate Bill 67 on Sept. 30, the law established that any cannabis product claiming an "appellation of origin" from a California region must have been grown in the soil and with the sun from that region – in other words, without artificial light or shelter, such as a greenhouse or hoop house. Such designations can help smaller growers distinguish their cannabis – much like wineries in Napa, Sonoma and elsewhere can. The designation of origin will be especially useful in the event of federal cannabis legalization – as well as if and when cannabis growers are allowed to ship products nationwide. Certain regions in California, including Humboldt, Mendocino, Nevada and Trinity counties as well as Big Sur, have decades-long histories and well-established reputations for producing high-quality "sun-grown" cannabis.
San Francisco's Cannabis Equity Program Hits Milestone But Still Falling Short. On October 9, San Francisco's first Latina-owned cannabis dispensary opened in the Union Square neighborhood. The owner, Cindy De La Vega, is a member of the city's Cannabis Equity Program, intended to help people targeted by the War on Drugs to become licensed cannabis business owners. San Francisco—like many other jurisdictions attempting cannabis equity programs—has for years failed to deliver on this promise. The first dispensary owned by an equity applicant, Shawn M. Richards, did not open until December 2019—nearly two years after legal cannabis sales began in the city. To date, only four dispensaries owned by equity applicants are operational in San Francisco. The number of equity-owned businesses not open is far more telling: as of December, 133 storefront applications were waiting to receive a permit from the city, while 277 applications total are being reviewed, including for non-retail business.
Missouri Launches Medical Marijuana Sales At State's First Dispensaries. Less than two years after Missouri voters approved a ballot measure to legalize medical marijuana, dispensaries made the state's first cannabis sales to patients on Saturday. N'Bliss Cannabis opened the doors of two separate St. Louis County locations, in Ellisville and Manchester. The state, which has so far licensed 192 dispensaries and expects most of them to open their doors by the end of the year, posted an interactive map that tracks the status of approved medical marijuana businesses. Some medical marijuana dispensaries opening soon, but area outlets could take longer
Other highlights:
Cresco Labs CEO talks legal marijuana industry challenges
Akerna Launches Cannabis Retail POS
Seven Colorado Cannabis Companies That Have Grown Across State Lines
LA to Start Taking Applications for Delivery, Distribution and Other Services
CCC (MA) puts cap on number of marijuana delivery licenses
Delivery of recreational marijuana may soon be coming to Henderson, NV
Oregon streamlines license application process for adult-use cannabis firms
New Mexico to Allow Out-of-State Medical Marijuana Patients
CO localities (Littleton, Lakewood and Buena Vista) voting on recreational Cannabis
Arkansas Medical Marijuana sales reach 25,000 pounds
$20M marijuana cultivation facility planned for northern Oakland County, MI
---
💵
Deals
Neptune Wellness — $35M Private Placement. 16,203,700 common shares and 10,532,401 warrants to purchase 10,532,401 common shares at an offering price of $2.16 per share.
Jushi — C$35M Overnight Offering. 10,000,000 voting shares at a price of C$3.55 per share. In addition, Underwriters have an over-allotment option, exercisable for a period of 30 days following closing, to purchase up to an additional 15%.
Planet 13 — C$20M Bought Deal. 4,700,000 units at C$4.30 per Unit Each Unit shall consist of one common share and one-half (1/2) of one common share purchase warrant at an exercise price per Common Share of C$5.80 for a period of 24 months.
4Front Ventures — C$15M Bought Deal. Underwriters have agreed to purchase 21,430,000 units at a price of C$0.70 per Unit for gross proceeds C$15M. Each Unit shall consist of one voting share and one-half (1/2) of one subordinate voting share purchase warrant.
Schwazze scraps deal to purchase Colorado marijuana edibles maker. According to the company's 8-K filing on Oct. 9, the term sheet that detailed Schwazze's purchase of all of Canyon's assets expired Sept. 7. The original agreement, one of 11 acquisitions Schwazze made in 2019, was a $5.1M cash and stock deal that would have limited the company to paying no more than $2.6M in cash for the 10-year-old Canyon.
Harborside — acquires 80% of Haight-Ashbury District Dispensary. Harborside will pay $2,179,350 based on a post build-out and proforma working capital enterprise value of $4,350,000 for 50.1% ownership. Harborside has also agreed to purchase an additional 29.9% to get to an 80% ownership of FGW, subject to regulatory approvals. 
Bruce Linton-backed Gage Cannabis launch Reg A+ Equity Financing seeking $50M pre-IPO. Gage Cannabis Co., (Offering Circular) is the exclusive cultivator and retailer in Michigan for Cookies, Lemonnade, Runtz, Grandiflora, SLANG Worldwide, OG Raskal, and its own proprietary Gage brand portfolio. The Company has opened five provisioning centers (dispensaries) and is in the process of opening three more locations by the end of the year and over 20 stores by the end of 2021. The Company has achieved $30M+ (unaudited) in sales so far this year and is anticipating further sales growth in the coming months. Gage is offering up to 28,571,400 shares for $1.75/Share.
Note: Assuming this current Offering is fully subscribed, there will be 228,711,339 shares outstanding (@ $1.75, a $400M Market Cap 😱)
Cannabis company Acreage repays 60%-interest loan ($3M in four months). Acreage said Monday it has paid about $18M to retire a $15M, 60%-interest rate loan taken out in June. The company confirmed that the debt proceeds were used to close the acquisition of a vertically-integrated medical marijuana operation in New Jersey. Acreage not only took out that pricey debt but also put up as collateral its marijuana business facilities in Florida, Illinois and New Jersey as well as intellectual property. At the time, Acreage said the funds would be used for "working capital and general corporate purposes." But shortly after, the company closed on the deal to buy Compassionate Care Foundation's MMJ license in New Jersey for $10M plus debt. In late September, Acreage raised $33M of capital at a 7.5% interest rate and has been using those funds in large part to pay off higher-interest debt.
Subversive Real Estate Acquisition REIT LP — Grant of Rights to Holders of Non-Redeemed Restricted Voting Units. Will grant an aggregate of up to 24,116,750 contingent rights to holders of restricted voting units that are not redeemed in connection with the REIT LP's previously announced qualifying transaction and to holders of Restricted Voting Units that are issued in connection therewith, which Contingent Rights will be issued to holders of record on the day following the closing of the REIT LP's qualifying transaction. In support of the transaction, and in connection with the issuance of the Contingent Rights, the REIT LP's founders will forfeit the equivalent of approximately four million Limited Partnerships Units in the form of proportionate voting units with a notional equity value of approximately $40M.
---
📄Earnings
Revenue: $27.4M, down 40% sequentially. The Company estimates next quarter's revenue to be $37.4M, up 37%

Gross Margin: 40% (vs 32% in the prior quarter)

Corporate SG&A: $13.7M, down 21% Q/Q

Adjusted EBITDA: ($23.3M), compared to ($26.1M) prior quarter

Cash: $10.1M (as of June 27, 2020). On September 16, 2020, announced $20.0M in additional financing commitments. As of today, the Company has received $10.0M in gross proceeds under the commitment. On July 3, 2020, the Company announced it received $10.0M of proceeds through the sale of a retail license
Net loss: $20.9M, or a loss of $0.12 per share

Revenue: $34.6M, up 14% Q/Q

Gross Margin: 54.8%, up from 49.2% Q/Q

Due to liquidity constraints experienced by the Company, the Company did not make applicable interest payments due on its 13% senior secured convertible debentures and its 8% convertible unsecured debentures due on March 31, 2020 or June 30, 2020
---
🧔
People
Khiron — Joel Friedman to succeed Wendy Kaufman as CFO. Since joining Khiron as Director of Finance and Treasury in December 2019, Friedman has worked closely with Kaufman.  Friedman, a CPA, began his career at Deloitte, bringing 10+ years of international financial experience, including in the cannabis and mining industries, having previously served as VP, Finance at CannTrust, Director of Finance at Primero Mining, in addition to progressively senior finance roles at Banro Corp. and Iamgold Corporation.
---
🏬
New Store Openings / New Product Launches
Sweet Flower x Chelsea Handler. Not a new product launch, but highlighting another Sweet Flower collaboration which continues to impress on being a place for new product launches / collaborations. Inside the Evoluation Kit: Cann, Aster Farms, Terra (Kiva). The Company previous launched other kits which include The Get High & Stay Inside Kit, The Sleep Kit, The Relief Kit, The Calm Kit, The Fun Kit, and the The Give Back Kit.
Check us out in
@chelseahandler
's Evolution Kit. In partnership with
@sweetflowershops
, she's put her favorite cannabis goodies together to celebrate her new HBO show streaming Oct 22. Get your kit from
@sweetflower
while supplies last. We'll meet you on the couch to watch the special on Thursday.
PBR, Infused Wines among Vertosa Cannabis Beverage Partnerships for Fall 2020
Trulieve (Bradenton, FL) — 63rd dispensary in FL
GTI/Rise (Monroeville, PA) — 49th dispensary
Curaleaf (Panama City, FL) — 33rd dispensary in FL
Verano/Zen Leaf (Aurora, IL) — 12th dispensary
House of Dank (Southwest Detroit, MI) — 6th dispensary in MI
Ethos (Wilkes-Barre Twp, PA) — 4th dispensary in PA
---
💻Hiring | 🔍Looking
Spacestation — Director of Client Success (Sacramento). Own relationships with brand partners (Cann, K-Zen, Pabst Brewing Company, Artet, Wunder, VCC Brands, SōRSE Technology, California Dreamin', calexo)
Cresco Labs — Senior Financial Planning Analyst (Chicago)
---
🤷‍♂️
Somewhat Relevant
Veggie Burger or Veggie "Disc" on Menu? EU Vote Will Decide
---
Who writes this newsletter? ➡️ Dai Truong