😵Cannabis industry continues to "Consolidate"
Aphria CEO sees industry shakeout. Updates on MI, OH, MO, FL markets. Subversive REIT launches. New Tilray CFO & COO. Ascend gets provisional license in Boston.
While grabbing coffee this morning with a friend, he gave me the update that his Company was going through some "consolidations," which I assumed meant that they were making some impressive moves and acquiring assets…only for him to tell me that they were actually reducing headcount by 40% and not funding some interesting products that they have been working on, while likely giving new responsibilities (maybe titles as well) to the people that were staying on board after the "consolidation."
Then I saw that TGOD (more below) was "consolidating" their management team. With the continued layoffs / headcount reduction that we've been seeing for the past couple of months, I'm guessing we'll see a few Companies use the word in future press releases.
I'm seeing a job demand mismatch (more qualified people than roles) happening in the industry right now so if you're one of the few companies looking to expand, shoot me a note (by replying to this email) and I'll get you paired up with some people who are looking or could be convinced to move.
Also, I'm looking to gather a handful of people together next Friday @ 2PM in Culver City to catch-up en masse (and make it a monthly thing) so reply to this if you're interested in coming and I'll send a calendar invite with the location.
---
🌿
Industry
"There [are] a lot of companies out there today that have their challenges in regards to growth, products, cash, etc. And I think there's going to be whether [you call it] a consolidation, a shakeout within the industry."
Simon added that he doesn't see the U.S. market opening up any time soon, which would provide relief to some of the struggling players within the industry.
"I don't see cannabis in the U.S. becoming legal any time soon from a rec standpoint, and I'm not even sure (if it will) from a medical standpoint. All these different greenhouses, all these LPs that got licences … a lot of them, today, are out of money, and it's difficult to raise money out there within the cannabis industry today if you don't have the right plants."
Aphria CFO Carl Merton told analysts during a conference call that the company has $497.7M in cash, part of what he described as an "industry-enviable balance sheet." Of that cash, ~$45M is earmarked for its German business operations, another $50M to build out its Colombian subsidiary, $10M for domestic extraction purposes and ~$50Mto complete the build-out for its Diamond greenhouse in Leamington.
The remaining $300M — $350M in cash the company has left on its balance sheet will be designated for "future strategic initiatives," such as in the U.S. and for distressed Canadian assets.
Between Dec. 1 and Jan. 5, the state topped $8.2M in sales and $1.3M in taxes from 26 retailers, six growers and a handful of processors, transporters and labs.
Michigan recreational marijuana retailers sold nearly $1.8M of products between Dec. 30 and Jan. 5, the fifth week since recreational sales became legal.
Week 1: $1.63M

Week 2: $1.47M

Week 3: $1.60M

Week 4: $1.77M

Week 5: $1.77M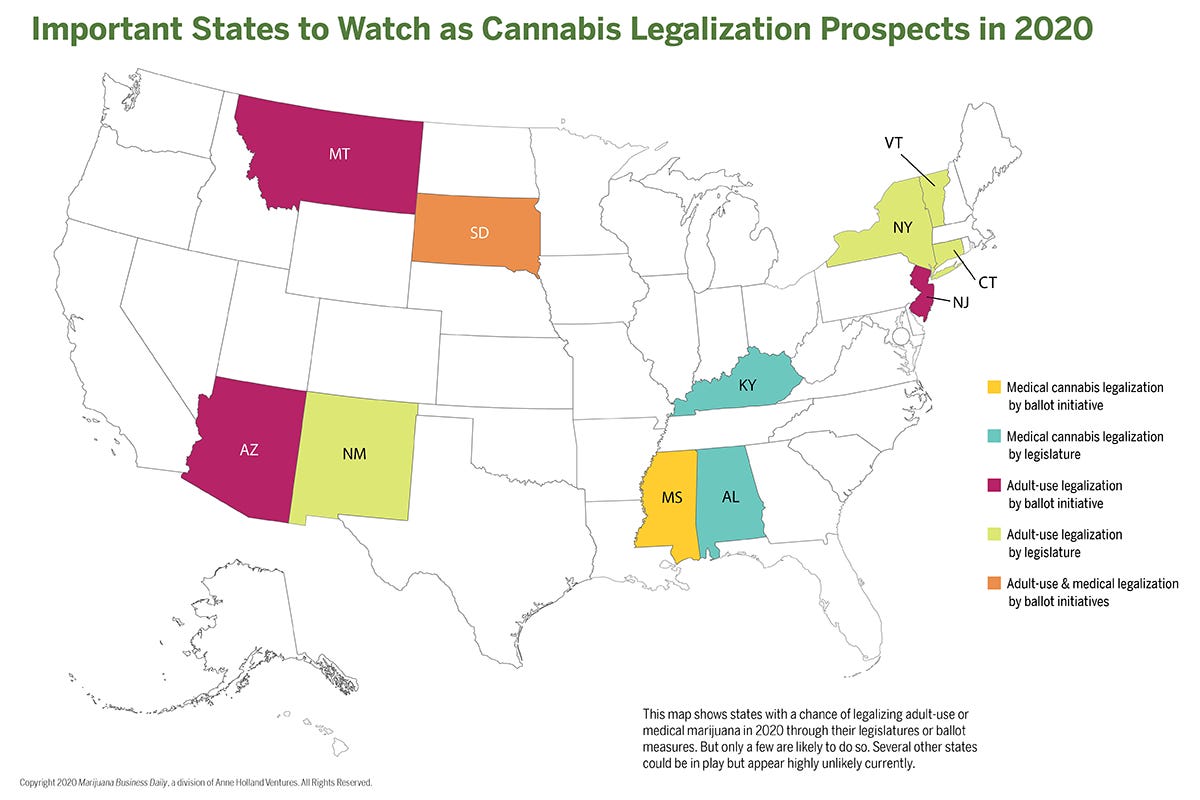 Up to a dozen states could legalize adult-use or medical marijuana in 2020 through their legislatures or ballot measures, although only about a handful will likely do so. Much of the cannabis industry's focus will home in on a possible recreational marijuana domino effect along the East Coast, which could create billions of dollars in business opportunities. Adult-use legalization efforts in New York and New Jersey stalled in 2019, but optimism has rekindled this year.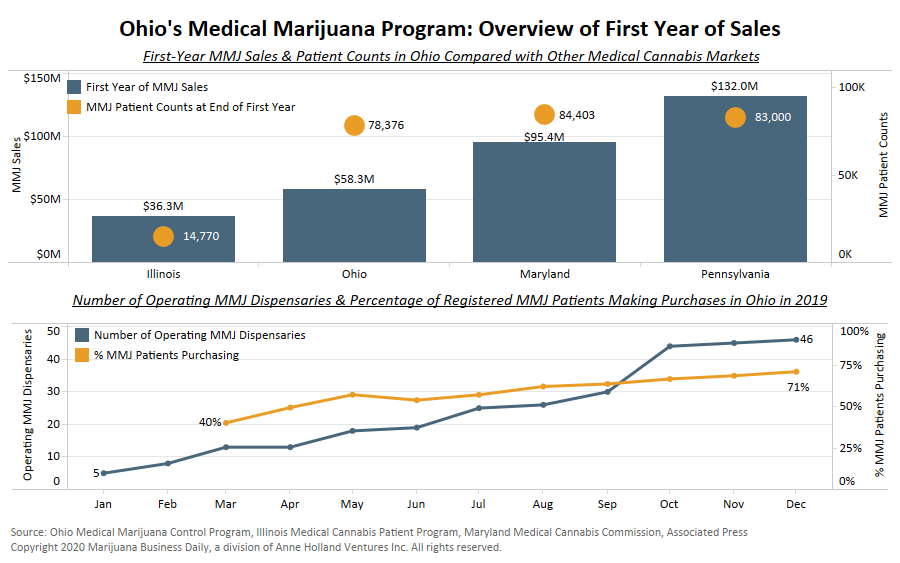 Ohio's medical marijuana industry pulled in ~$60M in its first year of sales, with increased access to dispensaries and falling prices making up for the market's sluggish start. ~50% of the state's total medical marijuana sales came in the last quarter of 2019, but it wasn't enough to drive sales to the heights of other, similar medical cannabis markets that launched in the past couple of years such as Maryland and Pennsylvania. While access to medical marijuana in Ohio was extremely limited at launch – the program kicked off with just five dispensaries that sold only dried cannabis flower – dispensaries continued to open at a steady clip over the course of the year.
Currently, 46 dispensaries are operating throughout the state.
Florida activists announced that due to restrictive ballot qualification policies in the state, they have decided to pursue a marijuana legalization initiative in 2022, rather than this year as initially planned. While the campaign Make It Legal Florida said it has already submitted more than 700,000 signatures for their legalization petition, the narrow timeline to get those signatures verified ahead of next month's deadline will make it impossible for the measure to qualify.
The Missouri Department of Health and Seniors Services received 415 manufacturing license applications but granted only 86 permits to manufacturers of infused products such as edibles and vape cartridges. The state expects to award 92 dispensary licenses on January 24.
The San Diego City Council unanimously approved a ban on marijuana billboard ads within 1,000 feet of schools, playgrounds, day care centers, youth centers and parks with playgrounds, a move supported by local marijuana businesses. 54% (352 of 644) of the city's existing billboard sites will be available to marijuana advertisers, The San Diego Union-Tribune reported.
Last year, the provincial government issued a request for proposals for a single, private operator to "undertake the operation, distribution and sales of recreational cannabis in New Brunswick." Cannabis NB, the provincially owned and operated cannabis distributor, has been a money-loser since the outset of legalization in October 2018. The Crown corporation runs 20 stores across the province. 
The proposals will be evaluated by a third-party fairness monitor over the next few weeks. A single operator could be announced as early as this spring, with the new operator taking over later in the year. 
The companies include:
Canopy Growth Corp., a major cannabis producer with a grow facility in Fredericton. 

Fire & Flower Inc. of Alberta

Green Stop Cannabis Ltd. of Nova Scotia

Kiaro Brands Inc., a British Columbia-based company with shops in Vancouver and two locations in Saskatchewan

Loblaw Companies Ltd., the company that operates the supermarket chain Atlantic Superstore

The New Brunswick Association of Cannabis Distributors

RSL NB of New Brunswick

YSS Corp., a publicly-traded cannabis retailer with more than a dozen outlets in Alberta
~695,000 customers served in 2019 at an average ticket above $90.00

Gross Margin of ~57% for 2019, with margin expansion throughout the year – 50% in Q4 2018 compared to 56% - 59% in Q4 2019

Served an average of ~1,900 customers per day in 2019 at an average ticket greater than $90 – well above the expectations set for the market at the time of Planet 13's public listing

Planet 13 served 1,757 customers per day in December at a record average ticket of $100.00
Net revenue increased 38% from the prior year quarter to $35M

20.8% Gross Margin, compared to 12.8% in the prior year period on a GAAP basis

On a Non-GAAP basis, excluding the impact of certain non-recurring items, gross profit was ~22.6%

On a GAAP basis, net loss was ~$12.5M, compared to ~$8.6M in the prior year period

On a Non-GAAP basis, excluding the impact of certain non-recurring charges and gains, net loss for the quarter was $9.2M

Cash was ~$14.7M as of November 30, 2019, compared to ~$3.9M as of August 31, 2019
---
💵
Deals
The REIT LP intends to focus its search for target real estate businesses and/or assets that are involved in the cannabis industry and/or related sectors; however, it is not limited to the acquisition of cannabis-related real estate businesses and/or assets or to a particular geographic region and may acquire other classes of real estate businesses and/or assets and/or non-real estate businesses or assets for purposes of completing its Qualifying Transaction. The REIT LP is targeting a Qualifying Transaction that will aggregate a portfolio of properties with an estimated aggregate enterprise value of $200M — $650M.
The Company closed the second tranche of the Private Placement, issuing 3,450,127 units at an issue price of CAD$2.45 per Unit resulting in proceeds to the Company of CAD$8,452,811. Each Unit consists of one common share in the capital of the Company and one Common Share purchase warrant.  Each Warrant will be exercisable to acquire one Common Share prior to January 14, 2022 at an exercise price of CAD$3.25 per Warrant Share. The Company intends to use the proceeds from the Private Placement to accelerate the completion of the New Jersey cultivation and processing facilities, to satisfy the previously announced January 2020 contingent purchase price payment related to the acquisition of Ilera Healthcare, and for working capital and general corporate purposes.
The notes bear interest at a rate of 13.0% per annum, payable quarterly in arrears, with a maturity 48 months from closing. The sole placement agent for the Facility was Seaport Global Securities LLC.
Innovative Industrial Properties (IIP), closed on the acquisition of a property in Richmond, Virginia, which is expected to comprise ~82,000 square feet of industrial space upon completion of development.
The purchase price for the Virginia property was ~$11.8M (excluding transaction costs). Concurrent with the closing of the purchase, IIP entered into a long-term, triple-net lease agreement with a subsidiary of Green Leaf Medical, LLC (Green Leaf Medical), which intends to operate the property as a licensed medical-use cannabis cultivation, processing and dispensing facility upon completion of development. IIP has also agreed to provide reimbursement of up to ~$8.0M in connection with the completion of development of the property. Assuming full reimbursement, IIP's total investment in the property will be ~$19.8M.
Carlos Santana, the ten-time GRAMMY ®-winning and three-time Latin Grammy ®-winning guitarist and longtime cannabis advocate, announced a partnership with Left Coast Ventures to develop premium cannabis and hemp CBD brands. Influenced by his Latin heritage, these lines will provide consumers with high-quality products designed to leverage the power of historical remedies and allow consumers to discover and follow their light.
---
🧔
People
Former Revlon executive, Jon Levin, joins as Chief Operating Officer and former Molson Coors and Pharmaca executive, Michael Kruteck joins as Chief Financial Officer.
The Company's President, Mr. Csaba Reider, will be departing the organization.  Mr. Reider's duties will be assumed by the Company's CEO, Brian Athaide. Mike Gibbons, Vice President of Sales, is also leaving the organization. Robert Gora, Vice President of Medical Commercialization, will assume the consolidated role of Vice President, National Sales.
---
🧴CBD
CBDMEDIC products to be rolled out across more than 1,000 Bed Bath & Beyond stores.
---
🏬
New Store Openings
Situated near Faneuil Hall and the newly renovated TD Garden in the heart of downtown Boston, the groundbreaking adult-use concept store will serve as an iconic destination to the more than 15 million tourists who pass through the city each year. In fact, Faneuil Hall is the 8th most visited tourist attraction in the U.S. and Ascend Mass will be the first dispensary to operate within Boston city limits. 
The landmark building commands 16,000 square feet of retail at 272 Friend Street. During the planning phase, the project received broad support from the community and state leaders. Now, as the adult-use store nears opening its doors, it's set to become an iconic destination that's at the heart of Massachusetts' vibrant cannabis community. The Boston store is slated to open late 2020.
---
🤷‍♂️
Somewhat Relevant
UK pharmaceutical company COMPASS Pathways announced that it received a US patent for a "preparation of psilocybin" designed to control treatment-resistant depression. According to the World Health Organization, over 264 million people worldwide suffer from depression. Half of all suicides involve individuals who were depressed, as well. 
Pier 1 Imports will close up to 450 of its 936 stores, as well as some distribution centers. The company is the latest big-name retailer to announce sweeping closings and job cuts as it struggles with declining store visits and changing consumer tastes. Pier 1 made the announcement while reporting a quarterly sales decline of 13% and a loss of $59M.
Convenience stores and gas stations have worked to improve their dinners-to-go and coffee, becoming unexpected survivors in an industry suffering mass store closings and consumers opting for eCommerce. While delivery from Amazon (AMZN) has redefined what convenience means for many Americans, the 24-hour, 3,230-average-square-foot convenience store still fills a niche for time-strapped customers searching for a bite to eat and a fill up at the pump.
Dunkin' (12,957 locations)

Taco Bell (7,136 locations)

McDonald's (38,108 locations)

Sonic Drive-In (3,600 locations)

The UPS Store (5,166 locations)
---
Who writes this newsletter? ➡️ Dai Truong