Discover more from Highly Objective
Cannabis industry news, insights, and analysis
Over 3,000 subscribers
📰Cannabis M&A to accelerate?
Moez Kassam and Anson Funds. Nelson Peltz exits Advisor role at Aurora. Cannabis SPACs. TGOD $11M Bought Deal. Trym raises $3.1M. Akerna earnings. Kush Co. earnings.
Quick note —
Meadowlands starts today (October 1st) and goes on for 4 days, I'll be speaking Saturday, October 3rd from 10-11a on Fundraising Insights along with Emily Paxhia (Poseidon Asset Management), Krishnan Varier (Arcadian Capital), Heather Quinn Molloy (Ulu Capital & Consulting). Moderated by Matt Burns (TechCrunch). So join the zoom room if you're attending and interested.
---
🌿
Industry
Moez Kassam and Anson Funds: A Tale of Corruption, Greed, and Failure. Never has there been a bigger scourge of the Canadian capital markets. Moez Kassam and his Anson Funds have systematically engaged in capital market crimes, including insider trading and fraud, to rob North American shareholders of countless millions. In his attempt to destroy small-cap Canadian companies through nefarious means, a string of feeder funds and untraceable payments to elude regulators, Moez Kassam has betrayed even his closest friends. Now, the other shoe is about to drop as Kassam's funds run out and a string of failed attempts at illegal destruction leave this naked short seller truly naked. This is part 1 of a 3-part series.
Cannabis M&A to accelerate as valuations bounce back from 2019 drop. A drop in company valuations complicated by the coronavirus-triggered capital squeeze hindered cannabis deal-making during the first half of 2020. However, experts say mergers and acquisitions in the fledgling industry will pick up heading into the new year. Cannabis-related companies completed or announced 124 deals in the U.S. or Canada during the first seven months of 2020, less than half of the prior year's total for the same period and even further behind 2018's total, according to an analysis by S&P Global Market Intelligence. Capital raising for cannabis companies in 2020, meanwhile, continues to trail levels in either of the prior two years.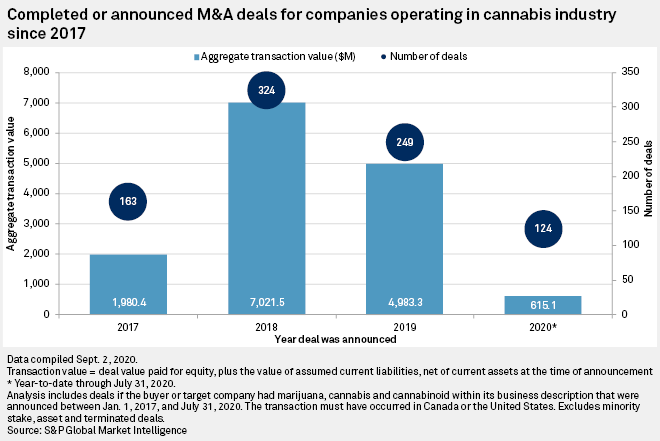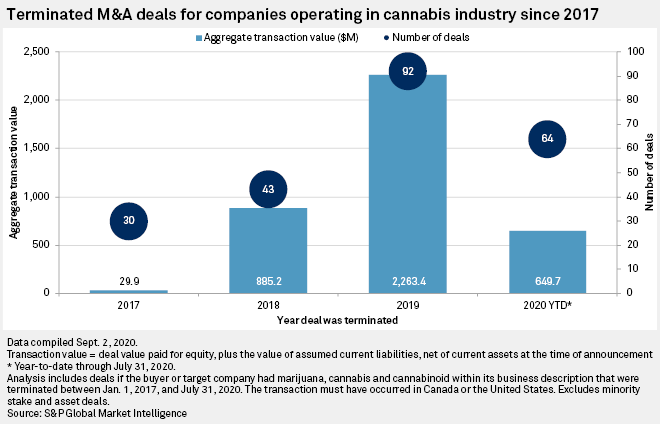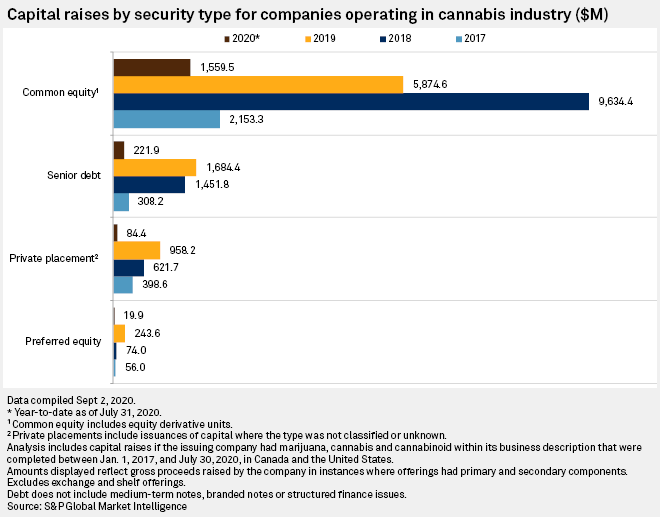 California's largest-ever fire threatens cannabis farms worth millions. Many won't evacuate. Trinity Pines alone is home to up to 40 legal farms, with more than 10 times that number of illegal grows hidden off its dirt roads, according to people familiar with this part of the Trinity Alps, inland from Humboldt. Each farm has crops worth half a million dollars or more, and many are within days or weeks of harvest, making growers wary of leaving vulnerable to either flames or thieves. Among the holdouts are numerous Hmong families, originally from Laos and other Southeast Asian countries, who have moved to the area in recent years, along with Bulgarians and Russians and a smattering of neighbors drawn by the remote beauty of towering cedars and firs. Seng Alex Vang, a member of the Hmong community in the Central Valley and a lecturer in the ethnic studies program at Cal State Stanislaus, said some of the Hmong farmers may prefer risking death rather than lose their source of income.
SPACs offer marijuana companies a source of funding – and a way to go public. "Cannabis SPAC IPOs (initial public offerings) raised more than $2.6 billion (in 2019) and more than $700 million in the first half of 2020, as institutional investors recognized the opportunities to acquire distressed/discounted assets in the industry," Scott Greiper, president and founder of Viridian Capital Advisors, told Marijuana Business Daily. Some experts argue that SPACs are the "only game in town" if a marijuana company wants to go public. "I think that is true for the vast majority of U.S. cannabis companies," said Jamie Mendola. head of strategies and merger and acquisitions for a San Francisco-based marijuana-focused SPAC, Mercer Brand Acquisition Partners, which last May raised more than $400M. He said there hasn't been a "significant capital raise" for any U.S. multistate operator through an IPO or reverse takeover (RTO) in almost 18 months.
From The Earth seeking damages after refusing to pay Commerce lobbyist kickbacks for licenses. From The Earth LLC says it lost out on its bid to get several cannabis business licenses in Commerce after it refused to go along with the scheme, run by lobbyist Mario Beltran, according to the suit filed Tuesday. From The Earth submitted its application to city officials, and not long afterward began receiving calls and emails from Beltran, according to the suit. Beltran told the company it needed to hire him as part of its license application process or he would ensure that its application was denied. Ultimately, From The Earth refused to hire Beltran, and its application was denied, according to the suit. The Company says it spent $400,000 on its application process, so the suit seeks that in damages.
Extreme weather patterns force cannabis growers to rethink cultivation strategies.
As extreme weather events ravage the country from coast to coast – including wildfires, floods and early freezes – marijuana growers are being forced to reevaluate their risks and consider changes to their cultivation practices. Outdoor marijuana growers, in particular, are vulnerable to severe changes in weather, prompting farmers to consider moving their crops inside and using new cannabis varieties. Other cultivators are locating their operations on higher ground to avoid flooding. For Case Mandel, founder of Cannadips Brand and live resin extraction company ArcataX in Humboldt, California, the ongoing fires are driving up the cost of material for extraction by 50%. Many outdoor cannabis and hemp farmers in southern Colorado were hit hard by the state's early freeze on Sept. 8. However, Bill Conkling, CEO and owner of Maggie's Farm, which has several medical and recreational stores in the state and outdoor grows in Fremont and Pueblo counties, said he took a "very small loss" by selecting and breeding strains that are acclimated to the changes in Colorado weather and also tests extreme conditions to plan for a quick response.
Adult-use marijuana legalization in New Jersey expected to ignite domino effect.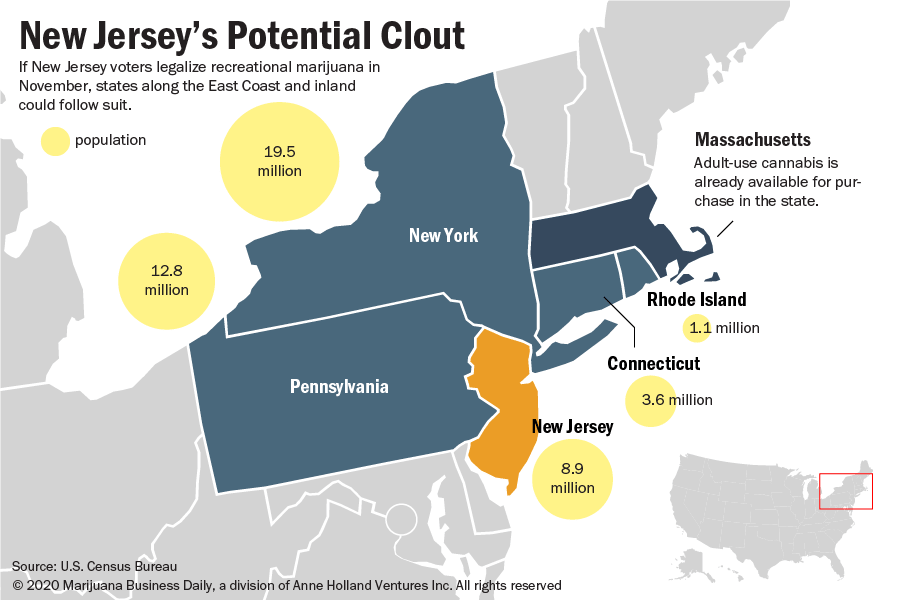 Billions of dollars in business opportunities are riding on whether New Jersey residents legalize a recreational cannabis market in November. New Jersey "will be the final hurdle for New York, Pennsylvania and surrounding states," predicted Scott Rudder, president of the New Jersey CannaBusiness Association. More than any other region in the country, the Northeast has been trying to move as one bloc toward adult-use legalization. Residents favor the legalization proposal by a margin of 68%-26% with 6% unsure, according to a July poll commissioned by the cannabis law practice of New Jersey-based Brach Eichler and conducted by New York-headquartered DKC Analytics. The state currently has only a dozen medical marijuana dispensaries – the 12th opened last week – but additional ones are expected to open in the coming months. Regulators also want to issue 24 additional MMJ business licenses, but that plan is on hold because of litigation.
New recreational cannabis markets are seeing quicker starts to sales.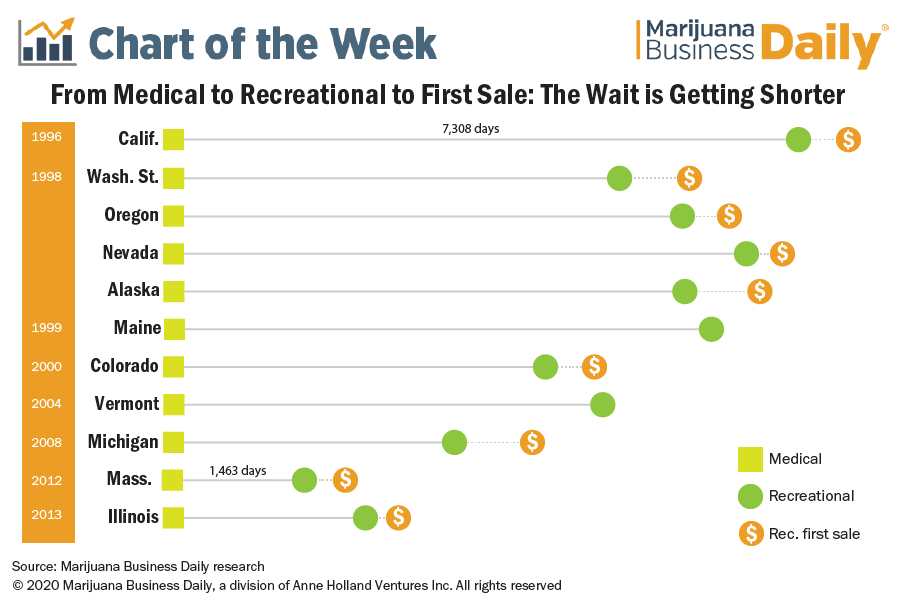 Canix wins TechCrunch Startup Battlefield at Disrupt 2020. Canix has built a robust enterprise resource planning platform designed to reduce the time it takes cannabis growers to input data. It integrates nicely with common bookkeeping software, as well as Metrc, an industry-wide regulatory platform. The founders say their platform can help growers increase margins through improved labor costs. Canix launched in June 2019, and in a little over a year, acquired over 300 customers spanning more than 1,000 growing facilities and tracking the movement of 2.5M plants.
Other Relevant News:
Cannabis on the 2020 Ballot (Leaflink)
Croptober is going up in smoke amid U.S. wildfires
BCC and CDPH file civil action against Kushy Punch for unlicensed activity
Fresno preps for a sprint to issue marijuana dispensary licenses
For better or worse, Monterey to debate cannabis
Playboy Launches Cannabis Law Reform And Advocacy Campaign
CA Governor approves changes to Marijuana Banking and Labeling Laws
OR Marijuana sales spike could continue as consumers "Permanently Adjust Their Behavior"
Hawai'i State Department of Health (DOH) approves additional Medical Cannabis Retail Locations
---
💵
Deals
Trym raises $3.1M seed to grow its cannabis cultivation platform. Trym's solution offers commercial growers a robust set of features, including integration with the regulatory platform Metrc and environmental sensors. Using the system, growers gain a powerful tool to grow their plants and business thanks to comprehensive analytics capabilities and operations management. Trym's seed round came from friends and family, along with notable investors. Out of the $3.1M round, $1M came from friends and family. 7thirty Capital and Delta Emerald Ventures co-led the preferred round of $2.1M with participation from Welcan Capital, Arcview Collective Fund and others. Trym says the round was oversubscribed.
The Green Organic Dutchman (TGOD) — $11M Bought Deal. 46,316,000 units at a price of $0.24 per Unit (one common share and three-quarters of one common share purchase warrant of the Company). Each Warrant shall be exercisable to acquire one common share of the Company for a period of 60 months from closing of the transaction at an exercise price of C$0.30 per Warrant.
SLANG Worldwide continues to consolidate CO Supply Chain with acquisition of Pleasant Valley Ranch. Pleasant Valley has 1,600 square feet of greenhouse cultivation area, and a five-acre outdoor facility at an elevation of ~7,500 feet that produces an authentic, naturally cultivated product using snowmelt water. It currently has a capacity of 3,600 plants and produces ~4,800 pounds annually and is projected to double its capacity by 2021. Pleasant Valley has been a key supplier of raw materials for SLANG-branded concentrate and edibles products in Colorado.
Acreage Secures Three-Year Term Loan, Repays Short-Term Convertible Note. The $33M loan is unsecured, matures in three years, and bears a 7.5% annual interest rate. Acreage used a portion of the proceeds to retire its short-term $11M secured convertible note.
ManifestSeven (MSVN) — Commenced Trading on CSE.
---
📄Financial Results
Software Revenue: $2.8M, up 36% Y/Y (Software revenue represented 94% of total)

Total Revenue: $3M, down 17% Y/Y, due to COVID-related delays in consulting revenue during quarter

Operating Loss: ($6.2M), compared to loss of ($5.9M) Q4 FY2019

Adjusted EBITDA: ($3.6M), compared to Adjusted EBITDA of ($1.5M)Q4 FY2019

Cash: $24.2Mas of June 30, 2020
Revenue: $25.5-$26M, up 14-17% sequentially

Achieve Positive Adjusted EBITDA of $0.25-$0.75M (first in 3 years)

Cash SG&A Guidance of $6.5-7.5M

~$10.5M in cash, did not draw on its revolving credit facility during quarter
Revenue: $9.4M, up 15% Q/Q

Gross Margin: $4.8M (51%, before fair value adjustments), up 65% from Q/Q

Adjusted EBITDA: $3.0M; first quarter reporting Positive Adjusted EBITDA1from Oregon operations

CFO: $4.2M, up $2.8M or 200% Q/Q

Operating Income: $2.5M (before fair value adjustments)

Delivered Positive EPS
---
🧔
People
Nelson Peltz exits Advisor role at Aurora. Activist investor Nelson Peltz (280 Park ACI Holdings LLC) has resigned from Aurora just 18 months after being hired as a strategic advisor. Given his CPG experience, he had been providing services to the Company with respect to its US strategic initiatives.
Cansortium — Robert Beasley appointed CEO. Since the beginning of 2020, Robert has been a Senior Advisor to the Company and actively involved in all aspects of Cansortium's operations, reporting directly to the Board.
Christopher Melillo — AWH, CRO (previously SVP Retail, Curaleaf)
David Chiovetti — Cookies Retail, EVP, Retail (previously EVP Retail, MedMen)
---
💻Hiring
Papa & Barkley — CFO (Pasadena)
Papa & Barkley — VP, Digital and Ecommerce (Pasadena)
Connected — Cultivation GM (Sacramento)
---
🏬
New Store Openings / Product Launches
Besito — D2C and new products. Use code: heyfam20 for 20% off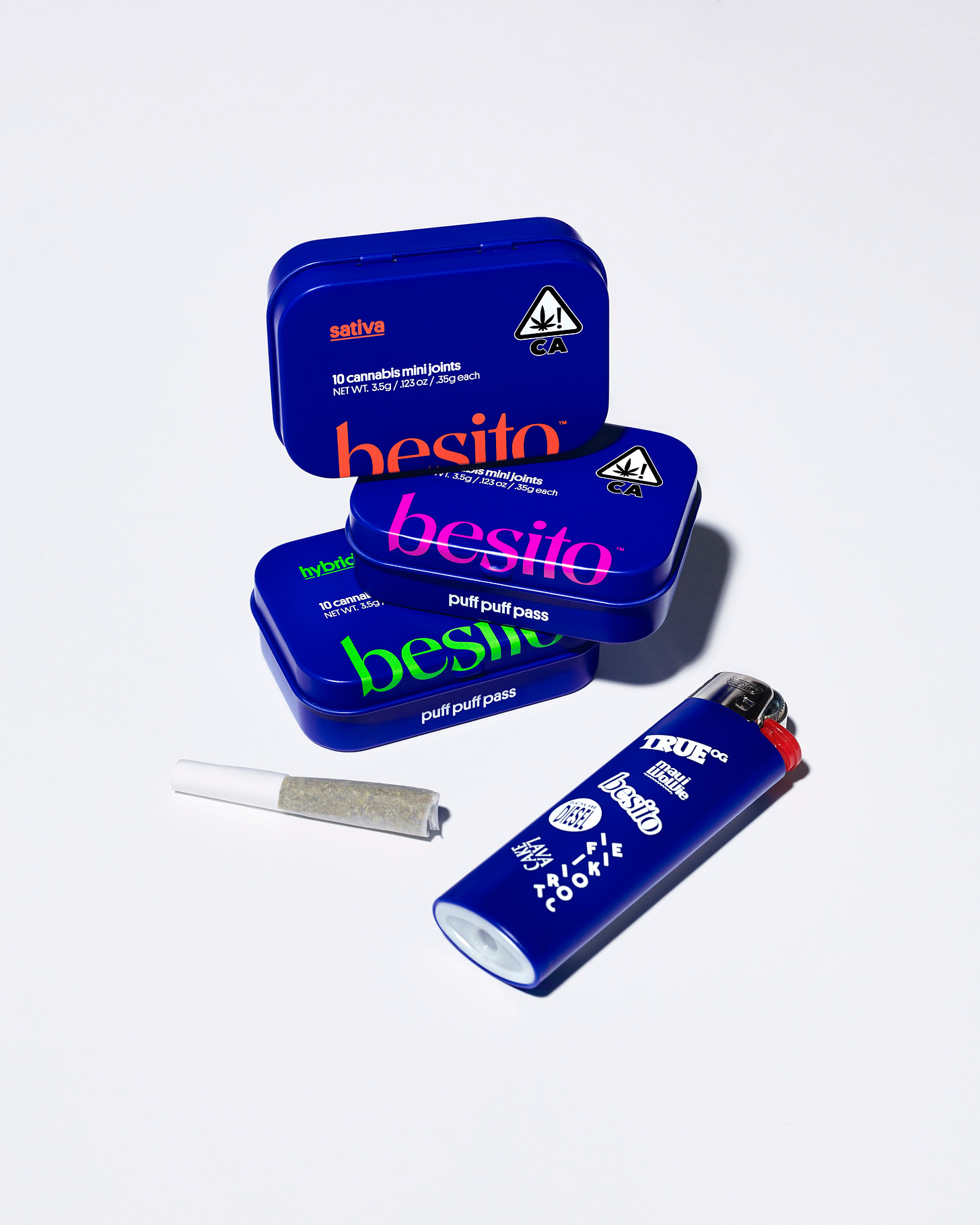 Columbia Care — Miami Pinelake and Brandon (12 total in FL)
Columbia Care — Villa Park (2nd in IL)
Acreage — Nature's Care Dispensary in Chicago's West Loop
Harvest — Cranberry Township (6th in PA)
The Fire Station — Recreational Marijuana Just North of WI
---
🤷‍♂️
Somewhat Relevant
Psychedelics Firm MindMed Receives Bullish Rating and Price Target from Canaccord, Initiates NASDAQ Uplisting
---
Who writes this newsletter? ➡️ Dai Truong