Discover more from Highly Objective
Cannabis industry news, insights, and analysis
Over 3,000 subscribers
🤝Canopy, Aurora provide business updates. Canopy / Acreage amend deal terms.
Canopy turnaround plans. Aurora to close five facilities. Canopy/Acreage amend deal terms. TILT earnings. Cresco Labs has a new CFO (ex-Allscripts).
---
🌿
Industry
Canopy maps out turnaround built on layoffs, drinks, U.S. CBD. Canopy currently has ~15% of the Canadian recreational pot market, down from ~20% from the beginning of the year, analysts estimate. 
Canopy signaled that it's planning additional layoffs on top of the 800-odd workforce reductions it announced since January to help cut its general and administrative costs and reach a gross margin target of 40%. It also plans to roll out cheaper dried flower products to win back market share, while reducing the total number of items it sells to help avoid consumer confusion.
Canopy said it sees its cannabis-infused beverages as a key offering to help win over more of the Canadian market, notably consumers who have no interest in smoking pot. The company has shipped 530,000 drinks so far and its so-called "Cannabis 2.0" products now account for 12% of total sales. The Company believes that cannabis-infused beverages could soon account for 5%  or ~$1.3B, of the Canadian beverage market.
The U.S. CBD market is shaping up to be an area of significant interest for Canopy, where the company plans to leverage several of its brands including its BioSteel sports drink to cut through what was described as a "massively-fragmented market." Canopy plans to launch its Martha Stewart-led CBD brand in the U.S. this fall, with human-consumed products rolled out first and pet-focused items afterward.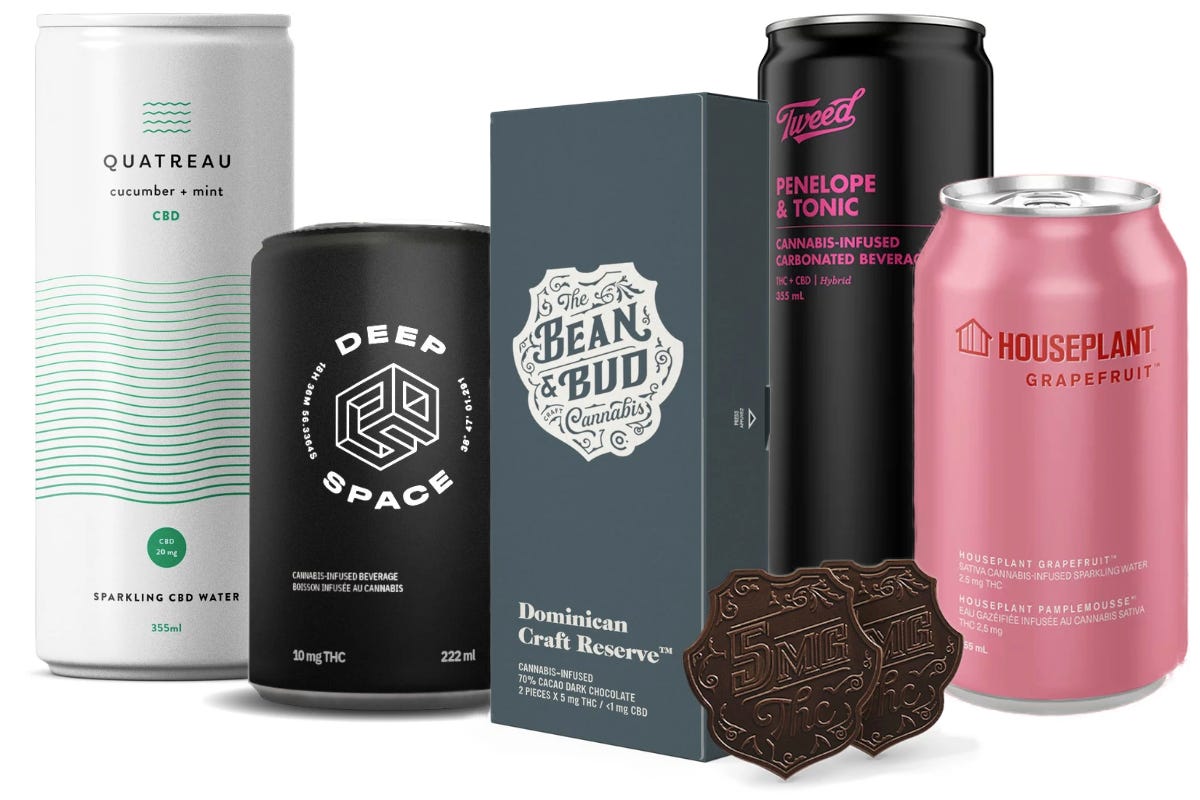 Aurora Cannabis - Additional Layoffs and Facility closures. The Company has executed a material reduction in both corporate and production level employees and third-party consulting and professional spending across the organization. These changes include a ~25% reduction in Aurora's SG&A staff, most with immediate effect, and a ~30% reduction in production staff over the next two quarters. The corporate headcount rationalization was undertaken at all levels of the Company, including a restructuring of the executive leadership team and the recently announced retirement of President Steve Dobler. The Q1 2021 SG&A run-rate of ~$42M represents a cost structure that the Company anticipates will be capable of supporting significantly higher levels of revenue in the future without a corresponding level of growth in SG&A.
Aurora has initiated a plan to close operations at five facilities over the next two quarters in order to focus production and manufacturing at the Company's larger scale and highly efficient sites. Aurora expects to record production asset impairment charges of up to $60M during Q4 2020. The Company also expects to record a charge of up to $140M in the carrying value of certain inventory, predominantly trim, in order to align inventory on hand with near term expectations for demand.  ~40% of the expected inventory provision relates to the non-cash IFRS fair value adjustment within inventory.
Ontario cannabis market surpasses 100 retail store authorizations. Canada's largest market for adult-use cannabis products saw its 100th retail store authorization this month, Alcohol and Gaming Commission of Ontario records show, though not all the stores are open as they complete the regulatory process. It is an important milestone for a province that has lagged other jurisdictions in store openings since cannabis was legalized in late 2018. Alberta remains the leader with 483 cannabis providers, though that market is showing signs of retail saturation.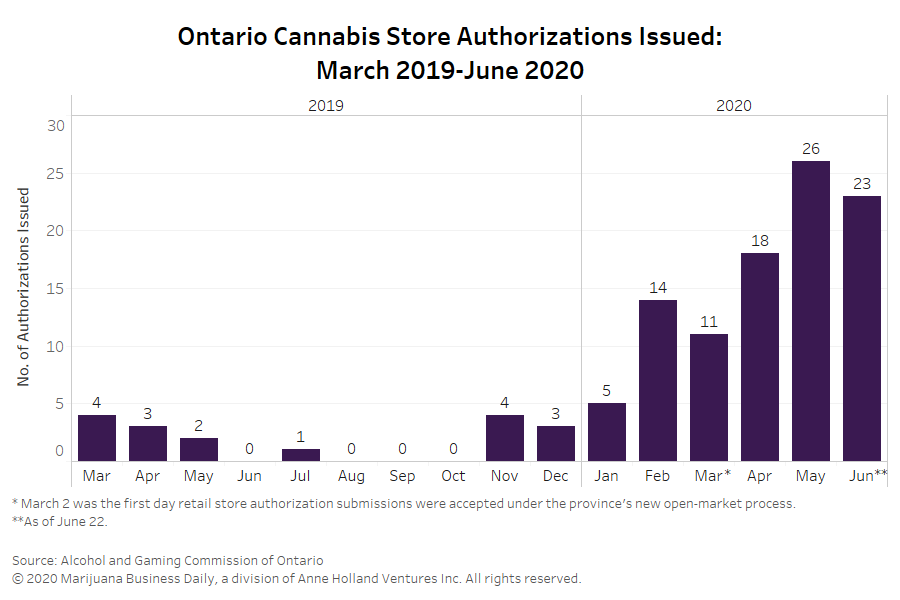 A Justice Department whistleblower has accused Attorney General William Barr of abusing his power in conducting antitrust probes into cannabis companies. In one instance, a merger that would create a company with a combined market share of 0.35% was investigated. According to DoJ official John Elias, probes into mergers in the cannabis industry accounted for 29% of all full review merger investigations in 2019, in what he calls Barr's personal bias against the industry.
Tepid adult-use cannabis sales in Massachusetts for first week of reopening. Retailers across the state generated $13.6M for the week of May 25, up about 60% from the same week in 2019, but is much lower YoY growth than through the first 12 weeks of 2020, which were up by an average of 200% from the previous year.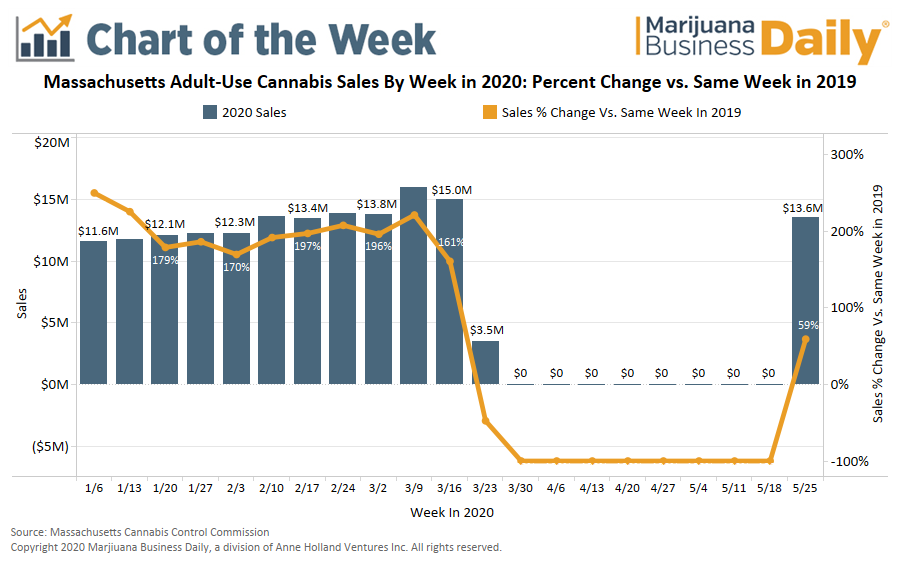 LA City Council provide preliminary approval to Social Equity licenses. The revisions would provide a jump in licenses for social-equity businesses seeking licenses to quickly get temporary approval to begin operating once certain benchmarks are met. This would permit businesses to relocate while being licensed and streamline the application process. The city is on target to eventually double the number of retail businesses, up from 187 now operating. In time, rules allow for as many as 537 dispensaries, though there are also restrictions that limit the number of businesses that can operate in neighborhoods.
New Jersey medical marijuana dispensaries can now deliver. The state Department of Health announced it has issued a waiver that allows for home delivery.
Kings Garden Announces Initiation of Regular Quarterly Dividend. An industry-first, Kings Garden declared a regular quarterly dividend of $1M, to be paid at the end of Q2-2020 and quarterly thereafter.
MA Cannabis Control Commission considers changes to economic empowerment applicant requirements. Massachusetts cannabis regulators discussed revising a number of regulatory policies, many of which would impact economic empowerment applicants, a license type created to benefit people disproportionately affected by the war on drugs. Economic empowerment status was created to offer a prioritized review and licensing for people disproportionately affected by the war on drugs or those in communities disproportionately impacted by high rates of incarceration and arrest for marijuana offenses. The social equity program is a free technical assistance and training program. For economic empowerment applicants, commissioners weighed whether or not to allow a reduction of ownership by target community members, or those people intended to benefit from economic empowerment status, from at least 51% down to 33% so long as target community members retain control and receive a certain amount of economic benefit. A reduction could mean more flexibility to obtain capital, something that has been a struggle for equity applicants.
West Virginia State cannabis office grading grower applications. The state is limiting the number of grower permits to 10, processer permits to 10 and dispensaries permits to up to 100. Processer and dispensary applications will be evaluated after scorers consider grower applications.
Big Rock Partners release first annual State of Flower Overview. The Cannabis-focused investment firm released insights from conversations with its portfolio companies (Henry's Original, Sonoma Hills Farm, Swami Select, Sunrise Gardens, Sparc/Marigold, the Apothecarry Case and CannaCraft with their new flower brand, Farmer and the Felon).
Cannabis Sales Gets A Second Look From City Halls to Offset COVID impact. Fullerton, La Habra and Stanton are possibly looking to join Santa Ana in creating new revenue streams — while Costa Mesa in April grappled with keeping business in the city  by lowering its city cannabis tax to 1%. Earlier this month, Anaheim City Council members had a lengthy debate over potentially allowing cannabis shops in the city. While some Council members objected to it in principle, others said it could help patch their budget, which is projected to face a $75 million shortfall in the upcoming fiscal year.
Montana secures enough signatures to get Adult-Use Cannabis on 2020 Ballot. It's looking extremely likely that Montana voters will get a shot at legalizing adult-use cannabis this year. Last Friday, cannabis advocacy group New Approach Montana submitted over 130,000 signatures on a petition to place an adult-use legalization initiative on this year's general election ballot.
---
💵
Deals
Canopy Growth & Acreage Holdings Modify Plan of Arrangement. Canopy and Acreage have entered into an agreement to amend the terms of the arrangement agreement dated April 18, 2019, as amended on May 15, 2019. Under new terms of the agreement:
Up-front cash-payment to Acreage shareholders and certain convertible security holders of $37.5M (~$0.30 per share)

Creation of two new classes of shares in the capital of Acreage (0.7 of a Fixed Share and 0.3 of a Floating Share)

The Fixed Shares (Canopy call option) exchange ratio to 0.3048 (reduced from 0.5818) of a common share of Canopy Growth

The new Floating Shares (Acreage will apply to have listed on the CSE, Canopy call option w/ minimum call price of $6.41), exercisable following the occurrence or waiver of the Triggering Event (U.S. Federal Legalization)

Share pool of up to 32,700,000 Fixed Shares and Floating Shares that allows for continued capital raises as well as share-based incentive compensation

Canopy Growth has agreed to loan a wholly owned subsidiary of Acreage (Acreage Hempco), up to $100M at 6.1% interest

Kevin Murphy resigning as CEO (but still serve as Executive Chairman) of Acreage and a search for his successor will commence immediately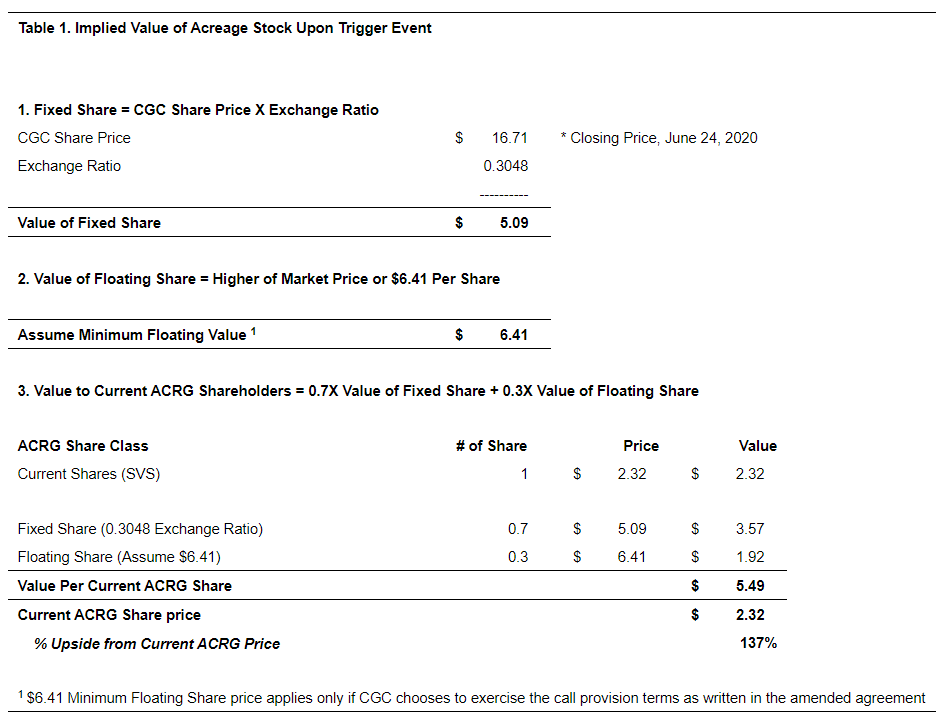 High Times' cannabis retail bid complicated by web of owners, social equity partners. The wheeling and dealing as well as the nearly all-stock structure of the High Times-Harvest deal has raised concerns about how social equity partners are being treated at a time of protests across the country about racial inequities. Four of the operating and planned dispensaries in San Francisco and Oakland have social equity partners. The two transactions in San Francisco appear to possibly trigger the city's strict social equity ordinance banning a majority change of control without losing the permit and the benefits that come with it. Oakland's rules explicitly say that social equity partners are in control of their operations.
IIP / Green Leaf Pennsylvania Property. IIP has committed $30M in funding for additional expansion of Green Leaf's cannabis cultivation and processing facilities. Assuming full payment of the additional funding, IIP's total investment in the property will be $43M. IIP acquired the property in a sale-leaseback transaction with Green Leaf in May of last year, which comprises two buildings totaling ~266,000 square feet of industrial space. Green Leaf previously redeveloped ~103,000 square feet of the industrial space for medical-use cannabis cultivation and processing, and this funding is expected to include the build-out of the remaining 163,000 square feet of industrial space. IIP also owns and leases to Green Leaf an 82,000 square foot medical-use cannabis cultivation, processing and dispensing facility in Richmond, Virginia, which IIP acquired earlier this year.
Jushi — $15M Senior Secured Notes @ 10% interest w/ 75% Warrant Coverage. All Notes will mature on January 15, 2023 and will bear interest of 10.0% per annum payable in cash quarterly, secured by the assets of Jushi and certain of its subsidiaries (subject to certain exclusions) and are also guaranteed by certain subsidiaries of the Company and rank pari passu with the currently outstanding 10% senior secured notes of the Company.  In connection with the Offering, the purchasers of the Notes will also receive Warrants to acquire subordinate voting shares of the Company at 75% coverage with an expiry date of December 23, 2024, at an exercise price equal to US$1.25 (~CAD$1.70 as of 6/19/20).  The Warrants contain a cash-less exercise (net settlement) option available 12 months after issuance.
iAnthus Receives Demand for Payment and Notice of Intention to Enforce Security. Gotham Green (holders of the Company's 13.0% Senior Secured Debentures, has provided the Company and its wholly-owned subsidiary, MPX, with a demand for repayment under the Amended and Restated Secured Debenture Purchase Agreement dated October 10, 2019 of the entire principal amount, together with interest, fees, costs and other allowable charges that have accrued or may accrue in accordance with the Purchase Agreement and the other Transaction Agreements.
Flower One + Lift Ticket Laboratories Brand Partner Agreement. Lift Ticket branded products are expected to hit shelves in Nevada this summer, including collaborations with other Flower One premium brand partners such as Cookies and Heavy Hitters.
---
📄Financial Results
TILT Announces Q1 2020 Financial Results. Revenue of $42.4M (up 27% Q/Q), $32.3M from Jupiter Research. $1.7M Adjusted EBITDA. $8.4M in Cash.
---
🧔
People
Cresco Labs CFO retires, former Allscripts CFO takes over. Current CFO, Ken Amann, who has been with the Company sine 2015 will be retiring. Dennis Olis reviously serving as CFO for Allscripts Healthcare Solutions (~$1B Market Cap Company that provides healthcare providers with practice management and EHR) will be taking over in July.
Harvest CFO resigns, VP Finance next up. Leo Jaschke has resigned, effective immediately. Deborah Keeley, currently VP Finance & Tax (joined April 2020) will take over as CFO.
---
🏬
New Store Openings
GTI — Rise Duncansville, IL (47th Retail Location). 260,000+ patients are registered with the Pennsylvania program, including 168,000 active card holders.  The industry services about 65,000 patient visits per week with ~160,000 products sold weekly.
Trulieve - Brooksville, FL (49th in FL)
One Plant — Port St. Lucie, FL
Michigan Supply and Provisions (AWH) - Detroit and Battle Creek. Parent company AWH says it plans to open five more MS&P provisioning centers in Michigan in 2020, as well as a 144,000 square-foot cultivation and processing facility in Lansing.
---
🤷‍♂️
Somewhat Relevant
GNC files for bankruptcy and will close up to 1,200 stores. The 85-year-old vitamin and dietary supplement company has been saddled with nearly $1 billion of debt and has faced declining sales at its brick-and-mortar locations since before the pandemic. It plans to close up to 20% of its 5,800 retail stores, which amounts to as many as 1,200 locations across the United States. GNC also sells its products in an additional 1,200 Rite Aid (RAD) stores. It obtained $130M in fresh financing from its largest vendor, vitamin supplier IVC, to help it restructure.
Gap and Yeezy collaborate. The Yeezy Gap line will be launching in 2021, Kanye will receive royalties and may receive equity based on sales performance.  GPS gained ~$800M in market cap on a day when the market was down ~2.5%
Yelp report finds 53% of restaurants responding to survey have permanently closed. Yelp released an Economic Impact Report, detailing the changes that restaurants, retail, and other industries have undergone because of the pandemic. It's a dire outlook for restaurants, according to Yelp, 53% of restaurants that had closed since March 1 have since indicated permanent closures on their Yelp pages. Between a baffling PPP loan system, no cancellation of rent or mortgage payments, and the necessity that restaurants turn a profit while operating at half-capacity or through takeout only, it's sadly unsurprising that 53 percent of Yelp's restaurants have closed permanently.
---
Who writes this newsletter? ➡️ Dai Truong