Discover more from Highly Objective
Cannabis industry news, insights, and analysis
Over 2,000 subscribers
⏳ Cresco Labs and Columbia Care Extend Acquisition Closing Timeline to June
TPCO + Gold Flora. CA 2022 sales of $5.3B, down 8.6% from 2021. VA's adult-use cannabis market stalled indefinitely. Green Check Verified raises $6M Series A. RIV Capital x JWAM settle.
---
🌿
Industry
California's annual cannabis sales fell in 2022 for the first time since adult-use launch. Retailers generated just over $5.3 billion in taxable sales of recreational and medical marijuana last year, down 8.6% from roughly $5.8 billion in 2021, according to the latest statistics released by the California Department of Tax and Fee Administration. Taxable sales in the fourth quarter dipped to about $1.3 billion – the third straight quarterly decline—down ~12% from the same period a year ago.
Virginia's adult-use cannabis market stalled indefinitely. Virginia's recreational marijuana industry is on indefinite hold. Less than two years after the state became the first in the South to legalize adult-use marijuana for adults 21 and older, the projected start date for legal sales of Jan. 1, 2024, has been effectively scrapped. It's unclear when, or if, recreational MJ sales will begin. The issue: The legalization bill that the then-Democratic-controlled General Assembly sent to former Gov. Ralph Northam two years ago was a half-measure. Northam signed the bill into law in April 2021, The new law allowed Virginians to possess cannabis and cultivate up to four plants. It also called for recreational sales to begin no later than Jan. 1, 2024. But the law also required the General Assembly to later reenact a number of provisions of the 2021 legislation, including those that detail a regulatory and market structure such as licensing. Prospects for passage of those measures dimmed after a November 2021 state election: Republicans regained control of the governor's office plus the House of Delegates, the Legislature's lower chamber. And with what observers say is encouragement from GOP Gov. Glenn Youngkin, the legislation needed to set up an adult-use market was on track at the weekend to fail during the General Assembly's short, odd-year legislative session—following a similar failure in 2022.
NC Senate could vote on medical marijuana bill in next week. A bill to legalize medical marijuana will go to the floor of the North Carolina Senate for a vote. A similar bill made it through the N.C. Senate in 2022 but stalled in the state House. A new version with some changes swept through three senate committees in three days. The bill would allow the use of medical marijuana for the treatment of cancer, epilepsy, PTSD, and multiple sclerosis among other conditions. The bill is expected to reach the Senate floor in the next week. From there, it will head to the state House, where it's expected to have a better chance of passing this time around. Governor Roy Cooper is also expected to support the bill.
Medical cannabis is one of the biggest cash crops in Utah. Medical cannabis has become a huge cash crop not only for the state of Utah but also for the eight producers who grow it and those that sell it. In 2022 the cannabis industry generated $118.8M, up 59% from 2021. Utah has 63,622 medical cannabis card holders as of January 2023, about double from last year. There are 14 processors in Utah that produced over 1.4 million products including vape carts, concentrates, flower, and gelatinous cubes all of which has been sent to the pharmacies for patients to purchase.
Citing a backlog, Costa Mesa offers refunds to cannabis applicants willing to cut bait. Cannabis retailers who've spent thousands to operate in Costa Mesa, only to be placed on long waiting lists, will soon be able to recoup money from the city after officials agreed to refund application fees to those who voluntarily withdraw their requests. Council members Tuesday authorized a refund of licensing and permitting fees to some 45 applicants that have been waiting since August 2021 for a determination on whether they may do legal business in the city. It's an attempt to help clear a processing backlog that has plagued the city's Development Services department, which has allocated roughly 25% of its time and personnel resources toward reviewing 63 retail cannabis applications. Despite the department's efforts, only 14 applicants have so far received the permits needed to open a storefront.
Dodgy science, poor access and high prices: The parallel medical world of medicinal marijuana in America. It's been nearly three decades since California pioneered the therapeutic use of cannabis, but patients still face a confusing patchwork of rules. The disconnect between state and federal policies leads to all kinds of problems for patients. Medical marijuana is not covered by health insurance — leaving some patients with bills of over $1,000 per month. Only nine states and the District of Columbia recognize medical marijuana cards issued by other states, meaning patients must either refrain from travel, forgo relief for their symptoms, or risk arrest by taking marijuana with them across state lines. Many medical professionals lack the research needed to feel comfortable discussing marijuana's usefulness for many conditions that patients are already using it to treat.
Huge resources going into building cannabis agency in New York. The State Liquor Authority and the Office of Cannabis Management on the surface seem like similar agencies: They both regulate the manufacture, distribution and sale within the nation's fourth-largest state of an intoxicant that is mostly consumed recreationally. And while the SLA oversees a vast, 90-year-old, multibillion-dollar industry with 50,000 current licenses for making or selling alcohol and processed more than 80,000 license and permit transactions in 2021, OCM has been given far more resources for an industry that is 16 months old and so far has issued only 66 licenses for cannabis dispensaries. OCM was established in March 2021 with the passage of the Marijuana Regulation and Taxation Act. Staffing began to ramp up that fall. In October of 2021 the agency had 14 employees; there were 135 by the end of 2022 and 150 as of this week. OCM's budget for fiscal year 2022-23 was $46 million, rising to $62 million in the proposed 2023-24 budget, state figures show. In contrast, the SLA's next proposed budget is $16.7 million, only 27% of OCM's, for roughly the same number of employees (153 at the SLA vs. 150, though Alexander said he expects to hire another 50 by year's end, moving the later toward 300). [note: thanks to Hirsh Jain for sharing]
BDSA: 2022 Best Selling Cannabis Brands across AZ, CA, CO, IL, MA, MD, MI, MO, NV, NJ, NY, OR, PA. According to BDSA's Consumer Insights tracking, ~70% of consumers report consuming via inhalable products and ~55% of cannabis consumers prefer using inhalable products. Those preferences come across in market results as Inhalables, including flower, vape, and other concentrates, accounted for ~84% of total dollar sales across all markets in 2022. Vape sales have accounted for ~26% of total dollars across BDSA-tracked markets in 2022, up from ~23% of total dollar sales that the vape category made up in 2021. Vapes are the second most preferred inhalable product after flower, with ~25% of cannabis consumers in adult-use and medical states citing vape as their preferred inhalable format.
Stiiizy has expanded rapidly, becoming the best-selling vape brand across all BDSA-tracked markets and holding on to the number one brand ranking by dollar sales for 2022. Also the number one brand in CA, Stiiizy generated ~$756 million in sales in 2022 across AZ, CA, MI, and NV

Rythm (GTI) continued to hold second-place and was the best-selling brand in MA and IL for 2022. Offering a product portfolio of flower (~52% of brand sales), vape (~41%) and dabbable concentrate products (~7%), Rhythm sales reached ~$445 million in 2022 across MA, MD, IL, PA, NJ, and NV

Select (Curaleaf) is one of the biggest players in the cannabis vape market, with products available across 17 states. The brand saw ~$371 million in sales for 2022 across AZ, CA, CO, IL, MA, MD, MI, MO, NJ, NV, NY, PA, and OR

Cresco generated ~$365 million in sales for 2022 across AZ, CA, IL, MA, MD, MI, OR, and PA. The company's offerings include vapes (~51% of brand sales), flower (~38%), pre-roll (~1%) and dabbables (~11%)

Verano generated ~$306 million in sales for 2022 across AZ, IL, MA, MD, NJ, NV, and PA. Verano product portfolio covers a wide range of cannabis categories, including flower (~41% of brand sales), pre-rolls (~14%), edibles (~7%)
---
💵
Deals
Cresco Labs and Columbia Care Mutually Extend Acquisition Closing Timeline. The outside date to complete the proposed acquisition by Cresco of Columbia Care from March 31, 2023 to June 30, 2023. The extension will allow the Companies additional time to finalize divestiture agreements and obtain the regulatory approvals required to close. "We are making good progress on the remaining divestitures and moving closer to completing the Columbia Care Acquisition. Given the current divestiture and regulatory approvals timeline, we now expect closing to occur sometime before the end of June 2023," said Charles Bachtell, CEO of Cresco Labs.
The Parent Company (49%) and Gold Flora (51%) Agree to All-Stock Merger. Under the terms of the Merger Agreement, The Parent Company shareholders will own ~49%, and Gold Flora holders will own ~51%, of the outstanding common equity of the combined company on a pro forma basis upon consummation of the Business Combination. The combined company is expected to operate a footprint of 20 retail stores, 12 house brands, 3 distribution centers, and 1 manufacturing facility and 6 cultivation facilities. The combined company will have an indoor cultivation canopy of ~72,000 square feet, with the opportunity to expand to a further ~240,000 square feet. The combined company would have pro forma revenue of $116.4M for the nine-month period ended September 30, 2022 and a 33% gross margin.
Green Check Verified Raises $6M Series A Led By Mendon Venture Partners. Mendon Venture Partners is a VC firm focused on the intersection of innovative technology and traditional banks. Other investments include Finexio (payment platform), Neural Payments (payment services), FiVerity (identity intelligence platform), Agent IQ (customer engagement platform), Finexio (payment platform).
---
📄 Company Updates / Earnings
RIV Capital settles application initiated by JW Asset Management. Under the terms of the settlement agreement, RIV Capital has repurchased for cancellation all RIV Capital Class A common shares currently owned or controlled by JWAM and its affiliates, amounting to 33,733,334 shares, for an aggregate purchase price of $19,625,000. RIV Capital has also reimbursed certain legal expenses incurred by JWAM as part of its application and related matters in the amount of $375,000. As part of the settlement, JWAM and its affiliated funds have also withdrawn their requisition for a special meeting of the Company's shareholders currently scheduled for June 6, 2023, which meeting will be cancelled by the Company. JWAM filed the application against the Company in May 2022, soon after RIV Capital acquired ownership and control of Etain, LLC and Etain IP, LLC, owners and operators of legally licensed cannabis cultivation and retail dispensaries in the state of New York. In the application, JWAM sought a remedy requiring the JWAM Shares to be repurchased by the Company at a price of C$1.65 per share.
StateHouse Enters Cultivation Partnership with Refined Genetics. Through its strategic investments in plant genomics, breeding technologies, and commercial propagation, Refined Genetics is able to develop and deliver superior cultivars for the future of the cannabis industry.
Humble & Fume — Q2 FY2023. Saw a decrease in operating expenses of $2M or 30% Y/Y and $3.5M or 27% for the six months Y/Y in the North American accessories and Canada cannabis business. This is offset by increased costs of $4.4M and $8.5M relating to expanding the California cannabis distribution business for three and six months, respectively.
IIPR — Q4 & Full Year 2022 Results.
Q4 2022: Total revenues of $70.5M, up 20% Y/Y.

FY 2022: Total revenues of $276.4M, up 35% Y/Y and net income attributable to common stockholders of $153.0M, up 36% Y/Y. Invested approximately $394M (excluding transaction costs), including nine acquisitions of properties located in seven states and twelve lease amendments to provide funding of qualifying real estate infrastructure improvements at properties in seven states, expanding IIP's footprint to 110 properties totaling 8.7 million rentable sq. ft. in 19 states at year end.

Notable highlights: Kings Garden paid rent for February of ~$825,000 (including ~$64,000 of pro-rata reimbursement for taxes and insurance) on the four properties it continues to occupy, and indicated it is in discussions for a potential merger or sale of assets. Parallel defaulted in February on its obligation to pay rent at one property in Texas under development. IIP has funded only $8.2M of the $27.4M original commitment as of today.
Turning Point Brands — Q4 2022 & Full Year 2022 Results.
Q4 2022: Total consolidated net sales decreased 1.8% to $103.4M, Gross profit decreased (1.5%) to $49.6M, Adjusted EBITDA decreased 2.9% to $23.1M.

FY 2022: Total consolidated net sales decreased (6.8%) to $415.0M, Gross profit decreased (5.6%) to $205.5M, Adjusted EBITDA decreased (9.7%) to $97.6M. Net sales of Zig-Zag (45% of total net sales in the quarter) Products increased 7.9% to $190.4 million with double-digit advances in the U.S. rolling papers and e-commerce, other smoking accessories, and Canadian businesses partially offset by a double-digit decline in the wraps business.
---
🏬
Retail
Mississippi — Dispensaries opened by May 2023.
Cresco Labs Reaches 60 Nationwide Dispensaries with the Opening of Two Florida Stores. The newest stores in West Palm Beach and Winter Park, Florida. These new stores expand Cresco's Florida retail footprint to 25 dispensaries. The store is near the corner of an intersection off State Road 408, with traffic of 50,000 vehicles per day.
Verano Opens MÜV West Palm Beach Okeechobee, the Company's 65th Florida Location and 124th Retail Location Nationwide. MÜV West Palm Beach Okeechobee is located at a busy thoroughfare with an average daily traffic count of 48,000 vehicles. The dispensary is based in Palm Beach County, the third largest county in Florida with a population of 1.4M.
---
🌱 Product
Harpoon Brewery launches THC-based beverage: Rec. Weed.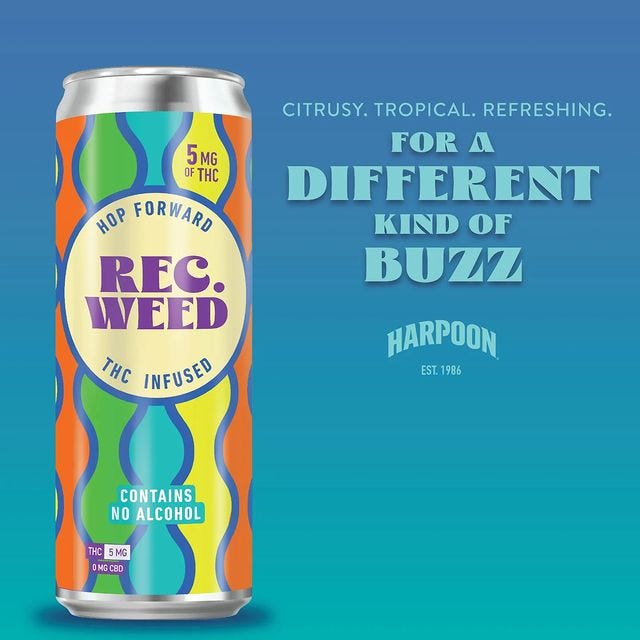 Made in partnership with Massachusetts' Novel Beverage Company, Rec. Weed is a hop-forward yet approachable beverage made with 5 milligrams of THC, real passionfruit puree, green tea, and hops at only 25 calories and 3 grams of sugar per can. With tropical juiciness and citrusy hop notes, Rec. Weed has a clean, crisp finish that encourages consumers to kick back at the end of a long day and unwind with a new kind of drink in their hand. Rec. Weed is brewed similarly to a session ale but without fermentation, meaning it has no alcohol content. The process starts with a base of green tea and a bit of added sugar, followed by the cold steeping of Citra and other West Coast hop oils and passionfruit puree. After the steeping process, THC is added to the liquid base, and the beverage is carbonated like a traditional beer. This process imparts minimal THC flavor or aroma. And because the THC is absorbed into the liquid, people feel its effects quicker than with more common edibles.
Good Supply Launches Canada's Strongest Infused Pre-Rolls. The Good Supply MONSTERS pre-rolls are made from a combination of two of Tilray's most potent signature strains frankensteined into a jaw-dropping pre-roll, coming in at 2.38g and 42.0% THC (420mg/g). Being the first of its kind, "MONSTERS" have been officially trademarked, differentiating its offerings from other infused pre-rolls products in the Canadian market; they feature a unique formulation of strain-specific milled flower infused with strain-specific BHO, and are coated in extract and dipped in kief to achieve a 1,000mg of THC—the most THC allowed in one package.
Aurora and MedReleaf Australia Launch new Medical Cannabis Brand—CraftPlant. The CraftPlant brand includes three new products available for doctors to prescribe – Greendae, Navana and HiVolt. All three are developed from ultra-premium cultivars and are THC-dominant with high percentages of terpenes. The cultivars were developed by Occo, Aurora's leading science and genetics business. The new range is produced under strict EU-GMP certified conditions and will be available in 10g containers. Aurora currently holds a 10% ownership stake in MedReleaf Australia, a fully licensed, private company. Together, they provide Australian patients with several Aurora-branded products, including dried flower, oils and soft gels.
---
🧔
People
Hound Labs names Debkishore Mitra as CTO. Before joining Hound Labs, Mitra was Co-Founder/CTO for Lucira Health, where he launched the first-ever at-home automated molecular tests for Covid-19 and the flu. He completed his Ph.D. in bioengineering at the University of California, Berkeley and the University of California, San Francisco.
---
🎙️ Interviews
Pricing trends in Cannabis | High Rise
Curaleaf sees immense demand in Florida | Bloomberg Businessweek
4Front Ventures, CFO, Andrew Thut | Talking Hedge
Twitter opens up advertising on its platform | High Rise
Eric Hammond, CEO, Highsman | High There
Luke Anderson, CEO, Cann | The Dime
---
👋 Highly Objective is curated by Dai Truong, who leads Cannabis Investment Banking at Arlington Capital Advisors. Third-party information presented here and links to third-party content are for informational purposes only and are not intended as a recommendation, offer or solicitation for the purchase or sale of any financial instrument, security or investment.  The information provided is not warranted as to completeness or accuracy and is subject to change without notice. Linking to third-party sites in no way implies an endorsement or affiliation of any kind between Arlington Capital Advisors, LLC, or its affiliates and any third party.  The information in this blog constitutes my own opinions (and any opinions posted by guest bloggers from time to time) and it should not be regarded as a description of services provided by Arlington Capital Advisors, LLC or any affiliate.