Discover more from Highly Objective
Cannabis industry news, insights, and analysis
Over 2,000 subscribers
Dai Truong's Cannabis Newsletter - Issue #3
---
I was in Austin last week for the inaugural SXSW Cannabis track and walked away impressed by the event and quality of attendees. Sessions went from Thursday through Saturday with panels having around 60-80 people in attendance, while keynotes ranged from 200-300 people. Given that this was the first year, there were some overlaps between panels on topics and style (i.e. rattling off stats for newbies) that I expect will get tighten up for next year. But overall a great gathering place for people in the Cannabis ecosystem.
While they did not elect to use any insights from my panel on Cannabis Brands and Investments (a bit disappointing..), the Statesman did decide to use the panel for photos. MG actually wrote a pretty good recap of SXSW Cannabis (SXSWeed is the unofficial nickname for the track/also used more heavily by protesters) and included quotes from my panel. Other highlights from SXSW:
Equity First Alliance targeted John Boehner, claiming he is now profiting from his role with Acreage after being a huge opponent of Cannabis. He still has yet to use Cannabis but expects to do so once he gets tired of his Advil PM.

Adam Bierman provided a play-by-play for MedMen's New Normal commercial and providing his views on where the industry is headed

Leafly hosted the track's lounge and also recorded their podcast live from there. They used slushies to represent different Cannabis terpenes.

I didn't make it over to the Cura/Select activations but they were at Fader Fort (a pretty big deal) with a Select CBD vending machine, powered by Greenbox Robotics

The track overlapped with Blockchain and eSports - giving people from the other two over hyper-growth industries a chance to explore collaborations
---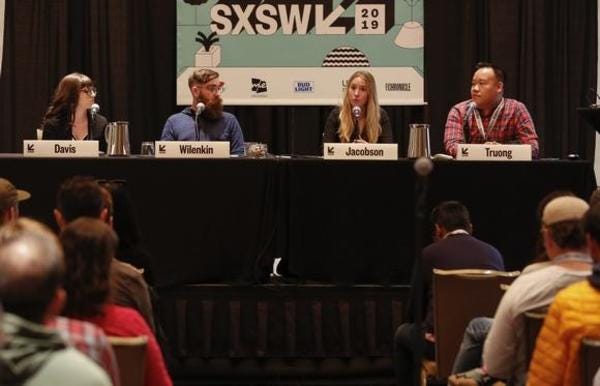 SXSW Cannabis Brands and Investments Panel
Cannabis
MedMen Sells Two Properties to Cannabis REIT Treehouse
MedMen sold two properties to Treehouse REIT with gross proceeds of $33.5M and net proceeds of $30.6M after repayment of debt. This is the second transaction with Treehouse, which has allowed MedMen to re-invest up ~$49M in proceeds for growth initiatives. The properties are comprised of a retail storefront in Las Vegas, Nevada and a cultivation, manufacturing and production facility in Desert Hot Springs, California.
Nabis shares insights from its distribution business
Nabis, a licensed distributor of cannabis products, has seen first-hand how harmful the long feedback loop can be to cannabis businesses throughout the supply chain. After working with 40 brands and shipping products to 90% of all licensed retailers in California, Nabis has discovered two particular problems that cause this imbalance: rejected deliveries and payment terms.
Florida House agrees to end ban on smoking medical marijuana
Florida's Cannabis market size for 2019 just got a little larger as The Florida House approved (109-9) a Senate bill to include "smoking" in the language of its medical marijuana program.
New Jersey takes big step toward legalizing recreational pot
The legalization of recreational marijuana took a big step in New Jersey as Gov. Phil Murphy and state legislative leaders say they have agreed on legislation. The Democratic leaders announced the agreement in a statement last Tuesday after more than a year of negotiations. It's unclear whether there are enough votes in the Democratic-controlled Legislature to pass the bill, but the agreement marks the first time leaders have laid out the details of the plan. The deal calls for a $42.00/ounce tax and entitles towns to collect tax revenue, as well. Municipalities with cannabis retailers could collect 3% tax, those with cultivators will collect 2% and those with wholesalers would get 1%.
New Mexico bill would create first state-run pot shops in US
New Mexico is mulling over the idea of state-run dispensaries. That would make it similar to how several provinces in Canada have chosen to roll out recreational sales of Cannabis. Similarities can also be seen in state-operated liquor sales which dates back to prohibition. Perhaps the best argument for having state managed dispensaries come from it's neighbor State to the north where "you drive through Anonito and you used to not even have a gas station, and now it has four marijuana shops," said Republican Sen. Cliff Pirtle, a dairy farmer from Roswell, describing a Colorado town of 750 residents near the New Mexico state line
Alaska Licenses On-Site Marijuana Consumption
If you've been thinking about booking that trip to Alaska and consume Cannabis, now might be a good time. Later this year, Alaska marijuana consumers will be able to buy their cannabis and smoke it, too—all under the same roof. Adults 21 and over can buy regulated and taxed cannabis from licensed storefront dispensaries in a growing number of U.S. states—but until Alaska Lt. Gov. Kevin Meyer ® signed new regulations into law on Tuesday, no states had been in the business of issuing permits authorizing on-site consumption.
Eaze expands to Oregon
Oregon becomes the second state for Eaze after California through a partnership with Kaleafa (a family-owned dispensary). Eaze typically partners up with license owners and then uses their platform and employees for order management and fulfillment. The Company said it has supported more than 3 million legal deliveries in California.
Deals
Harvest Health & Recreation Acquires Verano for $850M
One of the Largest U.S. cannabis consolidations in history will give Harvest the right to operate up to 200 facilities across 16 states and territories. Brings together geographically complementary, market-leading MSOs focused on quality, sound operations and value creation for shareholders.
HEXO Corp to acquire Newstrike Brands for $263M
HEXO adds 470,000 sq. ft. of cultivation, diversifies its domestic market penetration, and adds to its indoor growing knowledge.
Namaste Technologies Inc. (NXTTF) Completes Share Acquisition of Pineapple Express Delivery
Namaste Technologies completed the previously announced acquisition of 49% of the common shares of Toronto-based Pineapple Express Delivery. In June 2018, the Company announced that it had entered into a subscription agreement to acquire 15% of the common shares of Pineapple for $1M. The Pineapple Express Delivery management team has over 10 years of experience offering same-day, 60-minute delivery services in multiple industries across Canada.
Green Peak Innovations Raises $30M+
Green Peak Innovations announced a $30M+ oversubscribed mezzanine debt round consistent with its planned expansion in Michigan and beyond.
Acreage Enters CA Dispensary Market With Acquisition of Kanna
Acreage announced it entered into an agreement to acquire 100% of California-based Kanna, which holds a license to operate a cannabis dispensary in Oakland, CA. This marks the first dispensary operating license for Acreage in California. The all stock deal is valued at $11.5M. Acreage will issue up to 460,000 Subordinate Voting Shares at $25/share.
Choom Enters U.S. Through Investment in NJ Cannabis Retailer
Choom (CSE:CHOO) (CHOOF) ("Choom"), an emerging adult and medical use cannabis company that has secured one of the largest national retail networks in Canada is entering the United States, starting with the state of New Jersey. Choom through its wholly owned US subsidiary, Choom Holdings USA Inc., has signed a letter of intent ("LOI") to purchase an equity interest in a New Jersey based (the "NJ Company") medical retail dispensary applicant in New Jersey's upcoming Request of Applications ("RFA") that also intends to enter into recreational cannabis retail upon legalization, which is anticipated in 2020.
Next Green Wave Holdings acquires SDC Ventures for $27M
Next Green Wave Holdings, together with its US subsidiary Crossgate Capital US Holdings Corp. will acquire 100% of California-based SDC Ventures. SDC is a premium cannabis consumer products goods, manufacturing and extraction leader, having 8 leading cannabis brands with 45 CBD and THC products that have a combined global social influencer reach of over 25 million people and with 100+ million YouTube views.
Two Seattle cannabis software companies merging to build bigger stake in a growing market
Dauntless, Inc., a Seattle-area software developer providing point-of-sale and tracking software to the cannabis industry, has acquired pot sales software company Soro. The combined companies aim to create an all-encompassing platform serving growers, packagers, and retailers across the U.S., said Soro CEO Jerry Tindall.
Connecticut Committee Chairs Unveil Marijuana Legalization Plan
Legislative committee leaders in Connecticut announced a new plan to legalize recreational access to marijuana in the state. Instead of releasing one comprehensive bill that proposes a new system to legalize, tax and regulate cannabis sales for adults, legislators moved to file several related pieces of legislation.
Q&A with Papa & Barkley CEO Adam Grossman
Launched in June 2016, the Eureka, California-based company established itself in the state's cannabis wellness market. Papa & Barkley specializes in cannabis-based balms, patches, tinctures and other infused products engineered to relieve pain, sleep problems and other issues.
Why GTI's $290M Bet on Essence Cannabis Dispensary is No Gamble
Armen Yemenidjian gave up his gaming license to start Integral Associates in Nevada. Today, that company is recognized as Essence Cannabis Dispensary. Yemenidjian spoke with New Cannabis Ventures about taking the company to a multi-state platform, launching an on-site consumption lounge in California and the pending Green Thumb Industries' $290M acquisition of Integral.
People
Billionaire Nelson Peltz joins Aurora Cannabis
Aurora Cannabis announced that it has appointed longtime activist investor Nelson Peltz as a strategic advisor. Peltz will "work collaboratively and strategically to explore potential partnerships that would be the optimal strategic fit for successful entry into each of Aurora's contemplated market segments," Aurora said in a press release. The addition of Peltz represents one of the largest endorsements for the Cannabis industry.
Leafly hires Amazon Prime Video vet as CEO
Marijuana review and discovery platform Leafly has a new CEO in Tim Leslie, who was previously VP of Amazon Prime Video International. Leslie's appointment follows the departure of former Leafly CEO Chris Jeffery last September, who was removed by the board of directors. Leslie spent 20 years with Amazon, joining as an associate general counsel in 1999. In recent years, Leslie oversaw the launch of Amazon Prime Video in 200 countries. Leslie thinks Leafly can help end laws that limit marijuana use through education: "Ending cannabis prohibition is the right thing," he told GeekWire. "The better-informed people are, the better decisions they will make."
Weedmaps President to become CEO
Weedmaps has appointed Chris Beals as CEO. In addition to assuming day-to-day leadership of Weedmaps, Beals will serve as a member of the Company's Board. Since joining the Company in August 2015, Beals has served as Weedmaps' President and General Counsel and has led the growth of the Company's government relations, finance and compliance functions. Weedmaps announced that co-founder and previous CEO, Doug Francis, has been appointed Chairman of the Company's Board of Directors.
Tilray taps ex-Goldman Sachs MD to lead Corporate Development
Canadian marijuana cultivator Tilray said it is hired former Goldman Sachs Managing Director Andrew Pucher as Chief Corporate Development Officer. Pucher most recently covered cannabis stocks for Goldman.
Wana Brands Adds New CFO
Cannabis edibles company Wana Brands adds Logan Craven as CFO. Craven was previously at Oskar Blues Brewery where he served as Controller and Operations and Logistics Manager, other past positions included finance and operations consultant; accountant for The J.M. Smucker Company
Seedo adds SodaStream CEO to Board
Daniel Birnbaum, CEO of at-home carbonated drink maker SodaStream – which PepsiCo acquired last year for $3.2 billion – will join the board of Israeli company Seedo. Seedo is a market leading high-tech company providing the hemp and agriculture industries with the world's first fully automated and controlled indoor growing machine.
Connect
I evaluate investment and acquisition opportunities for MedMen, an LA-based vertically integrated Cannabis retailer. Would love to hear your thoughts, feedback or insights. Get in touch at dai.truong@medmen.com. Or find me on:
Twitter: @dai_truong
LinkedIn: https://www.linkedin.com/in/truongdai/
Favor
If you are receiving this newsletter and didn't actually subscribed, it means I manually added you, so please hit me back up either way (if you liked the add or just unsubscribed). I'd appreciate you forwarding this to friends interested in the Cannabis industry. Thanks!