Dai Truong's Cannabis Newsletter - Issue #31
---
Consolidating all the MedMen / PharmaCann news here now that it's been a few days.
The NCV American Cannabis Operator index is down (10.2%) over the past four days (see below), whereas MMEN stock is down (22.2%) over the same time frame (~12% decline can be attributed to views on Company/Pharmacann termination,)
---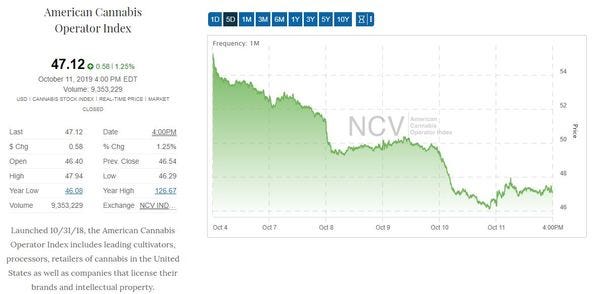 MedMen terminated its $682 million merger with PharmaCann on Tuesday, in a move one analyst called "surprising"'

The merger's cancellation points to a challenging dealmaking environment in the cannabis industry, as the sector has declined close to 50% in the past few months

Slumping share prices and consistent headwinds in the cannabis industry — namely, fear over illnesses caused by THC vapes and the slowing progress of marijuana legalization in the US — have made for a challenging dealmaking environment, according to bankers, analysts, and lawyers working with cannabis companies that Business Insider spoke with
For his part, MedMen CEO Adam Bierman cited the challenging capital markets environment for cannabis companies, and the need to change up strategies as the reasons for the deal's termination. The company also pushed out its CFO, Michael Kramer, and replaced him with Zeeshan Hyder
Murray Huneke, a managing director at the San Francisco-based boutique investment bank North Point Advisors says cannabis companies are going to think back to "frothier" times — like earlier this year — and hoard cash to weather the storm, especially as legalization in the US is progressing slower than expected.
"There is no doubt that the day of reckoning has come for the multistate operators," said Matt Hawkins, managing partner of Entourage Effect Capital, a cannabis-focused private equity firm formerly known as Cresco Capital Partners. "The days of being valued at projections three years down the road are long gone."
"You're going to see a lot of public companies that are cash-strapped that need a round of financing that likely can't get that done in this current climate," Hawkins said.
The cannabis industry is nearing a moment where the "cream is going to rise to the top" and cash-strong companies will be able to buy up assets at a discount, he said.
"Like any emerging industry, it'll take time to play out," said Scott Fortune, a Roth Capital Partners analyst who covers MedMen. "The perceived winners today might not be the winners down the road."
In announcing the deal's termination, MedMen also said that over the past six months, it has decided to focus more on California — a massive pot market whose growth has been stifled by regulations and community resistance. But the cannabis retailer said that resistance represented "upside," as more areas allow recreational sales.
"In light of market developments over the past 12 months and the continued evolution of its business strategy, MedMen and its Board have determined that focusing on leveraging the Company's retail brand, its leadership position in California, and its digital platform to grow the business will create greater shareholder value than the completion of the Transaction," MedMen said in a statement.
"We're getting what we believe to be about, you know, conservatively call it $75 million worth of assets," (MedMen CEO Adam Bierman) said. "Ohio, Pennsylvania, those kind of places, they're going to be hurting your bottom line for the for the foreseeable future."
MedMen looks to be getting a very good deal for these assets with a price of $21 million. Another Virginia license was sold in July for $16 million, while MedMen's first Illinois store (Seven Point in Oak Park, IL) cost $14 million, as disclosed in MedMen's financials.