Discover more from Highly Objective
Cannabis industry news, insights, and analysis
Over 3,000 subscribers
Dai Truong's Cannabis Newsletter - Issue #5
---
I usually don't read the AMA on r/weedstocks but came across the SLANG Worldwide AMA and found answers from Peter Miller (CEO) and Billy Levy (President) interesting:
Canopy purchased their first company, Mettrum Health, for $430M. At the time, Mettrum was a top 3 LP in Canada

Canopy has the largest distribution footprint in Canada and will help SLANG products get on as many shelves as possible

The best ability to create brand equity is the availability of products, and their products are available in over 2,600+ retail stores

Exclusive partnership with Trulieve in Florida (24 dispensaries and delivery today) for their portfolio of brands — O.penVAPE, District Edibles, :Pressies, Bakked and Magic Buzz

SLANG currently distributes only brands that they own or have exclusive licensing rights for or companies that they are white labeling for. They are not distributing anyone else's brands at this time.

Over $250M+ in retail sales since inception

While they won't get into retail, they might do a flagship store or experiential experience similar to Nike / NikeTown

With regards to acquisition strategy, they are building a portfolio of consumer brands with unique qualities, stories, and audiences

Although there isn't brand loyalty just yet, they believe it's a continuum and believe in building through trust (consistency & time)

The O.pen vape line includes a few products at different price points with different value propositions. Many of those products share similar fundamental hardware but what really differentiates those products are what's INSIDE the cartridge

Has the exclusive right to license Green House and Strain Hunters brands in North America. Together, they will be bringing branded Green House and Strain Hunters cannabis products to market in legal states (i.e. flower, vapes, edibles)

Currently, don't have flower brands available in the SLANG portfolio in the U.S. and see bringing Strain Hunters flower to market as a great opportunity within the category. Additionally, there's a lot of marketing to build these brands in North America and SLANG's portfolio of brands internationally through their retail locations, social media, and upcoming Strain Hunters content

Brand differentiation in the early stages is as much about the B2B brand (wholesale buyers vs. end customers) as the B2C brand

Made the point that in the long-term when Cannabis is legal everywhere, brands will be more valuable than retailers, using Coca-Cola ($200B market cap./$32B annual revenue) vs. 7–11 ($35B market cap./$43B annual revenue)

An even better example is if you look at the revenue multiples of generic pharma distributors. If you analyze the value given to manufacturers, retailers, suppliers of professional services, etc, you'll quickly see that the brand owners are getting the most value ascribed to their activities in the capital markets. The market votes for brands every time
The topic of MSOs (Multi-State Operators)definition was also interesting as some have gone beyond that to say they are MCOs (Multi-Country Operators). By definition of being in 11 states and operating there, SLANG Worldwide could be considered an MSO. So perhaps when we refer to Dispensaries that have a footprint in more than one state, we should refer to them as Multi-State Dispensaries (MSDs)? Just a thought.
---
Cannabis
The Secure and Fair Enforcement (SAFE) Banking Act was approved by the House Financial Services Committee in a sweeping 45-15 vote this morning. If fully approved, the bill would allow banks to work with state-legal cannabis companies, improving safety and easing business woes for the currently cash-only cannabis industry.
A good start in our blueprint to legalization, but it's just the beginning. We will continue to work so all marijuana related bills see their day this Congress. The STATES Act, Veterans Equal Access, decriminalization, industry equity, and restorative justice all coming soon! https://t.co/5P1Zt0tY4m
10:00 AM - 27 Mar 2019
Following a review of certain of Eaze's business practices, the Company was unable to confirm that Eaze's credit card payment processing methodology met regulatory compliance requirements. Hometown Heart's termination of the Eaze relationship may have an impact on Hometown Heart's revenue in the short term, as Hometown Heart was receiving approximately $2.9M of revenue per month having a contribution margin of approximately 8% from orders placed through the Eaze app.
Each proposed bill is complex, but they have bipartisan sponsorship and straightforward aims around business ownership (to allow more than 15 out-of-state owners and public companies to invest), social consumption, and delivery services (medical only for the first year, with recreational after).
In Port Hueneme, a "pot premium" is boosting sale prices on commercial and industrial properties – and the city's bottom line.
Terrasana Cannabis Company, the first of central Ohio's five medical marijuana dispensaries, opened on 3/26. The Columbus-based medical Cannabis company will open another two stores in the next week and another location later this week. Of the 56 dispensaries in the state, 12 have received certificates of operation, with Terrasana Labs being the most recent.
Atrium, Justin Kan's legal startup which builds products and services to help automate legal workflows, innovate new processes, and help firms identify new clients, spoke with ArcView Group, CannaRegs, and Meadow for their insights into starting a Cannabis business.
Everything you need to know about THC, CBD, terpenes, and the entourage effect.
A derivative of the marijuana plant known as CBD is surging in popularity as an ingredient in food and drinks, but the fledgling industry faces an unusual complication: CBD, or cannabidiol, is now also a prescription drug.
CBD
VMG, similar to other investors in CBD, wonders whether CBD is a platform or just another functional ingredient. They believe that there will be some CBD and THC products that will compete against each other.
SoulCycle last week started selling a $60 CBD lotion by Los Angeles–based Lord Jones, a purveyor of hemp-derived CBD products, in all 85 of its U.S. studios and on its website. Sample sizes of the lotion, said to help with inflammation, will also be available inside studios for riders to try for free.
Feals, another entrant to the D2C CBD landscape caught my attention as the design, simplicity, and name (hims, keeps) is reminiscent of two other recent D2C success. They are attempting to make CBD understandable by using only two ingredients: CBD and MCT oil. "There are two ingredients in our product: 100 percent organic MCT oil as a carrier oil, and all-natural hemp," says the brand's co-founder Drew Todd, who sources the star ingredient from organic farms in Oregon and Colorado. "Our formulation and process really ties into what we're doing with the company, the ethos of simple is better, and less is more."
Deals
Flower One is sharply focused on quickly becoming the leading cannabis cultivator, producer and innovator in the highly lucrative Nevada market.
Seth Rogen has launched a new brand of cannabis called Houseplant with Canadian company Canopy Growth.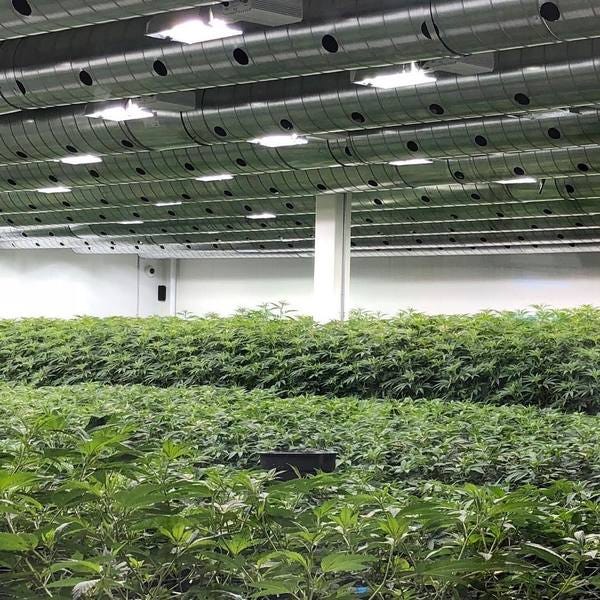 It's too bad they are launching in Canada to start given the limitations on branding / packaging.
WeedMD Inc. (TSX-V:WMD) (OTCQX:WDDMF), a federally-licensed producer and distributor of medical-grade cannabis announced a credit facility with Bank of Montreal (BMO). Under the terms of the credit facility, BMO will provide WeedMD up to $39M of secured debt financing at a rate of interest that is expected to average in the low-to-high 5% per annum range over a three-year term.
Green Tank Technologies is one of North America's premiere manufacturers of cannabis vape hardware and technology. The investment by Newstrike strengthens the existing partnership between Newstrike's wholly-owned subsidiary, Up Cannabis, and Green Tank, as both companies prepare for the legalization of cannabis oil vaping. Rogen and Goldberg said that Houseplant cannabis was developed after years of research and its first strain, called Houseplant Sativa, will launch in April. The company is planning Houseplant Hybrid and Houseplant Indica marijuana strains later this year.