Discover more from Highly Objective
Cannabis industry news, insights, and analysis
Over 3,000 subscribers
📊Daily YoY sales dip slightly after massive spike
Sales stabilize. MA adult-use still temporarily banned. Tilray release shares from lock-up. 90% of illicit market grows use lethal pesticides. Denver delivery not happening soon.
---
🌿
Industry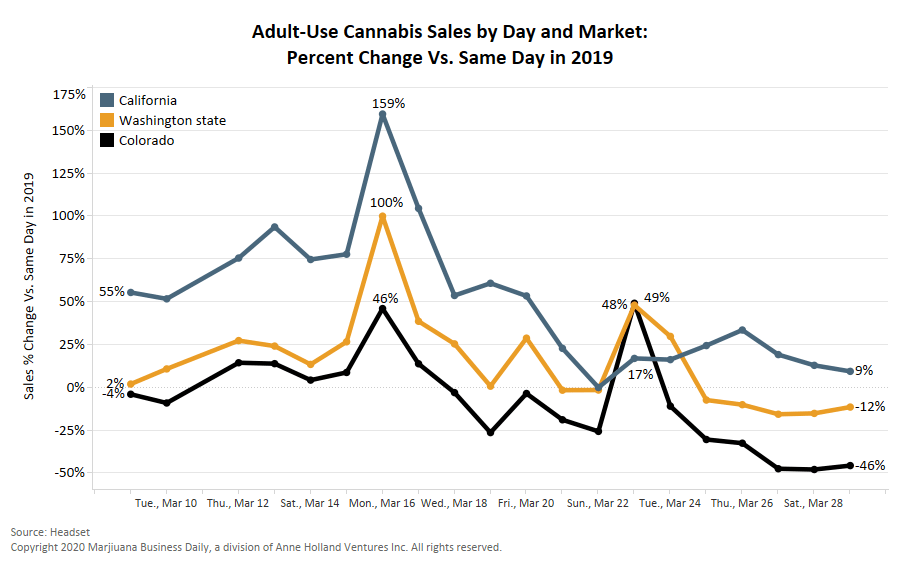 While sales in California's market have largely been outpacing 2019 sales throughout the coronavirus crisis, the amount by which they're exceeding 2019 sales has narrowed significantly from earlier in the year. For each weekend in January and February 2020, the average amount by which California sales in 2020 surpassed those of 2019 was 68%. Last weekend's sales in California beat sales for the same weekend in 2019 by 14%.
Sales at Oakland-based Harborside have remained steady.
Purchases at San Diego-based March and Ash have gone back to pre-crisis levels.
Gov. Charlie Baker's updated executive order closing all non-essential businesses does not exempt shops selling recreational marijuana, and he doesn't plan to lift restrictions on those businesses early, either.
Licensed medical dispensaries can remain open in Massachusetts, but Baker said that the push to add adult-use marijuana dispensaries to the list of essential businesses is a "non-starter" because of the out-of-state customers they would likely attract. "There is tons of evidence that because Massachusetts is one of the few states in the Northeast that's legalized recreational marijuana, that if we make recreational marijuana an essential business ... we are going to have to deal with the fact that people are going to come here from all over the place," Baker said, arguing that would hamper the state's efforts to contain the outbreak.
State marijuana regulators said Wednesday they are "looking into" allegations that one of the state's biggest cannabis firms, New England Treatment Access, is failing to adequately protect its workers from the coronavirus, after employees at two of its facilities tested positive for COVID-19. NETA, best known for its popular Brookline dispensary, confirmed that a worker at its large cultivation and processing center in Franklin and another at its Northampton dispensary were diagnosed this week. The Franklin facility, where the company grows various strains of cannabis and processes the plants into edibles and other products, employs more than 400 people.
Barbara Carrapichano, a 30-year-old patient adviser at NETA's Brookline dispensary, said the company has failed to provide masks or protective partitions to prevent transmission of COVID-19 between workers there and the medical marijuana patients they serve, some of whom have compromised immune systems. In addition to better protective gear, she and other workers who spoke with the Globe want NETA managers to communicate virus-related protocols better, check employees' temperatures before they clock in, more thoroughly sanitize shared equipment such as computers, and keep workers apart, among other efforts.
NYSE Regulation said Tuesday it reached its decision after the Ontario-based company obtained a creditor protection order from the Ontario Superior Court of Justice. A delisting would make CannTrust the first publicly traded Canadian cannabis cultivator to lose its listing on a major stock exchange. Once a leader among Canada's licensed cannabis producers, CannTrust fell from grace after it was caught growing cannabis in unlicensed areas of its Pelham facility last summer.
A previously announced agreement between Tilray and Privateer required that each Privateer equity holder who received the shares of Tilray stock or options to purchase Tilray stock in the merger were subject to a lock-up allowing for the sale of such shares only under certain circumstances over a two-year period beginning December 12, 2020. The waiver and release of the 11M shares represents ~14.5% of the locked-up shares (including shares that remain subject to escrow and/or subject to outstanding assumed stock options).
According to the Associated Press, researchers at the Integral Ecology Research Center tested soil, water, and other ecological samples from backwoods cultivation sites that were raided in the past year, and found "highly deadly toxic chemicals" in 89% of the results. As California works out regulatory kinks in its burgeoning legal weed market, hidden cultivation sites and black market grow ops have persisted, relying on unregulated chemicals and destructive farming practices to produce as much pot as possible.
Denver's law explicitly bans retail or medicinal marijuana delivery in the city. The state law allowing for marijuana delivery requires each municipality to approve it on its own. Marijuana dispensaries were deemed essential businesses in both the city and state's stay-at-home order (and they seem to be doing quite well at the moment). But city spokesperson Nancy Kuhn said in an email Denver has no plans at this time to "implement any emergency cannabis delivery program."
The state also gave health protections letting people order online and pick up at dispensaries. The only way Denver could opt in into the state law allowing for weed delivery would be through City Council approval. The city's licensing department, which oversees dispensaries, has been looking into a delivery option in Denver. A March 6 presentation suggested that it would come sometime later this year or early next year, but because of the pandemic, the city said this timeline may be pushed back.
They also have concerns that creating an emergency delivery system could impact the city's goal to provide more "social equity" in the industry. As part of the city's goal to look into new marijuana regulations, they want to figure out how to make it more accessible to people of color.
Based upon the Florida OMMU report dated March 27, 2020:
One Plant Florida's cannabis flower products accounted for 1.74% of all cannabis flower sold in the state, during which time the company accounted for only 0.42% of the state's dispensaries;

One Plant Florida sold 18.9% as much flower as Curaleaf, with only 7.14% as many dispensaries as Curaleaf;

One Plant Florida sold 67.1%% as much flower as Fluent (Cansortium), with only 10.5% as many dispensaries as Fluent;

One Plant Florida sold 183.3% as much flower as Green Thumb Industries, with only 33% as many dispensaries as Green Thumb Industries;

One Plant Florida sold 95.14% as much flower as Harvest Health and Recreation, with only 33% as many dispensaries as Harvest Health and Recreation;

One Plant Florida sold 73.4% as much flower as GrowHealthy (iAnthus), with only 14% as many dispensaries as GrowHealthy.
Insurance reimbursements for medical cannabis in Germany reached a new high during the October-December period, propelling total reimbursements last year up ~70% from 2018, according to new data from the German National Association of Statutory Health Insurance Funds. Despite some supply issues toward the end of 2019, reimbursements for medical marijuana reached €36.6M ($40 million) in the fourth quarter of 2019. That is a 13% increase over the previous quarter, when €32.3M worth of medical cannabis was reimbursed.
Key takeaway:
Q: Where do you expect Vireo to be in three to five years?
A:  We will be a dominant player with regard to proprietary products, intellectual property, and the science of cannabis. I think that's the future in the space. It's not producing a commodity. We've seen with CBD how the prices have fallen through the floor as it commoditized. The same will happen with THC. [The winners are] going to be substantial brands built on [a] proprietary secret sauce.
At the end of 2019 the Reader profiled Weedman, who runs a local cannabis delivery business. Back then the biggest threat to his livelihood was the impending legalization of recreational pot in Illinois. Weedman wasn't worried, though, and even expected his business to improve as weed use was normalized and people tired of paying top dollar and standing in line at dispensaries. Now, as a threat to life itself hangs in the still city air, Weedman's still pretty zen. Reader checked in with him about what it's been like to deliver cannabis in the time of coronavirus.
Key takeaway:
Q: What do you recommend to people as they're dealing with this unusual level of stress?
A: My favorite strains are generally the chill-out ones. There's a saying: "Sativa to help me with the things that I can change and Indica to help me accept the things that I can't."
---
💵
Deals
Expands funding capacity under facility from $250M to $285M

Receives final $7M payment from divestiture of non-core Illinois cultivation asset, resulting in $17M in total gross proceeds

Appoints Tom Lynch, Partner and Senior Managing Director of SierraConstellation Partners, as Interim Chief Executive Officer and Chief Restructuring Officer, and Tim Bossidy, as Interim Chief Operating Officer, to guide Company through its financial and operational reorganization
The Company has been advanced an additional $12.5M in gross proceeds under Tranche 4 of the Facility. In connection therewith, the Company is co-issuing, with its subsidiary MM CAN USA, Inc., additional senior secured convertible notes to the lenders under the Facility in an aggregate principal amount equal to such advance with a conversion price per Class B Subordinate Voting Share of the Company equal to US$0.26 per share. In connection with Tranche 4, the Company is also issuing the lenders 48,076,922 share purchase warrants of the Company, each of which is exercisable to purchase one Subordinate Voting Share for a period of five (5) years from the date of issuance at an exercise price equal to US$0.26 per share.
In connection with the amendments made to the Facility, a fee of ~$8.2M (the Restatement Fee Amount)was paid through the issuance of additional Notes to the applicable lenders in an aggregate principal amount equal to the Restatement Fee Amount, which Notes have a conversion price per Subordinate Voting Share equal to US$0.26. 
Gotham Green could end up owning ~70% of MedMen with debt conversion and warrants.
Its majority-owned joint venture for large-scale, low-cost, high-quality cannabis production, Pure Sunfarms, has expanded its credit facility with its existing lender to $59M, including accordion provisions of $22.5M.  
The Underwriter has agreed to purchase, on a bought deal basis pursuant to the filing of a short form prospectus, an aggregate of 17,858,000 units at a price of $0.28 for aggregate gross proceeds to the Company of ~C$5M.
Harvest the acquisition of Franklin Labs, LLC, a subsidiary of CannaPharmacy, for ~$25.5M with $15.5M in cash and a $10M promissory note. The acquisition includes a 46,800 sq. ft. cultivation and manufacturing/processing facility in Reading, Pennsylvania. Pending necessary approvals, Harvest expects to expand the existing cultivation operation this year and potentially complete further expansion in the future to support market growth. Manufacturing and processing operations are projected to commence this year during the second quarter. The Franklin Labs facility is the only cultivation facility owned by Harvest in Pennsylvania and is expected to supply significant product to retail dispensaries across the state.
The parent company of High Times announced a major expansion into the cannabis growing and processing industry, saying it has begun the process to acquire Humboldt Heritage Inc. and its subsidiaries Humboldt Sun Growers Guild and Grateful Eight LLC.
Trichome Financial has agreed to a plan of consensual restructuring with James E. Wagner Cultivation Corporation (TSXV:JWCA) wherein JWC will seek approval for an Initial Order approving an application for creditor protection under the Companies' Creditors Arrangement Act (Canada). It is expected that the Initial Order granting JWC's application for CCAA will be granted by the Ontario Superior Court of Justice (Commercial List).
Pineapple Express Delivery currently has several contracts in place with Licensed Producers (LP's) for delivery within select provinces in Canada. Pineapple Express Delivery is targeting to become the delivery company of choice for Business-to-Consumer (B2C) and Business-to-Business (B2B) companies associated with medical and recreational cannabis, including all provincial organizations which manage cannabis distribution. Pineapple Express Delivery has also partnered with a US organization to assist in establishing joint ventures for distribution in California, Nevada, and Oregon in the near future.
World-Class purchased a $500,000 secured convertible debenture from PED, convertible at the option of World-Class at $0.15 per common share of PED. The Convertible Debentures have a two-year term and bear interest at 12% per annum, compounded monthly in advance. World-Class also purchased 8,333,333 units of PED, at a price of $0.15 per Unit for aggregate gross proceeds of $1,250,000. Each Unit consisting of one common share and one half of one share purchase warrant, with each full warrant exercisable at $0.30 for a period of two years. The 8,333,333 common shares of PED held by World-Class represent approximately 21.55% of the current issued and outstanding share capital of PED, valuing PED at ~$5.8M.
---
🧔
People
New Strategic Plan focuses on deeper alignment with MSOs, LPs, and Leading Brands; Significantly Reducing and Right-Sizing the Company's Cost Structure; and Achieving Positive Adjusted EBITDA

Christopher Tedford to Step Down as CFO, EVP of Corporate Development Stephen Christoffersen appointed as new CFO

Latest Reduction of nearly 50 employees to generate ~$4M annualized cash compensation savings
The Company will drastically alter its sales strategy and resources to rely even less on the smaller operators, while doubling down efforts to solidify and strengthen its core base of large MSOs, LPs, and leading brands. Core customers generated ~$52M of revenue (80% of total revenue), in the Company's first half of fiscal 2020.
Leo Gontmakher, previously COO, to CEO. Former CEO Josh Rosen, will transition to Executive Chairman of the Board of Directors. Nicolle Dorsey, former EVP of Finance will become the CFO, replacing former CFO Brad Kotansky.
Over the past four months, corporate headcount has been reduced by ~40%, and headcount related to overhead in the Mission stores has been reduced by 45%. These reductions are expected to yield annualized savings of between $7-8M per year without impacting the Company's ability to meet previously stated financial goals.
Terry Yanofsky and David Lazzarato appointed as John Bell and Peter Stringham retire from the CGC Board. Yanofsky most recently served as the SVP, General Manager of Sephora Canada. Prior to joining Sephora, Yanofsky worked at L Brands where she was the country manager for Bath & Body Works Canada. Lazzarato's career includes senior executive positions with Alliance Atlantis Communications, Allstream, Bell Canada and CAE.  
Lincoln Greenidge appointed as CFO. He succeeds Nichola Thompson, who will be resigning from her role as CFO. Most recently the CFO for LSC Lithium Corporation, Greenidge successfully managed LSC's strategic review which culminated in the sale of LSC for $110M. He previously served as the CFO of LeadFX and was the corporate controller of HudBay Minerals Inc.
---
🏬
New Store Openings / Closings
In addition to Rise Cranberry, there are Rise™ retail stores in Pennsylvania in Erie, Hermitage, Latrobe, King of Prussia, Mechanicsburg, New Castle, Carlisle, Steelton and York, the last three of which are licensed to KW Ventures. GTI entered the Pennsylvania market in 2017 and operates a manufacturing facility in Danville where the company produces its branded products including Rythm.
The dispensaries, in Council Bluffs and Davenport, were operated by Have A Heart Compassion Care. Iowa now has only three licensed dispensaries, operated by Iowa Cannabis Company and MedPharm Iowa. The two stores were not economically feasible to operate.
Iowa state Sen. Joe Bolkcom, D-Iowa City, has been vocal about increasing the THC cap in Iowa for the state's medical program.
"Iowa has the most bureaucratic, expensive and ineffective program in the country and it just got worse. The medicine is expensive and it's too hard to get people qualified. More evidence is now in with two of our dispensaries essentially going out of business because it's economically not feasible."
The Iowa City Democrat points to the low THC cap making it hard to generate revenue for the program to work properly. While the Iowa House had passed a bill further restricting Iowa's program, the state Senate had only gotten a bill out of committee before things ground to a halt due to COVID-19.
One in Lancaster and a second in Plymouth Meeting. Both locations will serve Pennsylvania medical marijuana patients. 
---
🤷‍♂️
Somewhat Relevant
The Federal Trade Commission is suing to unwind Altria's $12.8B investment in Juul Labs, alleging that the two companies worked together to eliminate competition in the e-cigarette market. In its complaint, the FTC said that Juul's e-cigarette products posed a significant threat to Altria's market dominance. Juul had been a competitor to Altria's own e-cigarette offerings. But in 2018, Altria stopped making e-cigarettes and instead became Juul's largest investor. "Altria and Juul turned from competitors to collaborators by eliminating competition and sharing in Juul's profits," said Ian Conner, director of the Bureau of Competition, in a statement. Altria used its leverage as a top tobacco company to secure favorable shelf space for Juul's products in stores across the United States, the FTC alleged.
This relationship helped Juul become the top e-cigarette brand in the country, according to the commission.
It is estimated that 52M Americans are employed in all of retailing, which includes workers at restaurants, gas stations, car dealerships and many other service businesses as well as traditional retail stores.
SoftBank has decided to back out of a big part of its WeWork bailout package.  The company will not go through with a planned purchase of $3 billion worth of shares from other investors and employees, including former CEO Adam Neumann, reports Business Insider. The decision also likely means that WeWork itself won't be able to tap into a $1.1 billion credit line from the Japanese conglomerate; that debt financing was conditioned on SoftBank completing its share purchase plan.
---
Who writes this newsletter? ➡️ Dai Truong