Discover more from Highly Objective
Cannabis industry news, insights, and analysis
Over 3,000 subscribers
🏬Dispensaries among retailers looted
SF Dispensary alleges foul play in High Times/Harvest deal. $68M in CA Excise Tax for Q1/20. U.S. Cannabis stocks up 35% in May.
Amid protests around the country sparked by the killing of George Floyd, dispensaries in major cities have been looted as a part of the larger chaos. Berner (Cookies Melrose) has already come out saying that he values justice more so than the store. It'll be interesting to see what over Cannabis leaders come out with a similar position, even as it is likely to hurt dispensaries financially as insurance likely will not cover damages (out of curiosity, if anyone has an idea on what insurance coverage looks like here, let me know).
Other stores that have reported (so far) being impacted include MedMen (WeHo, DTLA), Sweetflower, Vallejo Holistic Health Center, LA Kush, Sherbinskis (LA). In Oakland - Magnolia, Harborside, Blum and ECO Cannabis. In San Francicso, SPARC, Mission Cannabis Club, California St. Cannabis Company, The Green Cross, Dr. Greenthumb's, The Apothcarium, Urbana, Moe Greens, Grass Roots. 
---
🌿
Industry
The CEO of a planned San Francisco cannabis store says his pending licence has been illegally flipped and sold three times (Have a Heart —> Harvest —> High Times), all within a recent two-month span. Alexis Bronson alleges that the latest shady transaction involving his store has taken place in the blockbuster deal between High Times and multi-state operator Harvest Health & Recreation. He says he didn't even have knowledge that his dispensary was one of the 13 in the announced agreement until a local reporter informed him that day. What made Bronson's blood boil further was when he saw High Times chairman Adam Levin quoted in Bloomberg News, touting his weed shop as the crown jewel in the deal because it's located in San Francisco's ritzy Union Square shopping district next to a Chanel store.
Total cannabis-derived tax revenues in California reached $134.9 million over the first quarter of the year, including $68.3 million in excise taxes, $50.2 million from sales taxes, and $16.4 million in cultivation taxes, the state Department of Tax Fee and Administration announced yesterday.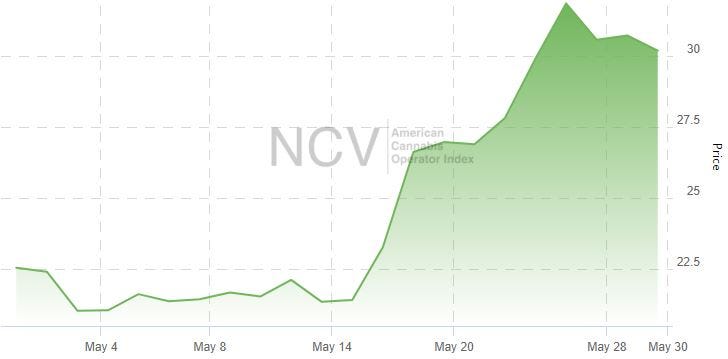 Following twelve consecutive monthly declines and then a modest gain in April, the American Cannabis Operator Index extended its rally off of its all-time low set in March, increasing 34.7% to 30.20 during May.
Last year, Tilray acquired Natura Naturals Inc. (~$51M), which has since operated as High Park Gardens, a 406,000-square-foot greenhouse facility licensed for cannabis cultivation and manufacturing. Tilray anticipates an annual savings of roughly $7.5 million
The Company expects its common stock will begin trading as a Nasdaq-listed security at market open on Monday, June 8, 2020 and will continue to be listed under the ticker symbol "APHA." This transition will not impact the Company's primary listing on the Toronto Stock Exchange (TSX: APHA).
Business Insider took a deep dive into cannabis startup Eaze's financial projections from 2017 to now

In 2017, Eaze — then a cannabis delivery service — projected that it would sell $1 billion worth of marijuana on the platform and aggressively expand to new states

In 2020, under the guidance of a new executive team and after a round of layoffs, Eaze has pared back that expectation to $190 million in sales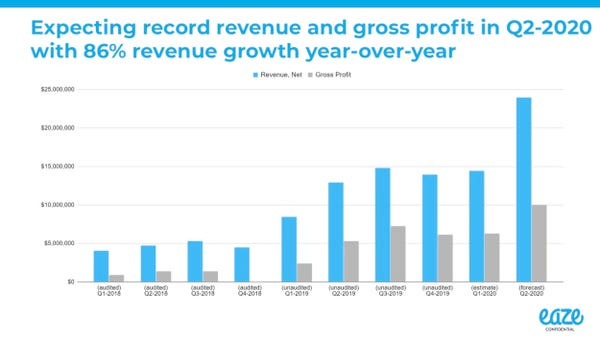 A different sea of green will greet Canadian farm fields this year as licensed producers begin planting their cannabis outdoors, a move that could exacerbate an existing glut in the market and potentially cause further industry writedowns. Health Canada said that about 450 acres of land were used for outdoor cannabis cultivation last year, compared with roughly 350 acres grown indoors. This year, 46 licensed producers can grow cannabis outdoors, almost double the number of licensees from last year. Another 70 companies are still waiting for regulatory approvals. While it's unknown how much cannabis will be produced this year with some greenhouses shut in order to cut costs and due to difficulties working amid the COVID-19 pandemic, the increase in outdoor growers may mirror a "Croptober" event previously seen in some U.S. states like Oregon and Washington. "Croptober" refers to the period in the fall when supply from outdoor harvests flood the market with existing production from indoor facilities. 
Canadian Licensed Producers (LP) of cannabis are leaving Jamaica in droves, due in part to stalled governmental decisions on export licenses. Aphria is halting all further investments in Latin America and the Caribbean. The Green Organic Dutchman is no longer pursuing opportunities in Jamaica so it can focus on its struggling Canadian operations. Aurora has sold its Jamaica asset for less than its C$4.5 million ­valuation.
Harvest Cannabis Dispensary, a family owned business licensed in the central Arkansas city of Conway, won a preliminary injunction prohibiting two facilities managed by Arizona-based MSO Harvest Health & Recreation from using the Harvest name. The properties include a dispensary in Little Rock and a cultivation facility in Newport.
Multi-state operator Vireo Health realigned its strategy to focus on six core U.S. markets: Arizona, Maryland, Minnesota, New Mexico, New York and Pennsylvania. Founder, CEO and Chairman of the Board Kyle Kingsley, MD, spoke with New Cannabis Ventures about the potential for explosive growth in those markets, the importance of IP and gaining visibility as a player in the MSO space.
After netting nearly $1 billion in profits in 2019, cannabis short sellers got off to a strong start in 2020 as well. However, cannabis stocks have taken off in recent weeks, and cannabis short sellers are feeling the pain. S3 Partners analyst Ihor Dusaniwsky said Thursday that cannabis short sellers are down $641 million in the month of May, and their year-to-date profits are down to just $180.1 million.
Dusaniwsky said S3's portfolio of 240 U.S. and Canada-listed cannabis stocks currently has $2.8 billion in total short interest. In the past week, Dusaniwsky said short sellers have added $76 million to their positions. To make matters worse for cannabis short sellers, borrow fees have been on the rise. Dusaniwsky said average borrow fees for the top 20 most shorted cannabis stocks are up 12.8% over the past month to 32.1%. Cannabis short sellers are now paying more than $2.55 million in daily financing cost.
Maintains available undrawn capacity of up to $30 million on term loan and $25 million revolving credit facility. Organigram has already drawn $85 million of the Term Loan.
The data presented by the consulting firm was collected in October last year. It analyzed 96 cannabis companies listed publicly on the TSX, TSXV, CSE, NYSE, Nasdaq and ASX, including 449 board members and 437 executive officers.
38% of cannabis companies had at least one female board member

8% of the 437 executive officers were female
---
📄Financial Results
Net Revenue of $399M in FY 2020, up 76% over FY 2019 

Impairment and restructuring charges of $743M; the majority of which are non-cash charges

Gross Margin of (85)% in Q4 FY2020; excluding restructuring and other charges, achieved Adjusted Gross Margin of 42%

Net Loss of $1.3B; Adjusted EBITDA loss of $102M in Q4 2020

Will no longer strive to be the first to every market, but rather focus on select markets where it can become a leader in consumer insights and product development

Core markets will be Canada, the U.S. and Germany with a focus on recreational and medical products
Record revenue of $66.4 million in Q1'20, 60% growth over Q4'19 revenue, 26% growth on the same asset base as net pro-forma Q4'19

Completed largest cultivation expansion in company history adding 6x cultivation space in Illinois and 4x cultivation space in Pennsylvania with incremental first harvests continuing on a rolling basis throughout 2020

144% YoY same store sales increase over Q1'19 and 87% sequential retail revenue growth from Q4

In April, Cresco Labs realized its highest-ever share of the Illinois retail market

40% growth of Cresco brands QoQ in California
Third quarter revenue of $45.9 million, up 41% year over year

Corporate SG&A decreased by 35% sequentially and 51% from the prior year period

Cash and cash equivalents of $31.8 million (as of March 28, 2020)

Achieved first month of positive after-tax cash flow across retail footprint
Net sales increased 34% quarter-over-quarter and 139% year-over-year

Adjusted EBITDA of $4.9 million

U.S. operations generated 25% adjusted EBITDA margin  

Anticipates Q2 2020 net sales of ~$45 million, representing 30% Q/Q growth, with continued gross margin and adjusted EBITDA margin expansion
Revenue of $29.2 million in fiscal 2019, $8.7 million in Q4 2019

Full-year 2019 pro forma revenue of $90.7 million, which includes the impact of the previously announced proposed acquisitions, investments, and assets within the SLANG Network

Adjusted gross margin of 53% for the year and 63% in Q4 2019

Adjusted EBITDA loss of $6.5 million for the year, $1.4 million in fourth quarter

Cash and equivalents of $18.9 million at year-end

Sold approximately 4 million branded units, containing over 243 million branded servings in FY19, including 822,000 branded units, containing 60 million branded servings in the fourth quarter
Net revenues climbed to $4.7M in Q1 2020, representing 46% Y/Y growth as compared to Q1 2019 and 36% Q/Q

Gross profit margin in Q1 2020 was 35%, up from 21% in Q1 2019

Operating losses were $(2.1)M in Q1 2020, representing a 31% improvement Y/Y and a 75% improvement Q/Q

The Company reported $14.2M in cash and cash equivalents as of March 31, 2020
Revenue of $37.7 million (an increase of 1400% Y/Y)

Gross Margin of 43%

Adjusted EBITDA of $6.0 million
Revenue of $3.06 million, an increase of 27% year over year

On track to reach operational cash flow positive milestone later this year with anticipated revenue growth acceleration and reduction in G&A

Loss from operations of $15.3 million, with a foreign exchange loss and other non-operating losses of $2.3 million and non-cash impairment charges of $55.8 million, resulting in net loss of $73.4 million
---
💵
Deals
Founded in Arizona in 2013, Nature's Medicines is a multi-state vertically integrated cultivator and retailer of both medical and adult-recreational-use cannabis across six states: Arizona, Connecticut, Massachusetts, Maryland, Michigan, and Pennsylvania. The credit facility is designed to streamline Nature's Medicines' capital structure and support its expansion initiatives, which include growth in its home state of Arizona and significant expansion into the Michigan market. The AFC affiliate will hold $32 million of the credit facility, with the remaining $10 million syndicated to a third party. The financing facility consists of a first-lien term loan that can be drawn upon over the course of a one-year period. The loan will be secured by first-lien mortgages on Nature's Medicines' wholly owned properties and other commercial-security interests. 
Verdant currently operates dispensaries in Cincinnati, Chillicothe, Marion, Newark, and Columbus, Ohio. The Columbus location is not part of the Transaction. Under the Transaction, Cresco agreed to provide certain consulting services and financing to Verdant for the development and operation of the Dispensaries in consideration of Verdant's grant to Cresco of an option to acquire the Dispensaries when permissible under Ohio regulations. Cresco's financial obligations in the Transaction are substantially fulfilled and the consideration payable by Cresco upon exercise of the option for each Dispensary consists of $375,000 in cash and $500,000 of Cresco subordinate voting shares. Subject to approval by the Ohio Board of Pharmacy, Cresco expects the Transaction to close in the fourth quarter of 2020.
Innovative Industrial Properties upsized and priced 1,348,389 shares of its common stock for gross proceeds of ~$100.0 million. The Company has also granted the underwriter a 30-day option to purchase up to an additional 202,259 shares of its common stock. All of the shares are being sold by the Company.
The Company sold 23,000,000 units of the Company at a price of $0.65 per Unit for aggregate gross proceeds of $14,950,000, which includes the full exercise of the over-allotment option. Each Unit consisted of one common share in the capital of the Company and one-half of one Common Share purchase warrant. Each Warrant shall entitle the holder thereof to purchase one Common Share at an exercise price of $0.80, for a period of 36 months following the closing of the Offering.  
Gage-branded provisioning center locations are currently operating in Adrian, Ferndale and now Lansing, with additional locations slated to open in Traverse City, Battle Creek, and Kalamazoo in the next few months. Other locations scheduled to open include Bay City, Buena Vista, Center Line, Grand Rapids, and Lenox Township.
---
🧔
People
Kadens served on KushCo's advisory board since August 2019, and will now play a more active role in guiding the Company's strategic vision and direction, especially in strengthening its relationships with premier multi-state operators (MSOs), licensed producers (LPs), and leading brands.
Christoff currently serves as SVP of Strategy and Government Relations at Salesforce, where she has held the role since 2017. Prior to joining Salesforce, Ms. Christoff served as Senior Director of Public Policy at Uber. Ms. Christoff also held a number of positions at Google over a span of eight years, including most recently, serving as Director of Global Communications and Public Affairs.
The Company will make a material reduction in the Company's operating cash outflows (reduction in headcount, directors' compensation, marketing expenses, and general corporate expenses). The Company will also focus on generating positive cash flow from operations for fiscal 2021 (year ended March 31, 2021) and a focus on maximizing returns on existing assets.
---
🏬
New Store Openings / Product Launches
This is the third adult-use only store Green Thumb has opened in Illinois this year. The company has opened a total of six stores across the country year-to-date. Green Thumb's retail footprint in Illinois includes seven additional locations across the state: Rise Canton, Rise Effingham, Rise Joliet, Rise Mundelein, Rise Quincy, 3C Joliet and 3C Naperville.  All but 3C Naperville offer adult-use sales. The company also has manufacturing facilities in Rock Island and Oglesby where it produces its high-quality branded products including Dogwalkers, incredibles, Rythm and The Feel Collection.
Sunnyside River North, the first Illinois adult-use dispensary in Chicago located at 436 N. Clark Street in the prestigious River North neighborhood. Cresco has the largest footprint in Illinois with three of only 21 cultivation licenses and a total cultivation space of 215,000 square feet across all three of its facilities. The Company currently distributes its wholesale products to every dispensary in the state, and its Illinois retail presence includes seven Sunnyside dispensaries, with three additional locations planned in strategic locations throughout the state.
Its sixth Illinois dispensary located at 369 Lynch Dr. in the city of Danville. As the first cannabis retail store to open in eastern Illinois, near the Indiana border.
The state Department of Health (77,000 patients) said it has issued final permits to Zen Leaf Elizabeth (Verano) and Columbia Care in Vineland to begin dispensing marijuana. That brings the state total to 11 dispensaries. Both received licenses to grow, process and dispense medical marijuana during a licensing round in 2018.
~40,000 people are in jail for cannabis convictions, CannaCraft's founders Ned Fussell and Dennis Hunter are on a mission to change this. Their newest brand, Farmer And The Felon, seeks to right the historic injustices of cannabis prohibition. 
Scheduled to launch in the fall via direct-to-consumer, Happy Dance will cross both the skin-care and personal care categories, like Lord Jones, but will be sold at a mass price point.
---
🤷‍♂️
Somewhat Relevant
In the late 1990s, Hamid Moghadam, an Iranian-born property developer, made a $5m bet on Webvan, an American online grocer. It was a bust. Webvan was one of the most spectacular casualties of the dotcom crash. More galling still, Mr Moghadam turned down the opportunity to invest in another e-commerce upstart called Amazon, thinking its focus on books was too narrow compared with groceries. Yet some people can win even by losing. Sensing a potential bounty in the online craze, the firm he co-founded, amb, sold its portfolio of shopping centres and bought millions of square feet of warehouse space on the tarmac of American airports instead. "We got the company wrong, but we got the big trend right," he says. Two decades later the company he heads, Prologis, is Amazon's biggest landlord. Mr Moghadam, now 63, stands tall over the world's warehouse business.
---
Who writes this newsletter? ➡️ Dai Truong