🛒Dutchie raises $35M, lesser-known Cannabis commerce company, Lantern (Drizly), raises $50M
1:10 Oklahomans have MMJ card. GrowGeneration short. Dutchie raies $35M Series B. Drizly raises $50M Series C. Cresco Labs, TerrAscend report strong revenue/growth. RWB, Planet 13 upsizes bought deal.
---
🌿
Industry
"Chaos breeds opportunity" in fastest-growing medical Cannabis market. States like California and Colorado may grab all the headlines when it come to cannabis, but it's Oklahoma's medical market that's seeing the fastest growth in the U.S. This year, the state has added an average of 13,425 new medical cannabis users per month — "a number that no other U.S. market has come close to," according to BDSA. In fact, Oklahomans bought more medical marijuana in the first half of this year than in all of 2019, according to tax collection data. BDSA now sees the state's sales reaching $1 billion by 2022, a 14% increase from the firm's April forecast. This growth is being driven in part by light-touch regulation that makes it much easier to start a medical marijuana dispensary than in other parts of the U.S. While medical cannabis was only legalized after a state referendum in 2018, BDSA sees nearly one in 10 Oklahomans — almost 400,000 — carrying cannabis cards by the end of the year. That's a far cry from the next busiest U.S. medical market, New Mexico, with 5.3% of its population seen having access by year end.
California wildfires claim several marijuana farms, threatening growers with financial losses. "There are a ton of farms that are located in the fire's path. No one's out of the woods yet. This is just starting," said Keala Peterson, whose small, family-run cannabis operation, Sweet Creek Farms in Sonoma County, was damaged by the fires. Peterson said her cannabis crop isn't insured, and she estimated her family will likely absorb about $150,000 in losses, perhaps more, if they aren't able to salvage the unburned marijuana that has yet to fully flower. In Santa Cruz County, longtime medical cannabis nonprofit WAMM Phytotherapies also likely lost a farm, said founder Valerie Corral. But she's not even certain of the farm's status because she had to evacuate Tuesday night. Yet another series of fires in Yolo County, directly west of Sacramento, is threatening Preferred Gardens, said owner David Polley.
Illicit Cannabis still dominates after two legal years. It's been nearly two years since Canada became the first G20 country to legalize cannabis for recreational purposes. However, the majority of customers are still getting their pot from the illicit market -- with a lot of ground left to cover. In the fourth quarter of 2018, legal marijuana represented only 21% of total consumption in Canada. Fast-forward to the first quarter of 2020 and cannabis is now a $2.2 billion retail industry, yet legal consumption is still just 46% of the total, according to data from Statistics Canada. According to Cormark Securities analyst Jesse Pytlak "Consumer conversion from the illicit market is clearly occurring, but it is still early days. Retail infrastructure is still being developed, and useful insight on consumer preferences and behaviors is just now beginning to emerge. The relatively slow growth can be attributed to both steep prices in the legal market, as well as the fact that physical stores remain few and far between in large provinces like Ontario. The accessibility of brick-and-mortar storefronts is critical for converting consumers from illegal consumption."
GrowGeneration: This Latest Euphoric Retail Stock Has The Brightest Management Red Flags We've Ever Seen—70%+ Downside. GrowGeneration is an operator of grow shops, which provide gardening supplies to both individuals and businesses focused largely on the cannabis niche. Hindenburg has taken a short position (GRWG traded down 17.3% on Monday, 8/24) on the company which has recently (until today) seen it's stock run up after reporting better than expected earnings last week. The tailwinds have fueled an already surging stock. GrowGen's stock has surged almost 108% in a week, helped by the quarterly numbers coupled with media appearances by a management team that has been active about telling the company's story. The stock now trades at over 60.5x adjusted estimated 2020 EBITDA and over 6.1x estimated 2020 sales. Hindenburg sees 60% downside reflecting purely a rationalized valuation for the following reasons:
The stock is priced absurdly rich even under a best-case scenario. This is clearly driven by retail momentum & euphoria

The COVID surge is not likely to be permanent. As the pandemic eases and people get back to work, they expect growth will ease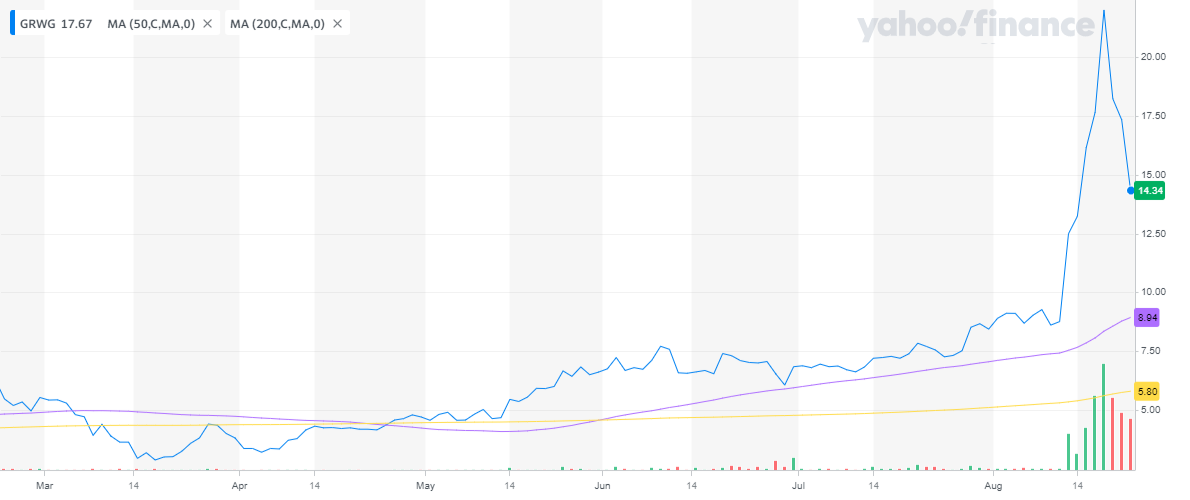 One of the Company's investor, Merida Capital, thinks this is just a short attack with limited facts:
Canaccord Genuity Raises U.S. Cannabis Sales Outlook. The analysts based their estimates on the increase in sales for the first half of 2020 as well as post Covid-19 crisis legalization efforts. They increased 2020 from $14.7 billion to $15 billion. They increased 2024 estimates from $30 billion to $31 billion and the growth rate was adjusted higher from 19% to 20%.
PharmaCann dispensary near the Gold Coast is first site to be rejected by Chicago zoning board. The city rejected a marijuana company's plans to open a dispensary near the Gold Coast after an almost 12-hour meeting that stretched into the early hours Saturday. PharmaCann wanted to open the store, called Verilife, at 12-14 W. Maple St. Some residents and nearby business owners opposed the plans. Chicago's Zoning Board of Appeals denied PharmaCann's application after a virtual meeting that started Friday. It was the first dispensary application denied by the board. "While it's disappointing to be denied our special use, the pause will give us an opportunity to reweigh some of the neighborhood issues raised by those who objected to our proposal," said Jeremy Unruh, director of public and regulatory affairs for PharmaCann. "In the meantime, we have other locations that we will continue to move through the zoning process."
Trulieve sets sights on West Virginia, Grow Facility approved. The Herald-Dispatch reported that the company has seen the local health department for the Cabell-Huntington county approve the development of a medical cannabis grow facility within Cabell County. Trulieve can now move forward with its development plans for a medical cannabis grow facility. The facility is expected to employ 60-80 people, with the location already having been purchased. Trulieve currently anticipates spending ~$11M on improvements to the property to get it up to code, while referring to the future facility as "state of the art." The grow facility is believed to be the first such operation in the county, which is the fourth most populous county in the state at ~92,000 people. The state as a whole has a population of an ~1.8 million, while having the second largest proportion of residents aged 65 or older in the country – behind only Florida.
Cannabis Companies on Inc. 5000 list. You've probably seen a few posts on LinkedIn with Companies sharing — notable inclusions: Cannasafe #13, wurk #73, springbig #99, MJBizDaily #1,749. Private Equity / Venture Capital firms often use these list to source companies, so inclusion is helpful for fundraising, along with recruiting and sales, among other things.
Headset — Cannabis Market Overview August 2020. Headset looks at five key metrics to provide a pulse check cannabis markets (total sales, y/y growth, basket count, average basket, and brand concentration. In CA:
Total Sales: $348.3M

Y/Y Revenue Growth: 33%

Average Basket Size: $70.84

Basket Count: 4.9M

Brand Concentration (Top 10): 27%
---
💵
Deals
Dutchie raies $35M Series B. The 3-year-old Bend, Oregon-based company raised a $35 million Series B round from new investor Howard Schultz and existing investors Casa Verde Capital, Thirty Five Ventures and Gron Ventures. Including this new investment, Dutchie has raised a total of $53 million, including a $15 million Series A in 2019, led by Gron, according to Crunchbase data. Today, Dutchie connects consumers to local cannabis retailers and is capitalizing on trends that show the legal marijuana industry is one of the fastest-growing in the world and is slated to reach $30 billion in value in 2025. After raising its Series A, the company spent time building its team and innovating its product to meet constantly changing consumer demands for online ordering, curbside pickup, delivery and digital payment solutions, Lipson told Crunchbase News. With the Series B funding, the company will continue with those goals. Dutchie has 102 employees, and Lipson has a plan to double that in the next 12 to 18 months. BI story with slides from deck.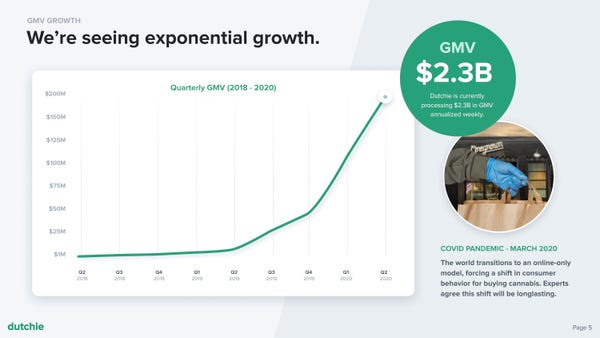 Drizly raises $50M to power Alcohol and Cannabis commerce. The $50M Series C funding round, led by Avenir, with participation by Tiger Global and other existing investors. The investment will support both Drizly and Lantern, an independently operated company within Drizly Group. Launched in March, and currently operating in Massachusetts and Michigan, Lantern is bringing the same compliance-first approach to online cannabis commerce. Together, the Drizly and Lantern platforms will enable Drizly Group to be the preeminent platform provider for online sales of regulated consumer products.
High Tide to acquire Meta Growth, creating major Canadian cannabis retailer. The combined companies will operate 63 retail stores across Alberta, Manitoba, Ontario and Saskatchewan. There are plans to grow to approximately 115 locations by the end of 2021. Together, the two companies will have ~C\$21M in cash.
IIP / AWH (Barry, IL) Property. IIP will make an additional $18M in funding for expansion of AWH's regulated cannabis cultivation and processing facilities at the property, including a new 90,000 square foot greenhouse facility and further production capacity enhancements for the existing 75,000 square foot industrial facility located on the property. The lease amendment also adjusted the base rent under the lease to take into account the additional available funding. Assuming full payment of the additional funding, IIP's total investment in the property will be $51M.
Red White & Bloom — upsized $25M Bought Deal Public Offering ($15M—>$25M). In connection with its previously announced bought deal offering, RWB and a syndicate of underwriters, co-led by PI Financial and Eight Capital have agreed to increase the size of the offering. The Underwriters will now place, on an underwritten bought deal basis, 29,000,000 units of the RWB at an issue price of $0.75 per Unit for aggregate gross proceeds of $21.75M.
Planet 13 — upsized Bought Deal Public Offering (C$15M —>C$20M). Planet 13 has amended the terms of its previously announced offering of units of the Company. A syndicate of underwriters co-led by Beacon Securities and Canaccord Genuity have agreed to purchase, on a bought deal basis, 5,410,000 units (the "Units") in the capital of the Company at a price of $3.70 per Unit for aggregate gross proceeds to the Company of $20,017,000.
Cannadips CBD Secures Funding and announces former Altria Senior Executive, Peter Diatelevi, as New CEO. The Company's co-founder Case Mandel will move into an operational role as President and continue to lead product innovation. Mandel has also been appointed Chairman of the Board and will continue to oversee the direction of the product and brand. Diatelevi has 20+ years experience leading field sales and sales operations at Altria — holding various senior executive roles, including VP Region Sales and VP of Sales Operations. Diatelevi will be instrumental in helping the Company complete its $5M Series A target, of which to date, the Company has raised $3M.
Psychedelics Group raises $30M from execs at GoDaddy, SpaceX, others For MDMA Study. The nation's leading psychedelics research organization announced on Thursday that it has raised $30M in donations—including from several notable business leaders outside the drug policy realm—that will enable it to complete a study on using MDMA to treat post-traumatic stress disorder (PTSD). About 2,500 individual donors helped MAPS reach their fundraising goal within six months.
---
📄Financial Results
Revenue: $94.3M, up 42% Q/Q

30+% sequential revenue growth in all of the Company's U.S. markets except Massachusetts

Adjusted EBITDA: $16.5M, up 419% Q/Q

Reduced SG&A by $1.5M Q/Q

Wholesale revenue growth of 44% Q/Q to $55M and retail revenue growth of 39% Q/Q to $39M

Net Cash Used in Operating Activities was $9.9M, compared to $40.1M used in Q1. The improvement in cash used in operating activities was driven by increased operating leverage across the business as the Company scales

Cash: $71M as of 6/30/20
Revenue: $47.2M, up 169% from $17.6M

Gross Margin: increased to 56%, compared to 9%

Adjusted EBITDA: $11.4M (24% margin)

Cash Flow from Operations: $10.4M

Cash: $75M
Revenues: $4.3M, 21% Y/Y growth

Gross Profits: Climbed to $1.6M (36% GM, up from 20% Y/Y)

Operating Profits (Losses): $(1.4M), a 71% improvement Y/Y from $(4.6M)

Cash: $13.0M as of June 30, 2020
---
🧔
People
Cannabis Companies tap top Lawyers as CEOs amid legal challenges. A pair of in-house lawyers with high hopes for legal cannabis products are moving up in the C-suite, while a longtime health and fitness industry legal chief has found a home in the legal weed space. Leafly Holdings promoted Yoko Miyashita to replace Timothy Leslie as CEO. Miyashita's elevation came a week after Province Brands of Canada promoted Chief Legal Officer Jennifer Dianne Thomas to the company's top executive position. The new CEOs take over as cannabis companies seek increased acceptance amid a turbulent regulatory and economic environment.
TILT adds Dia Simms to Board. Simms spent more than a decade at Combs Enterprises, where she served as President of the company founded by entertainer and entrepreneur Sean Combs. In this role Simms was responsible for the strategic direction of the company's alcohol, fashion, fragrance and media divisions, fueling the growth of CÎROC to a retail value of more than $2B. Simms entered the cannabis space last year with a focus on brand management and consulting.
Flower One adds Salpy Boyajian to Board. Boyajian officially joined Flower One in October of 2018 following the acquisition of NLV Organics, which she co-founded in 2014. She currently serves as Flower One's Chief Operating Officer, Nevada Operations and was one of the original winning applicants granted cannabis licenses by the State of Nevada.
---
💻Hiring | 🔍Looking
Humboldt Farms — Operations Manager (Arcata, CA). Support the COO and act as deputy and delegate as required. Direct the day-to-day operations of the facility. This includes the departments of Processing, Procurement, Fulfillment, Inventory, Compliance and Track-and-Trace. Ensure accountability for departmental budgets and will work closely with the CFO. Expected to exercise a high level of diplomacy when dealing with sensitive topics. Expected to be able to come onboard and assess the current structure and provide solutions to improve efficiency. I can connect directly to Company.
Nicole Klein (Product Marketing) — Nicole most recently worked as a Product Marketing Manager at MedMen, working to launch new private label brands and partnered with other cannabis brands to build marketing strategies. She has a background in the CPG space, previously working for The Wonderful Company. Nicole is seeking new marketing and operations opportunities in the cannabis space and would love to help build new, emerging brands. 
---
🏬
New Store Openings / Product Launches
Trulieve — Longwood, FL (56th in FL, 58th Nationwide)
Curaleaf's — Clearwater, FL (29th in FL, 88th Nationwide)
Skymint — Hazel Park, MI (3rd in city). The Company also has locations in Ann Arbor, Bay City, Flint, Lansing, Newaygo, Nunica, Traverse City and White Cloud.
MOCA — Downtown Chicago (River North). At least for now, the location at 216 W. Ohio is the largest in downtown Chicago. That may change when Cresco's Sunnyside location on Clark Street expands later this year.
Natural Selections — Watertown, MA.
Deseret Wellness — Provo , UT (1st in State). As of mid-August, 8,200+ Utahns have a medical marijuana card.
SLANG Worldwide debuts Live Resin Vape Cartridges in Colorado.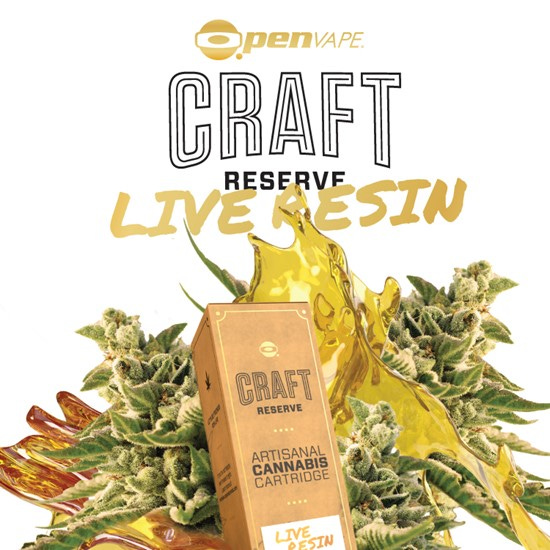 ---
🤷‍♂️
Somewhat Relevant
Diageo to buy Ryan Reynolds-backed Aviation Gin in $610M deal. Diageo is paying up to $610M for Aviation American Gin, co-owned by Hollywood actor Ryan Reynolds, and a clutch of other spirits brands, adding to a gin portfolio which already includes Tanqueray and Gordon's. Diageo is paying up to $610 million for Aviation Gin LLC and Davos Brands LLC, whose portfolio also includes Astral Tequila, Sombra Mezcal and TYKU Sake.
---
Who writes this newsletter? ➡️ Dai Truong