Discover more from Highly Objective
Cannabis industry news, insights, and analysis
Over 3,000 subscribers
🚀Elon Musks tweets about Cannabis disparities
Cannabis businesses were targeted. 46% of MMA fighters use Cannabis. Canada market closer to $2B (vs. $5B). Schultze SPAC/Clever Leaves.
The tweet that has the Cannabis industry retweeting —
---
🌿
Industry
The financial toll inflicted on the legal marijuana industry by dozens of robberies and looting since last weekend is easily stretching into the millions of dollars, leaving some businesses unsure about the future and whether their operations can survive. According to media reports, more than 40 marijuana companies across the country have suffered an array of vandalism, robberies or looting. The fallout for marijuana retailers – some of which also have grow operations – has varied widely. Some businesses were open the day after they were broken into. Others remain closed indefinitely for repairs.
➡️Support an equity company, destroyed by looters

Chicago marijuana dispensaries close indefinitely

MedMen Temporarily Closes All Locations

Harborside and Elemental Wellness Targeted

Cannabis Control Commission investigating after 3 Boston marijuana shops impacted during violent protests
The Athletic recently conducted a wide-ranging survey with 170 professional MMA fighters, 46% of whom said they currently use marijuana for either recovery or recreational purposes. Another 5% regularly used marijuana in the past but now don't. Additionally, 77% of surveyed fighters said they have used CBD products for recovery purposes.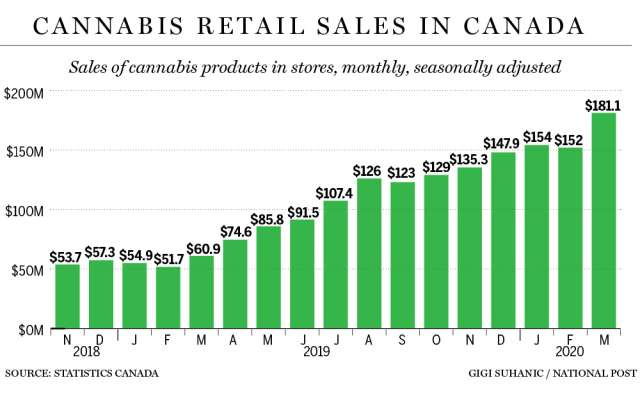 If legal sales across Canada continue at the pace they have been for the past 20 months, the Canadian cannabis industry could be worth ~$2 billion by the end of 2020, according to data from Statistics Canada and Health Canada. Pre-legalization forecasts that pegged the number up to $5 billion by 2021, the industry is now in a situation where tens of companies are fighting for a much smaller pie than once forecasted. Smaller companies have carved out good niches for themselves, several companies that have not been delisted, but have really stopped competing in the sector altogether, and just a handful of companies control ~95% of the legal Canadian market, according to company filings, interviews with cannabis analysts and data from Headset. 
AZ - In April 2020, cannabis sales in Arizona's medical dispensaries reached $86.7 million, growing 4% from March. Compared to the previous April, sales in Arizona grew by over 49%. Year-to-date through April, sales have reached $310.7 million, increasing by $92.4 million and 42% compared to the same period last year.
CA - In April 2020, cannabis sales for state licensed retailers and delivery services reached $252 million, declining by 9% from the trailing month and growing 4% compared to April 2019. Year to date, sales in California have reached over $1 billion, a 9% increase compared to the same period in 2019.
CO - April 2020 sales in Colorado's adult-use and medical dispensaries reached a combined $148.4 million, declining 9% from March. Compared to the previous April, sales increased by nearly 8%. Adult-use sales grew by 1% from April 2019 while medical sales grew by 34%. Year-to-date through April, combined channel sales have reached $593.1 million, increasing 12% from the same period last year.
NV - In April, Nevada dispensaries generated $38.3 million in sales. Compared to the trailing month, sales declined by 32%. Year-to-date through April, sales in the market have reached $214.8 million, decreasing by 1% over the same period last year.
OR - In April 2020, Cannabis sales in Oregon's medical and adult-use dispensaries reached $89.5 million. Compared to the trailing month, sales in the Oregon market grew by about 6%. Compared to April 2019, sales grew by 40% overall. Year-to-date sales in Oregon have reached $311 million, growing by 30% compared to the same period in 2019.
IL - In April 2020, Cannabis sales in Illinois's medical and adult use channels totaled at $68.4 million, growing 4% since March. Year-to-date through April, sales have exceeded $256.4 million.
MD - In April 2020, Cannabis sales in Maryland's medical dispensaries reached $34 million, increasing by ~2% from March. Compared to the previous April, sales in Maryland grew by over 101%. Year-to-date through April, sales reached $124.8 million, representing a $58.9 million increase from the same period last year.
MA - In April 2020, Cannabis sales in Massachusetts's medical channel totaled $17.3 million and increased by 21% compared to the trailing month. Total market sales, declined by 73% since March as adult-use retail locations were deemed non-essential and required to close during the COVID-19 pandemic. BDSA will continue to report on medical market sales until further notice.
Using smartphones, customers can now pre-pay for pickup and delivery of cannabis purchases, allowing for 100% secure, one-click transaction processes. One-time Treez Pay set-up is seamless, with a customer required to securely link to the bank account from which they wish to pay. Once set, Treez Pay needs no additional app, PIN numbers, or passwords. Treez Pay adds a small processing fee to transactions that is markedly less than ATM fees routinely applied to debit cards.
Greg Butler, chief commercial officer at Cresco Labs, explains how the cannabis firm has pivoted during COVID-19, which has forced the firm to rely more on digital and less on retail and experiential activations that had been critical components of cannabis marketing. The former Molson Coors marketer also discusses Cresco's strategy on taking a brand portfolio approach with each offering geared for a specific set of consumers.
The $103 million May total for recreational and medical sales was a whopping $38.5 million more than in the same month in 2019, a 60% increase, the Oregon Liquor Control Commission said late Thursday. That followed year-over-year gains of 44% in April, when sales totaled $89.5 million, and 37% in March, when they hit $84.9 million.
---
💵
Deals
Under the terms of the LOI, SAMA and Clever Leaves intend to enter into a definitive agreement pursuant to which SAMA and Clever Leaves would combine, with Clever Leaves' shareholders owning a majority of the equity in the combined public company which will be listed on NASDAQ. SAMA's cash balances, currently in excess of $130 million, would be used primarily to fund the combined company's near-term operating expenses, capital expenditures, working capital, and potential M&A opportunities.
Clever Leaves employs ~500 globally and has raised ~$120 million of capital to date.
Underwriters have agreed to purchase, on a "bought deal" basis, 9,200,000 common shares (~23% of outstanding shares) of the Company currently held by Aurora at a price of $3.00 per Offered Share and offer them to the public by way of short form prospectus for total gross proceeds to Aurora of ~$27.6M.
A Standby Equity Distribution Agreement (SEDA) with an institutional investor, under which the Company may, at its discretion, periodically sell to Investor, and pursuant to which the Investor may, at its discretion, require the Company to sell to it, up to $50,000,000 of the Company's Class A Subordinate Voting Shares, no par value, and

Completion of a private placement offering, in which it issued $11,000,000 in principal amount under a secured convertible debenture, with gross proceeds to the Company of $10,000,000 before transaction fees - 15% interest (convertible at $1.68/share) and are secured by the Company's medical cannabis dispensaries in Connecticut
Denver-based Scythian Real Estate today announced the acquisition of two facilities operated by Grassroots Cannabis in North Dakota, totaling nearly 10,000 square feet for $3.4 million. The acquisition includes a recently renovated 4,500-square-foot facility located at 310 US-2 in Devils Lake, and a newly constructed 4,995-square-foot facility located at 318 24th St. East in Dickinson.
RWB will be able to use the Hightimes™ trademark, logo and brand to rebrand its 18 planned and operational dispensaries as High Times stores in MI, in addition being able to use brand in IL and FL. High Times will receive $15M of RWB stock in addition to minimum cash royalty payments of $10.750M over the first 18 months of the deal.
Terphogz, LLC owns a genetic library that is well-known for creating the Zkittlez™ cannabis variety. Zkittlez™ has a unique and distinct terpene profile unlike other genetics in the market, making it distinguishable from other strains. Halo has secured a 5-year exclusive partnership with Zkittlez™ in Oregon to cultivate the group's strains and provide this beloved brand to the Oregon marketplace and consumers for the first time.
---
📄Financial Results
Q1 2020 Revenue of $16.8M; EBITDA of $2.5M (14.9%)

SuperStore accounted for 10.1% of all Nevada cannabis dispensary revenue in Q1 2020

Cash of $13.9M
Revenue for the first quarter of 2020 was ~$33.9M;

Sales of Greenlane Brands grew to $6.3M, ~18.5% of total revenue; 

Gross profit was $7.3M, or 22% of net sales, an increase of $0.8M, representing an improvement in gross margin of 414 basis points;

Entered into a new lease agreement for a new retail store located in Barcelona, Spain, which opened to the public on May 26, 2020;

Vapor.com, one of the Company's e-commerce platforms, daily store transactions increased 50.4%;

VIBES branded products now present at over 2,000 Greenlane customer retail locations;

Demonstrated commitment to business transformation plan through the targeted reduction of ~50 employees which is expected to positively impact the Company's results in future quarters
Strong financial position with $47 million cash on hand and no debt

Commenced operational ramp-up at 1.3 million sq.ft. flagship joint venture

Expanded ag-tech exposure in portfolio

Significant corporate milestones, including graduation to the TSX and launch of Strategic Advisory Board
---
🧔
People
Cresco Labs co-founder Joe Caltabiano has resigned from the company's board of directors effective immediately. He previously had left his executive role as president at the company in March but had remained on the board until now.
---
🏬
New Store Openings
The 2,000 sq ft dispensary will serve a local population of more than 100,000.
MS&P (AWH) will launch its new medical-only, flagship dispensary in Detroit and its new adult-use store in Battle Creek. The Company opened one of Michigan's first adult-use dispensaries in Morenci in December.
After coronavirus-related delays, Muskegon's third marijuana dispensary is expected to open this summer. Redbud Roots, a Buchanan-based cannabis producer and distributor, expects its second retail location, at 237 W. Laketon Ave. in Muskegon's marijuana overlay district, will open to the public on Saturday, June 27.
The Phoenix store opened end of April but I've missed it until now.
And now, some Good news.
Our business has always been deeply rooted in Arizona. Which is why we're so excited to announce the opening of our first
@sundaygoods
dispensary, right here in Phoenix.
Head to our link in bio to get the Goods.
#FeelSundayGood
The Company received unanimous approval  for its Adult-Use/Recreational Provisional License from the Massachusetts Cannabis Control Commission (CCC) to operate as a Tier 9 indoor cultivation and to carry out product manufacturing in Holyoke, Massachusetts. The CCC also awarded Trulieve its Adult-Use/Recreational Provisional License to operate a retail cannabis establishment in Northampton, Massachusetts.
---
🤷‍♂️
Somewhat Relevant
Eight Capital's Ammar Shah mainly follows biotech and healthcare companies and is now the first analyst at an investment bank to cover the psychedelics industry. Shah initiated coverage of Mind Medicine in April.
---
Who writes this newsletter? ➡️ Dai Truong