Discover more from Highly Objective
Cannabis industry news, insights, and analysis
Over 2,000 subscribers
🔥Every dispensary opened in Illinois is doing well
⬆️Illinois sales. Harvest announces Have a Heart deal while suing its Falcon acquisition to terminate. Pritzker pardons 11,000. Aurora Cannabis write-down. MI chart. Utah licenses. HEXO trim.
---
As expected, Illinois adult-use sales have gotten off to a hot start (headed for $650M+ in 2020, pending ability to supply / a reasonable drop from early numbers) where demand (including those from neighboring states) have far outstripped supply, to the point where retailers are actually limiting hours or opting to sell to medical patients temporarily. As with other immature markets (MA and MI), the vertically-integrated approach has worked very well to start.

The more interesting news so far to start the year is Harvest announcing it's intent to acquire Have a Heart (WA-based Cannabis retailer) while suing another acquisition, Falcon (Cru Cannabis, Littles, and High Garden), to terminate the deal. Further confirming that in 2019 (and some of 2018), large Cannabis companies rushed into things that they're now cleaning up (usually through price reduction, but also alleged fraud apparently) and 2020 will likely see a more cautious approach (more reasonable valuations, audit ready, stronger assets, etc).
🌿
Industry
~$3.2M of Cannabis products sold at Illinois dispensaries on first day of legal weed sales. 77,000+ people lined up to buy recreational marijuana with its official legalization New Year's Day ($41/transaction). At the five dispensaries owned by Cresco Labs, customers outspent that statewide average by ~$100. Cresco's Sunnyside dispensaries in Lake View, Elmwood Park, Buffalo Grove, Champaign and Rockford sold a total of 9,258 products to 3,145 customers. The company said the average spent per customer was $135, suggesting a healthy inaugural day of sales approaching $425,000. 
PharmaCann's three shops have been serving 700-1,100 rec customers per day since launch.
Illinois has so far shown that being vertically-integrated has provided a huge advantage as demand seems to greatly outpace supply, to the point that some stores are limited adult-use hours or altogether not selling to recreational customers based on supply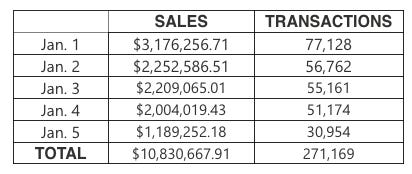 Illinois became the 11th state to legalize recreational marijuana when Pritzker signed the reform legislation in June. It was the first state to approve a tax-and-regulate system for cannabis through the legislature as opposed to by voters via a ballot initiative. Advocates expect to see many other new state marijuana laws enacted in the coming months and years.
Aurora Cannabis appears to have listed its greenhouse in Exeter, Ontario, for sale for $17M, a move that one analyst said "implies massive writedowns" are coming. A listing on Cushman & Wakefield's website advertises a 22-acre greenhouse with a 15,000-square-foot propagation area on Exeter's Airport Line, the same location as a greenhouse Aurora obtained as part of its $3.2B acquisition of MedReleaf Corp. in 2018.
Aurora determined that the greenhouse would have required "retrofit and significant capital investment in order to meet Aurora's production standards, Aurora has taken decisive steps to rationalize capital expenditures and align our cultivation footprint to current demand, including selling the Exeter facility."
Grizly believes the Company is headed for a technical bankruptcy.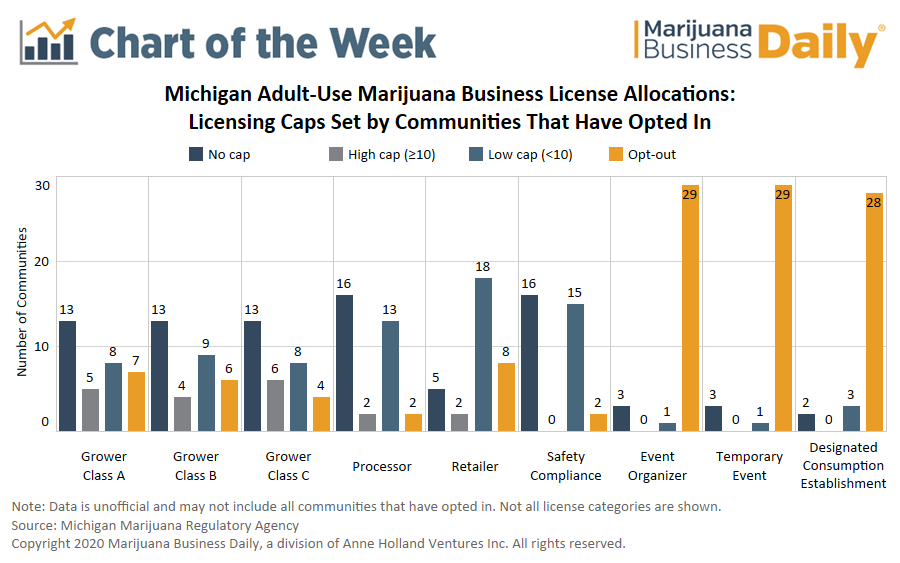 The following pharmacies will receive licenses to sell cannabis products:
Beehive's Own, two licenses, Salt Lake City and Box Elder, Morgan or Rich County.

Bloom Medicinals, Cedar City.

Columbia Care, Springville.

Curaleaf, Lindon.

Deseret Wellness, two licenses, Park City and Provo.

Justice Grown Utah, two licenses, Salt Lake City

Pure UT, Vernal.
The pharmacies were chosen out of 130 applications made by 60 different companies, according to the health department. Seven are owned — or partially owned — by Utahns.
Brayden Sutton (1933 Industries Chairman / former EVP at Aurora ) says in general, the ratio of THC in flower to that of trim is 20 to 1 (though that varies by strain), meaning that it would take 20 times more trim in weight to extract what you would get from flower. Health Canada data shows that as of September 2019, there was 316,000 kilograms of dried cannabis inventory, far surpassing domestic sales figures. It is, however, unclear, how much of that inventory is trim versus flower.
---
💵
Deals
Harvest plans to acquire Interurban Capital Group, Inc., the owner and operator of Have a Heart. Preliminary terms contemplate an acquisition price of ~$87.5M in Harvest stock and assumption of debt convertible into 205,594 multiple voting shares of Harvest stock. Have a Heart assets include 11 operating dispensaries in California, Washington and Iowa and licenses for seven retail locations in California.
Harvest has filed suit against Falcon requesting termination and rescission of the Merger Agreement and return of money Harvest paid to Falcon under the Merger Agreement.  As detailed in the Complaint, filed in U.S. Federal Court, District of Arizona, Harvest alleges that Falcon has failed to meet its legal obligations in multiple ways, including the failure to provide auditable financial records, which precludes Harvest from moving forward with the Transaction.
The Harvest lawsuit accuses Falcon of misrepresentation of its financial condition and illegal operations that included interstate transportation. The company had announced the deal without sharing terms in February 2019. Subsequent filings indicate that Harvest was going to pay stock valued at up to $240M.
The 32,000 square foot cultivation facility in Cheyenne, Nevada, a Las Vegas suburb, is being purchased for $35M and is being financed by an existing Harvest lender. The amount of $30M was funded on December 31, 2019 and the balance of $5M is due upon the closing of the acquisition.
VidaCann, a medical marijuana company based in Jacksonville, Florida, on Wednesday announced a $25 million investment that includes expansion of its cannabis cultivation facility in the state to more than 600,00 square feet. The announcement comes only weeks after Chicago-based Cresco Labs terminated a $120 million acquisition of VidaCann.
---
🧔
People
Goodson replaces outgoing COO John Cochran. Most recently, Goodson served as President and COO of Verano Holdings, where he led work around financial metrics, organization structure, performance management and team acquisition and development which drove positive EBITDA results as Verano scaled operations in their focus markets. Goodson worked at North America Pepsi Beverages Company for more than 35 years. 
Mr. Moore succeeds Navdeep Dhaliwal, who has departed the Company. Moores is currenlty Director of the Company and former President of Starbucks Coffee Canada.
Simon joins the company after previously serving as president of the online retailer Overstock.com, and will succeed Kraig Fox, who has stepped down as CEO and president. 
Before joining Akerna, he served as CFO for REV360, a SaaS and business services company, and as vice-president and controller for WELLTOK. While at WELLTOK, Fowle led the successful diligence and integration of six acquisitions valued at over $230 million.
Eric Rasmussen brings over 20-year of experience from Shawcor, an integrated energy services company. More recently, Mr. Rasmussen has been a strategic consultant for Canadian large- and mid-size clients, advising on corporate strategic and financial planning, post-merger integration and business process optimization.
Max Cohen has resigned as the Company's Chief Operating Officer in order to focus on other business obligations. Mr. Cohen will continue to serve Jushi as a member of the Company's Board of Directors.
---
🏬
New Store Openings / Products
---
🤷‍♂️
Somewhat Relevant
Retailers announced more than 9,300 store closures this year, a 63 percent increase from 2018, when more than 5,700 stores closed, according to Coresight Research, a global advisory and research firm specializing in retail and technology. The last record year came in 2017, when more than 8,000 stores shuttered.
Heading into 2020, the retail industry is expected to shed more real estate. Online sales are expected to rise to 25 percent from 16 percent by 2026, according to UBS. That means roughly 75,000 more retail stores would need to close. But that doesn't mean stores are now obsolete.
"It's really having the right number — not every retailer needs 100 stores," said Bitar with RetailNext. "It's about the industry right-sizing, rather than about a retail apocalypse."
The harsh reality is, you need to be good at dozens of functions operationally & have a diversified marketing approach to create sustainable growth & profitability.
---
Who writes this newsletter? ➡️ Dai Truong