Discover more from Highly Objective
Cannabis industry news, insights, and analysis
Over 3,000 subscribers
👀Eye on the ball for EBITDA+
Canopy Growth earnings. Wine vs. Cannabis in Napa. Bottles are better for THC Beverages.
I spoke with a research analyst regarding Canopy's earnings and how he noticed the new management team seemed better equipped for these calls. Interesting enough, former Aurora Cannabis CEO, Terry Booth, agrees, "it's time for more of a button-up CEO, not a growth CEO," he said. "You want a capital market guy or gal. You really need to have someone with their eye on the ball for positive EBITDA." Seems like the Cannabis industry growth trajectory is really following that of tech startups (very few founders are also the right people to scale companies).
The most interesting takeaway was that of the major Canadian LPs, he only believed one had the right management team / strategy before the recent Canopy change (not the one I would have thought, but I defer to someone who actually covers the Canadian LPs).
---
🌿
Industry
Generated $124M Net Revenue, up from $76M in Q2 2020

Excluding portfolio restructuring charges in Q2 2020, Net Revenue up 13%

Achieved Gross Margin of 34%

Total Operating Expenses down 14% versus the prior quarter

Adjusted EBITDA loss decreases to $92M
CEO David Klein provided an overview of his near-term strategic priorities:
Improving connection with consumers in an effort to build trusted brands at all pricing points (sounds like he's taking this one from his alcohol background)

Instilling a more disciplined approach throughout the organization (deciding where, and where not to compete)

Carving out a visible path to profitability while rightsizing operations

Build credibility with industry stakeholders
Napa County has explicitly banned commercial cannabis growing in its unincorporated rural areas, where most vineyards lie. Local farmers and winemakers are keen on protecting Napa, but they have philosophically opposing views on how weed could affect the region's reputation — which could be tested this year if residents get a chance to vote on allowing cannabis cultivation.
Some winemakers see marijuana as a threat to their image and, potentially, the quality of their grapes. But others see cannabis as the only real way to diversify the county's grape-dominant agricultural economy as millennials shy away from wine drinking.
Because the price of agricultural land in Napa is so high, growers say that cannabis is the only crop that makes economic sense to plant. Commodity crops like strawberries or lettuce simply wouldn't offer the necessary return on the investment.
Among those forming partnerships with cannabis companies: film director and winemaker Francis Ford Coppola and the heirs of Robert Mondavi, one of Napa wine's founding fathers.
Cannabis beverages and aluminum cans have a problematic relationship that could prove costly for drink production lines built for the ubiquitous metal containers. Scientists have determined that liners inside aluminum cans can cause cannabis drinks to lose their potency. That means by the time a pot drink is put in a can, shipped, stored in a warehouse, displayed in a store, and finally consumed, the buzz promised on the label may have diminished or disappeared. 
Can manufacturers add the liners to prevent drinks from taking on a metallic taste, to reduce corrosion of the can, and to improve shelf stability. But when pot drinks are under pressure, the liner can attract tiny emulsified droplets of active cannabis ingredients like THC. Vertosa founder and chief science officer Harold Han became aware of the problem of aluminum cans draining the potency out of pot drinks first came to his attention early last year when Lagunitas/Cannacraft shifted its Hi-Fi Hops cannabis drinks from cans to glass bottles.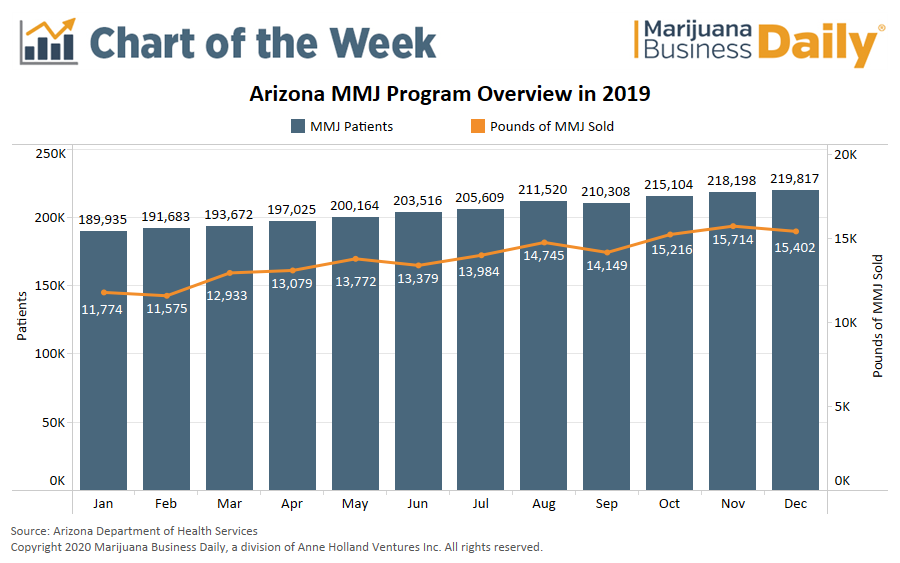 Medical cannabis sales grew right alongside patient counts, with dispensaries moving 166,000 pounds of MMJ throughout 2019, representing a 34% increase from the 124,000 pounds in 2018.
Overview:
A young, mostly male patient base forms the foundation of Arizona's thriving MMJ program. Patients 18-30 years old account for more than a quarter of all registered MMJ patients in the state, and nearly 50% of all patients are younger than 40. ~60% of Arizona's MMJ patients are male

90% of the medical marijuana patients are using MMJ to treat chronic pain. Chronic pain is the most oft-cited condition treated by MMJ patients in nearly every state where it's allowed, but the numbers are especially high in Arizona

Arizona has licensed only 130 dispensaries to serve its large, growing market. Large, multistate operators took notice in 2019, as many made deals to enter or expand their reach in Arizona. This includes 4Front Holdings, Vireo Health, Harvest Health & Recreation, and Cresco Labs

A ballot initiative to legalize adult-use cannabis in Arizona will likely go before voters in 2020, a potential game-changer for both existing businesses in the state and prospective entrepreneurs eyeing new opportunities. A ballot initiative to legalize recreational cannabis in Arizona was narrowly defeated in 2016
The Long Beach Collective Association (LBCA), cannabis business owners, policy advocates, patients, consumers, and city officials came together to support the city's legal cannabis business community, lower taxes, and fight the illegal market. In December 2019, the Long Beach City Council voted to lower the city's tax rate from 6% to 1% for cannabis manufacturers, distributors and testing laboratories. On January 7, 2020, the council voted to formally amend the city's cannabis tax ordinance reflecting the revised 1% tax rate.
Former French Laundry farm chief Aaron Keefer is bringing his pedigree from the 3-Michelin star restaurant to his new job as VP of cultivation and operations at Sonoma Hills Farm. The farm has dedicated a piece of its 40 acres to growing cannabis alongside its produce and livestock operations, which Keefer will now also lead. He will oversee a total of one acre of land split between two locations on the property. The first is a 28,560 square foot outdoor dry farm, and the other is a 10,000 square foot state-of-the-art greenhouse for cannabis cultivation with an attached 5,000 square foot facility for indoor cultivation, plant propagation and strain development.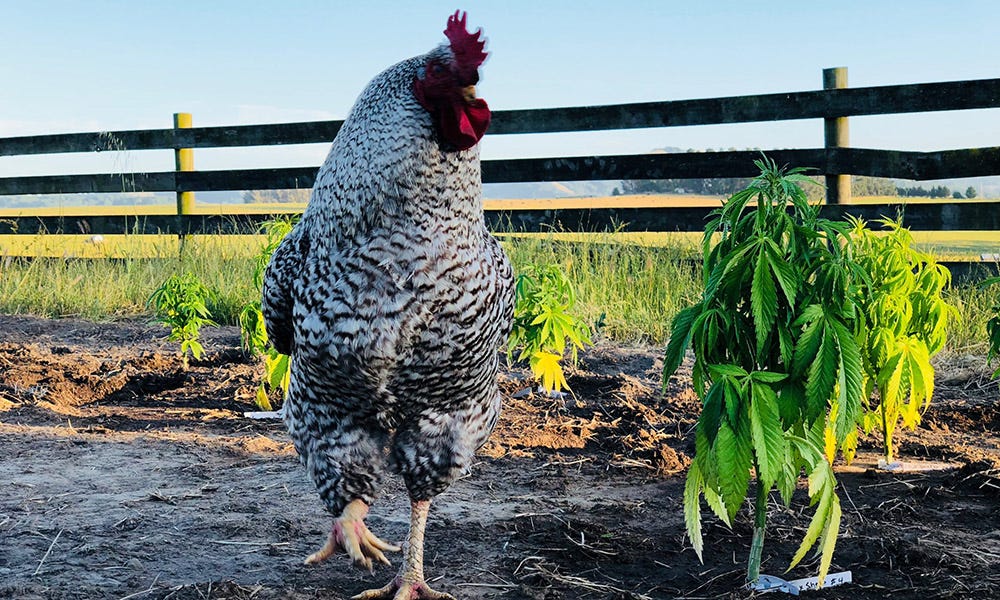 While New York's medical cannabis patient registry increased by more than 23,000 patients in 2019, growth has slowed significantly because of various market factors leading to a low consumer participation rate. Less than 1% of New York residents have signed on as medical marijuana patients, due in part to restrictions on cannabis product forms and limited access to dispensaries. As of Feb. 11, New York had 113,755 patients, 0.6% of the state's population is a medical marijuana patient. A proportion under 1% is on the lower end of the participation spectrum. By comparison, Oklahoma has 6.3% participation, and Ohio's developing market is at 0.7%.
---
💵
Deals
Greenrose Acquisition Corp. (GNRSU), announced the pricing of their $150M SPAC IPO. Greenrose will be focusing on companies in the cannabis industry and will be led by William (Mickey) Harley III, as CEO and Director, and Brendan Sheehan, as EVP, Corporate Strategy and Investor Relations, and Director.
A SLANG Network partner will cultivate the Cookies strains, and SLANG will market and sell the products through its statewide distribution channels. SLANG already has a strong position in Oregon, with its O.penVAPE Craft RESERVE and Bakked Dabaratus products positioned as leading brands. The addition of Cookies branded products is expected to help expand SLANG's market share in the state and create new revenue streams for the Company in previously untapped product categories.  SLANG and Cookies will also continue to work together to evaluate additional opportunities in other markets where SLANG operates.
Halo Labs has entered into an asset purchase agreement with High Tide for the $12M purchase of High Tides' KushBar retail cannabis brand, retail cannabis stores and all associated assets.. The Transaction provides for the acquisition by Halo of 3 licensed cannabis retail stores1 and the rights to 5 locations across Alberta which have already received development permits for aggregate consideration of $12M, payable in common shares.
---
🧔
People
The Vaughan, Ont.-based cannabis company fired previous CEO Peter Aceto last July following its internal investigation into the company's non-compliance with Health Canada regulations. It says it will also submit documents to Health Canada about its completion of the remediation activities at its Niagara facility as it seeks to have its licence for the facility reinstated.
In this newly created position, Greg Butler is responsible for demand and commercial strategic planning, bolstering Cresco Labs' sales and marketing teams with top talent, leading the launch of all new products and innovation, brand M&A and integration, and driving enterprise strategies to deliver on the company's vision to be the most important cannabis company in the U.S. among patients, customers, consumers and industry stakeholders.
---
🏬
New Store Openings
Formerly, San Leandro Wellness Solutions, Inc., the location was fully acquired in October of 2019 and has been operating in a medical capacity but will expand to recreational services in the coming months.
---
🤷‍♂️
Somewhat Relevant
Ignite's alkaline water, which has a pH of 9 and is also enhanced with electrolytes and minerals, will launch in one liter bottles, with a 16.9 oz. format also in the works. The suggested retail price will be $2.29 each.
---
Who writes this newsletter? ➡️ Dai Truong