Discover more from Highly Objective
Cannabis industry news, insights, and analysis
Over 2,000 subscribers
💥Failure to Launch
Canopy Beverages delayed. IL dispensaries rationing products. Eaze insights 2019. Nevada Wholesale prices drop. MO awards licenses. High Times to open dispensaries. HEXO gets sued.
---
🌿
Industry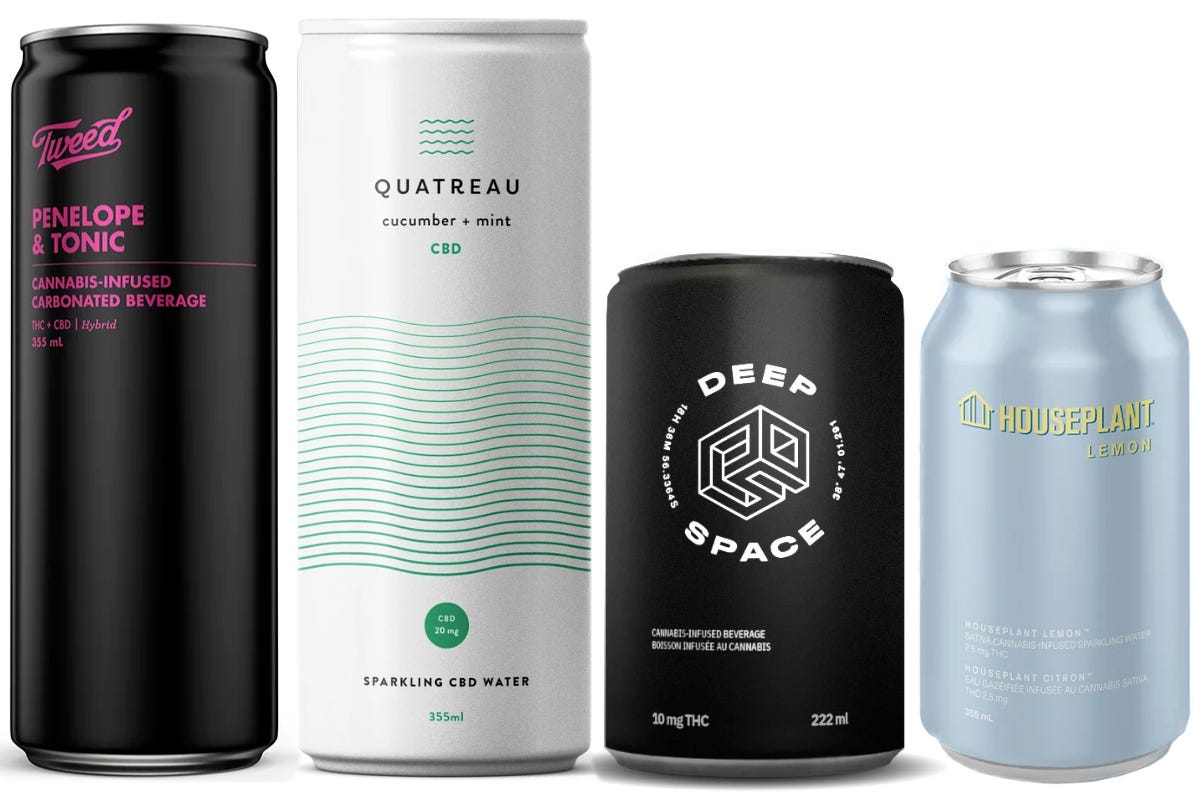 Canopy Growth announced it has yet to finish scaling up its cannabis beverage production facility in Smiths Falls, Ontario for commercial production and will not launch its products this month as previously announced.
This is bad timing for Canopy. In Canada, cannabis-infused products were allowed to start hitting shelves In December, and sales have been picking up. The news of Canopy's delay came the day after the government-run Ontario Cannabis Store opened and sold out of all available edibles and beverages.
"Today's update will do little to satisfy investors who have already seen Canopy downgrade sales guidance twice this fiscal year. We also note there appears no excuse for this announcement, with the delay caused by lack of clarity internally rather than unforeseen external factors, which is even more worrying."
Jefferies analyst Owen Bennett told Bloomberg
Canopy submitted its final documentation for its beverage facility to Health Canada last June and received its license in late November, so this delay wasn't caused by any regulatory complications. 
While the delay won't impact the Company's revenue for 2020E (given low market share for Cannabis beverages), it's concerning that a top three LP who's largest investor (Constellation Brands) has some experience (a lot) with beverages, failed to launch products seamlessly in this category.
A few weeks into recreational cannabis sales in Illinois, supply of flower remains tight, which is forcing many marijuana retailers to limit the amount sold to any one customer. Retailers are trying to serve as many people as possible, and some shops have even require adult-use cannabis customers to schedule appointments. Illinois cannabis retailers are required to designate all inventory as either for medical marijuana or recreational customers upon receiving it – and they also must have at least a 30-day supply on hand at all times for MMJ patients.
Some of the tactics marijuana retailers in the state are taking to address this issue include:
Designating Mondays for medical patients only

Implementing a reservation system for recreational customers

Curbing the amount of flower customers can purchase
Key Findings:
Increased demand for delivery: 74% increase in first-time deliveries YoY

Growth in older consumer: Consumers 50+ yo increased by 105%. Boomers purchased 67% more topicals YoY, demonstrating a willingness to try new cannabis form factors

Demographic and preference diversity: Greater diversity among customers: women consumers grew 81% YoY; product preferences diversified with drops and topical purchases increasing across all age groups

Neighborhood surprises: In San Francisco, Nob Hill residents ordered more cannabis than their neighbors in the Haight, while Silverlake was the most active delivery market in Los Angeles
More than a fifth of the cannabis companies in Sacramento, California, are confronting the possibility of at least a temporary suspension of operations on February 1st. City regulators sent notices to dozens of registered marijuana businesses in December as a reminder they had not formally completed the process for acquiring a Sacramento business operations permit.
Though many have finished the process since then, officials in Sacramento said last week that 58 businesses still have not completed the paperwork and might have to cease operations as of Feb. 1 until they can get it in order.
Growers report an average-quality (mid-grade) pound of flower is selling for ~$2,000/pound wholesale, down from as high as $2,800/pound a year ago as supply has increased. But high-quality flower is still commanding a premium, with pounds of top shelf material selling for well above $3,000 wholesale because it's still hard to come by.
According to several Nevada growers, pounds of wholesale cannabis flower, by quality tier are selling for:
Top shelf: $2,400-$3,600 (down from as much as $4,000 a year ago)

Mid-level: $1,800-$2,200 (down from $2,400-$2,800 a year ago)

Low level: $1,200
The Missouri Department of Health and Senior Services (DHSS) is in the process of issuing 192 medical cannabis dispensary licenses. The final list was published on the DHSS website Jan. 24.
The licenses were divided evenly among the state's eight congressional districts, as required by law, which means that the state could issue more, but officials first want to see if the minimum number can meet patient demand. DHSS aims to launch medical cannabis sales this spring. Already, the state has issued ~25,000 medical cannabis cards to patients enrolled in the program.
The state has issued 10 medical cannabis testing lab licenses, 60 cultivation licenses, and 86 manufacturing licenses.
Lawsuits are already starting for those that weren't awarded licenses. Several attorneys, lobbyists and applicants told the Kansas City Star about what they considered inconsistencies and irregularities in the scoring process used to award licenses. Administrative appeals and lawsuits are starting to pile up — the health department last week solicited bids from attorneys who could help defend the state in legal action. Seems like there might be a case for improper scoring as GTI and Cresco didn't received licenses (usually perform well), but Harvest Health, Grassroots (Curaleft) and Columbia Care did.
Grassroots (Curaleaf) won 6 separate dispensary licenses, and now possess the rights to operate dispensaries situated in Ballwin, Independence, Blue Springs, Branson, Springfield, and Joplin. The company was also awarded a product manufacturing license in Clinton.
Columbia Care was denied for cultivation, but awarded a product manufacturing license in Jefferson City, also won a license that enables them to operate a medical dispensary in the city of Washington.
Harvest Health & Recreation was awarded three dispensary licenses in the towns of Lake St. Louis, Raymore, and West Plains. Additionally, Verano - who signed a deal to be acquired by Harvest back in April 2019 - won a license in Kansas City. Harvest has also earned the designation of being the only vertically integrated public company in the state.
There's hopes for GTI though as they somehow received a winning score, but weren't granted a cultivation or dispensary license. So there's certainly hints of problems with the process.
The L.A. store is already operating under a different name in the Palms neighborhood of the city and should be changed over during this quarter. Additional construction is needed on the Vegas location before it's ready for customers, with an opening date likely in Q3 2020.
According to a company release, the stores "will carry High Times logo memorabilia, and other licensed products of the company, as well as an array of cannabis products from some of the top cannabis brands in the respective states and will include an area dedicated to Cannabis Cup award-winning brands."
The Company said the franchising process will probably take another year to build out, as they bring in specialists who know that business structure and its unique legal and marketing requirements intimately.
MediPharm Labs suing HEXO after alleging the pot producer failed to pay for millions of dollars' worth of cannabis oil over a supply deal signed last year, the marijuana extraction company said in a court filing.
The supply deal was first signed between MediPharm and Newstrike Brands Inc.'s UP Cannabis brand in Feb. 2018. Hexo acquired Newstrike in an all-stock deal worth ~$260M last March.
HEXO was quick to point out that they are not broke. The non-payment is related to HEXO disputing the terms of the agreement. As such, according to HEXO management, it has no relation to the Company's liquidity.
AltaCorp Capital estimates that HEXO had an estimated capital position of $158M in early January, including potential proceeds from options and warrants that are exercisable and in-the-money (ITM), and the pro-rated cash generated and burned up to that date.
What are California's cannabis tax rates?
Prop 64 called for several layers of taxes:
There's a 15% state excise tax on retail sales.

The proposition introduced a cultivation tax of $9.25 per ounce (later raised to $9.65).

In addition, there's the state sales tax of 7.25% on all retail items including cannabis, plus an automatic local sales tax of up to 1%.

Lastly, there are brutal local cannabis business taxes, which can run from 0% all the way up to 15% in some cities; it depends on which one. Oakland is 10%. San Francisco has no local cannabis excise tax.
California's cannabis taxes rank in the middle of the pack for legalization states, according to the Legislative Analyst's Office.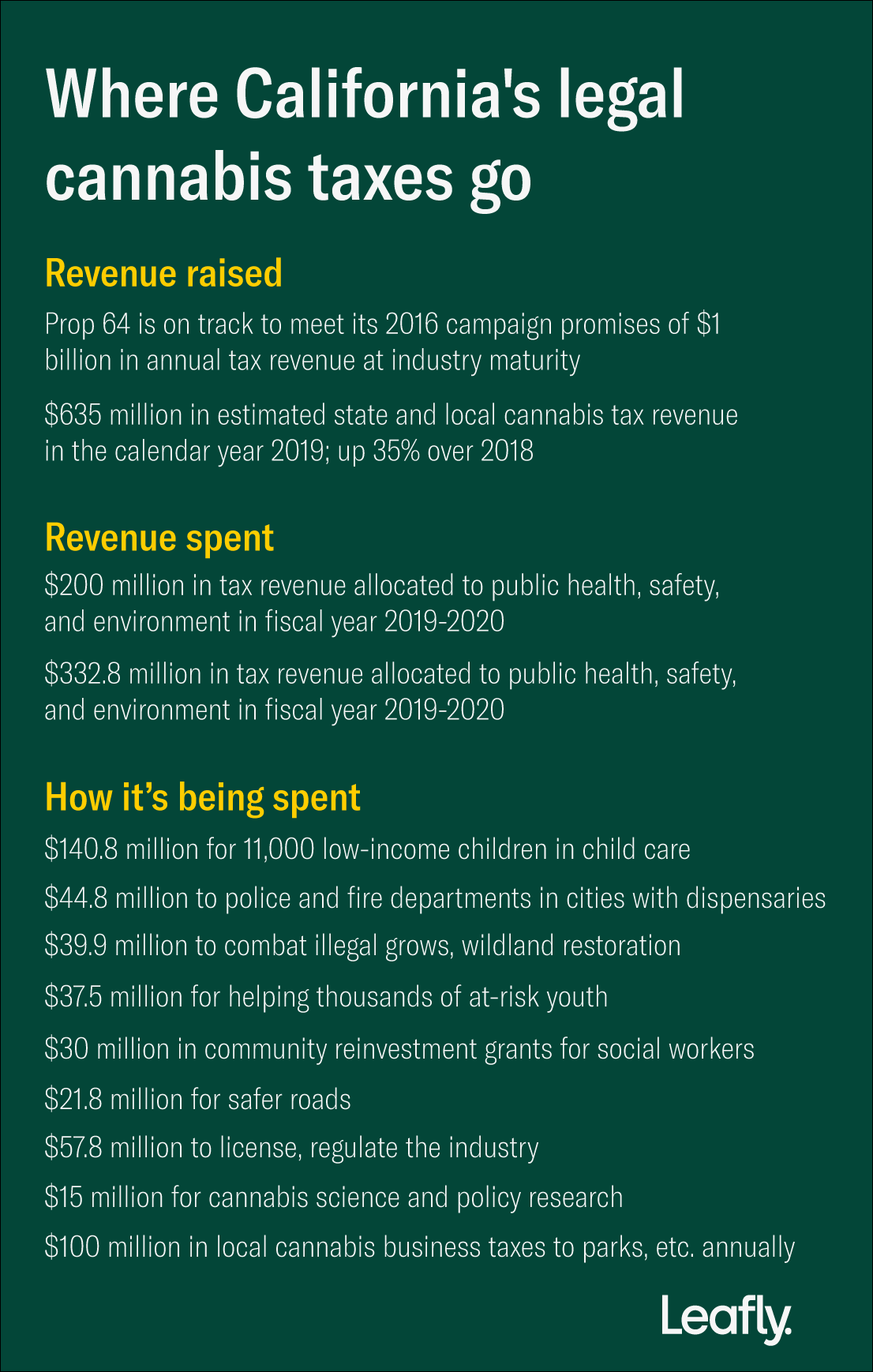 Michigan regulators recalled 9,380 vaping cartridges containing vitamin E acetate sold by a licensed medical marijuana dispensary in Detroit. The cartridges recalled were manufactured before Plan B Wellness obtained its medical marijuana license.
Evolve ETFs announced that it will close its Evolve Marijuana Fund (TSX: SEED) next month. The Evolve Marijuana Fund listed in February 2018 and has just C$6M in assets. It tried to differentiate itself by being actively managed and by having the ability to invest up to 10% of its portfolio in private companies. In 2019, the ETF returned (34.06%), which trailed the North American Marijuana Index, which returned (31.51%). Over the past month, it averaged just 2982 shares of trading per day. The fund had 31 holdings at year-end, and its top 10 holdings included nine Canadian LPs and a U.S. CBD company.
Oregon cannabis stores sold $793M in products to consumers in 2019, generating more than $110M in tax revenue for state and county, according to an analysis of Oregon Liquor Control Commission data.
That's close to $150M more in sales than 2018. By next year, totals are expected to climb to nearly $1B. The growth (though not likely ~$200M worth) is expected to come from the legal market converting consumers from the illicit market 
Sales of adult-use cannabis in Colorado eclipsed $1.4B in 2019, a record for the state that likely was propelled by new customers entering the market. Recreational marijuana sales were up 16% in 2019, marking the first time that sales growth accelerated from year to year in any adult-use cannabis market, not just Colorado's.
~5%of Oklahoma's ~4M residents has a medical marijuana license, a rate of participation that far exceeds that of other states due to the ease of obtaining a medical card and the large number of dispensaries, as detailed below. Oklahoma's Medical Marijuana Authority has approved an average of 3,500 patient applications since the program began accepting them in August 2018. As of Jan. 20, the Authority reported having approved the following licenses:
Oklahoma is #2 in the nation with 15.6 cannabis dispensaries per 100,000 residents, second only to Oregon, according to Verilife. There are few barriers to entry. Nearly anyone with $2,500 for a license can open a dispensary and every form of cannabis can be sold: from raw flower to topical creams, oils and gels to vaporization and patches.
Retail sales reached more than $345M last year, and state tax revenue was $55M, according to the Oklahoma Tax Commission. The state assesses a 7% excise tax on medical marijuana, in addition to state and local sales taxes.
Arizonans spent more than half a billion dollars on medical marijuana in 2019. ~220,000 medical marijuana patients were in the state's program as of December, purchasing almost 83 tons last year, according to a year-end report from the Arizona Department of Health Services. The increase in total weight was 36% higher than the 61 tons bought in 2018, while the number of patients increased 18% Y/Y.
Most of the marijuana purchased was in dry flower form, accounting for 75 tons, but patients also bought ~6,000 pounds of marijuana edibles and 9,226 pounds of other forms of concentrated marijuana.
The statewide sales volume figure is worth ~$580M, using a conservative estimate of marijuana selling for an average of $3,500/pound. Some dispensaries sell high-end marijuana for more than $300/ounce, or ~$5,000/pound. A report showed Arizona dispensaries in 2018 estimated the average retail price at ~$4,800/pound, though that price was expected to decline as producers increased efficiency.
---
💵
Deals
TerrAscend terminated of the Securities Purchase Agreement to acquired Gravitas Nevada, a vertically-integrated business engaged in the cultivation, processing, packaging and dispensing of cannabis and cannabis related products in Nevada. Gravitas operates a retail cannabis dispensary in Las Vegas, Nevada under the name "The Apothecarium." The transaction, for $33.5M in cash and 625,000 common shares of the Company, was originally announced on February 11, 2019.
Pursuant to the terms of the Agreement, TerrAscend has paid a $3M reverse termination fee to the sellers, which had been placed in escrow in June of 2019. As part of the termination, the Company is no longer liable for the remaining $30.M and 625,000 common shares of the Company. TerrAscend has agreed to continue licensing The Apothecarium, State Flower and Valhalla names and related intellectual property to Gravitas and its related operations in Nevada, pursuant to such final terms as will be mutually agreed by the parties.
Aphria said the investor has agreed to purchase 14M units of the company priced at $7.12. Each unit includes one common share and half of one common share warrant, entitling the holder to purchase a share at $9.26 for 24 months after the closing date. The company said the investment strengthens its cash position to ~$600M. The offering is expected to close on or about Jan. 31, and is subject to regulatory approval. If approved, the institution behind the investment would become the company's biggest institutional shareholder. 
Innovative Industrial Properties (NYSE: IIPR) priced 2,967,799 shares of its common stock at $73.25 per share for gross proceeds of ~$217.4M. BTIG acted as sole book-running manager for the offering; Compass Point Research & Trading and Ladenburg Thalmann acted as co-lead managers for the offering, and Roth Capital Partners acted as a co-manager for the offering.
The purchase price for the property was ~$10.6M in total (excluding transaction costs). Concurrent with the closing of the purchase, IIP entered into a long-term, triple-net lease agreement for the property with a wholly owned subsidiary of Cresco, which intends to continue to operate the property as a regulated cannabis cultivation and processing facility. Cresco is expected to complete additional tenant improvements for the property, for which IIP has agreed to provide reimbursement of up to ~$1.9M. Assuming full reimbursement for the tenant improvements, IIP's total investment in the property will be ~$12.5M.
This sale-leaseback transaction mark IIP's third acquisition and lease with Cresco, with prior IIP acquisitions and leases for two of Cresco's licensed cannabis cultivation and processing facilities in Illinois.
Los Angeles-based Cann, the first cannabis-infused social tonic, announced a $5M seed funding round, co-led by Imaginary and JM10 Partners, to accelerate the growth of the product across California and to new states in 2020. The round has been done for several months now but the Company recently decided to announce it.
---
🧔
People
Cronos revealed that COO David Hsu and Chief Commercial Officer William Hilson have both resigned from the company.
Judy Schmeling has been serving on the Canopy Growth Board of Directors since November 2018 and is chair of the Audit Committee. She currently serves on the Board of Directors of Constellation Brands and Casey's General Stores. She is the former COO of HSN and former President of HSN's Cornerstone Brands.
Jim Sabia currently serves as EVP and CMO, Constellation Brands. Prior to joining Constellation in 2007, he served as VP of Marketing and Media at Molson Coors Brewing Company.
Jason Ackerman, Executive Chairman of the Company, has been named interim CEO, replacing Michael Nashat, who will continue to serve as a member of the Company's Board of Directors and act as a strategic advisor to the Company. As a Co-founder and leader of TerrAscend since its inception, Nashat is stepping down as the Company expands its U.S. footprint. Michael and the Company's Board have agreed that a U.S.-based leadership and operations team is necessary to align the Company's efforts and resources across the rapidly expanding U.S. market
Lisa Capparelli brings marketing and communication strategies from beauty companies including Coty, L'Oréal and Revlon. Mark Baynes has over 30 years of experience from Nestle, Kraft, Kellogg's, and Keurig.
---
🏬
New Store Openings / Product Launches
Kiva (Camino) launches CBN gummies
CBN is a prevalent cannabinoid (similar to CBD) that has been linked with restful effects. Each gummy will have 1mg of CBN and 5mg of THC. The gummy's blend of cannabinoid and terpenes, along with hints of chamomile and lavender oils will help encourage a good night's sleep.
The Camino family keeps on growing! We're excited to introduce Freshly Squeezed (Recover), Midnight Blueberry (Sleep), and Wild Cherry (Excite), each with a unique new effect, flavor, and terpene profile to tailor your edible experience like never before.
#MadebyKiva
#KivaConfections
Higher Standards, the luxury lifestyle brand for an elevated smoking experience, opened its unique concept shop in Malibu, CA (it's third location). The Higher Standards retail attempts to provide a premium smoking experience and lifestyle brand centered around the growing cannabis culture.
Planet 13 announced its first cannabis shop-in-shop, an independent retailer within the SuperStore dispensary. Dosist's shop-in-shop, called the dosist Wellness Experience will occupy space within the Planet 13 SuperStore dispensary and will be staffed by dosist™️ employees known as Guides. The dosist wellness experience will act as a sales and education platform, introducing the brand's dose-controlled cannabis therapy to the over a million annual visitors,
The new dispensary will mark the sixth location for THRIVE, the state's largest independently owned cannabis retailer, and will be the company's first dispensary in Elko County.
Three permanent equity permits have been issued, to Eureka Sky, Berner's on Haight and the California Street Cannabis Company, according to the Office of Cannabis' website.
---
🤷‍♂️
Somewhat Relevant
FTC probes shelf-space impact a year after Marlboro maker sought a 35% stake in e-cigarette firm. Until the review is complete, Altria can't convert its nonvoting shares to voting shares, appoint representatives to Juul's board or count Juul's earnings toward its own earnings. Big tobacco companies traditionally haven't paid retailers for shelf space for their cigarettes. But Reynolds American Inc., the second-largest U.S. tobacco company, began paying retailers in 2013 to secure shelf space for its Vuse e-cigarettes. As the e-cigarette market boomed with competitors vying for space, Altria followed, spending about $100 million on the effort in 2018, people familiar with the matter said. Altria offered retailers cash and display fixtures in exchange for a commitment that its e-cigarettes would occupy prime shelf space for at least two years.
The company pointed to the fact that its headphones, speakers, and other products "are increasingly purchased through e-commerce" as the reasoning. 
Clothing retailer plans to shutter ~100 of its stores by 2022, as part of its strategy to save $80M in annual costs over the next three years. The company also announced a restructuring of its workforce, which it says will impact roughly 10% of the jobs at Express' headquarters in Columbus, Ohio, and a design studio in New York. Express currently operates more than 600 stores, including factory outlet locations, in the U.S. and Puerto Rico. The closures will reduce sales by $90M by 2022, but it will lower costs and help boost its EBITDA by $15M.
---
Who writes this newsletter? ➡️ Dai Truong