Discover more from Highly Objective
Cannabis industry news, insights, and analysis
Over 2,000 subscribers
📈Have Cannabis stocks bottomed out?
⬆️Aurora stock up 69% after beating estimates. ⬆️GTI stock up 15% after reaching $100M revenue quarter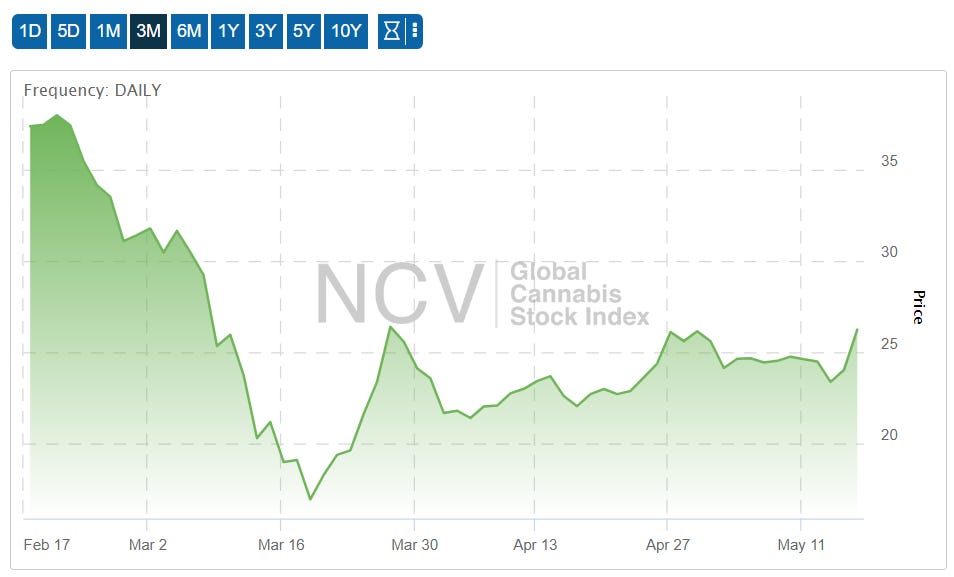 Using the New Cannabis Ventures Global Cannabis Stock Index as a proxy (good, but not great), Cannabis stocks are up 6.0% for the week and up 54.8% from the March 18th lows. Two of the more promising stocks this past week was Aurora and GTI. Aurora was up 69% Friday after reporting much better than expected revenue. After reporting two consecutive quarters of declining adult use sales, the Company saw its revenues increase due to the launch of Daily Special, increased penetration into Cannabis 2.0 SKUs, and lower sales returns. GTI became the first Cannabis Company (Canadian LP or MSO) to post a $100M quarter, showing strength in GM (51.6%) and Adjusted EBITDA ($25.5M), trading up 15% Friday after showing separation from other MSOs on a revenue basis.
As seen this past week, I think we'll continue to be a separation of the winners/losers in the space based on:
Revenue / Revenue Scale

Margins (GM and EBITDA)

Balance Sheet Strength (strong cash position, ability to raise at favorable terms)

Execution / Control over CapEx spend (reasonable / predictable amount)
---
🌿
Industry
Net revenue of $78.4M, excluding provisions of $2.9M, up 18% Q/Q

Consumer cannabis net revenue of $41.5M, excluding provisions, up 24% Q/Q

Cash cost to produce per gram of dried cannabis sold at $0.85, down from $0.88 in Q2 2020

Operational reset on track to deliver the Company's commitment to positive Adjusted EBITDA in Q1 2021 with significant improvement in SG&A run rate

Improved cash position of $230.2M; $154.6M in Q3 cash use represents a 43% decrease Q/Q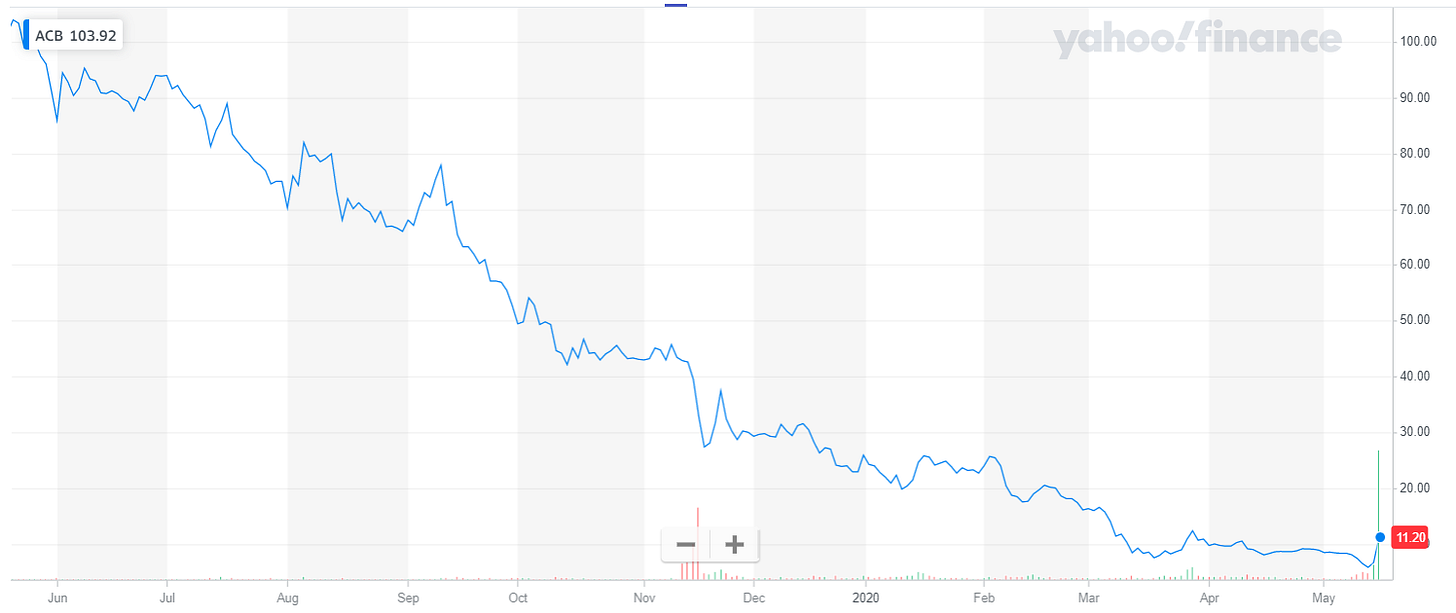 The Stock is still down 90% from its highs a year ago ($106.68) and down 56% from its YTD high on 2/4/20 ($25.68).
Revenue: Total revenue for the first quarter 2020 increased 267.6% Y/Y and 35.4% Q/Q to $102.6M. Quarterly revenue was driven by organic growth across the Company's consumer packaged goods and retail businesses

Gross Margin: Gross margin for the first quarter 2020 was 51.6% as compared to 45.8% for the first quarter 2019

Net Income (Loss) Attributable to Green Thumb: Net loss attributable to the Company for the first quarter 2020 was $4.2M or ($0.02) per basic and diluted share, as compared to a net loss of $14.1M or ($0.07) per basic and diluted share for the fourth quarter 2019

Adjusted Operating EBITDA: Adjusted Operating EBITDA was $25.5M for the first quarter 2020, representing an 85% increase Q/Q and a 13-fold increase from the first quarter 2019

Balance Sheet: As of March 31, 2020, current assets totaled $140.8M and included cash and cash equivalents of $71.5M. Total debt outstanding was $92.9M, $0.2M of which is due within 12 months

Capital Markets & Financing: In January and March 2020, respectively, GTI completed sale and leaseback transactions with IIP of its Toledo, Ohio processing facility and Oglesby, Illinois cultivation and processing facility. In total, these transactions provide the Company with $57.2M of non-dilutive capital
California's three licensing authorities will all begin immediately deferring business license renewal fees for marijuana companies as part of the state's coronavirus response, the agencies said in a joint news release. The California Bureau of Cannabis Control and the departments of Food and Agriculture and Public Health said licensed marijuana businesses whose permits expire between May 14 and June 30 can request that their license fees be deferred for up to 60 days.
Oklahoma collected $9.8M in medical cannabis tax revenue in April, up from a record of $7.8M in March, according to The Oklahoman. The Oklahoma Tax Commission's figures include traditional sales taxes and a 7% medical cannabis tax. Oklahomans spent ~$61.4M on medical cannabis in April, which is ~$217/patient.
Harvest CEO Steve White told MJBizDaily that selling 13 California retail outlets to High Times fit a strategic plan he put together for Harvest, and he denied that the goal was to flip the properties. "That wasn't the intent, " White said, adding that Harvest's March purchase of ICG "came with a lot of things," including a capital raise and multiple experienced staffers who have backgrounds working in capital markets. Those assets, he said, will be "critical" to Harvest's long-term plan. And, White noted, the California assets purchased from ICG were not the same package of shops sold to High Times. Harvest also retains multiple retail shops in California, White said, and will be actively pursuing more. He said the aim of the High Times deal was to divest from at least part of California in order to invest more resources into developing the company's footprint in other states where Harvest is more bullish.
Florida medical marijuana juggernaut Trulieve has defied expert predictions, increasing its market share back above 50% a year after the state lifted its ban on smokable products and more competition flooded the market. The gains come at a time when demand is strong, despite economic fallout from the COVID-19 pandemic: Smokable flower sales alone have spiked by 30% in the past two months, according to state data. Industry experts said Trulieve's market share gains might reflect the depth of cash-flow issues experience by other multistate operators or their inability to invest in the cultivation, processing and retail facilities needed to meet the additional demand.
The coronavirus – combined with an increase in new patient demand – has convinced Utah regulators to allow the state's medical marijuana pharmacies to offer drive-thru windows and home delivery for customers. So far, at least two of the state's three operational dispensaries are prepping drive-thru windows, according to Salt Lake TV station KUTV. Drive-thru service has become a growing trend in many U.S. marijuana markets during the coronavirus pandemic, as retailers have looked for ways to maintain physical distancing while serving customers. Since Utah launched medical marijuana sales in March, the number of registered patients has increased steadily by 300-400 per week and currently sits at around 3,500 total. The state is projecting there will be roughly 10,000 registered MMJ patients by the end of the year.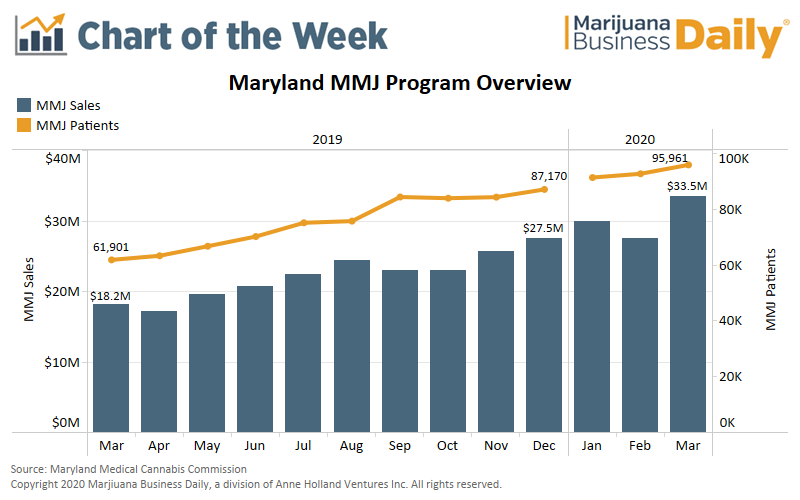 Maryland's medical cannabis market remains one of the strongest in the United States, with the robust sales and patient increases of 2019 persisting into a tumultuous 2020. Sales in Maryland hit $252 million in 2019, up from $109 million in 2018. Through March 2020, medical marijuana sales in the state eclipsed $91 million, an increase of 86% from the first three months of 2019. While information for April 2020 is not yet available, March data indicates that sales have shown no signs of slowing even amid the coronavirus pandemic. Average per-patient sales in March 2020 was just shy of $350, the highest figure in the program's history. While demand doesn't appear to be diminishing, it remains to be seen whether the state's supply chain will hold up, as growers and processors throughout Maryland struggle to safely staff their businesses and boost production. Patient counts increased by nearly 34,000 – 55% – from March 2019 to March 2020.
The state has seen more than $7 million in recreational marijuana sales since the week beginning April 13, the Marijuana Regulatory Agency said Tuesday. The state saw a limited start to recreational marijuana sales as it began issuing licenses on Dec. 1 with total weekly sales starting at about $1.6 million and steadily increasing to a high of $5.77 million between March 16-22. Then sales dipped below $5 million per week until April 13-19, when sales went up to $7.2 million. Since then, weekly sales have remained above $7 million. From May 4-10, the state saw $7.9 million in recreational sales. In total since Dec. 1, the state has done $91.59 million in recreational marijuana sales and saw $15.2 million in combined excise and sales tax revenue.
The company was founded in 2017 by brothers from suburban Detroit — Ross Lipson, 33, and Zach Lipson, 35. Together, they run one of the largest online delivery platforms in the cannabis industry. Today, Dutchie works with over 1,100 dispensaries in 24 U.S. states and Canada, serving over 50,000 orders a day. It processes over $2.2 billion in annual sales and has 72 employees that work from its headquarters in Bend, Oregon.
The coronavirus pandemic has scuttled government efforts in Washington state to require pesticide testing for recreational marijuana, dealing a setback to an idea that has been kicked around for several years by local industry officials and regulators. The pandemic has made it impossible for state lawmakers to conduct public hearings, so the issue has again been tabled until further notice. Some cannabis companies have taken matters into their own hands, however, and are testing their products – a development that is rare elsewhere in the marijuana industry.
---
💵
Deals
GrowFlow, the Los Angeles-based SaaS company providing software to businesses in the cannabis and hemp industry, has today announced the closing of $8.4M in growth financing led by software-focused growth equity fund TVC Capital. Bull & Bear Fund and two individual angel investors also joined this round. GrowFlow offers compliance, inventory management, point of sale, analytics and sales software to cannabis and hemp businesses. This round of funding will be used to fuel the company's continued sales and marketing efforts, to accelerate product development, and to create the company's new content production arm. Jeb Spencer, TVC's co-founder and managing partner, as well as TVC vice president Ryan McMorrow, will join the company's board of directors.
CapStone is one of the largest investors in Curaleaf's recent $300M senior loan facility. "Curaleaf has quickly become a leader in a $16 billion industry through thoughtful acquisitions, licensing, product development and expansion of retail dispensaries into new markets across the country. Curaleaf is well-positioned for continued growth and expansion across the U.S." said CapStone Holdings Chairman & Founder Keith J. Stone.
The purchase price for the property was $17.5M (excluding transaction costs) for ~70,000 square feet of industrial space. Concurrent with the closing of the purchase, IIP entered into a long-term, triple-net lease at the property with Kings Garden Inc., for continued operation as a licensed cannabis cultivation, manufacturing and distribution facility. Including this property, IIP leases five properties to Kings Garden, which includes the four-property industrial portfolio comprising an aggregate of ~102,000 square feet that IIP acquired in April of last year in southern California.
Underwriters have agreed to purchase 20,000,000 units of the Company at a price per Unit of $0.65 for gross proceeds of $13,000,000. Each Unit will be comprised of one common share in the capital of the Company and one-half of one common share purchase warrant. Each Warrant shall entitle the holder thereof to purchase one Common Share at an exercise price of $0.80, for a period of 36 months following the closing of the Offering.
Power REIT (NYSE-AMEX: PW) acquired a 3 acre property in York County, Maine for $1,000,000 through a newly formed wholly owned subsidiary. (PropCo) The property includes a 32,800 square-foot greenhouse and 2,800 square foot processing/distribution building that are both under active construction. Simultaneous with the acquisition, PropCo entered into a lease with an operator (Sweet Dirt) that is licensed for medical cannabis cultivation, processing and distribution at the property (Tenant). As part of the acquisition, PropCo will reimburse Tenant for $950,000 of the ~$1.5M Sweet Dirt has incurred to date related to the construction and will fund up to ~$3M of costs to complete the construction. Accordingly, Power REIT's total investment in the property is ~$5M which translates to ~$138/square foot for a state of the art Controlled Environment Agriculture Greenhouse (CEAG). The lease is structured to provide straight-line annual rent of ~$920,000, representing an estimated yield of over 18.5% with the tenant responsible for all operating expenses. Upon completion of the construction, which is targeted for November 2020, the CEAG is expected to the be largest cannabis greenhouse cultivation facility in the state of Maine. In addition, Power REIT received an option to acquire an adjacent 3 vacant parcel that is owned by Tenant for $400,000 which provides Power REIT the option to finance additional cultivation space for Sweet Dirt.
The Company has closed a raise of ~$5.8M in a private placement of convertible debt led by Navy Capital. The financing was upsized from the previously announced commitments for $4M, with the incremental capital coming mostly from existing shareholders.
Sundial announce it has reached an agreement to sell its U.K. asset, Bridge Farm Group to a consortia of private investors that includes former management of Bridge Farm for a total consideration of ~$90M. As consideration for the Bridge Farm Disposition, the Purchaser will (i) assume $45M of debt under Sundial's existing $115M term debt facility, (ii) assume the contingent consideration liabilities related to the remaining earn-out and additional share obligations under the original Bridge Farm acquisition agreement, dated as of July 2, 2019, and (iii) cancel ~2,700,000 of Sundial common shares currently held by certain members of the Purchaser. Sundial will not receive any cash consideration in connection with the transaction.
---
🧔
People
Two of Canopy Growth's top executives have departed the company. Dave Bigioni, chief commercial officer of recreational cannabis, left the Canadian cannabis producer, along with Chief Operating Officer Andre Fernandez. Bigioni, who previously served as vice president of marketing and sales at Molson Coors Canada, oversaw a team of roughly 300 people at Canopy "between brand marketing & innovation, events, digital marketing, learning & development, consumer insights & analytics, sales and creative," according to his now-deleted biography on the company's website. Fernandez joined the company in 2016 and rose to COO, a role in which he was responsible for creating and executing Canopy's operational strategy.
---
🏬
New Store Openings
This will also be the first new Essence location since the latest round of license awards. In addition to its retail business in Nevada, GTI owns three wholesale manufacturing sites in Nevada where it makes its branded products including Cannabiotix, Desert Grown Farms, Dogwalkers, incredibles and Rythm. GTI also has licenses to open seven more retail stores in the state.
On Monday, May 11, 2020 at 9:00 a.m., BEYOND / HELLO™ Bloomington-Normal began serving adult-use customers through Jushi's newly launched online shopping experience at www.beyond-hello.com and over-the-phone orders for in-store pickup. The store was previously The Green Solution.
Native Roots is opening two stores - 1155 South Colorado Boulevard and 500 Grant Street; they're the 19th and 29th Native Roots dispensaries in Colorado.
Officially opening on May 15, 2020, this special location marks the ninth store opening for Cookies since 2018. Store located at 811 W. Main Street and open daily from 9AM - 9PM.
The store opening follows the company's recent acquisition of a flagship location in Niagara Falls, Ontario, and is the first of six stores planned for B.C.
---
🤷‍♂️
Somewhat Relevant
Fundraising is an essential part of a founder's journey. Managing Partner John Vrionis and Unusual Founders break down the complicated process of raising venture capital and insights on what it takes to fundraise from top-tier investors.
Private equity firms have been involved in fashion for decades, drawn by mature, cash-generating businesses that were often run by founders or families that could be shaken up and streamlined — think Gucci, Bally, Valentino, Jimmy Choo and Moncler. Fashions change, and for retailers that struggle to keep up with style trends and shifts in the industry, spending large sums on dividends, fees and interest payments gives them less wiggle room to react.
---
Who writes this newsletter? ➡️ Dai Truong