Discover more from Highly Objective
Cannabis industry news, insights, and analysis
Over 2,000 subscribers
💰Hoarding Cash. 🏬Opening More Stores.
Trulieve fraud allegations. GGB terminates Moxie deal. MedMen layoffs, round 2. Beleave CEO quits via Twitter.
I try to send these newsletters weekly but was waiting on the big news from MedMen last week. The Company laid off ~50 employees last Monday but didn't announce the news until Thursday (which I sent same day since it was timely - going to start doing this for meaningful industry news). I was in Vegas for MJBizCon when the announcement was released this year and was also there last year when the Canaccord/Bought Deal re-pricing ($120M to $75M) happened. I'm not sure if this is a coincidence or if MJBizCon (~31.5K attended, and likely more (like me) who just took meetings around the conference) is a good time to release bad news and hope most people aren't paying attention (holidays are another good time for bad news). The Company's stock had a nice rally the three days after, before giving most of it back the past two days.
Back to MJBizCon thoughts - I stayed away from the convention center as I still believe that's more meaningful for buyers (mostly equipment) and people still relatively new to the industry. I spent my week mostly catching up with friends (investors, brands, dispensaries), checking up on the dispensaries near the strip (and one that my Uber driver referred to as "stick land" given all the utility poles out there), meeting with bankers, and networking events. Some thoughts on how I would do this next year:
Spend most of my time at Wynn / Encore (wasted a lot of time bouncing between those two and The Cosmopolitan)

Keep transactional meetings to 30 minutes (vs. broader intro meetings)

Dinners > events

Don't pack the schedule too much (max: 5 hours of meetings/day) 
If I missed anything while at MJBizCon that I shouldn't have - let me know!
Also if you somehow haven't seen this Mandolorian / Ringer mashup (I'm two episodes behind)..this time with Hamilton (enjoy). I've probably viewed this 50+ times already.
---
🌿Industry
From what I've seen in the Florida market, limited supply of quality flower is a problem across the state so might not be fraud there so much as just bad products. The undisclosed affiliated party transaction, including CEO control of a lender is the larger red flag..after her husband being invested by the FBI of course. The report wasn't well written and Gizzly doesn't have much of a track record, so the truth is probably somewhere in the middle (Trulieve has outperformed competitors but probably doesn't have the tightest hold on it's lead position with well-funded MSOs also trying to compete in FL).
The Company quickly fired back, releasing a statement same day and then extended lock-up restrictions for owners of ~15% of voting shares of the Company (11,205,960 subordinate voting shares of the Company (on an as-converted basis).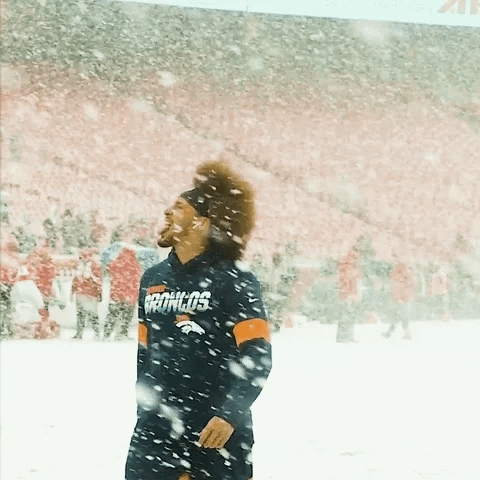 GGB is continuing with its aggressive growth strategy in both the MSO and CBD businesses. The MSO business now includes a 47 dispensary rollout in three key states, and the Company will continue its expansion in this line of business, opening its remaining 45 dispensaries with the same speed and energy it dedicated to its North American CBD network.
"As the market evolves, the attractiveness of our know-how, genetics and premium quality products in multiple states presents many opportunities as we actively grow our business and strengthen our relationships with cannabis industry leaders," said Jordan Lams, Moxie's CEO.
There is no break fee to be paid in connection with this termination. Green Growth Brands has agreed to repay the advance of $5M by January 31, 2020 and to reimburse Moxie $4M in deal fees on or before July 1, 2020, with both payments to be made in cash.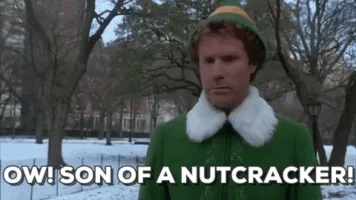 A month ago, the company said that it planned to lay off 190 workers, including 20% of corporate staff, in another layoff announcement last Wednesday, MedMen said it plans to lay off another ~20% of corporate staff to bring the total reduction to more than 40%.
MMEN received $10M in Tranche 3 funding from Gotham Green in late November, leaving the final Tranche of $115M outstanding. To further preserve its balance sheet, the company disclosed an agreement to extend the maturity of a $78M term loan from October 2020 to January 2022. Under the new terms, the interest rate will increase from 7.5% per annum to 15.5% and the existing warrants will be replaced with 40.5M warrants at an exercise price of $0.60 per share.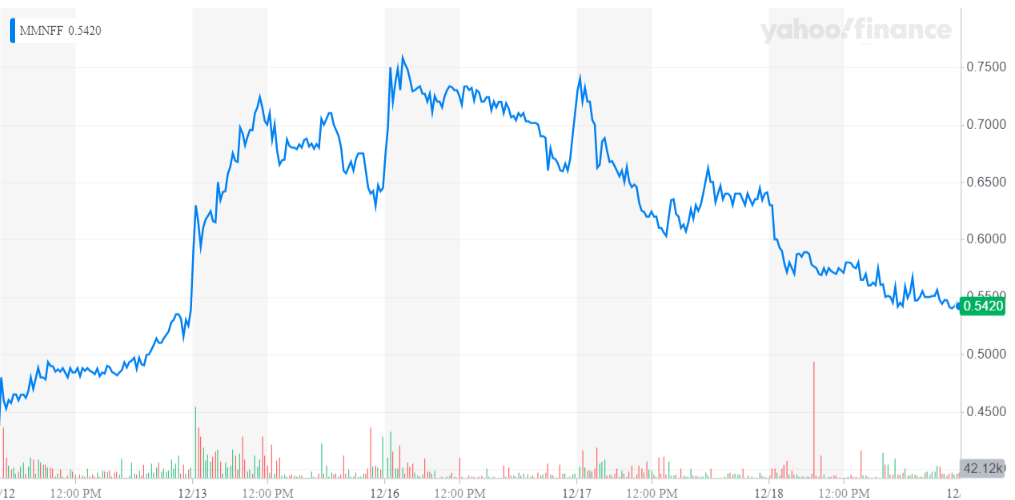 The stock saw a nice increase the following three days after announcement before giving most of it past the last two. Equity Guru seems to think that insiders/partners want to keep the stock at/above where the deal got priced (US$0.43/CAD$0.56) as the deal is expected to close today (12/18), otherwise it would get repriced or canceled.
After an extensive review of the major California cannabis distributors, PLUS determined that HERBL was best positioned to scale with and reliably deliver product to retailers at the lowest cost.
PLUS products are currently available in 360 licensed retailers in California

HERBL distributes to more than 600 licensed retailers in California

PLUS has an internal sales team of fifteen individuals who have been working closely with HERBL and retailers to make the transition a success
Investigators served search warrants at 24 unlicensed shops, seizing $8.8M in cannabis products and confiscating ~10,000 illegal vape pens and $129K cash.
From growers to distributors to consumers, this solution should reduce the entire industry's reliance on cash by providing a credit-card like transaction to all. More so, Wayv Payments is compliant with California's  stringent laws, allowing companies to redirect capital from compliance management. This is the latest project from Wayv, which launched its distribution product a few months back. Wayv is working with Hypur on this project. Wayv Payments gives cannabis companies a line of credit that will allow the businesses to have predictability around payments without paying any payment fees. The solution provides customers with complete transparency around payments. The dashboard enables customers to see incoming and outgoing payments as well as computing taxes and fees.
Onfleet takes an in-depth look at the current industry landscape, challenges, and technology solutions the cannabis business needs to consider when launching a delivery service.
We used Onfleet at MedMen for optimized routing and manifests (and other dispensaries I've seen launching their own delivery operations have used Onfleet in some combo with POS (likely Treez) and Demand-gen Marketplace (Jane / Dutchie).
Individual companies will be allowed to own up to 75 retail stores by September 2021. The new rules will also allow legal cannabis producers to enter the retail market by opening shops on their premises.The primary issue of Supply has been resolved so the lottery is no longer necessary. 
Mayor Lori Lightfoot on Wednesday beat back an attempt by black aldermen to stall the start of recreational marijuana sales in Chicago for six months, setting the stage for the city's legal weed bonanza to start Jan. 1. Aldermen angered by the lack of minority ownership in the cannabis distribution and retail business on Tuesday advanced an ordinance to the full City Council floor to ban recreational sales in the city till July 1. The City Council voted 29-19 to defeat the proposal following an intense and often heated debate. The measure to delay Chicago's recreational marijuana sales till July narrowly (10-9) cleared panel of aldermen.
Only a few dozen dispensaries are expected to have recreational weed for sale when Illinois' prohibition on pot is lifted on Jan. 1. Thirty-seven of the state's 55 existing medical dispensaries have been awarded licenses to also start selling recreational cannabis at the start of 2020, including 10 of Chicago's 11 current medical shops. (That number is subject to change as the Illinois Department of Financial and Professional Regulation processes more applications.)
Jeanette VanderMarel announced her departure as CEO of Canadian cannabis producer Beleave after fewer than two months on the job…on twitter. Things are pretty bad if this is how the CEO decides to quit.
The trick is to try things. I promise you: Nobody knows what is going to work, so the winners are going to be the companies that build a process, a system and a culture for trying hundreds of bad ideas.
A Review of Cannabis in San Francisco following Adult-Use Legalization
Statistics Canada figures show Albertans bought $196M worth of cannabis from privately operated stores and a government-run website from October 2018 to September 2019, ~22 % of national sales of $908M in a province that makes up ~12%of Canada's population. The only province with bigger dollar sales was Ontario with $217M, but that came from a population more than three times that of Alberta.
Neil Hitchcock, CEO of Bermuda-based insurance broker Skyfront, estimates that the legal U.S. cannabis industry would pay about $1 billion in annual premiums were it insured to levels normal for other businesses. 
The initial applications the Office of Marijuana Policy is now accepting will be only the first step for prospective cannabis companies. Maine regulations have established a three-step licensing process; conditional licensure, local authorization, and active licensure. The Office of Marijuana Policy has estimated that the total process will take between 90 and 180 days. That timeline suggests that recreational sales will not be taking place in Maine until March at the earliest.
---
🧴CBD
The world's biggest brewer will kick off its push into cannabis-infused beverages with a lineup of flavored teas -- Lavender Chamomile, Vanilla Rooibos and Peach Ginger Green. The "Everie" teas will contain 98% pure cannabidiol, with only a trace (0.05 mg) of THC. They will be sold through Fluent Beverages, a joint venture between Anheuser-Busch InBev NV's Labatt Breweries of Canada and Tilray Inc.'s High Park Co.
The CBD-infused wellness and self-care products can be found in Urban Outfitters, Dillard's, The Hallmark Store, and Wegman's, and newsstands in hundreds of high traffic areas including rail stations, commuter terminals and airports.
Charlotte's Web Holdings Inc. and Infinite Product Co. have both been served with consumer class suits in California alleging that the products made by both companies violate FDA regulations and therefore violate California state law. According to allegations, the Charlotte's Web CBD products are labeled as dietary supplements, which according to the U.S. Food and Drug Administration (FDA), is not allowed.
---
💵Deals
Akerna Corp. (Nasdaq: KERN) has entered into a definitive agreement to acquire Canadian-based Ample Organics Inc. in a cash/stock transaction valued at up to $45M (CAD $60M). Ample Organics serves 70%+ of the Canadian market with its seed-to-sale platform and was recognized as the 19th fastest growing company in Canada by The Globe and Mail in 2019. Just last month, Ample Organics was selected to deliver the world's first national cannabis tracking platform in St. Vincent and The Grenadines in 2020. 
First sale-leaseback initiated by Columbia Care will close before year end 2019 and includes six of 15 properties. Inaugural program sets precedent for subsequent sale-leasebacks involving additional properties expected to be announced over the next several quarters. With $85M of cash on the balance sheet at end of 3Q 2019 and no debt, non-dilutive financings will materially enhance liquidity in advance of Columbia Care turning adjusted EBITDA positive in 2020.
Agreement further solidifies the Company's balance sheet – enables the continued expansion of Cresco's national footprint and its leading position in Illinois ahead of adult-use market launch.
The Company has entered into a binding term sheet with Maynbridge Capital Inc. for a senior secured first lien credit facility of up to $41.7M. The Facility will replace the proposed mortgage loan as well as the sale and leaseback of its Ancaster Energy Centre, which are no longer being pursued by the Company at this time.
---
🧔People
Bayern joins Curaleaf from INDUS Holdings, a vertically-integrated cannabis company, where he served as President since January 2019. Before INDUS, Joe served as CEO of the global beverage leader VOSS of Norway. Prior to this, Bayern spent 15 years playing an integral role in several large-scale business transformations, with achievements that include the creation of the $6B Dr. Pepper Snapple Group, and the transformation of Cadbury into a singularly focused confectionary leader.
---
🏬
New Store Openings
Cannabis drive-thrus are technically forbidden under state law. But there's a narrow exception for applications submitted prior to June 2018. That means dispensaries that didn't apply for a drive-thru before then can't create one. The Harborside location is a unique offering among the Coachella Valley's 40-some licensed dispensaries, one that is expected to draw heavy traffic from tourists coming to the Coachella Valley.
---
🤷‍♂️Somewhat Relevant
Such looks to be the case with Dolls Kill, an eight-year-old, San Francisco-based online boutique for "misfits" and "miss legits," that began selling platform shoes and other club-type clothing and has apparently grown like a weed, alongside the festivals that its customers attend, from Burning Man to Coachella. The company just raised $40M in Series B funding from Sequoia — which brings Dolls Kill's funding to roughly $60M — he said there was "no room" for earlier backers, including the consumer-focused venture firm Maveron.
I visited the store last year on a friend's recommendation that I must check it out..I don't get the hype but am not the target audience
Away's founders sold a vision of travel and inclusion, but former employees say it masked a toxic work environment. Away's new CEO was going to be second in command — until a toxic workplace story blew up making him the new CEO.
Over the course of 45 years, college sweethearts Andrew and Peggy Cherng have grown Panda Express from a single restaurant in a southern California mall to a 2,000-location empire around the world.
---
Who writes this newsletter? ➡️ Dai Truong  Please subscribe (top) if you find useful and share 🙏