Discover more from Highly Objective
Cannabis industry news, insights, and analysis
Over 3,000 subscribers
💢How Coronavirus is affecting Cannabis
⬆️ Increase in sales. 💰 Cash preservation. ☠️ Consolidation to happen sooner.
After San Francisco issued a "shelter-in-place" order and Los Angeles issued a "Safer at Home" (until April 19th as of now, so I expect savvy companies to really use this in marketing messaging) order calling for nonessential businesses to cease operations that require workers to be present in person, I thought I'd take a look at how this might be impacting businesses. Fortunately, dispensaries are considered an essential business.
Easier to buy Cannabis than toilet paper
Overall
The industry was already heading for a consolidation (or Companies going out-of-business) as publicly-traded companies were seeing challenges with hitting projections, higher than expected losses, and management changes. However, recent challenges will force consolidation to happen sooner as smaller companies with little room for errors are forced into shutting down much sooner given losses and an inability to find willing investors.
While sales have spiked in the past two weeks and Cannabis (along with other Vice categories) is recession proof, my guess is that a lack of discretionary income in the coming months from ongoing layoffs in the economy won't significantly change revenue (more so purchase timing shifting rather than an overall increase in consumption)
Supply-chains will be challenged as demand has picked up but distribution companies are still figuring out how to handle increased demands without increased headcount

Potential risks to manufacturing if employees start to test positive for Coronavirus

More layoffs coming

Stronger push for COD (cash on delivery)

Industry may benefit from a surge in new customers during these stressful times
Capital Markets
Access to capital was already tight for Cannabis companies before coronavirus and will only tighten as investors hold out for better deals. I caught up with an investor in several notable private companies earlier and he mentioned that he's focused on current investments (not making new ones) and even the companies that are at $60-70M run-rate revenue are having trouble fundraising. It would be prudent for companies to secure capital from any source possible at this point. This was likely already in the works prior to recent events but Indus picked up $2.3M from Geronimo Capital (ex-Acreage President George Allen's new fund) through a bridge loan and is looking to add up to $12.2M more.
It seems as if companies are starting to announce cash balances along with updates, as Planet 13 announced they have ~$16M of cash on hand along with their press release about expanding online orders and delivery services.
Retail
Business has certain picked up for retail. It seems as if people have been stocking up in preparation for spending a few weeks at home (and with family). Debby Goldsberry (Hi-Fidelity, Berkeley, CA) told me they closed Tuesday in order to revise procedures to meet social distancing requirements, and are now opened on a shortened schedule. The shortened day helps provide enough wiggle room for staff who need to take care of family, kids being home from school, and for employees calling out sick.
Glasshouse Farms (owns 4 dispensaries in CA) is trending 35%-40% higher than last week and sees this as an opportunity to switch their in-store customers to becoming regular delivery customers. At one of their stores (Pottery, Los Angeles, CA), they're only allowing five customers at any given time in the store to keep up with the 6 ft social distancing requirement. There has been a line outside the store and they had two record days last Friday and Monday.
Airfield Supply (San Jose, CA) reported seeing a 25% overall increase in sale.
Some have decided to close their doors entirely, Organic Alternatives (Fort Collins, CO) is temporarily shutting down operations until further notice. It's definitely a tough decision to shut down operations entirely, but margins are thin enough at some dispensaries that they can't afford to close doors.
Delivery
Dispensaries that haven't offered deliveries before are seizing the opportunities to do so now. Glasshouse Farm has started using two pre-owned Priuses this past week to deliver and are looking to add a few more vehicles in the coming weeks to the fleet.
Eaze saw its volume increase 38% on Monday over a typical Monday.
Airfield Supply (San Jose, CA) reported seeing a 100% increase in deliveries over a typical Friday.
Sweet Flower is seeing 400-500% increase in delivery volumes with spend up 40%.
Driven Deliveries reported seeing a 43% increase week-over-week.
Brands
Dae Lim (Sundae School) mentioned he's seeing both an increased in purchase frequency and Average Order Value (AOV), as well as dispensaries ordering more often (weekly). The challenge however, has been to ensure the safety of field sales representatives, which have moved to tech sales method by setting up sales meeting over zoom (and in-person as needed during off-peak hours).
Zach Rubin (Humboldt Farms) mentioned that they are prioritizing A/R collections and hoping to get more dispensaries on COD (cash on delivery) terms given the increase in sales and lack of product availability right now. Similar to other brands, they are dialing back brand ambassador events as that sales channel becomes more challenging with social distancing.
Nevada
Companies with exposure to Las Vegas who counts on tourism for revenue will decline dramatically given dependency on tourism for sales. As of March 18th, Nevada Governor has ordered a 30-day freeze on gambling. Planet 13 has been releasing average daily customers on a monthly basis, so I'll be interested to see how this will impact their numbers in March and April. Companies that operate outside of Las Vegas should see stable revenue or an increase in revenue. For example, 95% of C21's (Silver State Relief in Sparks, NV and Fernley, NV) retail customers are from in-state.
Other Coronavirus-related Cannabis news
NETA Brookline open for medical only, other marijuana dispensaries encourage online ordering amid COVID-19 outbreak
Michigan temporarily allowing curbside marijuana pickup amid coronavirus concerns
Amid Coronavirus, San Francisco, New York, Deem Marijuana Businesses "Essential"
Weed Back on Sale in Coffee Shops Even as Amsterdam Locks Down
Kris Krane's (4Front Ventures) take on how Coronavirus will affect Cannabis
Other News
In late 2018, MariMed (OTC: MRMD) announced a $30M investment into GenCanna Global, a Kentucky-based hemp company, to help it expand its processing facilities. The company revealed in an SEC Form NT 10-K that it has written off not only its investment in the company, which declared bankruptcy in February, but also an additional $33M related to its $29M receivables balance with GenCanna as well as $4M unearned revenue.
7,250,000 shares of its Class 2 common stock and, in lieu of Class 2 common stock, pre-funded warrants to purchase 11,750,000 shares of Class 2 common stock, and accompanying warrants to purchase 19,000,000 shares of its Class 2 common stock (or, for investors who so choose, pre-funded warrants to purchase shares of Class 2 common stock) at a price to the public of $4.76 per share and accompanying warrant (or $4.7599 per pre-funded warrant and accompanying warrant). 
Not a great deal for the Company as the stock has gotten pummeled (closed at $6.37 the day before announcing transaction) before trading up 56% today but helpful to have an extra $90.4M of cash to help the business navigate the Coronavirus crisis and thrive longer-term.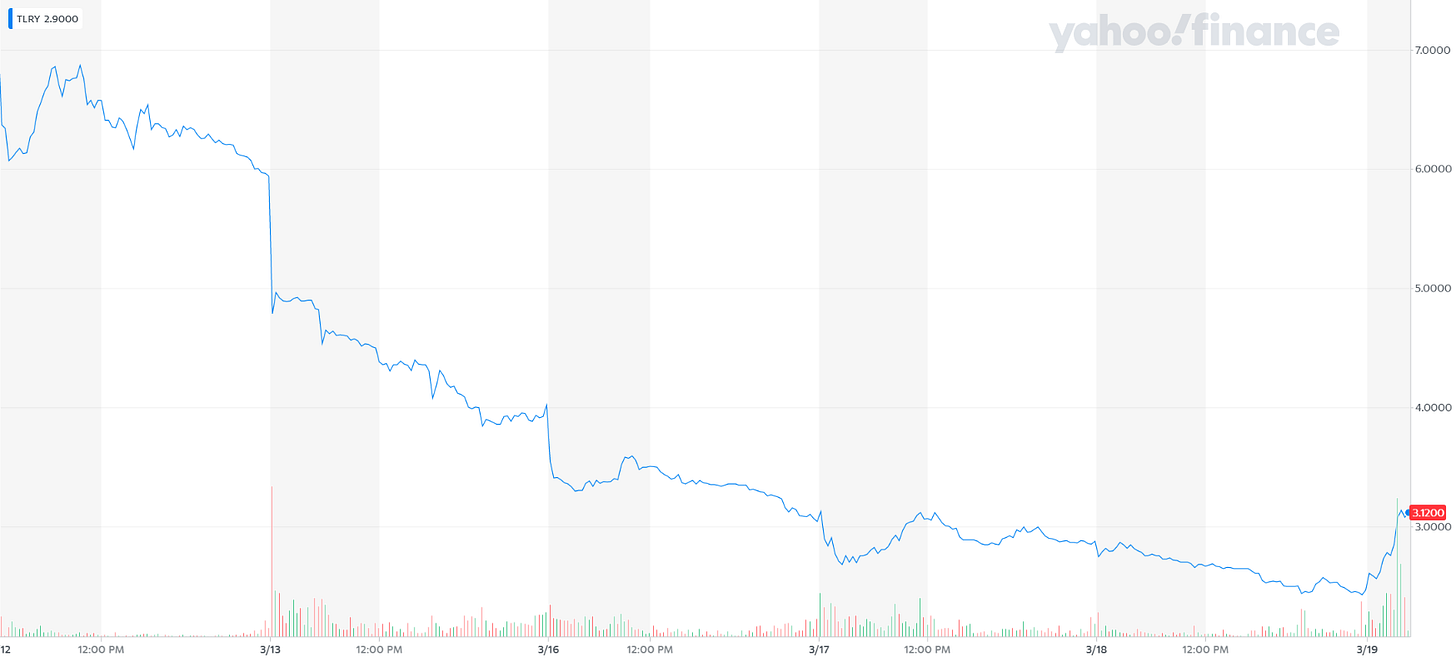 Marijuana business owners in the state report pounds of wholesale cannabis flower are selling for:
Premium-quality indoor-grown: $4,200 ($3,500 in 2019)

Average-quality indoor-grown :$3,800 ($2,800 in 2019)
An eighth of an ounce of recreational flower is selling for $60-$70 in Massachusetts stores.
People