Discover more from Highly Objective
Cannabis industry news, insights, and analysis
Over 2,000 subscribers
🏬LA to award 100 additional social equity dispensary licenses
PA recreational market prospects brighten. BDS State sales data for May. High Times stock offering paused. Verano raises debt @ 15.25%. Conception Nurseries raises $12M.
---
🌿
Industry
L.A.'s 100 extra retail marijuana permits a result of settlement. The Los Angeles City Council's decision to double the number of social equity retail marijuana licenses was the result of a court room settlement, according to a plaintiff in the lawsuit. Madison Shockley III, an actor turned entrepreneur, told Marijuana Business Daily that L.A.'s permit increase from 100 to 200 for a licensing round that took place last fall was the direct result of a lawsuit filed by Shockley and the Social Equity Owners and Workers Association. This is the latest example of litigation resulting in an increase in cannabis business permits. According to Shockley, the City Council agreed to increase the number of licenses as part of a settlement agreement under which the lawsuit will be dropped.
As Pennsylvania's medical cannabis sales soar, recreational market prospects brighten. Pennsylvania's medical cannabis market, praised for its smooth operation, is expected to nearly double to $400-$500M in sales this year and reach $1B in sales within three or four years. Buoyed by the market's success, current licensees have become acquisition targets even in the current tough economic climate – with deal prices moving north of $25M in some cases, experts say.
The strong market is due to several factors:
A strong, nimble state regulatory body – the Pennsylvania Department of Health

Good MMJ operators – people who know the business and work well with the regulators

A high barrier of entry because of a limited number of MMJ licenses under the state's licensing cap

Strong physician representation – 1,400 doctors have been approved

High patient numbers – 330,000 registered as of end of June, exceeding original projections

Bipartisan support in the Legislature. Lawmakers passed legislation that legalized medical cannabis by overwhelming margins in 2016
BDS Releases Sales Data for States.
Illinois—In May 2020, Cannabis sales in Illinois's medical and adult use channels totaled $77.9M, up 13% since April. 
Maryland—In May 2020, Cannabis sales in Maryland's medical dispensaries reached $38.6M, increasing by more than 13% from April. Compared to the previous May, sales in Maryland grew by nearly 98% as new operators have expanded access throughout the state. 
Arizona—In May 2020, cannabis sales in Arizona's medical dispensaries reached $93 million, growing seven percent from April.
California—May, 2020 marked a high-point in sales for California's regulated cannabis market, setting a new single-month record with $290.1 million in sales and representing 15 percent growth both from the trailing month and compared to May, 2019.
Colorado—May 2020 was a milestone for Colorado's regulated cannabis market. The $191.1 million in reported sales represent 28 percent growth from the trailing month and eclipsed sales from the prior May by 32 percent. 
Nevada—The reopening of in-store sales resulted in a significant uptick in commerce as combined sales for both adult-use and medical dispensaries reached $58.2 million, growing by 52 percent from the trailing month. Sales remain six percent lower compared to May 2019.
Oregon—In May 2020, Cannabis sales in Oregon's medical and adult-use dispensaries reached $103M. Compared to the trailing month, sales in the Oregon market grew by 15%. Compared to May 2019, sales grew by 87% overall. 
Shelf space at a premium as more brands enter cannabis space and retailers use pay-to-play practices. As more brands enter the marijuana products marketplace, competition for retail shelf space in key adult-use markets such as Colorado and Washington state is intensifying. This has fostered a pay-to-play mentality among marijuana retailers, with some now charging brands a fee to occupy shelf space in states such as California and Nevada. Known as slotting fees, the practice requires brands to pay anywhere from $500 to $15,000 a month for premium space on cannabis retailers' shelves. The use of slotting feels coincided with the rise in popularity of vape products, which was a major contributor to the retail shelf space crunch.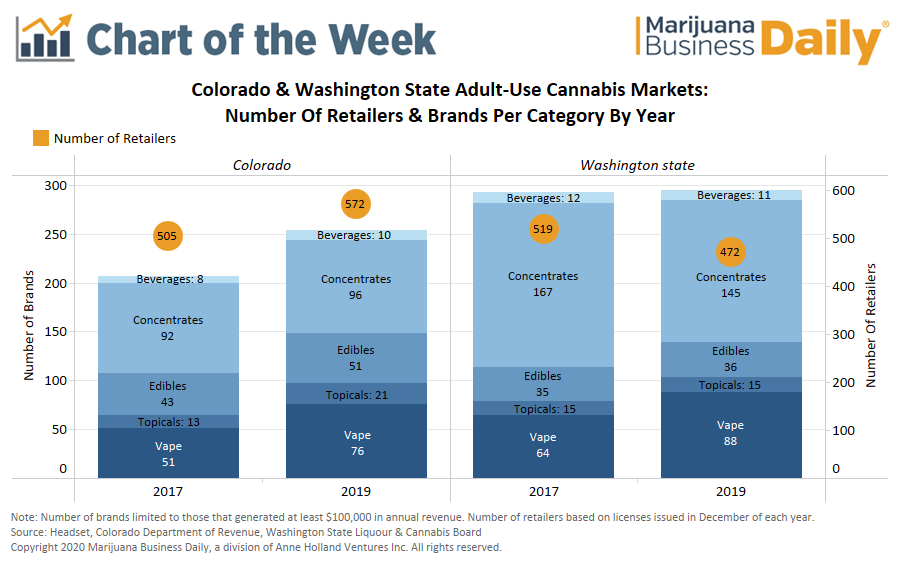 High Times Stock Offering paused until Annual Report filed. The last date the company was allowed to take investments was the middle of June. High Times securities lawyers, Stephen Weiss and Megan Penick of L.A. based Michelman Robinson LLP, confirmed in an email interview that the company can not accept sales until they get their annual report filed and publicly available for investors. But, that hasn't stopped High Times from continuing to pitch investors interested in Cannabis to pony up their hard earned dollars via email solicitations for investments. When attorney Penick was asked why the company was still soliciting investments she initially told Cannabis Law Report, in an email sent on June 7, that she wasn't aware that it was happening.
Cannabis and CBD Companies receiving PPP Loans. Companies within the cannabis industry collected millions of dollars through the Small Business Administration's Paycheck Protection Program this year, including companies that provide ancillary services, even though the agency's rules technically preclude businesses that derive revenue from "marijuana-related activities." The companies that received the loans do everything from covering cannabis news to facilitating regulatory oversight of states' legal marijuana industries, according to data released Monday by the U.S. Department of the Treasury on all PPP loans over $150,000.
CA marijuana exec sues MedMen affiliate, Captor Capital for fraud, more. Matt Longo, a founder of cannabis dispensaries in Santa Ana and West Hollywood that have operated under the MedMen brand name for years, filed his suit against Captor in Los Angeles County Superior Court on July 2, alleging that Captor pulled a "bait and switch" on him by promising company stock and wages that were not delivered. Rather, Longo's suit contends, he was forced out of all company positions with Captor subsidiaries between 2019 and 2020 without being paid what he was owed. Longo's suit also claims that Captor defrauded him in an acquisition deal for another company he founded, Mellow Extracts, in which he was promised 3.75 million shares of stock in I-5 Cannabis Holdings, one of many Captor subsidiaries.
Lawsuit alleges Dan Bilzerian used Ignite as Piggybank. A former executive, Curtis Heffernan, at Instagram personality Dan Bilzerian's cannabis brand Ignite says he was fired last month because he tried to call attention to a proposal to misclassify a government Paycheck Protection Program loan as income, among other alleged financial misdeeds at the company. Curtis Heffernan also said in a whistleblower complaint filed Tuesday in Los Angeles state court that he refused to rubber-stamp Ignite International Ltd.'s funding of personal expenses for Bilzerian, including yacht rentals, trips to London and improvements to his house. In total, the company's auditors raised concerns about over $800,000 in questionable expenses, writing in a draft report released in June that there were a "lack of internal controls and documented standard operating procedures around the review and approval of expenses," according to the complaint. Given that the company had reported losses of $69 million in 2019, Heffernan said he "was extremely uncomfortable by the largely excessive and inappropriate 'business' expenses," the complaint said.
---
💵
Deals
Chicago Atlantic Provides $30M Credit Facility to Verano @ 15.25% interest. The Term Loan Facility is has a two-year term, and loans issued under the facility will bear interest at a fixed annual rate of 15.25%. Verano will use proceeds of the loan to support working capital, organic growth, and acquisitions.
Based in Chicago, IL, Verano has a footprint in 12 U.S. states, with 14 retail locations and six cultivation and production facilities operational. Verano plans to double the number of retail locations by the end of the year and bring more cultivation and production facilities online. The company has not raised outside equity since 2018 and is cash flow and net income positive.
Conception Nurseries raises $12M Series A. Conception Nurseries, a Sacramento, California-based cannabis genetics firm raised $12M ($15M total to date) from New York-based cannabis data group Viridian Capital Advisors with facilitation by broker-dealer Pickwick Capital Partners. Conception CEO Kevin Brooks said the company's goal is to help cultivators by bringing tissue-culture technology, also known as micropropagation, to the cannabis industry. Growers are typically dependent on "mother plants" to produce clones that, according to the company, deliver inconsistent harvests with diluted and uncontrollable traits., resulting in cultivators being unable to accurately forecast production and end users being unable to depend on a consistent experience. Tissue-culture technology allows Conception to quickly mass-produce identical, disease-free plantlets with customized and consistent profiles. According to Brooks, the company's technology will reduce growers' operational risks and costs while increasing yields.
Schwazze walks away from two Colorado cannabis deals. Denver-based Schwazze, formerly Medicine Man Technologies, said it has terminated acquisitions of two Colorado marijuana businesses – cultivator Los Sueños Farms and concentrates company Dabble Extracts. Schwazze, a vertically integrated operator, said in an investor news release it moved quickly on the deals and, thus, did limited due diligence after Colorado enacted a law last year that opened up the state's cannabis industry to outside money.
Halo Labs acquires Crimson & Black, North Hollywood Dispensary for $11.5M. The company issued 49.33M of its common shares for the purpose, at $0.23/share. The Toronto-based company purchased a retail management company, Crimson & Black, and obtained a 66.67% interest in a North Hollywood cannabis dispensary applicant for a total of $11.5M. The Hollywood dispensary, dubbed LKJ11, is expected to 4,000 square feet and offer Halo's branded and white-labeled cannabis products.
Lightshade Acquires Sacred Seed in Denver. Lightshade, a Colorado cannabis dispensary, has expanded its retail presence in Denver with the acquisition of craft cannabis retailer Sacred Seed. The purchase (5885 E. Evans Ave. in Denver) grows Lightshade's number of dispensaries to nine. Lightshade has dispensary locations in Aurora, Denver and Federal Heights.
Curaleaf completes acquisition of BlueKudu in CO. The transaction has been approved by MED Colorado to close its acquisition of Virginia's Kitchen dba BlueKudu. Colorado-based BlueKudu is a producer of premium cannabis edibles for medical and adult-use customers, having sold over one million chocolate bars. BlueKudu's established manufacturing facility and outstanding dispensary relationships will enable Curaleaf to continue to roll out its Select brand product portfolio to Colorado cannabis consumers.
Curaleaf completes acquisition of Curaleaf NJ assets. Curaleaf now owns 100% of the Curaleaf NJ, Inc. Alternative Treatment Center operations, assets and licenses in New Jersey, for which it previously provided management services. 
Akerna Completes Acquisition of Ample Organics. Under the terms of the transaction, Ample Organics was acquired for CAD$7.5M in cash and ~3.3M shares exchangeable into an equivalent number of Akerna common stock.
Scythian sale-leaseback with Herbology (Bradford, PA) Dispensary. The Bradford marijuana dispensary is the third property acquired by Scythian Real Estate from Grassroots Cannabis. In June 2020, Scythian and Grassroots entered into a similar sale-leaseback deal for two dispensaries located in North Dakota. 
---
📄Financial Results
Ayr Strategies — previews June and Q2 2020
Revenue for June ~$12.7M, 14% increase over the Q1 monthly average and a 46% increase over June 2019. Adjusted EBITDA for ~$5.0M, ~80% increase over the Q1 monthly average and June 2019 respectively, driven by operational improvements and higher gross margins

Adjusted EBITDA margins for June are expected to increase by ~1,500 basis points (15%) over the Q1 monthly average. Positive contribution from operating income

Revenue for the second quarter ~$28.4M, a 15% decrease from the prior quarter due to COVID-related closures in April and May. Despite the 15% decrease in revenue, adjusted EBITDA for the second quarter is expected to be ~$9.1M, ~8% increase over Q1, with ~55% of the adjusted EBITDA contribution coming from the month of June.

Cash ~$16.0M as of June 30, 2020 compared to $9.9M as of March 31, 2020, with all material capital projects complete and paid for as of June 30, 2020
First Quarter 2020 Revenue of $8.6M , 43% sequential increase. Gross Profit of $4.2M, 55% sequential increase

Pre-announces Second Quarter 2020 Revenue of ~$15.0M, a 74% sequential increase. Annualized Revenue Run-Rate for June 2020 of ~$69M

Adjusted EBITDA (Loss) of ($6.0M). Net loss of ($15.9M)

As of June 30, 2020, $38.4M in cash and cash equivalents
Net revenue decreased 46% from the prior year period to $22.3M. On a GAAP basis, gross profit was 10.7%, compared to 17.8% in the prior year period

Adjusted EBITDA totaled ($2.7) million compared to approximately ($7.5) million in the prior year period and approximately ($14.8) million in the prior quarter.

Cash ~$11.1M as of May 31, 2020, compared to ~$11.4M as of February 29, 2020 and $3.9M as of August 31, 2019
Revenue of $4.7M increased 17.5% compared to Q1 2019 ($4.0M) , and declined 46% compared to $8.7M in Q4 2019

Gross profit of $2.9M (61% GM) in Q1 2020 compares to adjusted gross profit of $2.2M (56% adjusted GM) in Q1 2019

$10.4M of cash and cash equivalents at March 31, 2020

In June 2020, the Company delivered its first cash flow positive month as it began to realize the impact of previously announced streamlining initiatives as well as a rebound in sales at many key retailers with the easing of COVID-related closures
---
🧔
People
Flower One appoints David Kane as Interim CFO. Current CFO Geoff Miachika will be stepping down as CFO, a position he has held since June 2018, due to personal reasons. David Kane has been appointed Interim CFO, effective July 16, 2020. Kane joins Flower One with more than three decades of finance and accounting experience. Most recently, he was CFO of Xtreme Cubes Corporation, a manufacturer of high-end modular structures, where he developed and implemented the Company's first ERP system and financial controls. Kane has also held CFO roles at Tryke Companies, a vertically integrated cannabis cultivator, manufacturer and retailer in Nevada; Aerovoice, a wholesale distributor of wireless handset and related accessories; EagleRider, a privately-held motorcycle rental and tour business; and Aquarium of the Pacific, a not-for-profit aquarium in California that has over 1.5M visitors annually.
Aurora appoints Reliva CEO Miguel Martin as Chief Commercial Officer. Martin will replace Darren Karasiuk who has held this position at Aurora since February 2019. Martin is a 25-year CPG veteran. He became President of Aurora USA upon closing of the Company's acquisition of Reliva in May 2020. Prior to Reliva, Martin was the President of Logic Technology, one of the largest manufacturers of electronic cigarettes. He also held the positon of SVP and GM of Altria Sales & Distribution.
---
🏬
New Store Openings
Urbn Leaf - La Mesa, CA.
We are so excited to announce our fifth Urbn Leaf location is NOW OPEN in
#LaMesa
! Stop by for our soft opening this weekend and meet the new members of our Feel Good Fam. 🙌
Cookies - La Mesa, CA.
Jushi opens 10th BEYOND / HELLO™ Retail Location and Eighth PA Medical Marijuana Dispensary in Reading, PA
Acreage receives Provisional Approval for Adult-Use Cannabis at Two Botanist MA locations (Worcester, MA // Shrewsbury, MA)
---
🤷‍♂️
Somewhat Relevant
U.S. Online Grocery sales reach $7.2B in June. This figure is higher than the $4B seen in March 2020, when the U.S. first went under coronavirus lockdowns. Since then, online grocery sales have been growing quickly — jumping to $5.3B in April, $6.6B in May. The customer base for online grocery also grew from 39.5M monthly actives in March to now 45.6 million as of June, the report found.
Brooks Brothers files for bankruptcy as it seeks a buyer and closes 51 stores. The retailer, which generated more than $991 million in sales last year, has more than 200 stores in North America and 500 worldwide. The brand has attracted significant interest from potential acquirers, including brand-licensor Authentic Brands, but many have preferred to buy the brand with fewer stores. To support its operations in bankruptcy, Brooks Brothers has secured $75M in debtor-in-possession financing from brand management firm WHP Global, which is backed by Oaktree Capital and BlackRock. That comes on top of a $20M loan it secured from Gordon Brothers in May.
Apparel sellers Lucky Brand and G-Star Raw file for bankruptcy. Apparel maker and retailer Lucky Brand filed for Chapter 11 Friday with a plan to sell itself in bankruptcy for at least $140M. The company has a deal lined up to sell its intellectual property to Authentic Brands Group. Under the deal, Lucky Brand would also sell its operating assets to Sparc Group, which operates the Aéropostale and Nautica brands (both owned by Authentic Brands). Sur La Table to restructure Retail Footprint and Sale via Voluntary Chapter 11 Process. The Company contemplates the sale of Sur La Table retail stores after the rationalization of its national store footprint and closure of certain stores to prosper in the current retail environment and position the Company for a vibrant future. 
DavidsTea to 'significantly reduce' number of stores and shift to online selling. The tea chain owns more than 220 locations across the U.S. and Canada, but intends to focus on being primarily an online seller of tea and other hot drinks and accessories and "significantly reduce" its store count.
---
Who writes this newsletter? ➡️ Dai Truong