📉Lose Market Cap to Make Money💰
LA Social Equtiy. FBI looks at Sacramento. Russian Money. CO Cannabis M&A. SXSW Cannabusiness. Tainted Vapes. MedMen FL. Fire & Flower Banff.
Selena Gomez released "Lose You to Love Me" this past week and I couldn't help but notice some of the lyrics resonating with the how people in the Cannabis industry must feel these days..
🎵You promised the world and I fell for it
I put you first and you adored it
Set fires to my forest
And you let it burn
Sang off-key in my chorus
'Cause it wasn't yours
I saw the signs and I ignored it
Rose-colored glasses all distorted
Set fire to my purpose
And I let it burn
You got off on the hurtin'
When it wasn't yours, yeah

We'd always go into it blindly
I needed to lose you to find me
This dance, it was killing me softly🎵
😡LA Cannabis Commission seek to improve social equity program
Los Angeles' latest marijuana business licensing round – which opened last month and has yet to award any retail permits – has many hopeful applicants outraged and threatening to take drastic action if major changes aren't made.
Hundreds reportedly appeared Thursday for the city's Cannabis Regulation Commission meeting, where allegations of corruption, incompetence, and basic unfairness were leveled at city officials, including Cat Packer, the head of the L.A. Department of Cannabis Regulation (DCR).
In its first two phases, it dolled out temporary approval status to almost 300 existing dispensaries and cannabis providers and is now reviewing applications for delivery and additional retail licensing.
This is currently phase 3. If left unchanged by the City Council, regulators will award only 100 MJ retail licenses to the first 100 applicants who last month filed their documents with the DCR, which received a total of 802 applications.
👮‍♂️Sacramento failed to monitor its cannabis stores, now the FBI is stepping in
Sacramento's legal marijuana business began as a loose-knit group of independently managed, nonprofit collectives dedicated to dispensing cannabis to patients with medical needs. Sacramento had a green future. A decade later, the Cannabis industry has transformed into a corporate affair dominated by a handful of investors, including a Ukrainian-born businessman indicted this month on campaign finance charges along with two close associates of Rudy Giuliani, the president's lawyer.
Last week, the city learned that the FBI is investigating whether Cannabis business owners in Sacramento have bribed local officials in exchange for favorable treatment. And Mayor Darrell Steinberg has called for an audit into cannabis licensing in Sacramento. The state of California is doing its own review.
Despite city regulations that explicitly prohibit buying and selling permits for storefront pot shops, dispensary owners have been allowed to trade their businesses with ease. City regulations require shop owners to surrender their permits if they want to exit the business and require a public lottery for transferring the license. But the city has never held one.
Sacramento's Cannabis stores reported ~$142M in revenue in the last fiscal year. One successful investor, a Sacramento man named Garib Karapetyan, has amassed control of eight of the city's 30 storefront dispensaries, and his business partners own a ninth under their Kolas brand.
💰💰As Russian Money Poured Into Cannabis, Giuliani Allies Scrambled to Partake
Russian investors have been pouring money into Cannabis. One of the largest MSOs, Curaleaf, is led by one of Russia's most influential financiers and backed by another. It appears one venture involving associates of Rudy Giuliani drew the scrutiny of federal investigators. They were funneling political contributions to candidates in Nevada and elsewhere in a way that has drawn the scrutiny of federal prosecutors. Earlier this month, a federal grand jury indicted four men, in a scheme to use money from an unnamed Russian to support politicians who could potentially help them obtain retail marijuana licenses around the country.
🏔️More consolidation expected in Colorado Cannabis
Proponents of the legislation leading to the new laws said that as more states legalize recreational pot, Colorado had to change its rules so it could offer similar investment opportunities. Smaller business owners were split on the measure. While some mom-and-pops had been waiting for the day when they could sell their brands and business licenses to deep pockets, others viewed the move as a step toward corporate cannabis and consolidation.
Lucrative opportunities are somewhat limited in certain parts of the state. Denver is easily Colorado's largest cannabis market and isn't currently permitting new dispensary licenses, while Colorado Springs, the second-largest city in the state, doesn't allow recreational sales. With few attractive locations available for those who want to start from scratch in an urban area, purchasing an existing dispensary license is one of the only ways to gain a footing in the country's most evolved pot marketplace. For those already in the market, it's a way to maintain your competitive advantage.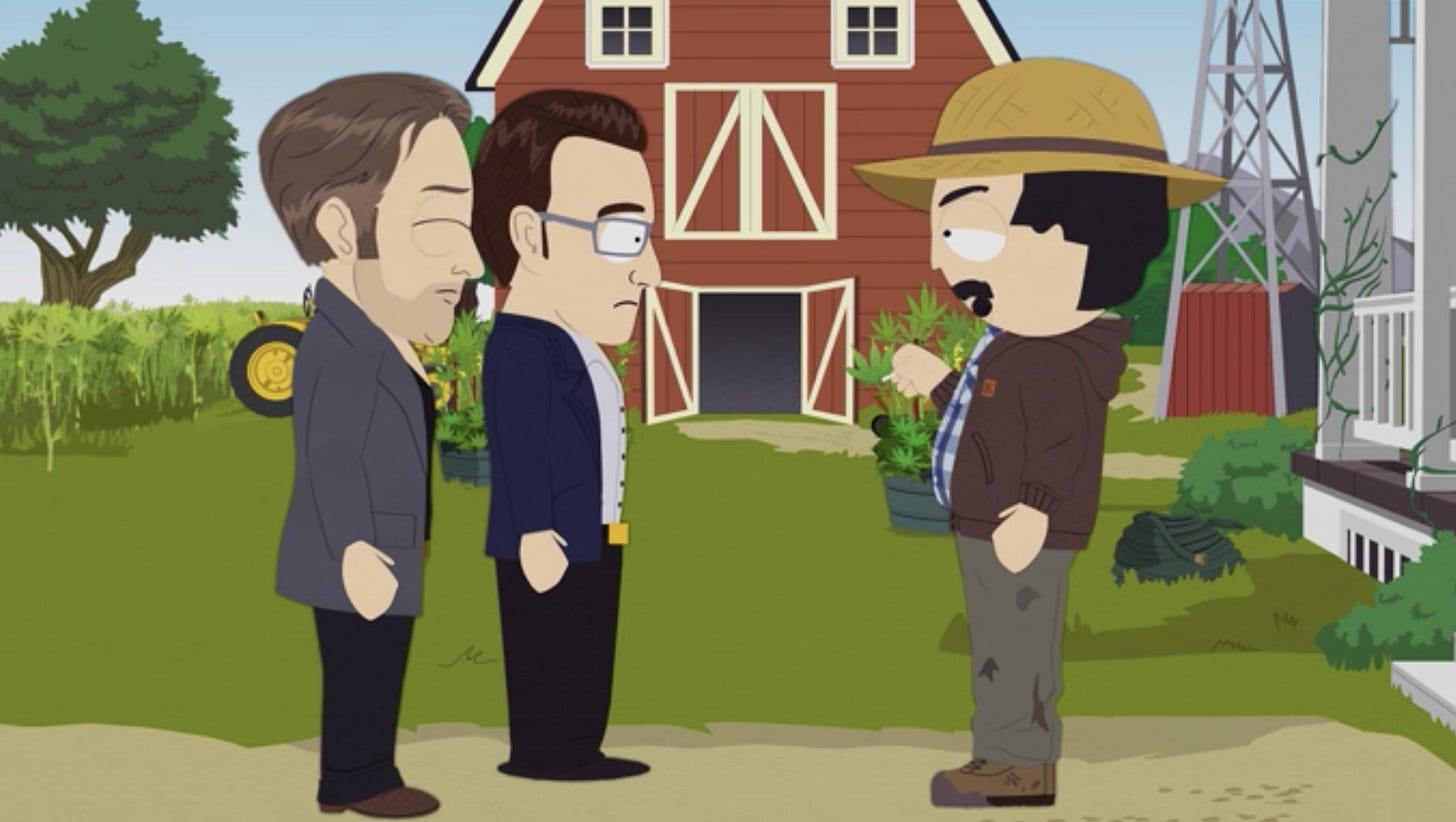 📺🌿SXSW announces Cannabis-track panels for SXSW2020
In July, the Austin-based festival announced that it was soliciting panel ideas from the public. More than 150 marijuana-related panel proposals were submitted—more than double the submissions for this year's event—and SXSW invited individuals to vote on their top choices throughout August. Ultimately, 24 cannabis-focused panels made the final cut.
🖊️Tainted vape pens selling 2-to- 1 in illegal California stores
Leafly tested vape cartridges at illegal California stores, finding shocking levels of pesticide contamination and toxic vitamin E oil. Some oils had pesticide levels more than 5,000 times the legal limit. Others contained ~35% tocopheryl-acetate, the vitamin E oil additive that, when heated and inhaled, prevents lungs from absorbing oxygen. Tocopheryl-acetate is one of the leading suspects in the national VAPI crisis.
💎Cannabis' Most Prestigious Brands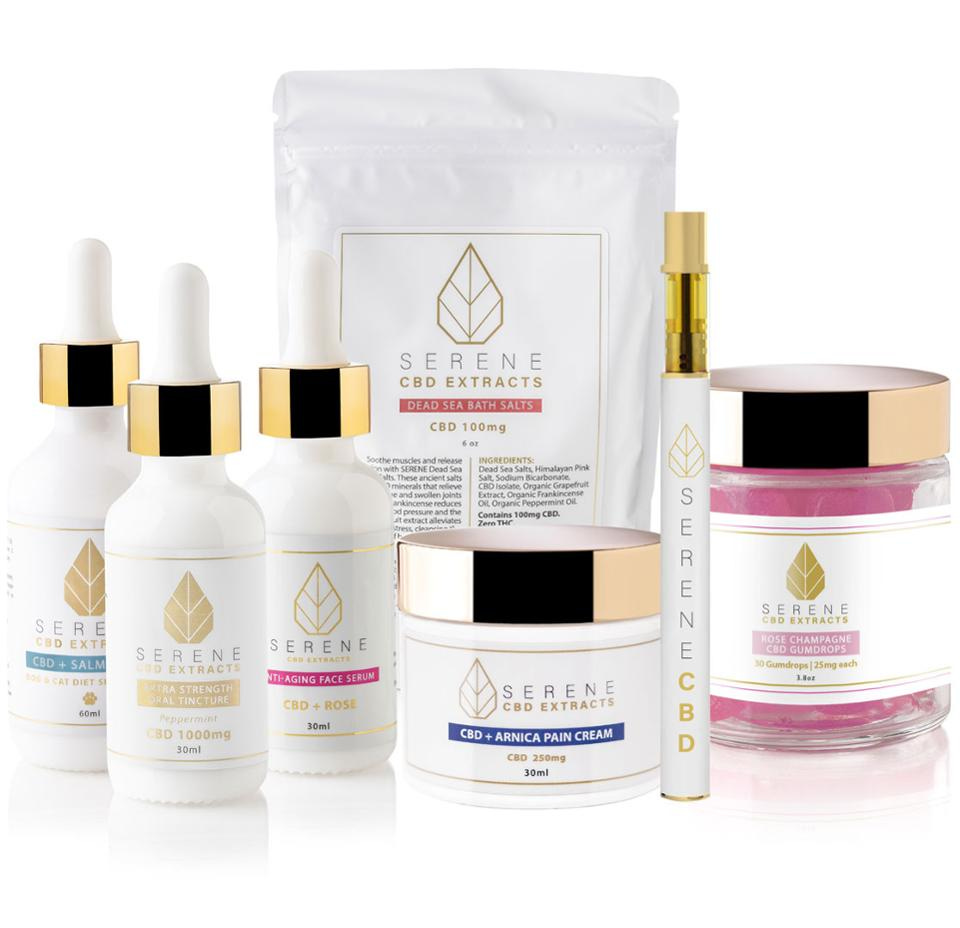 The article photos of some high-quality brands, including the one above from Serene.

"Most trends track year to year, but in cannabis, it is week to week. I think it's actually going to be even bigger than the tech bubble, which is just wild, Luxury cannabis has quickly become its own lifestyle category at retail and it's starting to be merchandised that way. The real question is, 'What happens when [cannabis is] fully legal, there's no stigma, and it's just a commodity?'"
📦 Canada (& the U.S.) has a cannabis packaging (trash) problem
Having a nice exit bag is great - for the brand, but not so much for the environment. Here's how some companies are approaching the issue in Canada (and hopefully U.S. companies on it as well). One cannabis industry executive estimated that 10,000 tons of packaging was generated in the first year of legalization, most of which was destined for landfills instead of recycling bins.
Packaging Naturally's approach is to not use any plastic

Nitrotin offers an alternative to plastic packaging that is recyclable and features an aluminum shipping container

TerraCycle teamed up with Ontario-based Tweed to launch the cannabis industry's first nationwide recycling program

Freedom Cannabis is committed to not shipping products in plastic containers
At a DTLA Dispensary I visited earlier this week, they had unbranded white exit bags which you could bring back for $1 off your purchase.

🏬🏬MedMen Opens Two New Locations in Florida
The Company Expands into Orlando and Tallahassee, bringing total to 32 operational stores. Orlando is Florida's largest inland city with a population of 1.5M+ and one of the largest metropolitan areas in the Southern United States. Tallahassee, the state's capitol, has a population of ~190,000. The Company now has seven operational stores in Florida, with five additional store openings in the state planned for the remainder of the calendar year. The Company is licensed for 35 retail locations in the state.
MedMen now has the 9th most locations in FL, behind Trulieve (37), Surterra (36), Curaleaf (26), Liberty Health (18), Fluent (16), VidaCann (13), GrowHealthy (9), and AltMed Florida (9).
🏬 Fire & Flower Receives Licence for Cannabis Retail Store in Banff, Alberta
Banff National Park welcomes 4M+ tourists to the region each year. The Banff store will be one of the only cannabis retail stores located in the Town of Banff. Fire & Flower now owns or has interest in 33 cannabis retail store licences across the provinces of Alberta, Saskatchewan, Manitoba, Ontario and the Yukon territory. The Company anticipates to have secured 45 cannabis retail store licences by the end of its fiscal year.
---
People
❄️Leafly freezing hiring and canceling non-critical travel to rein in spending
Leafly is pausing most hiring, cutting all non-essential travel for employees, and reining in its yearly holiday party, according to a memo obtained by Business Insider. In October, Leafly's data science team launched a strain explorer tool to help visualize cannabis strains, and has published lots of deep investigative journalism on the spate of vaping-related lung injuries.
"When you grow as much as we have -- we have added 150 people in just over 7 months, doubling in size -- it's important to effectively onboard everyone and make sure that we, as an organization, are working well within and across teams," Leafly CEO Tim Leslie wrote in the memo, which was sent Thursday evening.
🪓HEXO aligns its operations (fires 200 employees) with 2020 expectations
After slower than expected store roll outs, a delay in government approval for cannabis derivative products and early signs of pricing pressure, HEXO is taking steps to rightsize its operations. The delay in retail store openings has meant that access to a majority of the target customers has been limited. Additionally, regulatory uncertainty across the pan-Canadian system and jurisdictional decisions to limit the availability and types of cannabis derivative products have contributed to an increased level of unpredictability. It lost two CMOs (Manufacturing and Marketing).
Another Company that built out its team and operations way ahead of needing them
👨Choom Appoints Corey Gillon (currently President) as CEO
After 3 months at the Company, Gillon is being promoted to CEO. The Company is <$50M Market Cap and really talked up his background, mentioning that "Gillon is a graduate of the prestigious Harvard Business School from their executive leadership program." If you didn't know, the HBS Executive Education is an open-enrollment program that 12,600+ participate in for one reason or another.
I really worry about the ones who put it on their 

LinkedIn

 (without saying it was through the Executive Education program).