Discover more from Highly Objective
Cannabis industry news, insights, and analysis
Over 3,000 subscribers
More Layoffs
MedMen. Grupo Flor. Cannacraft. Flow Kana. MI adult-use. Cresco CA Marketing. PA Market. BDS Trends. Leaflink List. Apple Bans Vaping Apps. Tilray EBITDA+. Humboldt warnings. CO mold.
A good reminder to not celebrate too early..
---
Industry
Along with others in the industry, MedMen has started taking steps to reduce its cash burn and extend it's runway in a tight financing market. I've had some interesting conversations this past week where it seems like 1) companies in the industry are using VAPI / layoffs as air cover to right-size their companies and 2) there are some bootstrapped $20-30M run rate revenue companies that have have been heads down focused on their business that should make for interesting investments. 
TLDR
👨👩Reduce Corporate SG&A
🏷️Sold its stake in Treehouse Real Estate Investment Trust for $14M
🏷️Sold its minority stakes in brand(s) for net proceeds of $8M
🏦Engaged Canaccord to explore strategic alternatives
🛑Limit new store openings in 2020 to stores with $10M+ revenue potential
🛑Delay further investments in certain medical markets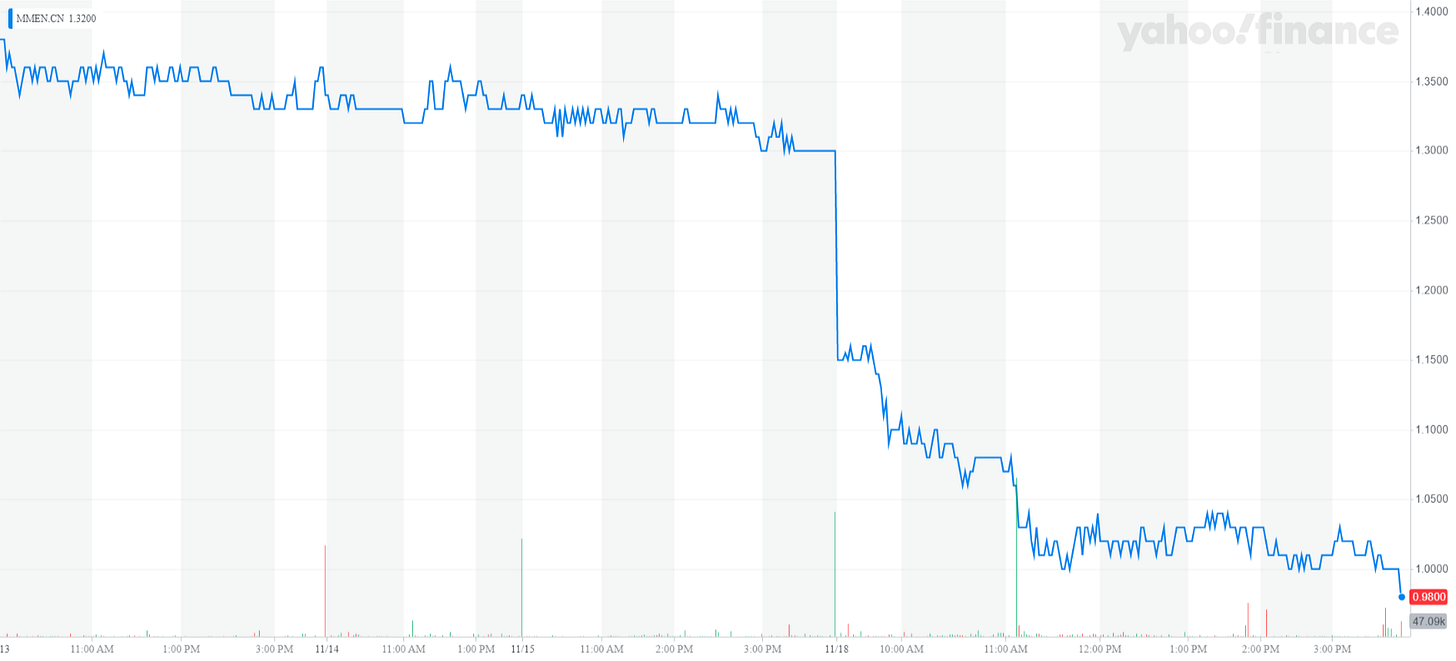 The market did not view the cuts favorably as the stock traded down ~25% today
CannaCraft and Grupo Flor both told Marijuana Business Daily they undertook cost-saving layoffs as a result of financial challenges. In a statement, CannaCraft cited the "slower-than-anticipated growth" of the legal marijuana market in California. Grupo Flor cited an investment deal that fell through over the summer, leaving the company without the necessary cash to follow through on its plans to establish a statewide distribution wing in California. It also hit pause on a previously planned business venture in Colombia.
Grupo Flor CEO Gavin Kogan mentioned that if traditional banking services were widely available to the cannabis industry, companies could avoid layoffs by quickly obtaining a business loan. Currently, traditional lenders are taking a wait-and-see approach after the U.S. House passed the SAFE Banking Act, but banks and other financial institutions are showing growing interest in the marijuana industry as signs suggest the Senate could pass a measure before the end of the year.
The company, which is based in California's Emerald Triangle — Humboldt, Mendocino and Trinity Counties — is cutting "non-core" staff, CEO Mikey Steinmetz said. He did not disclose a specific number of layoffs.
Steinmetz identified the industry's problem due to lack of sufficient retail space for marijuana products. California's patchwork of legal statuses for marijuana retail means that there is just one retailer in the state for every 34,256 adults 21 and older, according to a survey conducted by BDS Analytics and ArcView Market Research. "We need more retail, and it's not in a few months. We need more retail immediately," Steinmetz said. He said that while there's a place for unlicensed cannabis enforcement, the state should create an easier path to allow illicit retail operators to come into the legal market.
Michigan's adult-use cannabis program is expected to kick off Dec. 1 with about a dozen stores initially, setting into motion a market projected by Marijuana Business Daily to reach $1.4 billion to $1.7 billion in sales a year at maturity.
Adult-use sales were expected to start in the spring of 2020. But state regulators last week accelerated that timetable with a decision to allow medical marijuana operators to transfer up to half of their inventory to equivalent adult-use facilities. Ann Arbor-based Exclusive Brands, reported that it immediately got record orders from retailers scrambling to prepare for the earlier recreational start.
I did see a Cresco billboard driving south on the 405 near LAX so saw the billboard first, announcement second :)
Cresco Labs, is currently pushing its largest advertising initiative to bolster consumer awareness in California of its namesake cannabis brand, Cresco. Called "Excellent Everyday Cannabis", the multi-channel campaign spans cannabis and mainstream media and features break-through branding that highlights the importance of quality and consistency for everyday cannabis consumption—a marketing message that closely aligns with Cresco Labs' mission to normalize and professionalize cannabis use. The campaign supports the market introduction of updated packaging featuring an elevated look and feel for Cresco's portfolio of products that include flower, cartridges and solid concentrates.
Pennsylvania's medical marijuana program has passed a half-billion dollars in sales since the program began ~2 years ago. John Collins, director of the state's Office of Medical Marijuana, said at an advisory board meeting that ~147,000 people are currently certified to purchase medical marijuana at one of the 72 dispensaries now in operation. There are currently ~65,000 patient visits to dispensaries per week with average purchase being ~$120.
A Detailed Look at Cannabis Sales in California, Oregon, Arizona, Colorado, Nevada and Maryland. During September, the first month after the onset of the vaping crisis, sales across the six markets totaled $616.6M, down seasonally from August. Sales growth from a year ago among the five Western markets ranged from 8% in CA to as high as 35% in AZ. Concentrates, which represented 23-33% of sales by market (compared to 26-38% in August), grew more slowly within each market than overall sales grew due to reduced sales of vape pens. Still, each market experienced concentrate sales growth compared to a year ago, ranging from 2% in CA to 25% in AZ.
An overview of brands, products, and retailers in the LeafLink community and how they are shaping the cannabis industry. LeafLink included products reviews, brands, and retailers that were live on LeafLink in 2019.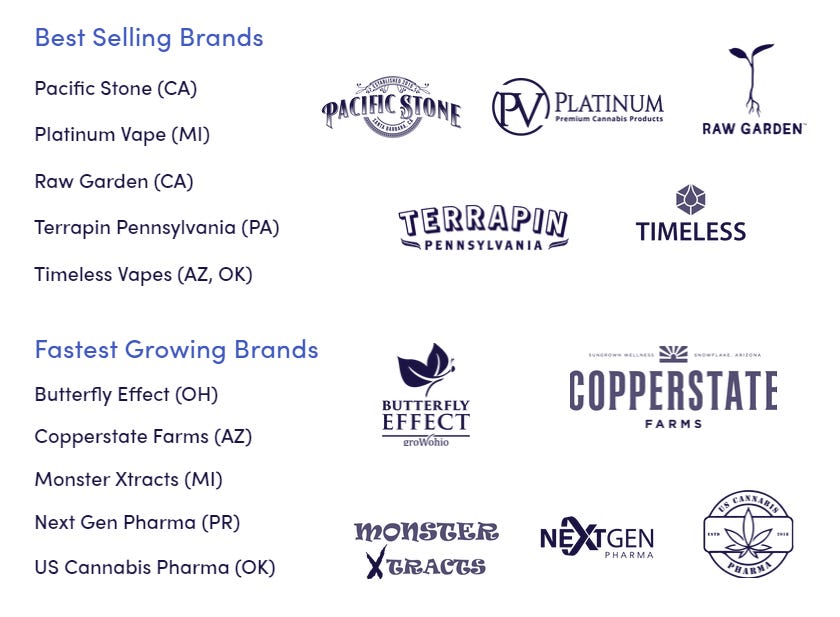 Apple has announced that it has removed all vaping-related applications from the platform, though you'll still be able to use yours or download it again if it's already on your phone. Apple has never allowed apps that facilitate the sale of vaporizer cartridges on its platform, but until this summer, it did host applications that controlled users' vape product features like their temperature, as well as others that included vape-related content. The company ceased allowing new apps in these categories, however, in June. The current ban affected 181 apps.
Tilray's Canadian operations should be profitable sooner than the late 2020 target set for the company as a whole, according to CEO Brendan Kennedy. The cannabis company said that it expects to generate overall positive EBITDA by the final quarter of next year. However, Kennedy said its primary Canadian business should reach the key metric sooner than that.
"It's likely that our business in Canada will be EBITDA positive before the rest of our business, just because it's at a different stage of development. That business is much more mature. We've been operating it for six years."
The letters from the Commercial Cannabis Cultivation unit of Humboldt County Code Enforcement were sent last week to ~470 residents suspected of operating un-permitted marijuana growing operations. An unnamed cannabis industry consultant told the North Coast Journal that the "the bar was set way too high" for small cultivators with operations of fewer than 100 plants, noting that Sheriff Mike Downey once estimated that Humboldt County was home 12,000 cultivation sites.
Westword dove deeper into what commercial cannabis growers are facing, they asked Chuck Blackton, founder and owner of Verde Natural Wellness, a dispensary and cultivation company with two stores in Colorado — and zero reported mold or pesticide issues to weigh in.
---
People
Nugent previously served as the CEO and CFO of several major private and public companies, including Life Time Fitness, AllOver Media, Champps Entertainment, and Sun Country Airlines. The Company's current CFO, Amber Shimpa, will be assuming a newly created role of Chief Administrative Officer and continue serving on Vireo's Board of Directors and as a member of the Nominating and Governance Committee. 
A long-time entrepreneur and an original team member of both Sonos and Software.com, Farrar brings decades of experience working in technology, cannabis and emerging markets. He entered into the cannabis space after founding Elite Garden, a soil enrichment company, then later on Glass House Farms, which now serves as Glass House Group's cultivation and manufacturing arm.
---
Somewhat Relevant
Showing that brands matter - The athletic brand will stop selling its sneakers and apparel directly on Amazon's website, ending a pilot program that began in 2017.
The split comes amid a massive overhaul of Nike's retail strategy. It also follows the hiring of former EBay Inc. Chief Executive John Donahoe as its next CEO — a move that signaled the company is going even more aggressively after e-commerce sales, apparently without Amazon's help.
"As part of Nike's focus on elevating consumer experiences through more direct, personal relationships, we have made the decision to complete our current pilot with Amazon Retail," the company said in a statement. "We will continue to invest in strong, distinctive partnerships for Nike with other retailers and platforms to seamlessly serve our consumers globally."
WeWork is preparing to cut at least 4,000 people from its work force as it tries to stabilize itself after the company's breakneck growth racked up heavy losses and led it to the brink of collapse, two people with knowledge of the matter said. The cuts are expected to be announced as early as this week and will take place across WeWork's sprawling global operation. Under the plan, the company's core business of subletting office space would lay off 2,000 to 2,500 employees, one of the people said. An additional 1,000 employees will leave as WeWork sells or closes down noncore businesses, like a private school in Manhattan that WeWork set up. Additionally, roughly 1,000 building maintenance employees will be transferred to an outside contractor. Together, these employees would represent around a third of the 12,500 people WeWork employed at the end of June.
Successful entrepreneurs have to find a way to combine both incredible patience and explosive speed. Sounds paradoxical? Perhaps, but that same, seemingly conflicting combination has powered the success of fashion designer Tory Burch.
Pitching the wrong deal, to the wrong investor, at the wrong time. It's mostly avoidable with a simple process for staying organized and tracking the investor pipeline funnel. Before founders hit the fundraising trail, they need to spend significant time researching the most relevant investors for their company. This takes time, triangulating sources of information and tapping into their networks.
---
Please share with your network! Thank you for reading 🙏