Discover more from Highly Objective
Cannabis industry news, insights, and analysis
Over 3,000 subscribers
🍺🥤PBR launches infused-beverage, Canopy/Acreage to get there Summer 2021
Mirayo by Santana launches. AYR Strategies enters PA/OH. Stem Holdings to acquire Driven Deliveries. Flower One - Term Loan (+option for sale leaseback). Jushi / Planet 13 earnings.
---
🌿
Industry
Billions at stake as voters decide on medical, adult-use marijuana markets in five states.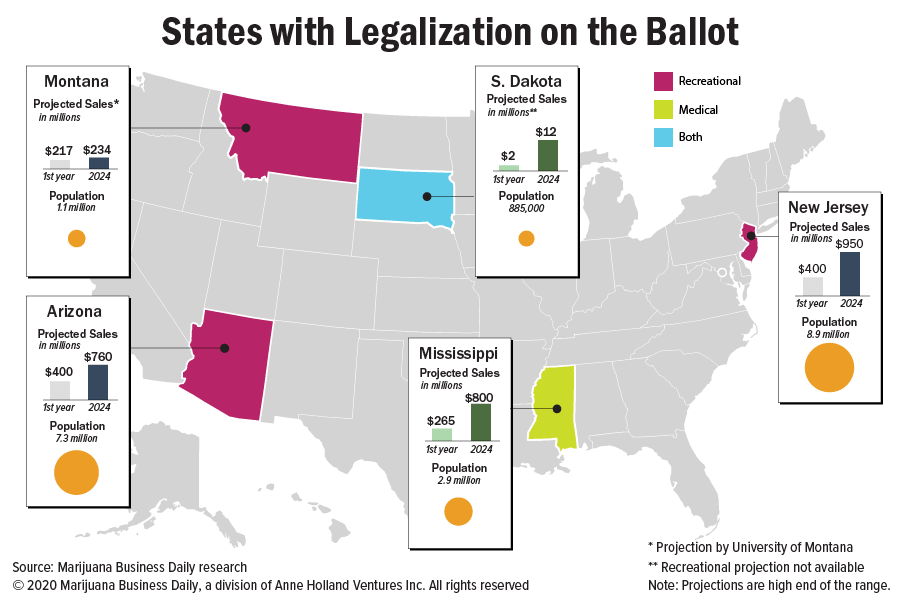 Michigan to open access to the recreational marijuana market in March to help curb black market sales. Early next year, Michigan will eliminate a barrier to entry in the state's recreational marijuana industry that has stifled growth and unintentionally complicated the fight against unlicensed, black market marijuana. As of March 1, certain newly licensed recreational marijuana businesses -- retailers, processors, transporters, safety labs, class B and C growers -- will no longer be required to first hold a medical marijuana business license. This means lower application and license fees for businesses not wishing to grow, sell, test, process or transport medical marijuana. And it opens up market access to new businesses; for instance, those in communities that have not opted in to the medical marijuana market but that would like to participate in the recreational market.
Asset sales, market growth might boost cannabis multistate operator finances. Publicly traded multistate marijuana operators (MSOs) appear to be in better financial health than they were at the beginning of the year, but many (MedMen, Acreage, Harvest, Vireo, 4Front) have shed operations in potentially lucrative markets to bolster their balance sheets. MSOs are benefiting from growing marijuana markets, strong sales during the coronavirus pandemic and some easing in the capital markets as investors become more willing to fund cannabis companies. But, with cash cushions low and debt high for many, it's too early to say most multistate operators are out of the woods. Many MSOs still are struggling to become profitable after making heavy initial investments in their business, and they face economic uncertainties caused by the pandemic.
Meet Wyld, The Edible That Devoured America. In five years, Aaron Morris' cannabis brand has grown from a bootstrapping startup to dominating the market, thanks to natural fruit gummies and a country hungering to get high. Next up—building the Anheuser-Busch of pot. This year, the company expects to bring in $65M in revenue, up from $25M in 2019. The company's monthly sales have topped $12 million—roughly 800,000 packages of gummies—and Wyld projects $130 million in revenue by 2021, or a fitting 420% increase since 2019. Wyld has been able to capture 14.5% of the $637 million in year-to-date edibles sales across California, Colorado, Nevada and Oregon, according to data from Headset. Wyld now has 450 employees, including food scientists, a headquarters in Clackamas, Oregon, and five production facilities in four states. It sells THC products in California, Colorado, Nevada and Oregon, and CBD gummies and seltzer in all 50 states.
"It's Complicated" Relationship between Cannabis and Alcohol (BDSA). Most "dualists" who consume both have not changed their alcohol consumption because of their marijuana consumption, with those who have kept their alcohol consumption the same in the mid-60% range. Craft beer appears to be most insulated, with 69% of people stating they have not cut back on craft beer consumption due to cannabis, which is not surprising given the profiles of craft beer and cannabis consumers.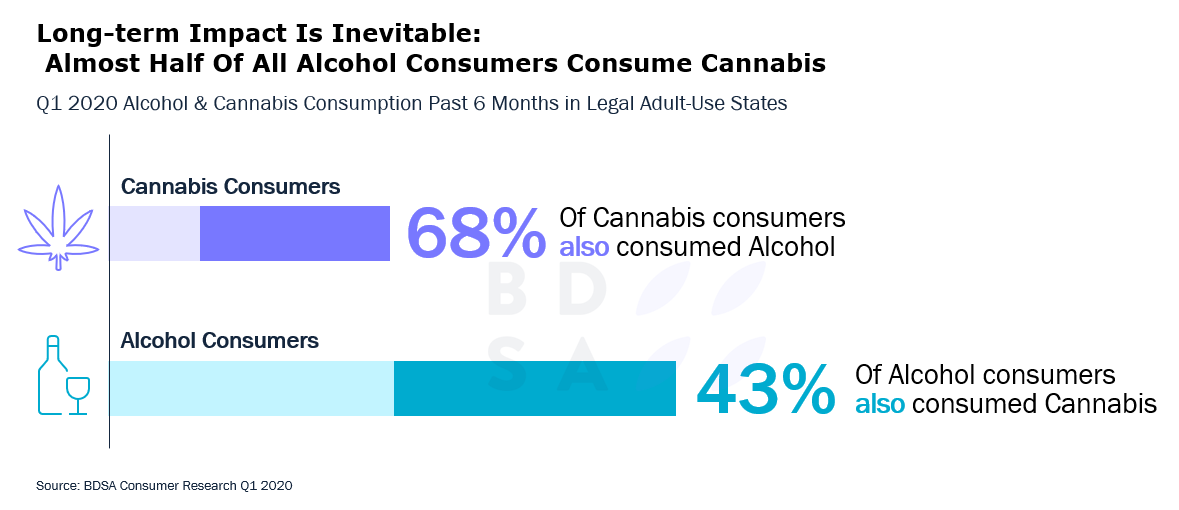 Headset (Insights Pulse) for MA Market.
53% growth between January and August, from $52.0M to $79.6M

Largest average basket sizes so far this year in any market at $96.34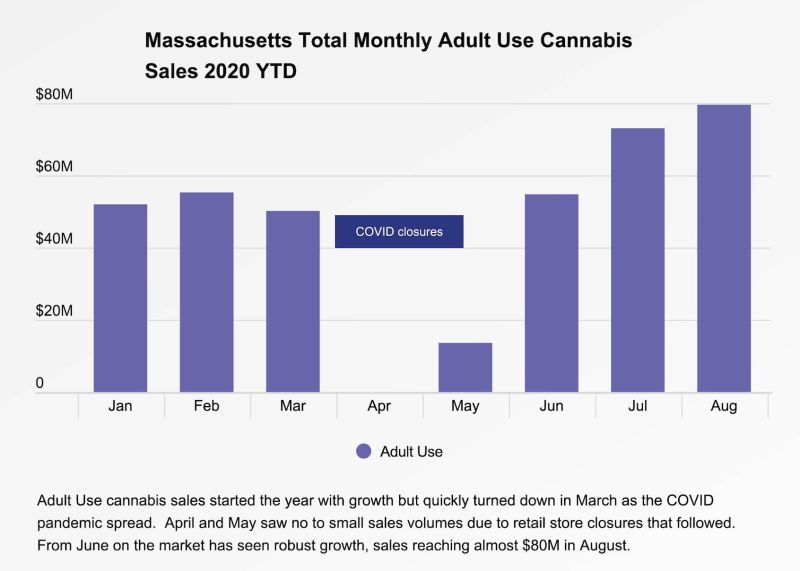 GTI faces trademark lawsuit over edibles brand from Edible Arrangements. Edible Arrangements claims GTI's Incredibles brand infringes upon its numerous federally registered trademarks, including "Edible" and "Incredible Edible," according to a complaint filed Wednesday in the U.S. District Court for the Northern District of Illinois. Edible Arrangements also says GTI engaged in unfair competition and deceptive trade practices. The suit alleges violations of both federal and Illinois state law. The complaint asserts that GTI has no trademark rights over the "Incredibles" name and that a stylized Incredibles logo is "confusingly similar" to Edible Arrangements' own logos.
Other highlights:
Bruce Linton-led Gage Cannabis plans Canadian listing in Q1 2021 — $53M run-rate revenue focused on MI market
Canopy Growth and Acreage plan to Launch THC-infused Beverages in the U.S. Next Summer
Sweet Flower Completes First Phase Of California Build-Out
LA Delivery, Distribution, Non-Volatile Manufacturing and Testing Lab — application processing period opens on October 20th
TerrAscend increases SF Cultivation (State Flower) from 5,000 sq ft to 20,000 sq ft
MJBizCon 2020 rebooting as entirely digital experience (in-person canceled)
Illinois and Massachusetts Cannabis Markets Hit New Highs in August
IL continues record-breaking Cannabis sales (September)
Ultra Health sues New Mexico over medical marijuana rules
Varda and GTI (Integral Associates) receive commercial cannabis permits from Pasadena
Aurora increases executive compensation after layoffs, $3.3B in losses
GKUA Ultra Premium (Lil' Wayne) enters MI market through Choice Labs
---
💵
Deals
Ayr Strategies — expand to 4th State with OH acquisitions; deepens PA presence. Ohio. Definitive purchase agreement for an operational processing facility and non-binding term sheet regarding exclusive management rights over a level 1 cultivation license (the largest canopy license in the state) in Ohio. The cultivation facility of ~58,000 ft2 is under construction and the ~9,000 ft2 processing facility is fully operational. Consideration for the two transactions totals $18.2M ($10.2M cash, $8.0M convertible seller notes). Following the closing and completion of the initial phase of the level 1 cultivation facility build-out, Ayr has the flexibility to further expand canopy subject to the approval of the Ohio Department of Commerce. Pennsylvania. Definitive purchase agreement to add grower-processor with 38,400 ft2 cultivation and extraction facility is approved as operational and has the capacity to expand to 74,000 ft2. Total consideration of $20.8M ($16.7M cash, $2.1M stock, $2.0M seller notes).
The Company also acquired Ohio Medical Solutions (OMS) from Vireo Heath, OMS holds a permit for the processing of medical cannabis in the state of Ohio (initially awarded to OMS through a merit-based application process in 2019). Based in Akron, OMS manufactures cannabis-based products in a 11,300 ft2 processing facility. The transaction's total consideration of $4.85M ($1.15M in cash and $3.7M in the form of Right of Use liabilities associated with lease obligations). The transaction is subject to regulatory approvals and other conditions.
Schwazze backs out of deal to acquire marijuana R&D firm MedPharm. Schwazze said it has terminated its planned acquisition of MedPharm, a medical marijuana company in the same city that landed Colorado's first cannabis research and development license. Schwazze said earlier this year it had moved forward on numerous term sheets with Colorado cannabis operators but had completed limited due diligence at that time.
Stem Holdings to acquire Driven Deliveries. The transaction is for ~C$41.3M (~$31M), resulting in a combined Company market cap of ~$54M. Current shareholders of Driven Deliveries have committed up to $10M to fund the Combined Company's continued business expansion within Stem's current market footprint (CA, OK, OR). Stem and Driven Deliveries achieved combined gross revenue of $12.4M in Q2CY20 and a combined gross profit of $5M. Total CY20 gross revenue of Stem and Driven Deliveries, as a combined entity, is projected to be $49M with gross profit of $18M. Driven By Stem is projected to have revenues of $75M in CY21 and gross profit of $27M.
Cellibre — closes Bridge Financing. The round was led by the founders, existing investors Delta Emerald Ventures, Flatiron Venture Partners and Bravos Capital, and includes new investors Merida Capital, L2V and the Arcview Collective Fund. Cellibre's initial strategic focus is deploying its expertise to revolutionize the way cannabinoid-based products are sourced, produced, and consumed. Cellibre is deconstructing the plant into its individual components, enabling innovators and brands to scale and commercialize an almost limitless number of products sustainably and consistently.
ExtractionTek Solutions and Pinnacle Stainless, two CO-based innovators in cannabis extraction technology, equipment design and fabrication, are merging operations. The company will operate under the name ExtractionTek Stainless, Powered by Pinnacle. As a result of this merger, the company projects combined revenues of $45M in 2021.
Subversive Real Estate Acquisition REIT LP — $182.8M Qualifying Transaction to Become Publicly Traded Internally Managed Cannabis REIT. Composed of 15 cannabis industrial and retail properties in nine states. Additional $18M of post-close transactions under binding terms to close shortly after Qualifying Transaction, increasing portfolio size to ~$200.7M.
GTI — additional $25M sale leaseback with IIP (Toledo, OH). Assuming full payment of the additional funding, IIP's total investment in the property will be $32.2M.
Flower One — $39M Term Loan including option to enter a Sale-Leaseback Purchase Agreement for its Flagship Nevada Facility. The Loan Agreement is for a 7-year interest-only loan at a rate of 10.5% for the term of the loan. Proceeds of the loan will be used to replace an existing $30M term loan that would have been due in June 2021, as well as to fund general corporate purposes and other Company debt obligations. As part of the Loan Agreement, Flower One granted Subversive REIT a two-year option to pursue a sale-leaseback transaction to purchase Flower One's 455,000 square-foot cannabis cultivation and production facility in North Las Vegas, Nevada for up to $80M, and subsequently lease it back to the Company.
---
📄Financial Results
Revenue of $24M, 61% sequential growth

Expects Q4 2020 total revenue to be at the high end of the previously announced range of $25-30M, positive adjusted EBITDA

2021 Revenue is expected to break down as follows: Pennsylvania: $95-110M, Illinois: $70-80M, Virginia: $17-25M, California: $12-20M, Nevada: $5.5-10M, Ohio: $5.5-10M

Operating cash flow positive in FY2021

As of August 31, 2020, ~$44M of cash & $7.5M in marketable securities
Planet 13 — Preliminary unaudited Q3 revenue of $22.8M (~50% GM)
The Superstore served ~1,625 average customers per day in-store with an average ticket of ~$124

In-Store revenue of $18.5M compared to $16.3M in Q3 2019, up 13.0%

Delivery & Curbside revenue of $3.4M compared to $295K in Q3 2019

Wholesale & Other revenue of $1.0M compared to $61K in Q3 2019

Total revenue of $22.8M compared to $16.7M in Q3 2019, up 36.5%
---
🧔
People
Nabis Holdings — CEO Shnet, President Krytiuk Resign. The Company previously announced on June 29, 2020 that it would not be making the interest payment that was due on June 30, 2020 pursuant to its outstanding $35M convertible debentures due March 26, 2022 in reliance on the force majeure clause of the indenture governing the Debentures. The Company also previously announced that Odyssey Trust Company Ltd. commenced legal action against the Company alleging a breach of the terms of the Debentures as a result of the missed June 30, 2020 interest payment. The Company has not made the interest payment due on September 30, 2020 pursuant to the Debentures.
Auxly Cannabis Founder Chuck Rifici Resigns As Chairman. Taking his place as chair will be that of Genevieve Young, whom is currently an independent director. Young is the president and COO of Global Public Affairs, a leading communications and consultancy firm. Further, Vikram Bawa has been added to the board to fill the empty chair that now exists following Rifici's departure. Bawa is said to have extensive experience in the consumer goods field, having served most recently as VP Marketing for Logitech S.A., prior to which he was the VP Marketing at McCain Foods Canada. Finally, Michael Lickver, currently senior vice president of strategy for Auxly has since been appointed as president of the firm. Huge Alves will remain as the firms CEO and as a director.
---
💻Hiring | 🔍Looking
Canopy Growth Corporation — Manager, Remote (Rochester, NY or Chicago, IL)
Cookies Retail — VP Planning & Allocation (Newport Beach)
Central Coast Agriculture (Raw Garden) — Senior Business Analyst (Buellton, CA)
---
🏬
New Store Openings / New Product Launches
Carlos Santana launches meditation-inspired Mirayo by Santana flower and pre-roll line. Santana had a front row seat to the birth of the medical cannabis movement in San Francisco, and what eventually turned into the legal marketplace. So after watching that go down since 1996, why now? "An invitation," Santana told L.A. Weekly. "An invitation from a family in Santa Rosa to do this brand." Santana noted that in addition to himself, Left Coast Ventures is working with the family of Bob Marley on the Marley Natural line and with Mickey Hart of the Grateful Dead on his Mind Your Head products. "I'm very honored to be a part of the company, this family," he said.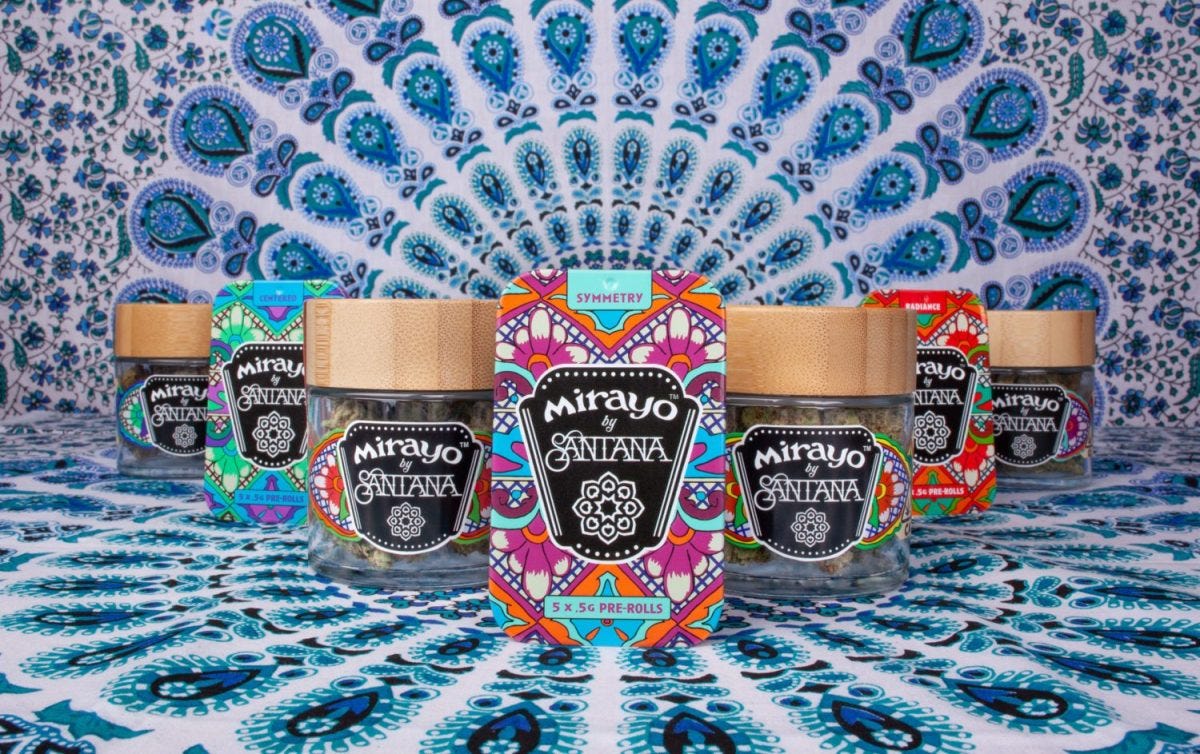 PBR launches 5-mg THC Seltzer. Pabst Labs is run by former PBR employees. Their connections eased the path to put the Pabst brewery's name on cans that promise a different kind of buzz to PBR consumers. A four-pack retails for $24.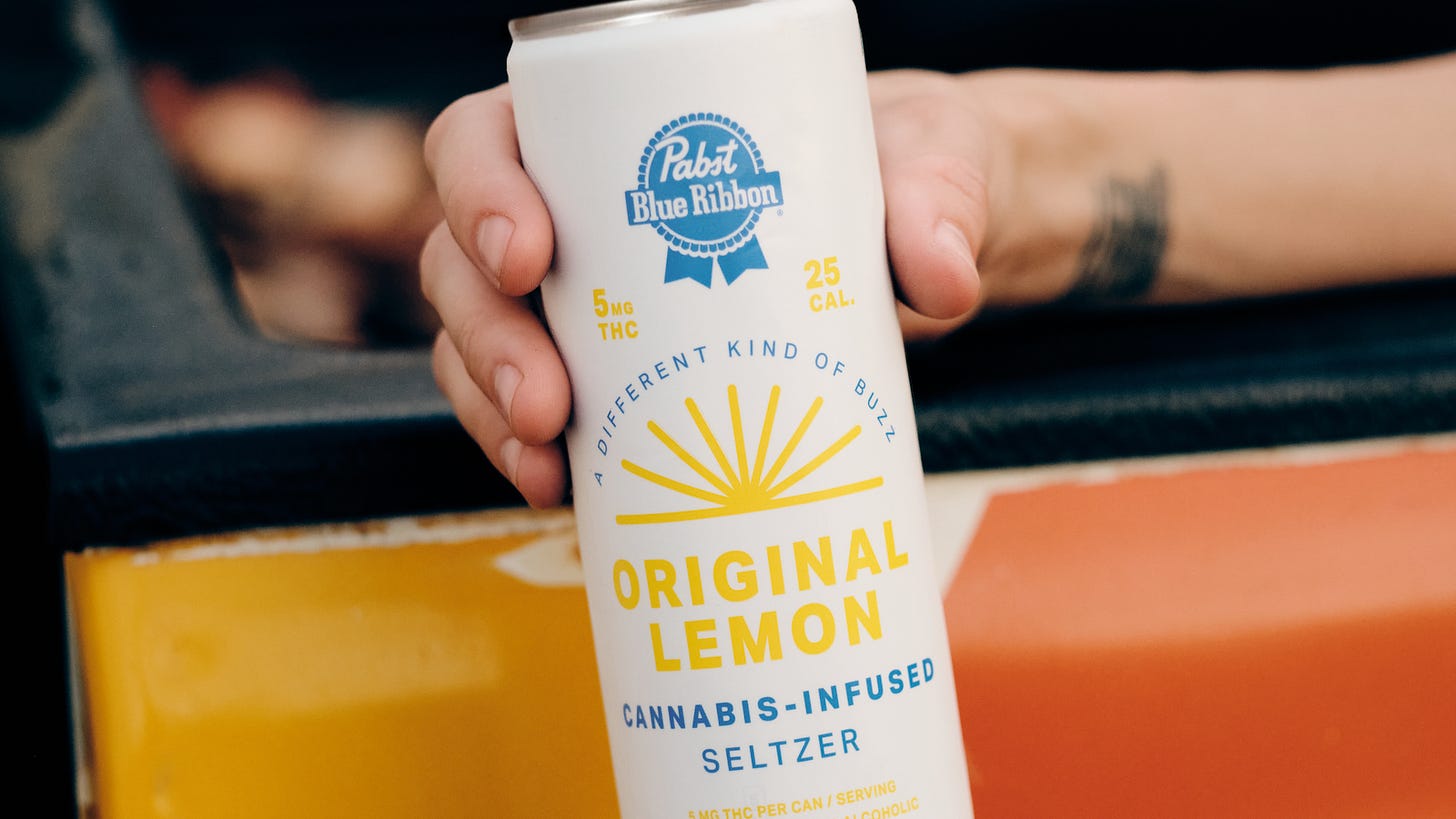 Greenhouse — Northbrook, IL. In connection with the Curaleaf acquisition of Grassroots, Greenhouse Northbrook will come under the Curaleaf umbrella and branding pending final regulatory approval.
GTI - Rise Naperville (8th in IL) . Rise Naperville is the 8th Green Thumb store to offer adult-use cannabis in Illinois, joining Rise Canton, Rise Effingham, Rise Joliet, Rise Mundelein, Rise Niles, Rise Quincy and 3C Joliet. GTI has licenses to open two more stores in the state. GTI also owns and operates two manufacturing facilities in Rock Island and Oglesby, both of which are undergoing capacity expansion to meet increased demand in IL.
Trulieve - Merritt Island (60th in FL)
---
🤷‍♂️
Somewhat Relevant
Lyre (Australian alcohol-free drinks brand) raises £9M for global growth
---
Who writes this newsletter? ➡️ Dai Truong