Discover more from Highly Objective
Cannabis industry news, insights, and analysis
Over 3,000 subscribers
🤔Retirement is the latest way to announce CEO exit
Aurora Cannabis CEO steps down. Tilray lays off 10%. PAX Labs gets new CEO.
One week after MedMen's CEO stepped down, Aurora's CEO announced he was retiring (Aphria's former CEO also "retired" last January). This seems par for the course these days as Cannabis companies continue to under-perform expectations (or rather live up to unrealistic expectations) and the finger needs to be pointed at someone in the C-suite (likely those that were actually making decisions). I wouldn't be surprised if we saw another major Canadian LP or U.S. MSO CEO change in the next few months, whether misses continue to happen or high-quality executives that would move the needle comes into the space. I'm starting to see strong independent board members join boards to get their feet wet before a likely move into an operating role within the C-suite.
---
🌿
Industry
Aurora made a number of announcements headlined by the retirement of founder & CEO Terry Booth with Executive Chairman Michael Singer taking over in an interim capacity. The bigger headline though is that the Company is expecting close to $1B (CAD) in material intangible, PP&E and goodwill impairments related to its South America and Denmark operations (i.e. really overpaid for acquisitions).
The Company announced plans for sweeping cost reductions (including the elimination of ~500 employees and material reductions in CapEx). In addition, the Company announced a variety of amendments to its secured credit facilities, including more lenient EBITDA, fixed charge, and debt-to-equity ratios. The company currently has $156M of cash on hand with $155M still available via its ATM facility. The Company should have sufficient cash to fund initiatives over the next 12-18 months under its revised business plan.
A reminder that in March 2019, Nelson Peltz (billionaire investor) joined Aurora as a strategic adviser, which granted him 20M stock options he can acquire at C$10.34 each (this is going to be hard for him to get in-the-money).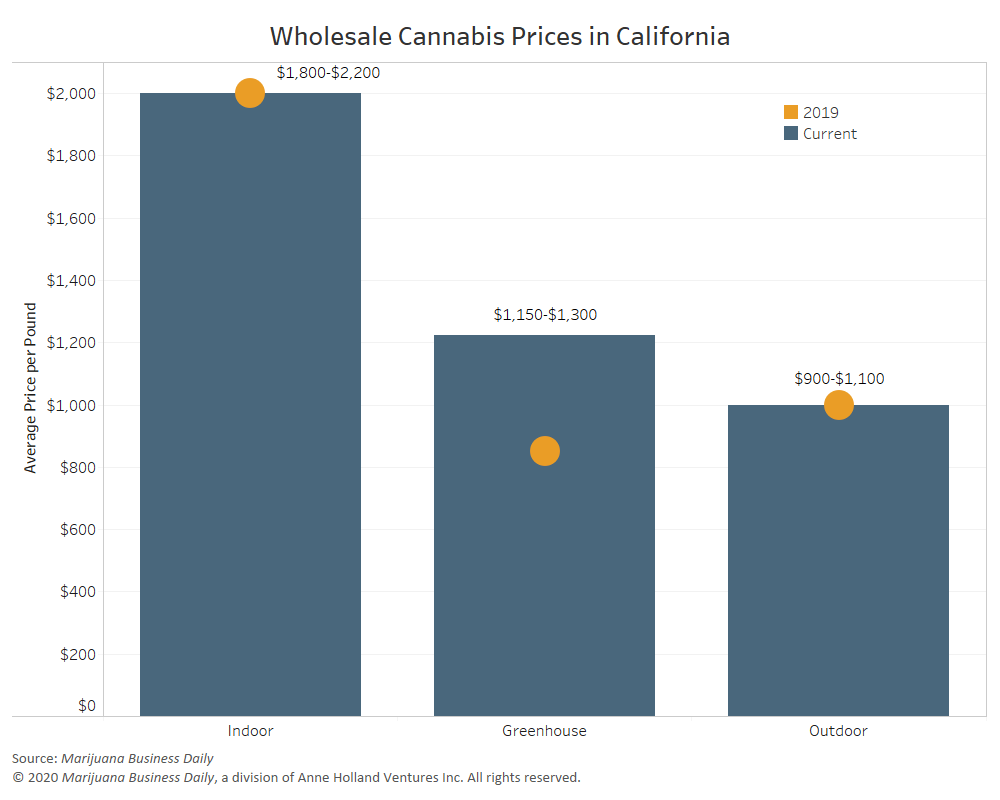 California cannabis growers report a favorable wholesale market with increasing demand despite a lack of retail outlets and continued opposition to legal recreational marijuana from the majority of municipalities and counties in the state.
The positive upward trend of both prices and demand has some businesses maxing out capacity and increasing production.
Growers in the state report pounds of wholesale cannabis flower are selling for:
Indoor: $1,800-$2,200 (similar to this time last year)

Greenhouse: $1,150-$1,300 (up 30% from last year)

Outdoor: $900-$1,100 (similar to this time last year)
Oklahoma stores are slashing prices to stay competitive given the glut of competitors. The downward pressure on cannabis pricing has some dispensaries fearing for their future even as they brace for yet more possible business challenges that could result if the state enacts more cannabis regulations related to testing and labeling.
Current Oklahoma medical marijuana market:
At its peak, the wholesale price of marijuana flower was about $4,000/pound on average, which has dropped to $1,000-$2,800/pound today, according to Oklahoma industry insiders

Oklahoma's medical marijuana market launched in October 2018, only a few months after voters approved MMJ sales

Marijuana Business Daily estimates MMJ sales in the state were $345M in 2019

Under Oklahoma's liberal licensing policy, the state has issued more than 2,000 dispensary business permits. The retailers serve ~240,000 patients

No caps exist on the number of licenses the state awards, and municipalities cannot enact zoning restrictions to prevent dispensaries from opening
Recreational marijuana dispensaries in Michigan have been legal for two months now, totaling $17.7M in sales and $2.9M in new taxes. The first two months have been marked by supply shortages and long lines as growers scramble to catch up with the fierce demand. So far, only four recreational cannabis dispensaries have been approved to open in metro Detroit. Of those, only two have opened so far: Herbology and 1st Quality Medz, both in River Rouge.
Whoopi & Maya, the medical cannabis company co-founded by Whoopi Goldberg, is closing up shop, according to a statement posted on its website.
In an interview with CNN Business, Rick Cusick, a Whoopi & Maya board member who helped found the company with Goldberg and Om Edibles founder Maya Elisabeth, said that Whoopi planned to step away from the brand.
National cannabis conglomerate Acreage Holdings has conceded that its contracts with local license applicants in Massachusetts are "inoperable," after regulators warned the arrangements appear to grant Acreage control of the smaller companies and could violate state law.
Investigators for the Massachusetts Cannabis Control Commission said management services and loans Acreage provided to two firms — Patient Centric of Martha's Vineyard, or PCMV, which is seeking recreational licenses in West Tisbury and Framingham, and Health Circle, which is working to open marijuana stores in Rockland and Marshfield — may put Acreage "in a position to control the decision-making" of PCMV and Health Circle.
The deals also directed the companies to pay Acreage eye-popping sums: In PCMV's case, it would have owed Acreage 1.5% of its revenue, plus $10,000 and 25% of its quarterly earnings, while paying back Acreage a $4M revolving credit loan with 15% interest.
Under Health Circle's contract, meanwhile, the company would have paid Acreage $1,825 for every pound of marijuana it sold, plus 15% interest on an $8M credit line.
Breaking the management contract would have caused both firms to lose their financing.
Key members of senior leadership (Co-Executive Chairman Jason Vedadi, CEO Steve White, and Operational Leader Joe Sai), have voluntarily surrendered a total of 2.4M equity options to Harvest for redistribution to eligible employees throughout the company. The three senior leaders will not receive any consideration from Harvest. Key personnel were awarded ~3.0M equity options including ~600,000 in newly issued options and the 2.4M surrendered options. As part of the redistribution of equity options, Harvest expects to recognize a non-cash charge of ~$10M during the first quarter of 2020.  The non-cash charge is an accounting treatment that relates to the surrender of equity options and associated acceleration of unrecognized expense tied to the original option grants.          
As a part of an attempt to restructure the company, the Company will lay off ~10% of its staff. Tilray has 1,443 employees, which includes employees in Canada, Germany, Portugal, Ireland, the United States, Australia and Czech Republic, according to Chrissy Roebuck, a company spokesperson. The layoffs include less than 35 people in Tilray's Toronto office.
The licensees are MJ Freeway, Bio-Tech Medical Software, Swin, Artemis Agtech, Validated Housing and Retail Innovation, according to The Motley Fool. Leaf Logix Technologies and Canna Botanicals, were denied licenses.
---
💵
Deals
Based on the low and high ends of the disclosed contingent ranges, the acquisition implies a purchase multiple of ~2.1x to ~2.4x Select's 2020 revenues.
HHH holds licenses for cultivation, product manufacturing, and retail operations in MA, with the ability to obtain up to two more retail licenses in the state. HHH currently operates a cultivation and manufacturing facility in Fall River, MA, adjacent to its Fall River Dispensary.
Mutual option to increase the size of the facility to a maximum of $200M. The Senior Loan is for either an 18-month or 24-month term, at the lender's option. The Loans bear interest at a rate of ~12.7% per annum for 18-month loans and ~13.2% for 24-month loans, payable quarterly in arrears.
$100M credit facility with an institutional lender, with $49M available to be drawn down at First Closing, $50M private loan transaction to provide cash collateral for the Credit Facility, $30M private placement of special warrants and an option to acquire a further $20M of special warrants.
The purchase price for the property was $2.9M, excluding transaction costs.  GTI is also expected to make certain improvements to the property that will significantly enhance production capacity, for which IIP has agreed to provide reimbursement of up to $4.3M.  Assuming full reimbursement for such improvements, IIP's total investment in the property will be $7.2M. This marks IIP's second transaction with GTI, following a sale-leaseback for GTI's cannabis cultivation and processing facility in Danville, PA completed in November 2019.
KushCo has entered into definitive agreements with investors for the purchase and sale of 10,000,000 units, with each unit consisting of one share of common stock, par value $0.001 per share, and a warrant to purchase half a share of common stock, at an offering price of $1.60 per unit, pursuant to a registered direct offering. The warrants will have an exercise price of $2.00 per share, will be immediately exercisable and will expire five years from the date of issuance. The gross proceeds of the offering will be ~$16M before deducting placement agent fees and other estimated offering expenses. The Company intends to use the net proceeds for working capital and for other general corporate purposes.
GenCanna has filed a petition for voluntary Chapter 11 reorganization with the U.S. Bankruptcy Court in the Eastern District of Kentucky. GenCanna has obtained ~$10M in post-petition debtor-in-possession (DIP) financing from its senior lender, which, subject to Court approval, will provide the Company with liquidity to maintain its operations in the ordinary course of business during the Chapter 11 process.
The multi-year agreement includes significant BioSteel branding at Barclays Center for all Nets games. The Company will incorporate a variety of elements such as digital and static signage throughout the venues, including the media backdrops, and the scoreboard at Barclays Center. In the second year of the partnership, BioSteel will receive branding on the Nets' and visiting teams' benches during all of the team's home games.
Jushi became the 100% owner of two Illinois medical cannabis dispensaries that can each open an additional adult-use dispensary for a total of four retail locations. The target, TGS Illinois, LLC, owns and operates two cannabis dispensaries – one in Sauget, IL and one in Normal, IL, previously announced on January 30, 2020.
---
🧔
People
Murphy brings more than 35 years of professional experience in providing improved operational and financial consulting services to CPG and technology companies. Prior to joining PAX, he was a Managing Director for international consulting firm AlixPartners and served as the local market leader for both the Bay Area and Hong Kong practices. While at AlixPartners, Mike led multiple engagements, both as a consultant and serving in management roles at companies including Nextwave Wireless, PacketVideo, as well as Diamond Foods and Home Depot's Asia division.
Carlotti previously served as CFO at Australis Capital and worked as SVP and Treasurer at MGM Resorts International.
Tsebelis has close to 20 years of commercial experience in the pharmaceutical, healthcare and cannabis industries. Responsible for setting the strategic commercialization, and product development initiatives for both WeedMD and Starseed, Angelo previously held positions of increasing responsibility with Shoppers Drug Mart and Loblaw Corporation where he built strategic partnerships with pharmaceutical manufacturers, insurers, adjudicators and brokers in the Canadian market. Prior to this, Angelo held various commercial leadership roles at GlaxoSmithKline, Bell Canada and Harrison Associates.
Columbia Care adds Frank Savage and Jeff Clarke as New Independent Directors to Its Board
Frank Savage serves as Savage Holdings LLC CEO; Director of Bloomberg L.P., New York Academy of Medicine, Institute of Finance; Member of Realwear Inc. Board of Advisors; Chairman Emeritus of Howard University; Trustee Emeritus of Johns Hopkins University; Former Board Member of Lockheed Martin (NYSE:LMT), Qualcomm (NASDAQ:QCOM), Alliance Capital Management International (Chairman), Equitable Capital Management Corporation (Chairman), Arco Chemical Inc.; Founder of Equitable Life's Minority Enterprise Investment Company.
Jeff Clarke serves as FTD Executive Chairman; Former CEO, Director of Eastman Kodak Company (NYSE:KODK); Former CEO and Executive Chairman of Travelport Limited (NYSE:TVPT); Former COO of CA Software (NASDAQ: AVGO); Former EVP of Hewlett Packard (NYSE:HPQ); Former CFO of Compaq Computer Corporation (NYSE:acquired); Former Board Member of California Cryobank, Docker, Autodesk (NASDAQ:ADSK), Red Hat (NYSE:acquired), Compuware (NASDAQ:acquired) and UStar (NASDAQ:acquired).
---
🏬
New Store Openings
Curaleaf hopes to schedule post-final inspections soon in an effort to open the adult use location, which will be located at 124 West Street, by early March 2020. The company opened its first adult-use retail location in Oxford, MA in November 2019 and its second adult-use retail location in Provincetown, MA on January 29, 2020. The Company also has a medical-only facility in Hanover, MA.
---
🤷‍♂️
Somewhat Relevant
Forever 21 has reached a deal to sell off its assets for $81 million, four months after filing for Chapter 11 bankruptcy. As part of the transaction, the struggling fast-fashion retailer would be sold to a consortium made up of mall operators Simon Property Group, Brookfield Properties and brand management firm Authentic Brands Group, according to a Sunday court filing.The sale would include all of Forever 21's assets, including its remaining stores and its beauty line RileyRose.
The group has been designated as the "stalking horse bidder" for Forever 21 — meaning the deal remains subject to approval by a judge. Other potential buyers have until February 7 to place bids for the company.
Empty mall spaces are being transformed into "ghost" kitchens, or spaces designated to fill food-delivery orders. Simon Property Group teamed up with hotelier Accor and SBE Entertainment Group to develop 200 such kitchens to serve customers at malls and to provide delivery service to locals. The trio has also signed four leases with CloudKitchens, the venture of Uber's former CEO Travis Kalanick, to open delivery spots in Los Angeles. The move brings together two industries that have been challenged by e-commerce, reports The Wall Street Journal.
---
Who writes this newsletter? ➡️ Dai Truong