Discover more from Highly Objective
Cannabis industry news, insights, and analysis
Over 3,000 subscribers
💵Troubled companies able to tap capital markets
Aurora $500M ATM. Harvest C$40M Bought Deal. Jay-Z launches Monogram. LA licensing fatigue. State-owned Alcohol and Cannabis Retail in PA? Shawn Kemp opens Seattle dispensary.
---
🌿
Industry
L.A. opens licensing round amid waning interest among cannabis entrepreneurs. The application process is open to social equity applicants that want delivery permits and to any comer who's interested in distribution, nonvolatile manufacturing or testing lab licenses. But the number of applications filed in the first 24 hours – fewer than 100, according to the city's Department of Cannabis Regulation (DCR) – reinforced what several industry insiders said is a lack of enthusiasm for the L.A. market. To underscore that point, the DCR doesn't have a cap on the number of business licenses it will award during the current round, or a cutoff time for when the licensing window will end. Because there's no cap on the number of delivery permits or on how many a single company can obtain, he said, well-capitalized companies could consolidate as many licenses as they can afford and then dominate the competition through volume.
State-Owned Liquor Stores are key to PA Recreational Cannabis. The legalization of medicinal cannabis in Pennsylvania has gone extremely well up to this point. However, Cantor Fitzgerald analyst Pablo Zuanic said that the state is struggling to agree on a path forward for legalizing recreational cannabis. In most states that have legalized recreational cannabis sales, recreational licenses have gone to the incumbent medicinal cannabis retailers. However, Pennsylvania is considering a plan that would instead grant recreational cannabis sales licensed to 600 state-owned licensed liquor stores in the state. Pennsylvania is set up for a $5B budget deficit over the next two years, but recreational cannabis legalization could present a path forward. State-owned liquor stores generated $2.5B in sales in the last fiscal year.
Jay-Z's next big hit might be in the branded cannabis business. Jay-Z is launching a Cannabis brand called Monogram. Although this is his first official line of cannabis with Caliva, Jay-Z joined the company in 2019 as its chief brand strategist. As part of his role with Caliva, Carter advocates for social justice issues surrounding legalization and assists the firm with creative decisions, including outreach efforts and strategy, the company said at the time. Carter said the company's "expertise and ethos" made them the best partners for the endeavor.
At long last, Detroit announces recreational marijuana ordinance — and it will include consumption lounges. After a year of postponing licensing of adult-use recreational marijuana sales in Detroit, City Council announced on Monday an ordinance detailing how the city will move forward. The city is allowing 75 licenses for retail sales establishments. In addition there will be 35 consumption establishments allowed, as well as 35 microbusiness licenses. Those are the only categories that will be capped; others, such as growers, secure transporters, or event organizers, are unlimited by any number. The ordinance calls for at least 50% of all licenses to go to "legacy Detroiters," a person who has lived in Detroit at least 15 of the past 30 years and for the past one year. A low-income legacy Detroiter has to have 13 years of 30 and the past year. A person who has been incarcerated needs to have 10 years residency and the past year. In addition there will be a 90-day window at the beginning of the licensing period during which only Detroiters will be allowed to apply for licenses.
Other highlights:
Carlos Santana Talks Cannabis: "It's All About Consciousness, Man"
Meadow Launches Mobile Marketing: Push Button, Sell Weed.
Ayr Strategies Measured Growth Approach Is Winning Over Investors
Supply glut grows for Canadian edibles, dried cannabis
Nevada Medical Group (Body and Mind) and Silver State Cultivation could lose license over unlicensed employees
---
💵
Deals
Aurora — up to $500M At-The-Market (ATM) program. With the completion of the previously filed ATM program, the Company currently has available cash resources of ~$272M, in addition of undrawn revolver capacity of approximately $11M. The company exhausted its current ATM program, having drawn down what was left of the $183M remaining in the equity facility in the last 30 days. Given longstanding concerns about the strength of Aurora's balance sheet, Jefferies analyst Owen Bennett said it's unsurprising the company is looking to raise funds. He said even if Aurora hit its latest target of achieving positive EBITDA in fiscal 2021, the company was at risk of under investing in the business without raising additional funds. "What is surprising is the size of the possible raise and the dilution that comes with this, exhaustion of the ATM would have already represented ~26% dilution, while full use of the $500M would be an additional ~50% based on the current share price."
Harvest — C$40M Bought Deal Financing. 17,699,200 units of the Company at $2.26 per Unit. Each Unit shall consist of one common share and one-half of one common share purchase warrant, exercisable at $3.05 per common share for a period of 30 months from the Closing Date. The offering was upsized (previously C$30M).
Akerna — $12M offering. 5,000,000 shares of its common stock at a public offering price of $2.40 per share.
dosist raises $15M for CBD business unit. Turning Point Brands (~$725M Market Cap), a Louisville, KY-based Tobacco company, led a $15M strategic investment in dosist™ and an exclusive co-development and distribution agreement of a new national CBD brand, created in partnership with dosist's thc-free business unit. Additionally, TPB has an option to invest another $15M at pre-determined terms within the next 12 months. The news comes on the heels of the TPB's Q3 earnings, which reported $104.2M in revenue, up 7.6% Y/Y. The company's revenue was ~$105M in the previous quarter, up 12.5% Y/Y.
Amuse — $12M Series A. Amuse, a cannabis delivery company raised $12M in Series A led by Gotham Green Partners. The round was done a few quarters ago but was recently announced after the Company started deliveries (August). Founded in January, Amuse has a Lynwood distribution center and covers most of the Los Angeles metropolitan area with the exception of the San Fernando Valley. The company plans to open an additional distribution center in Culver City this quarter. That additional capacity will allow Amuse to serve the San Fernando Valley by early 2021. The company plans to expand to additional locations in California next year and potentially to other legal cannabis states by early 2022. Most of the $12M Series A capital will go toward expanding Amuse's team to meet these goals.
Liberty Health Sciences — Extension Offer for 12% Senior Secured Convertible Debentures. The Company is offering debenture holders a 12-month extension to the original November 22, 2020 maturity date. In exchange for the extension — the company is offering a lower conversion price (C$0.85 vs. C$2.00) and increased interest rate (12% —> 13%), The Debentures were originally issued pursuant to a private placement offering, which closed on November 22, 2017 for $12M, used to finance the Company's expansion of its Florida operation and increase the Company's production and growing space. The Company repaid an aggregate principal amount of $6M in December 2019, and there is currently an aggregate principal amount of US $6M outstanding.
Organigram — additional $2.5M investment in Hyasynth Biologicals. Hyasynth Biologicals is a private biotechnology company and pioneer in the field of cannabinoid science and biosynthesis. The announcement comes as Hyasynth makes the first sale of CBDa1 produced and extracted from yeast. In addition to the investment, Organigram continues to have the right to purchase potentially all of Hyasynth's cannabinoid or cannabinoid related production at, subject to the terms of its agreement with Hyasynth, a 10% discount to the wholesale market price for a period of ten years from Hyasynth's commencement of commercial production. Organigram initially advanced $5M to Hyasynth in September 2018.
4Front Ventures — $30M Sale-Leaseback w/ IIP. The sale-leaseback is for 4Front's cultivation and production facilities in Tumwater, WA and Georgetown, MA. The all cash sale price of $30M will be used by the Company to pay down the outstanding senior secured debt obligation to affiliates of Gotham Green Partners, and for other general corporate purposes.
---
📄Earnings
Revenue: $40-$41M, up 4%-6% Q/Q from $38.6M

Adjusted EBITDA: $2.5-$3.0M, a 108%-150% increase Q/Q from $1.2M

New monthly record for total cartridges shipped by Jupiter Research (September)

Expanded product offering at Standard Farms (PA)

31% Q/Q revenue increase at Commonwealth Alternative Care (MA)
---
🧔
People
Liberty Health Sciences — CEO Resigns. Victor Mancebo has resigned from the Board and his role as CEO, effective December 31, 2020. George J. Gremse, a member of the Board of Directors, has been appointed as Interim CEO during the process of identifying a permanent CEO. Gremse has held senior management positions in both Fortune 500 companies and start-ups.
Indus Holdings — Bruce Gates to Board. Gates is Founder/President of Three Oaks Strategies, a strategic communications and public policy consulting firm and Three Oaks Asset Management, a family office and venture capital firm. He was previously SVP of External Affairs for Altria and briefly served as Altria's representative on the board of Cronos. He was a founding partner of Washington, D.C. public policy advocacy firm Washington Council, which was acquired by Ernst & Young in 2000.
HEXO — Emilio Imbriglio to Board. Imbriglio is currently the President and CEO of Raymond Chabot Grant Thornton, a position he has held since 2013. Previously, he was the head of the Corporate Finance Consulting Group for almost 10 years.
Harborside — Refreshed Slate of Directors for Upcoming Annual Meeting.
Matthew K. Hawkins (member of the current board) and Chairman — Entourage Effect Capital

Kevin K. Albert — former Senior Partner at Pantheon Ventures

Michael Dacks — Type 2 Ventures

Peter Kampian (member of the current board) — Edge Financial Consulting Services

Alexander Norman — Canadian Partner of AngelList

James E. Scott — Littlehorn Investments

Andrew Sturner — Entourage Effect Capital
Ben Schultz (ex-MedMen partnerships) joins Kiva as GM of Expansion Markets. He will focus on further expanding the business outside of CA. The brand is currently available in CA, AZ, NV, MI, IL, and HI. Most recently, it reached an agreement to expand to OH as well.
ROTH Capital — Hershel Gerson joins as MD, Co-Head of Consumer Investment Banking. Most recently, Gerson was CEO and MD at ELLO Capital. He will be joined by a team who previously worked with him at ELLO Capital (Danny Hurwitz, (MD), JB Mitchell (VP), and Evan Zaransky (Analyst).
---
🏬
New Store Openings / New Product Launches
Shawn Kemp's Cannabis (Seattle, WA)
Hill Street — (V)ia Spriza Cannabis Infused Beverages.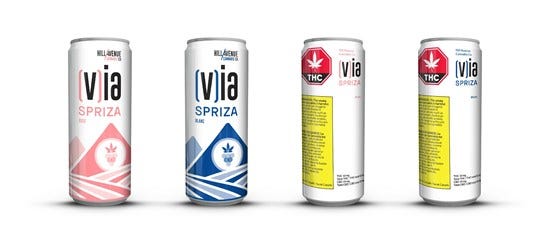 Trulieve — Punta Gorda (64th in FL)
Cresco Labs — Liquid Live Resin Vape (IL and CA)
---
🤷‍♂️
Somewhat Relevant
With plans for 350 store closures, Gap flees the mall
MindMed Raises $25M Bought Deal
---
Who writes this newsletter? ➡️ Dai Truong