Discover more from Highly Objective
Cannabis industry news, insights, and analysis
Over 2,000 subscribers
☠️Up to $2M/day impact in MA sales due to recreational ban
MA dispensaries could be losing $2M/day. Grizzly short report on IIPR. Coronavirus legitimizing Cannabis in PA. MI supply challenged. Planet 13 terminates deal / reports earnings.
---
🌿
Industry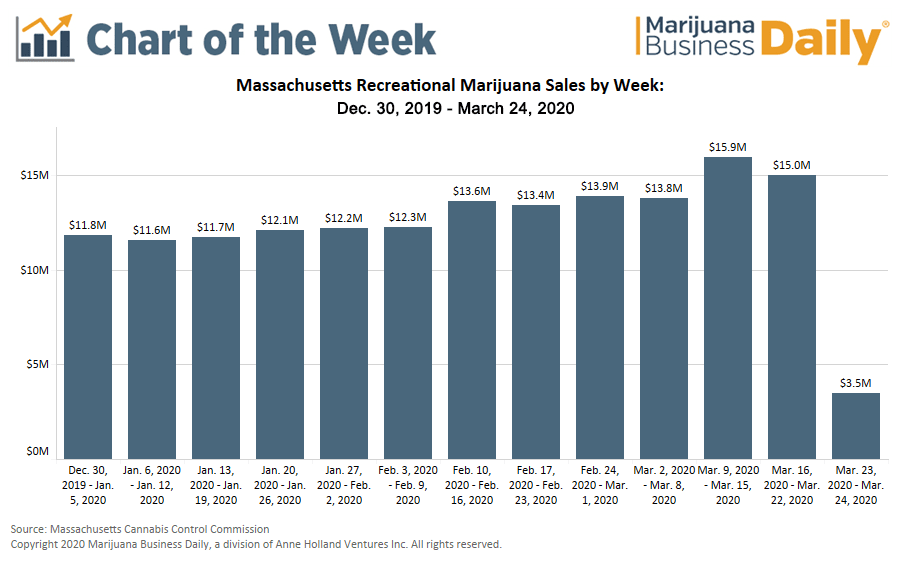 Lost recreational marijuana sales in Massachusetts stemming from forced store closures already could amount to $40 million among the state's cannabis retailers, underscoring business owners' need to be strategic about their operations during the COVID-19 pandemic. Massachusetts adult-use marijuana retailers, which were forced to close on March 24 by the governor, might be missing out on nearly $2 million in daily sales.
● IIPR is a publicly-traded REIT focused on cannabis, highly skeptical of the company and its management
● Visited dozens of properties, interviewed neighbors, county clerks, reviewed related leases. Believes IIPR has accumulated a highly toxic portfolio of low-quality assets
● IIPR either fails to do basic due diligence on its counterparts or is defrauding investors
● Multiple key lessees are already insolvent or at a high risk of insolvency
● suspect IIPR of arranging sham transactions to keep its biggest tenant solvent in the short term. Think this scheme has reached its breaking point since IIPR is drowning in unfunded commitments and its tenant ran out of properties to transact with IIPR
● Identified a pattern of massive over-payment to inflate the book value of the portfolio, bordering on fraud. On the ground due diligence corroborates that property improvements can't possibly justify the incredible markups IIPR paid
● Estimate that ~38% - 49% of the company's 2020 rental income is in direct jeopardy or already lost
● Cash flow analysis shows that IIPR has many characteristics of a pyramid scheme. Believe the ever-increasing dividend would have to be financed from capital raises or reduced substantially
● IIPR shares many similarities with WeWork which too recently fell off: A real estate company with a flawed business model led by a young charismatic leader. Both companies are heavily dependent on outside financing. IIPR Executive Chairman Alan Gold is now pursuing new ventures, similar to WeWork's Neumann
● Independent analysis concludes that IIPR's value per share is even under optimistic assumptions no more than $22.29
Contains numerous false and misleading statements about IIP and its Executive Chairman, Alan Gold. The report is flawed and demonstrates a fundamental misunderstanding of IIP's business model. As such, most of the report's content does not warrant a response from IIP. Mr. Gold, however, strongly refutes any inference that he is not firmly committed to the long-term success of IIP.

Alan Gold has served as IIP's Executive Chairman since IIP's inception in 2016. Prior to co-founding IIP, Mr. Gold's 30 years of real estate experience included co-founding BioMed Realty Trust, Inc. (formerly NYSE: BMR) in 2004 and serving as chairman, president and chief executive officer of BioMed Realty, leading BioMed Realty for twelve years and through the sale of the company in 2016 to affiliates of Blackstone Real Estate Partners VIII in an $8 billion transaction.

At IIP's initial public offering in 2016, Mr. Gold purchased $4.0 million of common stock in IIP at the initial public offering price, and has continued to significantly increase his ownership position over time. As of today, Mr. Gold beneficially owns, either directly or through his children's trusts, 377,086 shares of common stock of IIP valued at approximately $28.5 million (based on IIP's closing common stock price on April 9th). Mr. Gold has not sold a single share of common stock in IIP since inception.

"I am proud of all that our team has accomplished since IIP's inception, providing key growth capital to our tenant operators through creative real estate solutions, and conducting our business as we always have, with an absolute dedication to transparency to all of our partners, including our valued long-term investors," said Mr. Gold. "I am also very excited for the future of IIP, and look forward to continuing to lead IIP and its talented management team every day in our continued execution on IIP's strategy for the years to come."
Special allowances for cannabis businesses, like delivery and curbside pick-up, could boost the sector long after the COVID-19 pandemic is over. According to Beyond/Hello (Jushi) customers are ordering cannabis medicines in unprecedented volumes for everything from management of cancer symptoms and pain to anxiety and post-traumatic stress disorder. Keystone Canna Remedies (KCR) began offering curbside two weeks ago, contact-free medication pickup at its locations in Bethlehem and Allentown, Pennsylvania. KCR's chief operating officer, Joan Guadagnino, says the company saw an increase in business and sales in March but whether that increase will continue through April remains to be seen.
In late March, the state Department of Health announced temporary changes to Pennsylvania's medical marijuana program, making it easier for patients to sign up for the program by allowing physicians to certify patients via virtual consultations instead of the standard in-person evaluations, and waiving the requirement for background checks for renewal applicants. Since then, the department says it's seen a steady stream of new registrants, month over month. As of February 10, the program had more than 259,000 registered patients. That number grew to nearly 272,000 registered patients by March 6th and 284,000 patients as of April 10th.
Recreational marijuana stores in Michigan could face a shortage of product after state regulators ruled that adult-use shops can no longer buy MJ from a network of caregiver growers. The Marijuana Regulatory Agency issued a bulletin reversing course that said only medical marijuana dispensaries can now buy and sell products from caregivers, the Detroit Free Press reported. Caregivers account for about 60% of the medical and recreational cannabis sold in Michigan.
Strengthened Cash Position with Plans for Additional Flexibility Given Economic Uncertainty

Execution Against Business Transformation Plan Continues on Schedule

All Facilities Fully Operational with COVID-19 Precautions in Place to Protect Staff

Announced Intention to Consolidate Common Shares
2019 Revenue — $63.6M

Accounted for 9.1% of all Nevada cannabis dispensary revenue in 2019

2019 EBITDA — $9.9M

2019 Net loss — $6.7M

Q1 2020 Revenue — $16.6M

Cash — $12.8M
---
💵
Deals
The acquisition was for a 40,000-square-foot dispensary in Santa Ana. The deal was for $10M total ($6M cash/$4M stock) with another $4-7M to build-out.
General Cannabis will acquire Cannasseur for $2.35M of General Cannabis common equity, priced at the time of closing, subject to a floor of $0.45 per share and a ceiling of $0.55 per share. Opened in 2015, Cannasseur is a recreational-only dispensary with annual revenue of ~$4M, according to General Cannabis CEO Steve Gutterman. The supply grow for Cannasseur, a 12,000-square-foot light-deprivation greenhouse, will also go to General Cannabis, as will the marijuana extraction facility that produces Dabtek concentrates.
LivWell Enlightened Health, one of Colorado's largest dispensary owners, has acquired Denver-based Sweet Grass Kitchen, one of the oldest marijuana edibles brands in the state. LivWell, based in Denver, operates 17 stores in Colorado and one in Oregon. The business also has an equity stake in LivWell International, a publicly traded Canadian company.
Established in Colorado, the joint venture (Truss CBD USA) will be majority owned by Molson Coors and will operate as a standalone entity with its own board of directors, management team, resources and go-to-market strategy. Exploring hemp-derived CBD beverages is part of Molson Coors' strategy to grow beyond the beer aisle with wine and spirits and non-alcohol drinks. Molson Coors and HEXO have another joint venture to produce non-alcohol cannabis-infused beverages for the Canadian market called Truss Beverages. Truss has been preparing for launch, including completion of product formulations, branding and construction of a cannabis beverage production facility in Belleville, Ontario. Truss is expected to launch its first beverages in Canada later this year.
Clever Leaves International, a leading multi-national operator (MNO) and licensed producer of pharmaceutical-grade medical cannabis and hemp extracts announced the first closing of its Series E financing at $14M, bringing the Company's total funding to over US$120 million. The capital will go towards commercializing product from cultivation and extraction operations in Colombia as well as to complete their licensing process in Portugal. Clever Leaves anticipates raising additional capital in the coming months.
---
🧔
People
The Company will also relocate its financial operations to its U.S. headquarters in New York City. As part of the move, Toronto-based Adam Kozak will step down as Chief Financial Officer ("CFO"), and New York-based company comptroller, Dr. Stephen Baranowski, will assume the role of interim CFO at the end of April. This comes as TerrAscend continues to build out its U.S. based leadership and operations teams and focuses on its growing footprint and opportunity in the rapidly expanding U.S. market.
New England Treatment Access (NETA), a MA-based Cannabis company said it will reduce its workforce by an undisclosed number of employees as it has seen its store traffic drop by 85% during the coronavirus crisis.
Marijuana Business Daily is temporarily laying off ~30% of its staff and ramping up virtual events in response to the economic and financial fallout caused by the COVID-19 pandemic. The moves are aimed at reducing overall costs amid delayed revenue on the events side of the company's operations and adjusting to near-term uncertainties and changes in the business climate. The Company is also temporarily reducing salaries.
Prior to joining Harborside, Marian was Senior Director of Human Resource at Planned Parenthood Mar Monte in San Jose, CA, the largest affiliate in the country. She also held senior management positions with companies including Orchard Supply Hardware and Target.
Doyle was among the founding members of the commission appointed through a joint decision of the attorney general, treasurer and Gov. Charlie Baker in 2017. Doyle released her own statement saying she will return to the private sector.
---
🏬
New Store Openings
Lakewood is located seven miles outside of Cleveland, the second largest city in Ohio. The number of registered patients in Ohio has reached 88,306 as of February 2020. In an analysis conducted in July 2018, more than 3.5M Ohioans have qualifying medical conditions. Estimates expect nearly 200,000 - 300,000 patients will eventually participate in the Ohio medical marijuana program.
There are four other Rise™ stores in Ohio in Cleveland, Lorain, Toledo and another location in Lakewood on Madison Avenue. The company was awarded an Ohio processing license earlier this year and will produce GTI's branded cannabis products in a facility located in Toledo.
---
🤷‍♂️
Somewhat Relevant
There's no shortage of content out there right now on how COVID-19 is affecting startups. But amid the explosion of writing on the pandemic and the advice we've all seen scattered across Twitter threads, Substack newsletters and Medium posts, we've found that there are still very few resources that dig deeply into the nitty-gritty "how" of leading and planning during this crisis.
---
Who writes this newsletter? ➡️ Dai Truong